Coming at you from a real-life hotwife, this training guide is everything you're going to need to know if you want to be a successful hotwife.
You may think you're going to have to jump into bed with another man straightaway to get things started and whilst horny and in the moment, I don't blame you for thinking that but I don't recommend you start out like this because in my experience this only ever ends badly and that's why I have created this training guide so that you can follow it and learn from it, slowly and effectively and working your way up to being a fabulous and irresistible hotwife.
If you're really ready to embark on this marvelous, whirlwind sexual adventure, you're in the right place, sweetie.
Take your time, come back to this guide if you need to take a break, and let's get started with why you would even want to be a hotwife in the first place and the small steps you can take to establish what this all means for you and your husband.
So, Your Husband Wants To See You With Another Man

It may have just come up and you don't know where to turn or perhaps you're the driving force and want to open things up in our sex life and are not sure how to do this.
Whatever the reason, it's valid but you can't just go out and sleep with the first man that you meet. There's a way to do this slowly, building up to the big thing and seeing if it's what you both actually want or if it's just a horny dream that is nice as a fantasy and nothing more.
Some wives want threesomes rather than a hotwife/cuckold scenario, some people discover a whole new side to themselves and for others, everything suddenly makes sense. However, if your husband wants to see you with another man, we need to understand why.
Understanding What Your Husband Gets Out Of This Deal (Why Would He Want This?)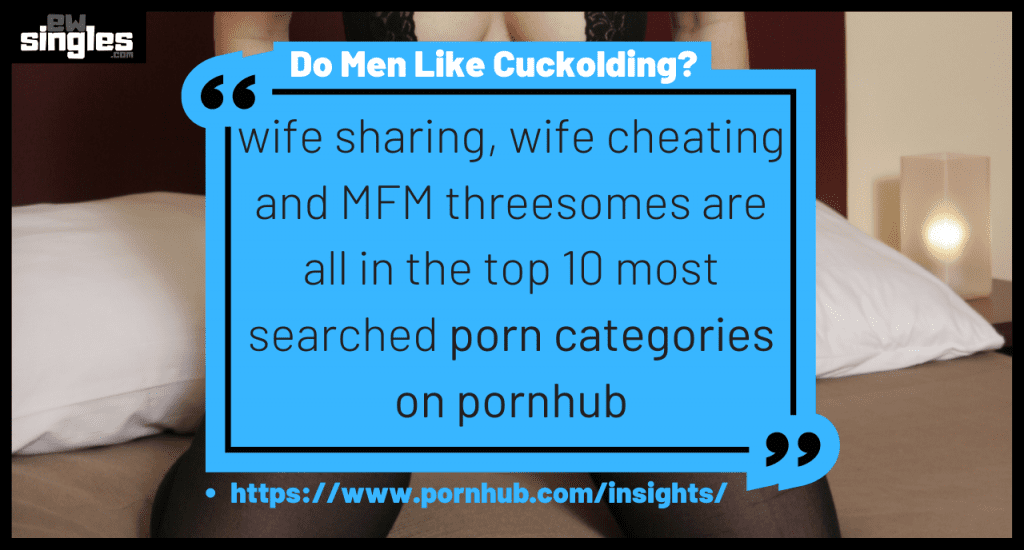 This is the question that many women have for their partner who brings this topic up. Why would they want me to sleep with someone else? isn't that unfair?
Well, no.
You see, your husband may have many reasons for wanting this, he may just be horny but whatever the reason he suggested it will be to benefit you. He wants you to have a good time, he wants you to be satisfied, he wants to see things happen to your body that he could never do, and he gets off on seeing his darling wife with another man or even just imagining it.
Ask him outright what his reasons are, don't recoil or shut him down. Listen to his answer, perhaps he's a secret cuckold, maybe he's insecure about his cock, he could be into wife sharing (this is my experience with being shared) or maybe he's just deathly curious about what it would be like. Whatever he says, listen and there will be your answer as to why he wants this.
What About You, What Do You Get Out Of This?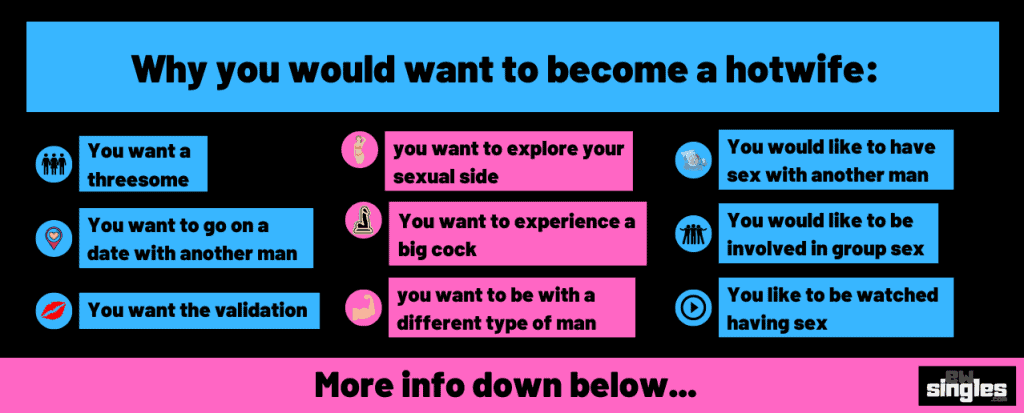 You now have the answer about why your husband wants this but really what do you get out of this?
Just like with men there are so many reasons a woman may want to try being a hotwife and if you know nothing about this lifestyle you may be surprised to find out how many actually apply to you when you close your eyes and let your imagination run wild with arousal and excitement.
If you don't already have your reasons find the things you want from this lifestyle and be honest about them with your husband/partner. If you do already know why you want this (perhaps you brought up being a hotwife first), communicate the reasons clearly and honestly with your man.
These are some of the main reasons why women (and some men too) want to join this lifestyle or be a hotwife:
You want a threesome (and to try everything a threesome can bring, from DP to having two men put all their attention on you).
You would like to go on a date with another man with no catch.
You would like to experience more sexual experiences with other men.
You fantasize about having sex with another couple or having a group sex experience.
Thinking about being with a guy who is hung turns you on.
You want to be with someone opposite to your husband (very muscular etc).
Trying A BBC is on your bucket list.
Maybe you like the idea of fucking a guy while your hubby knows or is sitting at home waiting for you.
The thought of someone or your husband watching you whilst you have sex turns you on.
Maybe it's the breeding part for you.
Your sex drive is higher than your partner's and you want to scratch that itch.
Your partner has premature ejaculation and you want someone who can last longer.
Maybe you just want to feel sexy, buy lingerie, and have a wax all to be fully appreciated by a hot guy.
This is a full hotwife guide on the emotions, risks, the good, and the bad that you go through when opening things up with your partner.
How To Become A Hotwife Without Risk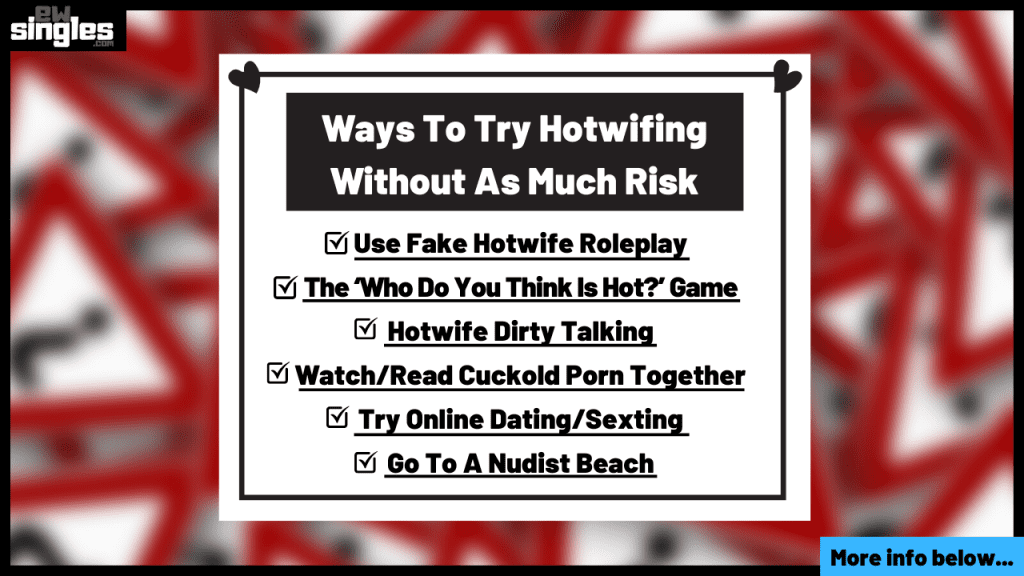 Now we have established what your partner and yourself get out of doing this, it's time for some good old-fashioned roleplay.
This may seem like a step you can skip but I urge you not to if you are serious about being a hotwife. Your relationship comes first and knowing your boundaries and how far you really want to go before doing it for real is so important.
You need to simulate it as much as you can in a way that helps see if this lifestyle is for you and I have some incredible ways of doing this so effectively and convincingly:
Fake Role Play Dates
Roleplay being on a date with another man, with your husband. Use alter egos, and different names, and make up a whole new life for yourself as you meet with your 'date'. Really try and convince yourself that he's another man and you're a different woman.
If you're really eager to try this, use wigs and different makeup too so that you can both experience being on a date with someone new.
Being on a fake date will give you a little insight into what it would be like to be at a table with a stranger, getting to know them, and potentially taking them home too. You do have to use your imagination for this one but it's a lot of fun.
Play The 'Who Do You Think Is Hot?' game
Start fantasizing about different men while with your husband and tell him all about it.
Imagine what sex would be like with someone you find hot, get dirty with the details, turn yourself on, and see what kind of feelings arise inside both of you as you describe your dream man and how you would enjoy fucking him.
It could be a celebrity, could be his friend, his boss, or someone made-up but get really into it, roleplay having sex with this person, and see how you both like it.
Hotwife/Cuckold Dirty Talking
To really submerge yourselves into this world, consider hotwife and cuckold dirty talk. This is done through phrases like these during sex and foreplay.
Saying things like "I wish your cock was bigger" or "I am going to fuck another man just like this", are great ways to start. These should be done when you are both horny and about to have sex or are having sex.
Remember, humiliation doesn't have to be a part of being a hotwife but if it is or you are testing it out, let your mind run wild with phrases like "I can't feel you inside of me", yawning during sex, "glancing around the room for better things to do".
Watch/Read Hotwife and Cuckold porn
Get comfortable, dim the lights, get naked and watch or read hotwife and cuckold porn, get each other off or masturbate as you watch or read your favorite videos or pieces of erotica together.
We made this guide on the best hotwife and cuckold NSFW subreddits that is a great starting place for any curious couples who want to introduce themselves slowly and get accustomed to all of the delightful porn and erotica that is out there for you to enjoy.
See how watching it makes you and your husband feel, does it arouse anxiety? adrenaline? lust? Take note of these feelings and talk about them afterward.
Keeping It Online (Sexting, Flirting, Picture Swapping)
Before you do the real thing, try doing it all online. Sext with men, flirt with anyone you like, and even swap naughty pictures with the right man. This dating site article that we did has some amazing dating sites you can use to find people to flirt and sext with.
Some people find they can't send a picture, which should tell you that you're definitely not ready to do the real thing, some people can't stand seeing their wife flirting so openly with another man and yet others love keeping it online and stick to online hotwifing for eternity.
Nudist Beach
Going to a nudist beach for the day will really get your pulse racing. It can take a lot to take your clothes off on a beach full of strangers but for some people, once it's done it is unlike anything else.
Some couples enjoy just spending the day, naked and free, enjoying the smiles, the glances, and the view, and find this is enough for them to feel aroused, and that combined with some online sexting and flirting keeps their fantasy very much fulfilled.
Use A Penis Sleeve To Simulate Size Play
This technique is so effective, turn off the lights, get your wig on, use different aftershave and perfume, wear a blindfold, and have your husband slip this penis sleeve on over his cock and enjoy the effects.
It adds 3 inches to his length, it adds girth too, it comprises stimulating textures and it desensitizes his cock too so he can last longer.
It feels like having a completely different cock inside of you, it really changes the sensation and feel of his cock and allows you to simulate not just being with another man but with another kind of cock too.
Strap on:
Your husband can wear a hollow strap-on and you can pretend he is anyone you want. He will be able to last much longer thanks to the desensitization of wearing the toy and he can bring you unparalleled pleasure by just slipping his cock inside of this magical strap-on.
This is my favorite, it is big, it feels incredible and it vibrates for extra pleasure too. Close your eyes and let a new cock take you into a world of fantasy, pleasure, and hotwife roleplaying.
Use A Suction Cup Dildo (Simulate A Threesome)
Effective, affordable, and a really appreciated way to simulate a threesome with your man. Suction cup this realistic dildo onto any hard and flat surface, lube it up, and thrust against it as your husband uses your mouth or another hole. Switch between the two, pleasure your new fresh cock, and enjoy two cocks at once.
This technique is simple but it works. So many people swear by this method, it allows you to really feel what it's like to pleasure two cocks, you get lost in the fantasy, and as you become more and more aroused, your mind carries you away into believing you really are in a threesome so you can experience what it might feel like if you did the real thing.
Roleplay Reclaiming
Reclaiming in hotwife terms means when you come home from being with another man and see your husband he will reclaim you and you will re-connect your relationship. Re-claiming can be done by having sex, washing together, hugging, or any other intimate experiences you enjoy together. I find reclaiming to be a really important step that some couples miss out but you simulate this situation to see what it would feel like.
Use a dildo first (my squirting dildo works wonders for this scenario) and then have your hubby reclaim you once you are filled with its fake cum or just your own cum. It's a magical, re-connecting experience that has you feeling used up, and stretched out but at one with your husband afterward too.
Mimic Size play
Use dildos to simulate different sizes and experiment with size play, just as you would with different cocks. Every man is different and so you can mimic this by trying out different-sized dildos to really get that experience and relish in different sizes without any of the commitment.
This is a Great Starter Dildo: Measuring 6 inches this dildo is ultra-realistic, it has a suction-cup base so you can put it anywhere and it allows you to explore new scenarios and fantasies with a manageable amount of length. The realism of this dildo really adds to the size-pay fantasy and it allows your imagination to experience what it's like to be with a 6-inch penis.
My Favorite Big Dildo: If you want to size up a bit, check out this king cock dildo. It measures a delightful 7.5 inches, it's girthy, it's realistic, it also has a suction-cup base and it looks divine as your pussy, ass or mouth swallows it up and enjoys its realism and sheer size. Mimic size-play, threesomes, being with another man and so many other different roleplay ideas easily.
My Favorite BBC Dildo: If BBC is your vice, this dildo will satisfy all of your fantasies. Measuring a whopping 8 inches, this dildo doesn't play around. It has a suction base and realistic balls to really add something to your fantasies. This BBC dildo is a real treat and if you want to see what it would be like, play out your fantasies with it and see just how sexy it is.
Use A Sex Machine (Tremor or Hismith)
To take things up another notch, using a sex machine takes simulating being a hotwife, threesomes, and sharing to a new level. They can thrust, bend, rotate, pulsate, and do just about anything to mimic the real sensation of sex.
Attach dildos or even fleshlight to this sex machine, it's affordable, transportable, and it does the job you need it to do. It is automatic so you don't need to move a muscle and you can enjoy thrusting pleasure at your fingertips. Simulate having sex with someone else right in front of your husband, swap out the dildo for a fleshlight, and watch your husband with another woman too. You can have lots of fun with sex machines.
This is the tremor sex machine and it is famous for a reason. The pleasure this sex machine brings you is incomparable. Internally you can enjoy a g-spot stimulator that moves, vibrates, and thrusts gently to bring you to mind-blowing orgasms, and externally the vibrating pad sits directly against your vagina for pleasure that will make you question everything. Use it in front of your husband or have him enjoy you too as you get off on this sex machine, close your eyes and drift off into a hotwife land of being pleasured by another man.
Fake Cum
Using fake cum is an amazing way to simulate being with another man and feeling a new load of cum on you, even when it's just you and your husband. We did a whole guide on making fake cum that's really interesting to read if you want to experience warm loads without the extra cock.
You can use fake cum for cum play, fake breeding, experiment with cum clean-up scenarios, fake creampies, cum fetishes, roleplaying and so much more.
A Lot Of Couples Stop Here – Continue If You're Ready
How To Become A Hotwife For Real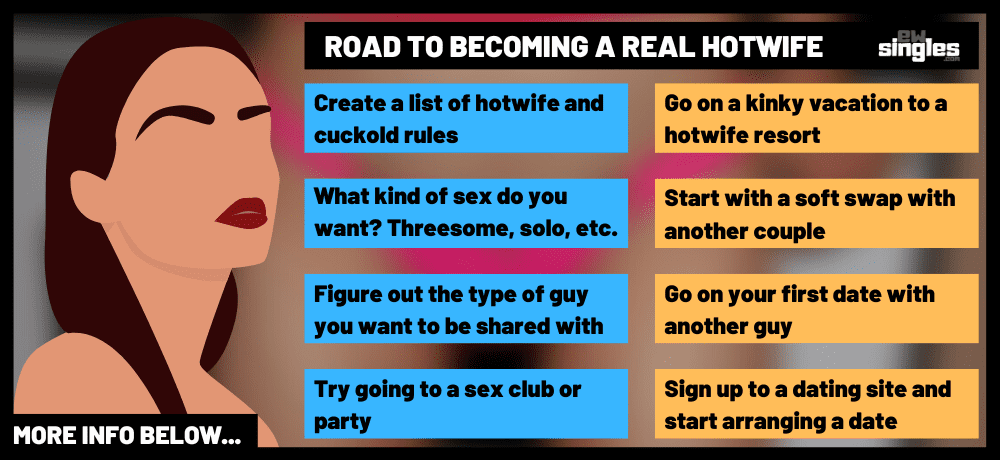 A big majority of couples stop their searching here, they enjoy role play and simulating the real thing, and they realize that you can have a lot of fun without much risk from the comfort of your own home whilst experimenting and trying new things.
The roleplaying technique allows you to enjoy the best parts of the fantasy without actually adding a third or actually sharing with a real man and many couples find they just needed something like this to mimic the real thing and they didn't actually want to do it for real.
Some stop at roleplay and fantasizing, some couples love the threesomes, and others stop at the threesomes. Some dive deep and become full hotwives and others take a swingers approach and go the swinging way.
However, there are couples who even after roleplaying and experimenting with new things are still ready to become a hotwife for a real, and if that's you, it's time for the next big step.
Hotwife Rules Are Essential
Before anything, you need some rules. You need to create boundaries and talk thoroughly with your husband about what you want and what you don't want.
It's really, really important to stick to these rules and not bend, no matter how horny you are. These rules should be made in a clear headspace, both you and your husband should make rules and you should discuss what they all mean.
Some rules others have are as follows: No kissing on the mouth, no anal, no solo dates, no sex without a condom, etc. Everyone is different so focus on what you both like and dislike as a couple and set your rules in stone, somewhere safe.
How To Find A Bull/Man You Would Like To Sleep With
The next step is finding a guy you actually like and want to have sex with. This can be the trickiest part for a lot of new hotwives as you have to contend with timewasters and natural nerves from both you and your husband.
Ask yourself these questions:
What kind of guy do you want?
Are you looking for a third or a solo male?
Would you be more comfortable doing it with a friend?
Where do you want it to take place?
Do you want to go to a sex club or a sex party first?
Would you rather go on a date first? (recommended)
Will your husband be watching?
Once you know the answers to your questions, head on over to adult friend finder, it's a really useful place for finding horny and open individuals and couples looking for thirds, bulls, cuckcakes, and everything in between.
It's a lot of fun creating a dating profile with your husband. Make it eye-catching, make sure to explain in detail exactly what you're looking for, and easily connect with people locally and further afield. This is also a great place to hang out if you're looking to just do some online flirting and cam sex beforehand.
Go On A Kinky Vacation
It may sound counterproductive but horniness, kinkiness, and openness all naturally occur when you're on a nice vacation.
Getting away from your town is also a good idea if you can't find anyone trustworthy or who suits your needs in your area, you don't have to go far away, just a few hour's drive to open up the dating pool a little more.
A lot of couples have their first sharing experience while on vacation. There are cities that people go to just for this kind of thing that have a high amount of people who know about the kink and are open to it. There are also cruises specifically for sharing and swinging and even resorts specifically for adults that host all kinds of kinky hotwife events.
Start With Soft Swapping
I find if you go straight in for the kill and do things rushed and quickly you're not going to have time to breathe or know what felt good or bad. I always recommend tip-toeing into this lifestyle and one way to do that is to try soft swapping.
One example of soft swapping is where you go on a date, make out, and leave the date there, see how it felt, did you enjoy it? did it feel strange? If you liked it, go back for more, maybe this time heavy petting, or oral, just take things slow, go home, talk to your husband about it, and see if it still feels good.
For some, a soft swap means everything other than traditional sex. For others, it's just kissing or even flirting. If, after trying out a soft swap it all went well, then go in for the full thing.
What My First Time Being A Hotwife Was Like
Everyone remembers their first time. I wrote an entire article about my first-time being shared, which I don't think most people do, most people prefer to keep things private!
It took me a while to find the right guy, I guess I am picky but when I did eventually stumble across him, I knew he was perfect. He was older than me, confident, and had done this all before. My husband was there with me, masturbating as he watched me with another man, the sex was just incredible, and although I did battle with some feelings of guilt and shame after the feeling of euphoria I was experiencing (which is completely normal), that eventually melted away, and I became hooked on becoming a hotwife.
Be aware that first dates don't always go as smoothly as mine did and if you are uncomfortable or want to back out at any point, do so. You don't want to damage your actual relationship.
Staying Safe On Your First Solo Date

If you have been married a while or don't have much experience with the dating scene, going on your first solo date can be a daunting process and you do need to make sure you are safe at all times. I always recommend going on a date or for a drink with a potential hookup beforehand, it allows you to see if they are who they say they are and gives you a chance to build a connection.
Live Location: Turn on your live location on your phone and share it with your husband so that he can see where you are at all times. This gives both you and him a sense of security.
Meet at a Bar (my favorite), a restaurant, a hotel restaurant, or a coffee shop: Make sure your husband knows the hotel, the restaurant, or the bars you are going to, and keep things as public as possible.
Book Your Own Hotel: No matter how much you like the guy, be in control of the hotel room. Alert staff if you feel unsafe and do not give out a room key.
Update your husband all the time: On top of live location, drop a message to keep your husband up to date on how it's going and how you're feeling.
Have a safe word: This is so important when you don't have time to write a long message or if you're in a room with your bull, it's so useful to have a 'save me' word.
Husband nearby: If you aren't having a threesome, have your husband in an adjoining hotel room, or in the same hotel/near the places you are going so that if anything goes wrong he can get to your quickly.
These tips aren't to frighten you or put you off from being a hotwife, they are just rules you should always follow to have the best time and keep yourself safe.
If Being A Hotwife Isn't For You

If your partner really wants it and the real thing isn't for you, but you are happy with the dirty talking, role-playing, simulation, or just fooling around with the idea then do just that, most men will feel amazing and be happy with you just playing along with the idea and not actually doing it.
This is far better than ignoring their fantasy or doing something you really don't want to do and potentially harming your marriage.

I'm Willow, I'm Brandon's girlfriend and we run this blog together (with the help of some friends). We both have an open relationship and both love being kinky (I mean who doesn't?). I love writing, music and my Womanizer. If you have any questions leave them in the comments.