Having a fetish for cum (or semen) is nothing new or extraordinary in the world of porn. There is something so deliciously dirty in an image of a girl with her boobs covered in cum or perhaps her face as she licks it off her lips.
You're probably familiar with the terms cumshot, creampie, cum fetish, bukkake, and similar. All of these kinks involve cum and often large amounts of it, too. It's no surprise that one single man (or perhaps even several men) can't produce the amount of semen necessary to satisfy these fantasies.
This is where fake cum or cum lube comes into play.
This neat prop is used all over the world for porn scenes and porn pictures both in the professional and the amateur part of the industry. If you want to play with cum but you can't get a lot (or any) of it, then your best option is to use a cum lube.
Let's take a trip down this creamy lane and see what fake cum actually is, how it can be used (and why) and how you can get your hands on this innovative product.
We'll start with a basic question.
Cum Fetish Explained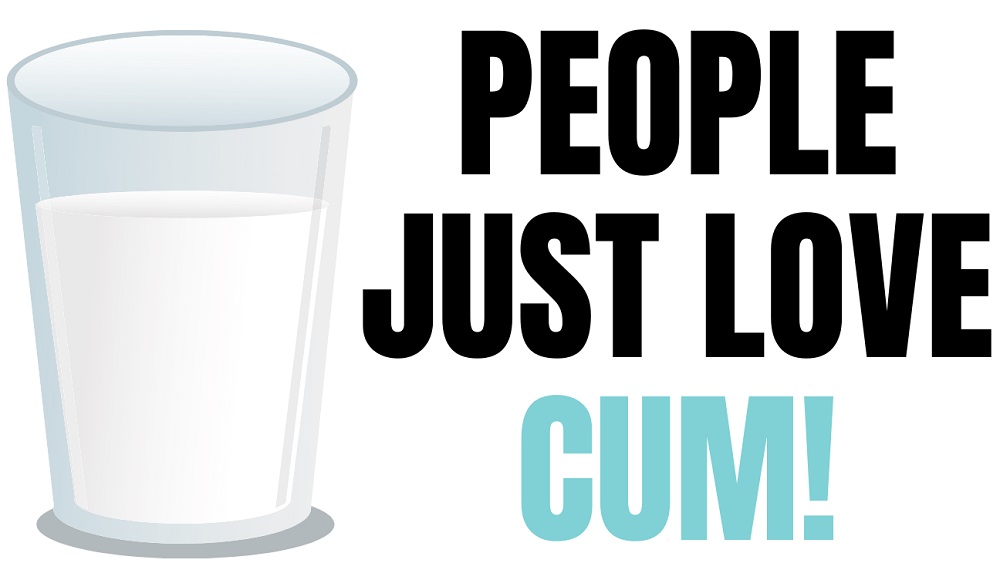 This type of fetish is considered to be related to similar kinks that involve soiling or otherwise messing up the object of your desire. People see pretty things (pretty people) and want to make them a little less pretty, or a little more ruffled and filthier. This can be achieved in any number of ways, and one of the most common ones is through staining your partner with cum.
There are many versions of the cum fetish. I've met people who like to swallow it, to have it on their face, on their body, who like to feel it dripping out of their holes, who like to kiss others with their mouths full of cum, who like to get cum of multiple men on them, and so much more.
Before you get into any cum play, you should talk to your partner about what they're comfortable with and what they like. This will help you enact scenes that both of you find equally arousing.
Why My Boyfriend And I Use Fake Sperm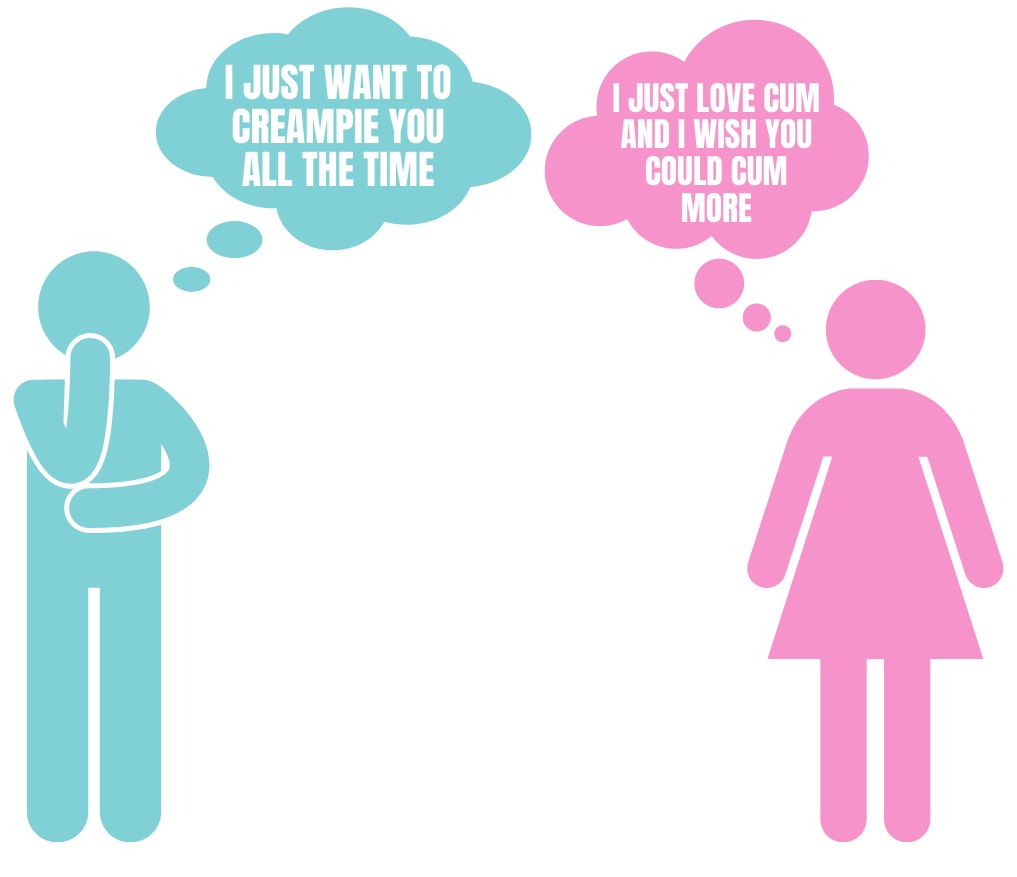 The main reason we use it is to act out fantasies. We like to make it feel like my boyfriend or another guy came inside me. (The obvious downside to using a condom is that there are no nice cumshot moments like these.)
We use fake semen because we like to take hot pictures of my body covered in cum. I also use it with my ejaculating dildos. Visually, it looks incredibly good, and it'd be a shame not to take advantage of something that is so easily accessible and offers you so much in terms of kink potential.
Good artificial cum will trick your brain (you'll think it's real)
Over the course of our sex games, my boyfriend and I have discovered that there is not much difference to the level of excitement between using real cum and fake cum. It doesn't matter whether your guy came all over you or you used a bit of lube to splash more on yourself – your brain will register the final scene and you'll feel just as horny in both situations.
What matters, however, is that the product you're using is a high-quality one. I've seen plenty of fake cum lubes that are oily or sticky to the touch and that don't even look like real semen at all.
This is why I'm going to recommend some of the best fake cum lubes I've tried with my boyfriend. Take a look at all of them and decide which one you'd like to use first.
Other people just love the idea of using cum as lube.
There's a whole Reddit community with over 40 thousand members who all love fake cum and showing off how they use it. It's NSFW: https://www.reddit.com/r/FakeCum/
And here's another one that's all about fake creampies: https://www.reddit.com/r/fakecreampie/
In these links, you'll find tons of inspiration on what to do with your cum lube once you finally get your hands on it.
The Best Cum Lube I've Used So Far
This is a water-based lube that is exactly the same thickness and texture as real semen. It looks like the real deal, too, so you can easily bring to life all your cumshot and creampie fantasies. To top it off, the lube also moisturizes your skin and keeps it hydrated at the same time! 
The Taste, The Smell, The Texture
This lube is creamy white and easily spreadable. It's not recommended for tasting, however, and doesn't smell like semen much. It will still make a great addition to all of your personal (and public) porn shots. The formula is vegan-friendly and you can also use it with latex condoms without worrying about possible degradation.
Other Fake Sperm Lubes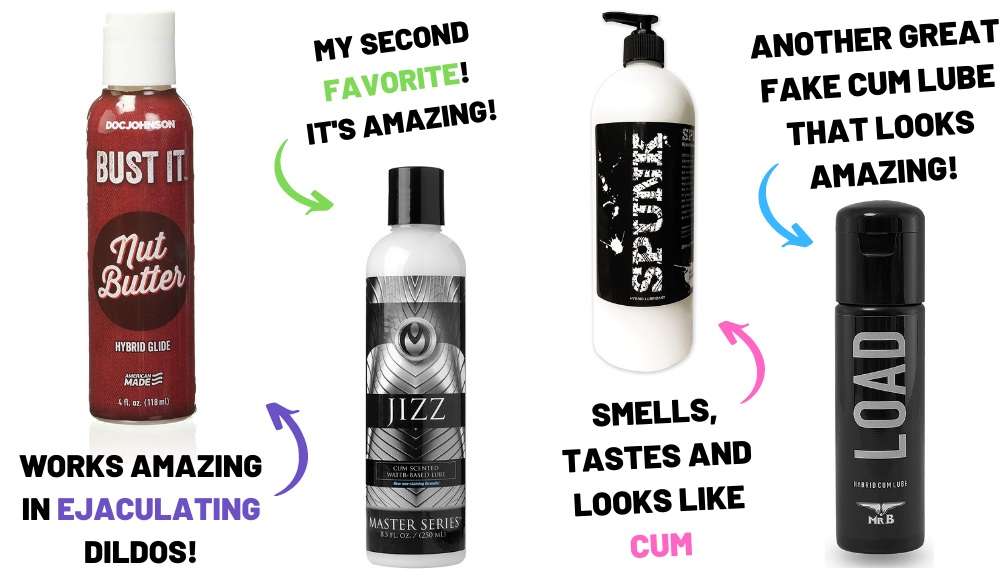 Here are some more options for you to browse through. Take a peek at all these products, read through their ingredient lists to make sure you're not allergic or sensitive to anything, and try them out! Not every option will work for you – depending on what you're going to use it for – but you won't know what suits you until you give it a go.
This One Smells Just Like Cum (My Second Favorite)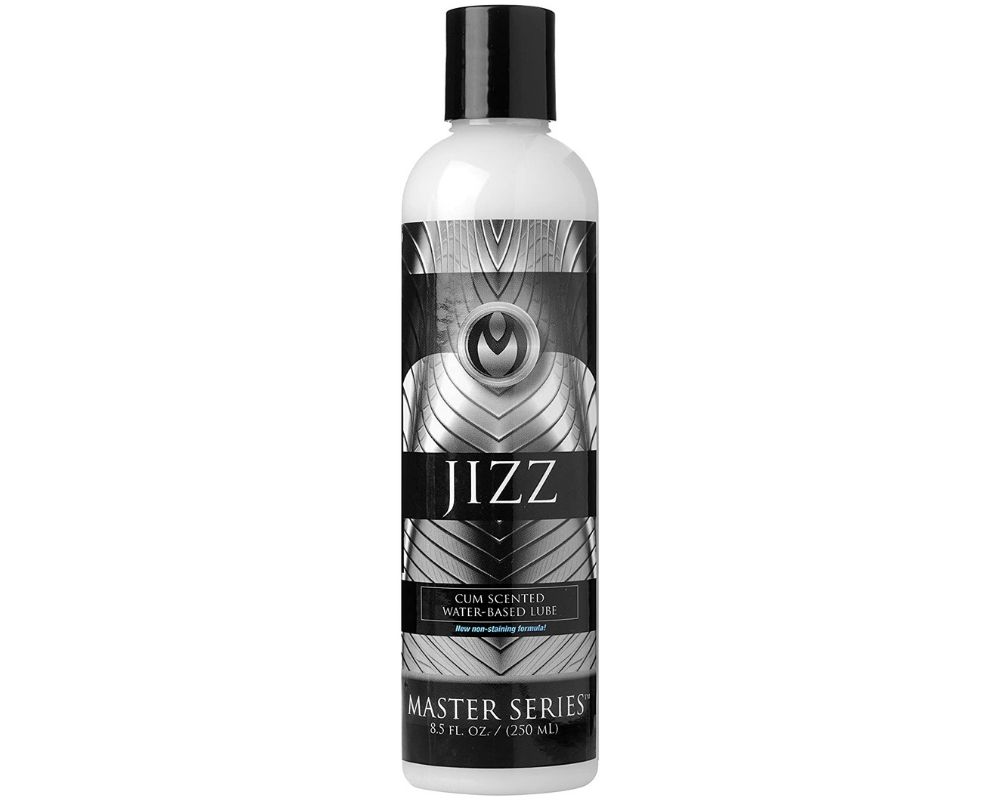 Okay, but it is freaky how much this lube from Master Series smells exactly like real semen. I was skeptical but intrigued enough to want to buy it. And sure enough – I was pleasantly surprised! If you want that spunky scent to add to your bedroom experience, definitely get the Jizz.
It's creamy to the touch, just like real cum, and water-based. You can use it with any toy you want, especially for filling up squirting dildos. The Jizz doesn't stain the sheets or clothes and is 100% safe to use. It even enhances the body's natural ways of lubrication!
Another Amazing Fake Cum Option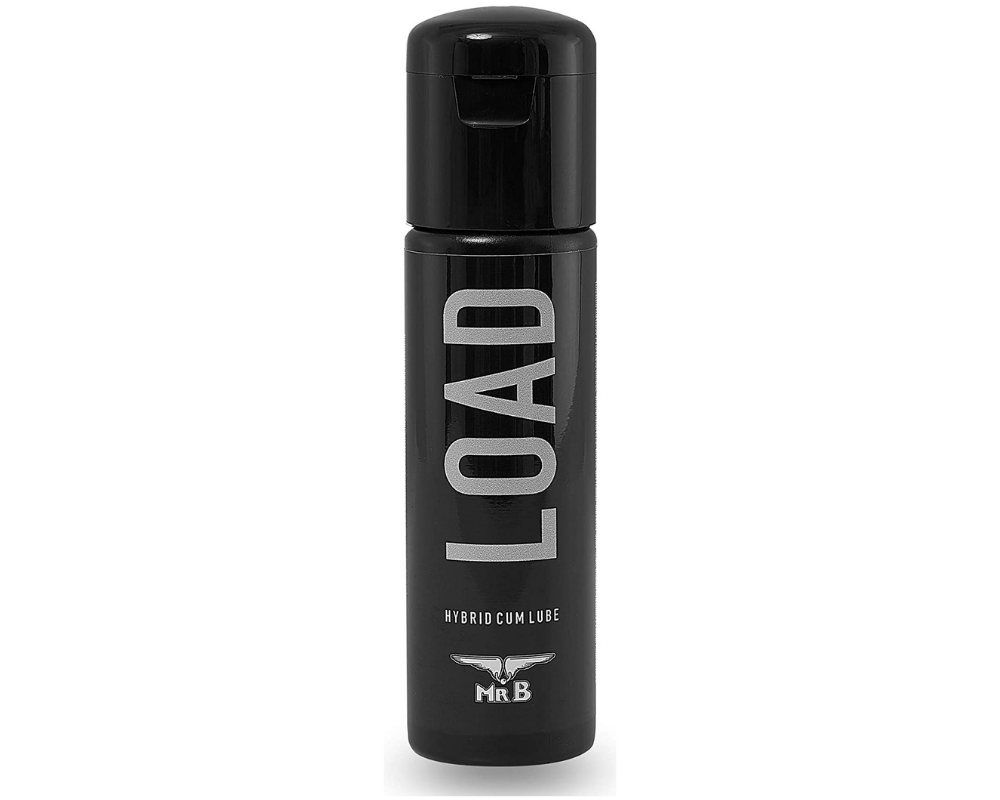 This one has a realistic texture and has been carefully developed to emulate the look of real semen. It's not sticky at all, which was my concern at first, and is quite long-lasting.
The water-based formula of this lube means that you can use it with any type of sex toy and with latex condoms as well. It doesn't cause any irritation since it is made from natural ingredients specifically chosen for sensitive skin. It's definitely worth trying out at least once.
This One Is Perfect For Ejaculating Dildos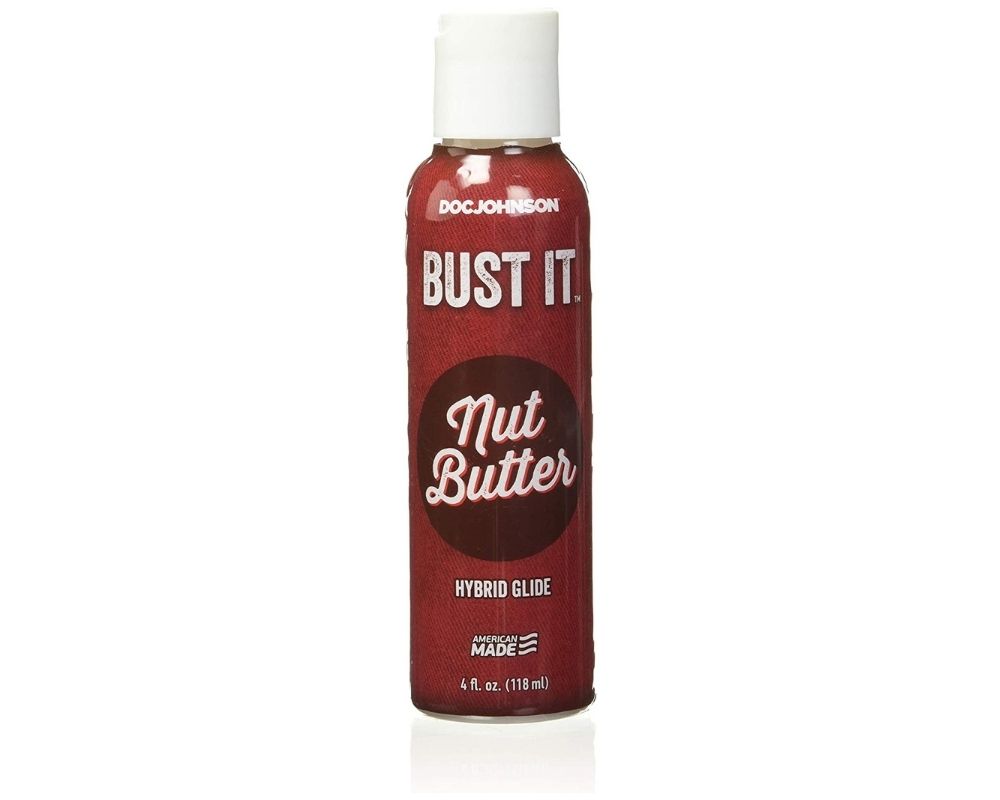 This is bust it nut butter and it's freaking awesome when it comes to squirting dildos! If you like playing with those dildos, then you might want to take a look at this option from Doc Johnson. (Perfect to use with Doc Johnson squirting dildos, but with any other similar toy as well.) The lube is very cum-like in both appearance and texture.
Doc Johnson went above and beyond in devising a formula that is a blend of silicone and water, so this lube is somewhere in between. It doesn't contain any parabens, glycerin or sugar and is PETA-certified. No animal was harmed in the making or testing of this lube! You have to try it with your favorite squirting toy.
Another Great Brand Of Fake Sperm Lube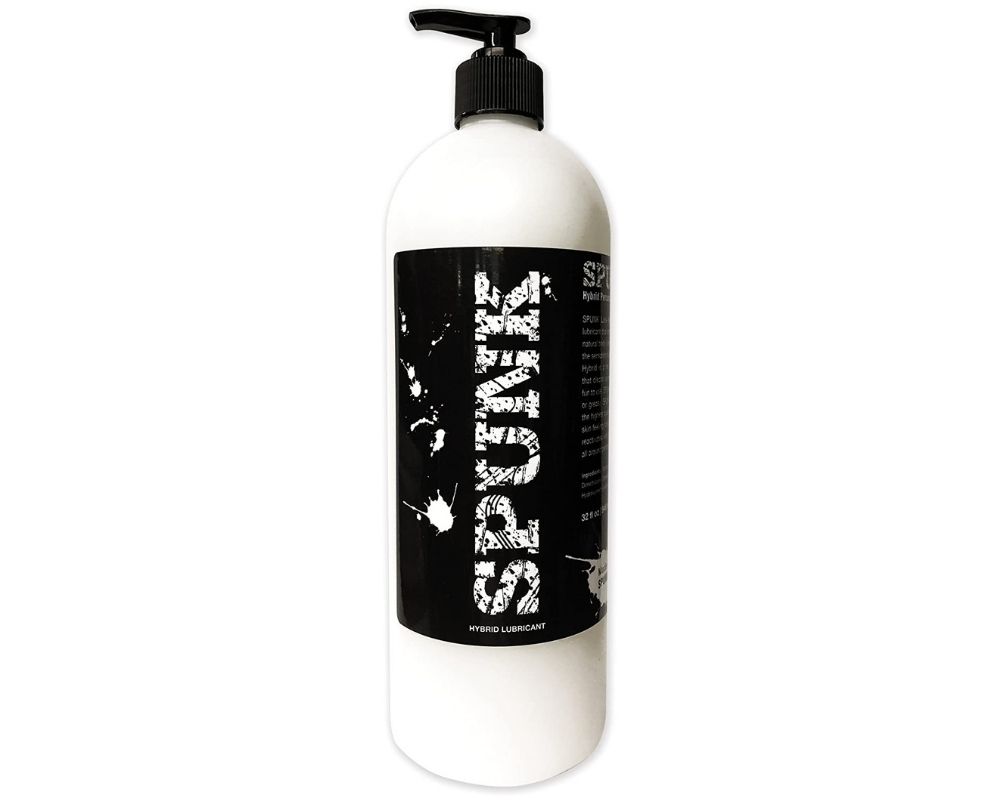 This Spunk is an award-winning lubricant. Yes, there are awards for lubes (many of them). It is a water-based silicone formula that has the same look and feel as real semen, meaning that it's white and creamy. I love how it feels on the skin and that it doesn't stick and isn't too greasy as some lubes tend to be.
So many porn stars and porn studios use the Spunk lube for their scenes. It's safe to use pretty much anywhere on the body, including the face and hair. No matter what you're doing – be it vaginal sex or anal sex or masturbation or using toys – this option has your back.
How To Make Your Own Fake Cum (Like They Do In Porn)
If you're not keen on buying a packaged product of fake cum, you can make your own formula at home! There are plenty of recipes for fake cum, and here I've collected a few of the most effective ones. They're not difficult to make at all and I'm sure that you'll love the results they provide.
I'll start with this video that breaks some down and does a taste test, but, below is a simple brokedown version of all the best recipes I've tried.
Disclaimer: I did my best to try, create and research all the below, but as always try them at your own risk.
Option #1
Warm water – 4 oz
Xanthan gum – ½ teaspoon
Liquid glycerin – 3 teaspoons
Grapefruit seed extract – 4 drops
*The grapefruit seed extract is necessary only if you're planning on making several batches and storing what you don't use. It acts as a preservative.
To start, mix the xanthan gum with the glycerin. Stir until the mix is even, roughly one minute. Add the water and the preservative and continue mixing for another 4 minutes. That's it! Yes, it only takes 5 minutes in total!
If you're not happy with the consistency, you can alter the portion of some of the ingredients. Water will make the formula slicker and xanthan gum will make it thicker.
This recipe is safe to consume and safe to use inside the body (it won't harm the pH of the vagina).
Option #2
Methylcellulose
Water
Baby powder
There are no measurements here because it is up to your preferences how thick you want the mix to be. All you need to do is mix water with methylcellulose and stir it until it is even. Start with ½ teaspoon of methylcellulose and add water little by little until you get the texture you like. Finally, add a dash of baby powder to make the mixture white.
It's important to note here that this recipe isn't the safest to consume (by mouth). Small amounts should be fine, but it's still better to be safe than sorry.
Option #3
Water – 1 cup
Cornstarch – 2 tablespoons
1 Large egg white
Sour cream or yogurt – 2 tablespoons
Pinch of salt
This recipe is the trickiest of all that are listed here. First, dissolve the cornstarch in about ¼ cup of water, then add the rest of the water. Cook this mixture on medium heat until it becomes nice and thick, then set it aside to cool.
Once the cornstarch mix is cool, add the egg white. Finally, add the sour cream bit by bit and gently stir it in until you get the color you like (it doesn't have to be completely even here, you can have a marble-like mixture). Add salt to taste.
Yes, this mixture can be consumed and it should both smell and taste like real semen! It is a bit more difficult and time-consuming to make, but it's my favorite out of all the homemade options.
Option #4
Cornstarch – 1 cup
Boiling water – 32 oz
Simply mix all of the ingredients together and voila!
This recipe isn't good for storing and you should throw it away the moment you're done having fun with it. Its consistency will become powdery over time and it'll become useless. Use this one only if you have no other options and you really need fake cum.
Is It Edible?

As you probably already saw in my post, whether or not fake cum is edible depends on the ingredients in its formula. If you're buying a product, read the label carefully to see whether it is safe to consume. If you're making it yourself by using the recipes from above, check which ones you'd prefer – the edible or the inedible ones.
What Does Fake Cum Taste Like?
From my experience and that of my friends – it doesn't taste very nice. Real cum doesn't taste too nice, either – depending on what your guy ate previously – but I feel like fake cum is even worse. (Fun fact: did you know that when porn stars are required to hold 'semen' in their mouth for a long time, they usually use pina colada mix?)
If you want to buy fake cum that tastes authentic, you'll have to do quite a bit of digging and taste-testing, unfortunately. Most products I've come across focus mainly on the appearance and feel rather than on the smell and flavor.
Make Your Own Or Buy Ready-Made?

This is entirely your call! Making your own fake cum could be cheaper, and it's not that difficult to make. The downside is that it is tricky to store it for a long time. Usually, the batch you make should be used by the end of that same day. This means you'll have to make a new batch every time you want to play with it, which can be a bit bothersome even with the short prep time.
On the other hand, cum lubes are easy to order and have a long lifespan, but they do come with a higher price point.
Our Favorite Way To Use This Cum (Story)
So there is actually no one way that we use fake cum. There are many ways and some common situations in which we use it. We own a lot of strap-ons and ejaculating dildos and we love to play with them often.
My boyfriend fills up our ejaculating dildo and connects it to a harness. It's the type that allows him to penetrate me at the same time that the dildo goes into my other hole. My boyfriend then lets the dildo cum every few minutes, making a mess of everything. 
The cum drips down my thighs, stains our sheets, makes everything slippery and kinda gross but so hot at the same time. The first time I saw cum drip out of me, I nearly climaxed from just the visual alone. After, my boyfriend usually takes off the harness and then has sex with me without any toys in the mess that we created.
The repeated fake ejaculations feel great. They keep the dildo nice and lubed up and, for some reason, my mind always thinks that my boyfriend came inside of me, which is a big turn on for me.
We don't use fake cum every time we play because I'm too lazy to be stripping the bed and washing the sheets after each session, but we use it often. It has quickly become one of our favorite tools to use in the bedroom.
Some Things You Can Do With Your Homemade Sperm

Lastly, here are some ideas of what you can do with your fake semen when you get it (or make it). You don't have to do all of these or limit yourself to just one. Try as much as you like and see which are the best for your kinky heart.
If you're into porn, if you're a cam model or you just enjoy building your private collection of sexy pictures, this can be a real game-changer. I can't even begin to describe how excited I was when I realized that I can finally have shots of myself covered in cum just the way I wanted them for a long time.
Add it to your sex toys (extra realistic)
It doesn't matter if you're playing with a partner or by yourself. If you like the feel of ejaculation or like how cum dribbles out of your vagina or your ass, definitely use it in combination with an ejaculating sex toy. It feels incredibly realistic! Get yourself a squirting toy and test it out.
This may be an obvious option, but fake cum lube is still lube. It serves to get you nice and wet and prepared to take in either your partner's penis or a toy. You can use it as lube for the vagina or for the butt. Just make sure to check whether it's safe to use with latex condoms.
Fake creampies, cumshots, etc.
Not only can you create fake sexy pictures starring semen, but you can also shoot entire scenes with enticing close-ups on cumshots, creampies, and more. You'll probably need a partner for this, someone to handle the camera and someone to squirt the fake semen in just the right way.
Use it to play out unfaithful fantasies
This is probably my favorite option. If you want to pretend like you have a lover or have just had sex with someone who isn't your partner, you can use fake cum for that! It opens all sorts of doors to roleplaying and amazingly scandalous adultery scenarios. I can't even begin to tell you how many times my boyfriend and I indulged in this.
Live out breeding fantasies
Finally, you may have a breeding kink, meaning a fetish for being impregnated. Of course, being pregnant and having a baby is a serious step in life, which shouldn't come from a kink, so the next best thing is to use fake cum to bring these fantasies to life. You can pretend like your partner inseminated you and go wild with want.
I you have any questions, post them in the comments and I'll be sure to answer you.

I'm Willow, I'm Brandon's girlfriend and we run this blog together (with the help of some friends). We both have an open relationship and both love being kinky (I mean who doesn't?). I love writing, music and my Womanizer. If you have any questions leave them in the comments.