Getting into character, really feeling this scenario, and giving yourself and your partner the most convincing time of their lives is essential to being a hotwife or cuckold. Whether you're simulating the scenario with adult toys or doing it for real, dirty talk is so important and if you're stuck for ideas or have no idea what to say, I am here to help.
I am a seasoned hotwife and dirty talk is something I adore. At first, I was nervous about it, second-guessing everything I was saying, feeling awkward and shy about saying certain things but when you see how well the person you are with responds to it, it becomes addictive and now I just can't stop, even when Brandon and I are alone, I like to talk dirty.
Today I am going to be sharing all of the cuckold and hotwife dirty talk you're going to need to set you apart from the rest and really make hearts beat faster, cocks throb harder, and pussies wetter. Let's begin!
Dirty Talking Is A Massive Part Of Cuckolding

This kink requires you to be convincing, bold, and very sure of yourself, and without the right words of encouragement and convincing phrases, you may not be fulfilling your hotwife/cuckold experiences to the max.
The right kind of dirty talk can:
Be enough to completely fulfill this kink without needing to share.
Make your wife be more open to being shared.
Make your wife have a much more intense orgasm.
Make your husband have the biggest orgasm of his life.
Make your cuckold the happiest cuckold in the world.
Make reclaiming so much more sexually bonding and intense.
It can do all that and so much more, words are so powerful, and using them properly can enhance your own and your partner's experiences. It doesn't matter if those things are humiliating, kinky, extreme, or passive, what matters is that you're saying something and there are so many ways to do this.
Men and women are visual creatures and so being convincing and using your imagination will really help you in making sure your dirty talk is as effective as possible.
Hotwife Dirty Talk Ideas (Things to Say To Your Husband)

A lot of these dirty talk ideas don't actually have to happen or have happened for you to say them, that's what makes them so powerful. You can live out this fantasy without doing anything with a third person in your bedroom. If you want dirty talk ideas for your wife, you will find them further below!
Solo dirty talk can be made even more intense:
Use orgasm control, denial, and teasing when whispering dirty things into his ear.
Tease him while giving a handjob, whisper naughty things whilst your hand jerks him into a denial frenzy.
Use a magic wand with a special cock attachment, and switch it on to talk dirty to him and watch as his eyes roll back into his head with pleasure.
Here are my favorite dirty talk ideas for budding hotwives, remember you don't even need a third person to fulfill these dirty ideas. Jerk him off, use the magic wand I mentioned, ride him, fuck your bull in front of him, touch yourself, etc, all whilst talking dirty:
Talk Through Different Scenarios
Whilst touching yourself, riding him, or jerking him off, go through what would happen if he shared you.
Say things like "I would fuck his cock just like this", "I would suck his cock like this", and "I would let him cum anywhere he wants, anywhere!".
Talk About The Past Sex You've Had
Menacingly tell him about your past sexual experiences, even if they are made up. Say things like:
I used to suck his dick like this
He taught me how to do this with my pussy.
He gave me my first orgasm.
I used to stroke his cock like this, he was so much bigger than you.
It felt so good having his big cock in my hands.
Details to include:
When you're telling him about your past experiences, make sure to include smutty details for him to think about. Be dirty, be specific, honest, and brutal! Describe these things in detail too:
Would I fuck him again?
Do I miss fucking him?
How did it feel?
How many times a day did he fuck you?
Did he use to fill up your pussy with cum?
Talk About The Biggest Cock You've Had Inside You
Tell your husband all about the biggest, juiciest, and girthiest cock you have had inside of you (even if you're exaggerating). Tease him with the details, touch yourself as you tell him good it felt and how much you still think about it.
Timer (How Quick Will You Cum When I Talk About…)
This dirty-talk idea is really fun. Set a timer and talk about his favorite topics and make him cum really quickly. This requires quite a lot of attention to detail, you must be filthy, convincing, and sure of what turns him on the most. Some of my favorite things to talk about when I am timing Brandon and his orgasm are these dirty topics:
Fucking a BBC
Taking a big dick
Fucking his friend
Porn Watching
Put on some of your favorite porn and whilst watching it, compliment how good the guy looks:
Explain how much you would like to try a cock like that
"I wish I could fuck a cock like that one day"
"Look at how hard and big he is"
"Fuck he lasts so much longer than you can!"
"I used to fuck a guy who had a cock like that"
Touch yourself and him as you watch the porno and get both of you off to your dirty talk and the video playing in front of you.
Would You Like Me To Do This To Another Guy?
Whilst touching/fucking your husband ask him outright if he would like you to do this to another guy. The idea will stick in his mind as you continue doing whatever you are doing, it's simple yet so effective.
I'd Like To Fuck Your Best Friend & this is how…
Announce (whilst having sex or pleasuring him) to your husband your latest conquest and do not spare him any of the details. Make someone up or use his real friend to share a filthy fantasy with him about your desires and lust for another man, a man who is extremely close to him.
Look at your little cock…
If your cuck is into humiliation or you just testing the waters with it, try this small cock orientated dirty talk:
I would love to try bigger *sigh*
Look at how hard it got when I said it was little!
This is more of a cock for my ass, his is more for my pussy.
I don't feel anything
Ask him how he would like you to get fucked
This idea is always very effective for me. It gets his imagination running wild and allows you to see into what his desires are which you can then use in your dirty talk.
Ask him:
Would you like to take me with another man?
Would you like to watch me getting stretched out by a big cock?
Would you like to see me swallow someone else's cum?
Do you want to feel my used-up pussy?
See how he responds and then play on that response, tease him and keep bringing it up in dirty ways.
Clean-Up Time Hunny!
Make some fake cum or buy some of this convincing cum lube. Use it with a dildo or with an ejaculating dildo.
Whilst you're using your dildo, tell him that when it cums he is going to have to clean it all up. Really get into his mind and convince yourself that it's real. Get him ready for it, make him clean the dildo, stop for clean-up breaks, and when you're ready let the cum happen and make him clean it all up off of you. This will mimic the real sensation and let him imagine it cleaning up after another man.
I Want To Be Bred
Talk about breeding, (read our entire guide on breeding here) and let him know that you want him to compete to impregnate you with another man's seed.
Focus on the creampies, the competition, the pregnancy, and get him aroused and riled up about the sperm wars that you want to ensue.
I Just Crave
Tell him explicitly what you crave, whisper it into his ear as you ride, touch yourself in front of him as you tell him what you're craving, or jerk him off as you tell him exactly what it is that you want. These are some great intense desire topics you can use:
BBC.
Big dick.
Being a slut.
Being used by different men.
Being a cum slut.
Being bred.
I crave a cum-filled pussy.
What I'm Going To Do When I Finally See/Get…
Tell him all of the dirty things that you are going to do when you finally get to see your bull. Describe in detail what another man will do to your body, and explain passionately about feeling being shared and having a big dick inside of you. Get him off as you tell him everything that is going to happen.
Could You Take Two Of Us?
Use a suction cup dildo or a sex machine to simulate a threesome, suck his cock or ride him and ask him if you are doing it well:
Am I taking this dick okay?
Would my bull be happy with this?
Use your dildo or sex machine in unison with your husband and derive all of your pleasure from your sex toys. Get off hard on your devices and ask for your husband's reassurance as you pleasure yourself and him at once.
Beg For Size
Use a dildo that's larger than your husband's appendage and swap between them both, make sure that you beg for the dildo when he is inside you. Tell him what it feels like, and why you like it, and beg him to put it back in you even if his cock feels good.
I Would Let Him Do Anything!
Find someone you find really hot (it can be a celeb, a fictional character, or a friend if you want to be extra naughty) tell your husband all the things you would let him do to you, maybe some things you wouldn't even let him do and do this as you jerk him off or ride him and just watch as his face changes from confused to aroused beautifully.
I'm Going To Cum Thinking About Another Man, Okay?
Tell your husband that you're going to cum thinking about another man, maybe even about someone he knows. Make him watch you get off as you think about someone else and bring yourself into an orgasm frenzy.
I Want My Bull To Cum In Me, Would You Let Him?
Say this to him when he is close to cumming, gently whisper it into his ear, and see how he reacts, you could even try denying his orgasm until he agrees to your wishes if you want to be extra naughty of course.
I Want My Bull To Fuck Me In My Ass
During sex, pre-orgasm, foreplay, or whilst jerking him off, tell your husband that you want your bull to fuck your ass, that you want his cock to spread you open, and feel how deep your ass goes. Have fun with this one! Don't let your husband near your butt or sigh as he fucks your ass as you daydream openly about your hung bull.
Yes Or No Game
This game is an easy way to talk dirty to your partner if you are a bit shy, awkward, or don't know what to say to them. Each of these questions will prompt your partner to answer with a yes or no answer and you can carry on from there or continue asking dirty questions.
Do you like the way this feels?
Would you like me to do this to another guy?
Do you think he would last longer than you do?
What if I want a guy with a much bigger penis, is that okay?
Would you let him fuck me after?
What if his big cock makes me have a really big orgasm?
Would you get jealous?
Would I be able to fuck him in our bed, right here?
What about on her sofa?
What if I want to take you both at the same time?
What if I want him to cum inside me?
What If I want you to watch and hold my hand while he fucks me hard?
How Would You Like Him To Fuck Me?
When you want to turn him on or make him think as you're riding him or jerking him off, ask him outright how he would like to see another man with you, make him think good and hard and his answer may surprise you.
It's All About BBC
Talk about all things BBC, wanting to try your first one, wanting to see how it feels, wanting to feel a BBC cum inside you. Be descriptive and detailed in your dirty talk, and let your imagination run wild with scenarios and different feelings you have towards this hot topic.
Use his orgasm against him
This is one of the simplest ways to talk dirty. Use his pleasure against him, it can get seriously dirty and heated very quickly so be prepared for this one to work almost too well!
Ask him, do you want to cum? When he nods, tell him that the only way he can cum is if he agrees to your demands, (choose whatever you want, these are some of my favorites):
Let me try someone bigger
Let me have anal with my bull
Agree to let me have another man's cock in my mouth
You agree to share me before you can cum
You admit your cock doesn't satisfy me
Promise to clean up my bulls cum
You Have To Cum Too
Every time he is close to an orgasm ask him to imagine you fucking someone else, make him think of nothing else other than having a guy (maybe one of his friends) fucking you. Make sure it's in his mind as he blows his load and make this a common way for him to cum.
Imagination
Make him imagine you being shared, pick your favorite scenario and then hypnotize him with the thought of you with another man.
Ask him: Are you imagining it going well? Imagine me taking his big cock?, Look at my ass, imagine him fucking both these holes, imagine his cum dripping out, let me show you (put some fake cum on your ass or pussy), look at it, that is how he has left my pussy!
Cuckold Dirty Talk Ideas (Things To Say To Your Wife)

Let's turn the tables around! After all of the dirty talk ideas that we have just seen for the cuck, it's time to share some of the best dirty talk ideas for the hotwife of the relationship. This is what her cuck or loving husband is to say to her in the bedroom to get her off about her fantasy. If you have anything you want to add, leave it in the comments below.
All of the below ideas work best with the following:
Her masturbating while you talk dirty to her.
You using a vibrator on her while you say these things.
You fingering her while saying these things.
Whispering seductively in her ear.
If she stops answering you can stop the pleasure, tease her, get her all worked up, and see what ideas make her cum.
Yes Or No Game
We love the yes or no game. As you're pleasuring her, or she is pleasuring herself, ask her these questions slowly and seductively, stopping to tease her and bringing her to the brink of orgasm again and again:
Would You Like A Threesome?
Two guys inside you at once?
Who would you like to do it with?
Do you think it would make you cum harder?
Would you like me to watch you with another guy?
Do you know how sexy you are?
What Is The Sluttiest Thing You've Done?
Ask her to describe to you in detail what the sluttiest thing she has ever done is. Do this as you use a vibrator, dildo, or your tongue on her. Make sure she is getting off as she answers you, you want her memories to be right back in that place as you pleasure her into oblivion.
Would you let him cum in you?
Ask your hotwife personal details about this venture she wants to go on and this time make it all about hot, sticky, salty cum. Ask her specific and naughty questions and enjoy her dirty responses.
Would you like to feel his cum inside you?
Would you make him pull out?
What if he didn't pull out?
Would you swallow his cum?
Do you think you could make him cum?
Ask your hotwife if she could make 'him' cum (him being her bull, a fantasy man, or somebody you know she wants to sleep with), ask her how would she do it, and does she think he would cum quickly. If she has any doubt about her abilities, make sure you let her know how quickly he would cum for her.
My Friend Said You Were Hot
Tell her any compliments your friends or people have said about her as you touch and pleasure her.
You showed your friend a sexy picture of her and he said that she has a fucking amazing body, your friend mentioned what a lucky man he is, and your friend commented on her amazing breasts, let her know any comments (made-up or real).
Remember to always get full consent before sharing any pictures.
Imagine Him As I Fuck You
As you fuck your hotwife, have her close her eyes and imagine she is with another man, the man she wants to be shared with. You can make this even more believable by wearing a wig, different aftershave, and putting a blindfold on her. See how wet and horny she gets as she sees her very favorite fantasy coming to life.
Imagine A Hung Bull As I Fuck You With This Dildo
Talk to her, show her the big cock and tell her to imagine this big, hung dumb bull, just about to go in your pussy, imagine his cock rubbing over you, he forgot his condom are you still going to let him in you? oh, he is in! this is how good it would feel, look at how stretched out he's making you.
Tease her with the hung dildo and make her believe it's a big bull penetrating her pussy, making her feel good and stretched.
Who Would You Like To Fuck?
Ask her as you tease her who, no strings attached, she would like to fuck. Is it her boss? Your boss? one of your friends? A celebrity?
Tell her to describe her perfect man, who she wants to be shared with, are they a fictional character? or someone she has met who ticks all of the boxes. Not only is this incredible dirty talk, but it will also get her off and if you are thinking about sharing your wife, it will I've you an idea of her type and what you should be looking for.
What Do You Want Your Bull To Do To You?
This is a good one, it gets her mind racing, her imagination flowing, and will allow you to see what she wants so that you can build on that (is it a big cock? well, then get a big dildo, for now, to satisfy her with). As you pleasure her she will let loose and spill more of her bull-desiring secrets.
One Night As A Bull
Have your wife treat you like a bull, have a whole night set up, get a penis sleeve to make your cock feel differently and while you fuck her, have her behave like a complete slut, have her explain how good his cock feels, and treat her differently to how you normally would, be kinkier and go over the top. Call yourself a different name, shave where you never normally do and convince your wife she is with a new man.
Would you like to try…
As you pleasure your hotwife, ask her outright what she would like to try next. Make sure you create a space where she feels she can open up and tease her clit by stopping her from cumming and denying her whenever she gets close. These are just some dirty things you can ask her if she would like to try:
Group sex
Glory hole
Blindfold sex with another guy and me.
Threesome
Double Penetration
Group Blowjob
Being the center of a multiple men
Being watched being fucked
I Just Want A Bull To Feel How Good Your Pussy Feels
While fucking tell her how good it feels, how that's why you want to share her, how quick she would make another man cum with how amazing she feels down there, and how much he would enjoy how her pussy, mouth, or ass feels if she gave him the chance. This will boost her ego and make her fantasy feel even closer to coming true.
What Would You Wear For Him?
Ask her what she would wear to fuck another man, and have her plan her outfit for you, right down to the tiny details like her nail color and make-up choices.
Thong?
No Panties?
Short Skirt?
Dress?
Completely nude?
Tell Me Your Past Sexual Experiences
Arouse the memories of her sexual past, ask her to tell you about what she used to get up to before you and she got together. How slutty was she? how many men did she sleep with? Get her to a place where she is reminiscing and desperate to live in her memories once again, horny and desiring another man.
Watch Porn Together
Pick a porno, lay down together, and either masturbate or touch one another as you watch the scene unfolding (I recommend hotwife/swinging/sharing or cuckold porn). As you're both getting off ask her:
Would you like me to fuck you like that?
Would you like to try that?
Does that make you horny?
It's too big!
Buy her a big, hung dildo (that one is my favorite), hold her hand as she tries to take it, talk her through the process, praise her, encourage her and help her, lube it up for her, and kiss her neck. This is dirty talk to the extreme with a naughty prop helping you out.
Big Dick Sex Machine
Make your own riding dildo, using a sex pillow mount and a big dildo, and while your partner rides it hold her hand, encourage her, kiss her back, lick her ass/tits, massage her and tell her how good she is doing and taking the cock. She will feel as if she is riding and being pleasured by another guy with you in the room with her.
Picture Of The Guy She Wants To Fuck
While she masturbates show her a picture of a guy she wants to fuck, make her look at him while she cums, and talk her through fucking him. Obviously, talk this over with her before and make sure you know the type of guy she wants in bed with her.
How Would You Like Him To Fuck You?
Different positions, speed, roughness, the setting, etc, all of these are important things to ask as she masturbates or you fuck her. Have her tell you exactly how she wants it from him and get her off to the idea.
Extra Naughty Cuckold/Hotwife Related Things to Say In The Bedroom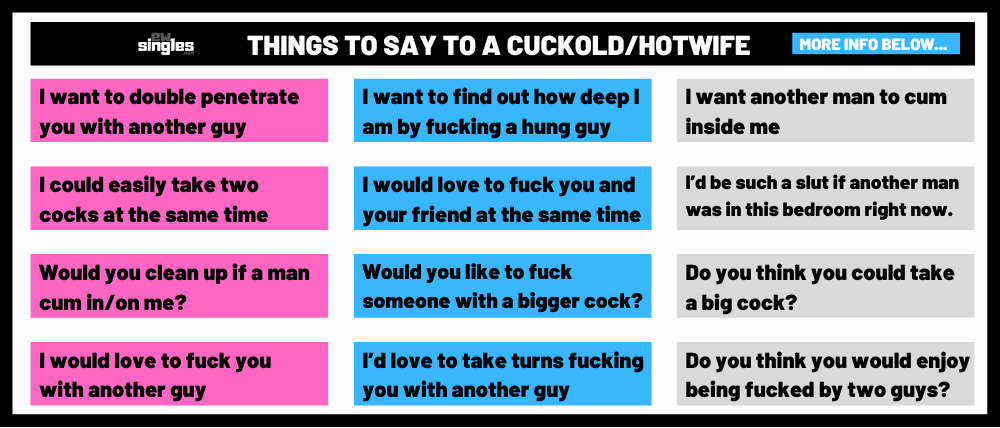 These are just a few extra things you can say in the bedroom to turn the heat up even higher. These are a mixture of hotwife and cuckold phrases, use them how you wish, put your own twist on them and enjoy!
I want to double penetrate you with another guy
I want to find out how deep I am by fucking a hung guy
I want to try my first BBC
I want another man to cum inside me
I would swallow for another man
I could easily take two cocks at the same time
I would love to fuck you and your friend at the same time
I'd be such a slut if another man was in this bedroom right now.
Would you like me to fuck another guy while you watch?
Would you clean up if a man cum in/on me?
You are such a loving husband, wanting to see me being completely satisfied.
Would you like to fuck someone older/younger than me?
Would you like to fuck someone with a bigger cock?
Do you think you could take a big cock?
I'd love to have a threesome with you
I would love to fuck you with another guy
I'd love to take turns fucking you with another guy
Do you think you would enjoy being fucked by two guys?
How many guys do you think you could please at one?
Do you want to know what double penetration feels like?
I'd love to taste another mans cum
I want to lick another man's cum from your body
Have any of your friends got big dicks
Would you let me fuck [enter name]?
Would you make him wear a condom while fucking me?
If you have any questions or any comments leave them all below in the comment section!

I'm Willow, I'm Brandon's girlfriend and we run this blog together (with the help of some friends). We both have an open relationship and both love being kinky (I mean who doesn't?). I love writing, music and my Womanizer. If you have any questions leave them in the comments.