Swinging is the practice of sexually sharing your committed, long-term partner with other people and being shared in return. Basically, couples (and singles alike) engage in sex with other couples, with their partners present and very much turned on by that.
There are different reasons why two people might become swingers: they want to have more sex; they want to introduce some fun and variety to their sex life; they want to gain more experience, and much more.
It is said that swinging originated during WWII between Air Force pilots and their wives. The theory was that, if a pilot died, the couple he and his wife were swinging with would take care of his widow, emotionally and sexually, and get her through the rough time. Later, this movement gained traction in the 60s with the advent of contraception and means to prevent STDs. It has been on the rise ever since.
My Boyfriend And I Are Swingers
Is it at all surprising that my boyfriend and I are swingers? No, I wouldn't think so. If you're a regular reader of this blog, you know that, even though we love each other and are deeply committed to one another, we like to have fun with other people. We're not strangers to threesomes or hotwifing and so we're no strangers to swinging, either.
In fact, I would argue that by opening up our sexual relationship to other people, we've become more appreciative of our own relationship and what we have. It takes a special kind of bond and trust to watch your significant other have sex with another person and enjoy it.
Swinging is not for everyone. If you feel like you wouldn't like sharing and would just get jealous and/or insecure, then definitely don't do it. There's no shame in that. It doesn't mean that you and your partner's relationship is not strong enough or loyal enough that you can easily share them with others. It just means that it's not for you. And that's fine.
However, if you are curious about this lifestyle and would like to learn more, then I hope this will be a good resource for you. I'm going to talk about dating sites where you can find other swingers and how best to approach this practice so that everyone gets what they want out of it. I'm going to share everything I know and have learned since becoming a swinger.
The Resources I Used To Open Up My Relationship
Below is a list of all the sites and communities I've used over the last few years while opening up my relationship. The point of swinging is to get to know other people, talk to them, and perhaps then meet them in real life for some playtime. Dating sites are ideal for this, especially the ones you'll find below.
The Best Swinger Dating Sites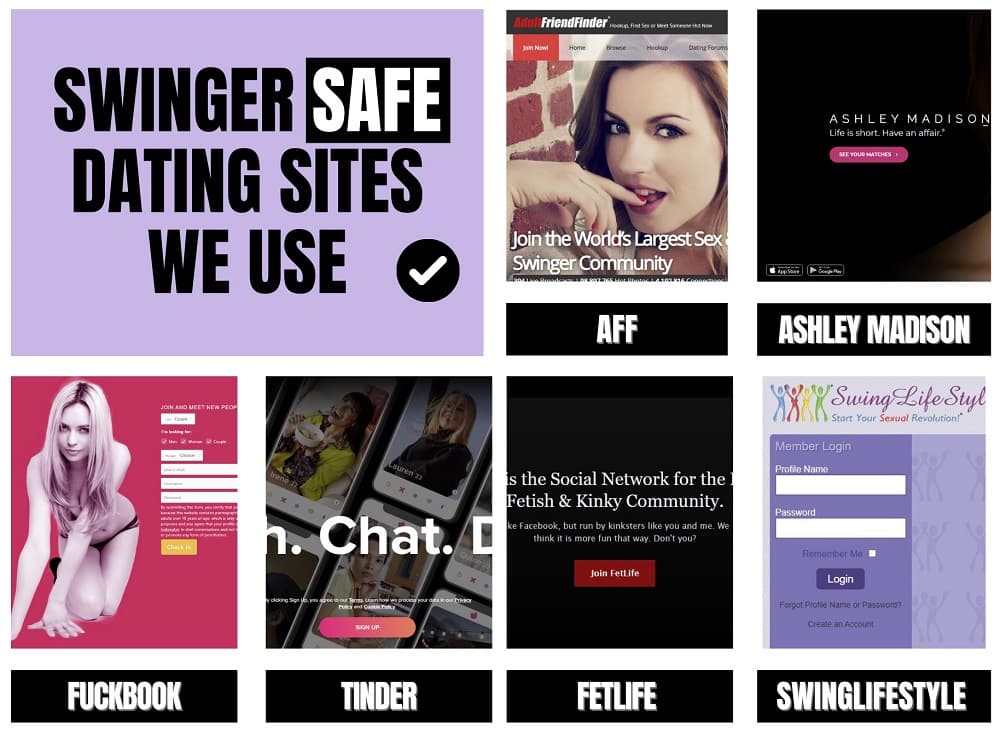 This is a list of all the best swinger dating sites that we use.
If you want to meet someone new for a hookup of any kind, Adult Friend Finder is your best place for that. Seriously, if you don't visit any other site on this list, you will still have more than enough success with this one. It is a community where you can create your profile and start hooking up in a blink of an eye.
Everyone on Adult Friend Finder is open and kinky. You just have to know what you want, what you're looking for, and you will have no problems finding it. Be open and friendly and chat with everyone until you run into the right person (or people). On Adult Friend Finder, it's only a matter of time!
Alt.Com

(For Extra Kinky People)
In terms of what you can do on the site – create a profile, upload pictures and videos, browse through other people's profiles and message each other – Alt.com is similar to Adult Friend Finder. The difference is that Alt.com is geared more towards the fetish community.
This is a BDSM dating site for those who love more extreme sex. You can find BDSM enthusiasts on Adult Friend Finder as well, but on Alt.com you know that every member is into this lifestyle and there are greater chances of you finding a couple who wants to be as kinky as you and your partner are.
Made specifically for swinging, SwingLifeStyle is where you want to be for meeting other couples exclusively. It is a simple site where you make a free account and you can start browsing through its members immediately! I love how you can create a single profile for a couple, making everything so much easier.
On SwingLifeStyle, you can read and write blogs, post on forums, join groups, and even find a list of swingers clubs in your area that you can visit. You can sort through swingers by the state to make it easier to find those close to you. There is also an abundance of stories and articles to read to familiarize yourself with the lifestyle.
Despite being a controversial site in many ways, if you want to meet couples, Ashley Madison is not a bad spot. After all, it is a site where married people can find others to blow off some steam with. It promises discreet photos, no connection to your other social media, and has some cool inbox features.
What is less positive about Ashley Madison is that married members often use the site to cheat on their spouses. Not only that, but the site has had some shady activities in the past, such as collecting the data of its members and not deleting it even when the members paid for it to happen. Overall, I'd approach this one with caution.
Fetlife is easily one of my favorite sites on this list. Between it and the Adult Friend Finder, I can't decide which one I like more. Much like Alt.com, Fetlife is also aimed at kinksters, those who like to play a little rough and assume the sub and dom roles in the bedroom. It is ideal for finding BDSM partners of any kind, including couples.
To access Fetlife, you need to make a free account that will stay free forever, unless you decide to donate to the site. It is full of fun, flirty people who are not afraid of expressing their kinky sides, and I guarantee that you will have loads of fun on this site. If you're curious about my full review of Fetlife, check it out here.
Another swinger-specialist site, FabSwingers is great not only for the US but also if you find yourself in another English-speaking country. You can sort the members by the country they live in, whether it be Australia, Canada, Ireland, New Zealand, the UK, or the USA.
Overall, this is a community that I've found to be the most helpful. If you have any questions or concerns related to the swinging practice, FabSwingers members will be more than happy to help you on their forum. You can also participate in live chat and join live meets and events if they happen to be close to where you live.
Tinder

(For Quick Hookups)
No one can deny the convenience and effectiveness of Tinder. Ever since this app launched in 2012, it has garnered millions of users from all over the world who've come flocking to it in search of casual hookups and romantic connections alike. Downloading the app is free, making an account is free, and meeting other people is also entirely free!
The downside to Tinder is that you can't make an account for a couple. It could be a bit awkward, needing to explain to people that you don't want to meet them one on one but would rather like your spouse to join as well. However, there are plenty of those who are open to this idea too, so you never know!
Fuckbook

(Like Facebook For Sex)
The concept of Fuckbook is genius: a platform designed to be like Facebook but for sex! Here, you can do pretty much everything you do on Facebook, with the end goal being to meet someone who wants to have casual sex with you. All of the profiles and most pictures you will run into are explicit, so this is not a safe space for minors.
However, Fuckbook comes with its own set of disadvantages. It is not free. The only free feature you get is that you can view other people's profiles, but you can't message them or even do much on your own profile before upgrading to a premium membership. With so many free alternatives available, Fuckbook should be your last resort.
How Successful & Safe Are These Lifestyle Dating Sites?
All of the sites I listed above are pretty safe, but you always need to take extra precautions to protect yourself and your partner. Don't reveal your real names if you don't want to, perhaps first, only share pictures where your faces are not visible, never ever reveal any personal information such as where you work or live or similar. Use common sense when interacting with strangers online.
Having said that, even with all these bonus steps for safety, my boyfriend and I have had loads of successful hookups using a mixture of the sites above.
We have made real friends who then helped us ease into the community. We've also found online friends that live a little too far away that we play with over Skype and share nudes and other fun things with.
The best advice I can give would be the following:
have real body pictures of your partner and you together (they don't have to include your faces)
know what you want and how to communicate this, and
be honest
If you do all of that, you'll find couples, bulls, and unicorns far quicker.
Also, always listen to your gut. If you think someone's a little weird, block them and move on. Don't engage with them, and definitely don't tell them anything they could use to identify you. The internet is full of creeps and the best you can do is simply cut off all communication with them and continue your journey.
How To Play With Other Couples Online
Not everything has to be in person. Sometimes you can't play with another couple in real life because of the distance, because it would take too much money and/or time to meet up together. Still, even with this problem, there are ways for you to play right now, online. My boyfriend and I often have fun with other couples without ever meeting them in person.
Online swinging and partner-sharing is also a great way to see if this lifestyle is for you. Think of it as testing the waters, in a way.
Skype Sex (Adult Friend Finder)
Find a couple or a solo male or female that you like on Adult Friend Finder or a different dating site of your choice. If you hit it off and would like to get down and dirty, but you realize that for whatever reason you can't do it in person, you can always arrange a Skype date.
Skype sex is nothing new or revolutionary. Depending on the arrangement, you can masturbate or have sex for the other person/people to watch or vice-versa. Even with the limits of distance, there are plenty of ways you can satisfy each other through the use of a webcam and a microphone.
DirtyRoulette
If you don't even want to go through the process of finding a suitable partner, you could always try a site like DirtyRoulette. This is similar to ChatRoulette, only it's all about casual sex and hookups. You don't even have to make an account to start meeting kinky strangers right away.
The premise of DirtyRoulette is that you are matched with a random person to chat with, with the idea that you might or might not have online sex. If you click with the stranger and they like the idea of you and your partner, then why not give them a good show? I'm sure all of you will come away from that experience happy and satisfied.
JerkMate is a great cam site where you are paired with random cam models based on your preferences. You get to choose what type of model you want and the site offers you the closest match based on what gender you like, what ethnicity, what body type and hair color and similar.
This isn't ideal for swinging, obviously, but if you wish to pay for a private show with a cam model, it can prove to be a thrilling experience. The models are usually incredibly sexy and attractive, and they are great at giving you a good time. In the end, however, this is probably a better option for solo people.
How To Find Swinger Parties/Clubs
On the other end of the spectrum, maybe you'd like to meet other swingers in real life instead of online. This isn't unheard of, and there are thousands of swinger clubs and parties being set up all over the world at any given moment. You can join any of these if you wish to meet other people who are willing to have some kinky fun with couples.
This is a site where people list all sorts of upcoming events. They can be gatherings about health, business, charity and different causes, family and education, fashion, hobbies, spirituality, and so much more. Of course, you also get your pick of swinger parties wherever you want!
I've also seen people post swinging events on meetup.com, but I've not yet tried it or researched it.
If you're into high-end gatherings and want a more luxurious experience, then Killing Kittens is a great option for you. They host events all across America and Europe and are some of the safest and most upscale sex parties around.
These events aren't meant only for swingers but also for single people looking to have some elegant fun. One of the reasons why I love Killing Kittens so much is that they put an emphasis on women and have them make the first move. Men are there just as guests, to observe and participate if they're invited.
Swinger Dating Sites List Events
Sites like Fetlife, Adult Friend Finder, Fabswingers, and more have an events list and do different sexual events. These can be anything from live sex shows to orgies, to cuckold, hotwife and bull meet-ups, and drinks at bars. You'll find loads of events and sex parties on these sites, so don't be afraid to look them up.
How Do Swinger Parties/Clubs Work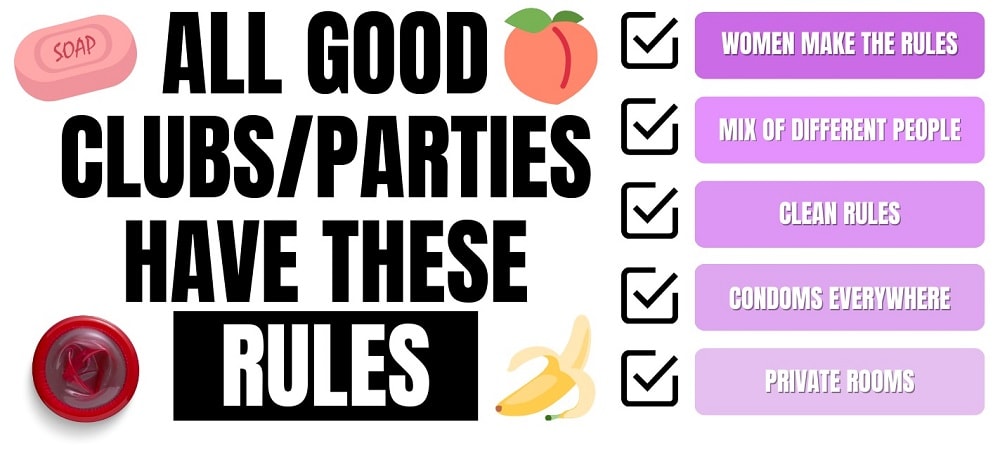 If you have never been to a swinger party, event or club before, here is a breakdown of what you can expect when you walk through the door:
You arrive and someone is there to meet you
Depending on if it's a club or party, you'll usually arrive at a bouncer of some kind at the front. They will ID you, check if you are on the list of guests (if it's a party, especially one where you had to pay a fee to enter) and let you in.
Next, you'll meet a person (usually female) who asks if it's your first time, explains the rules and shows you around. There is no need for you to be nervous at all – these people want you to relax and have fun, and they will do anything they can to help you.
You then usually go get a drink, wait by the bar and feel your heart pumping through your chest as your body gets used to the surroundings. Trust me, it'll be fine. The worst thing that can happen is that you go home without getting any sex.
Women are in charge
In almost all of these events, men are a tag-along. Women are the ones who start the conversation, who decide who they want to approach, when, and how the whole thing plays out. This seems awkward if you're a woman, but if you're new, you'll find that within minutes of being at a party or club, another couple will introduce themselves. It's so much easier when you know you're the one who dictates the flow of everything because you never have to find yourself in an uncomfortable situation where you feel like you can't refuse something.
There will be a mix of people
It goes without saying that not everyone is a supermodel at these events. You will run into guys with big dicks, guys with average dicks, and guys with small dicks, then super hot people, hot people, normal people, and sometimes those you won't find attractive. It's a dating scene like any other and there's a little bit for everyone.
Absolutely don't feel obligated to settle for someone you're not that attracted to, and equally don't feel obligated to say yes to someone who is hot in your eyes. There's more to sexual compatibility than that.
The cleanliness issue
Good clubs and parties are super clean and most will not allow you in if you're not clean, well-dressed, and looking smart. Of course, there are some exceptions to this rule, but we don't want anything to do with clubs like that.
Parties are usually even cleaner than clubs because the entrance fee isn't free (or cheap, depending on the party).
Will there be people just fucking around you?
This depends on what type of party it is. Some have a no-sex rule and you'll need to take your chosen partners elsewhere to play with them. Other parties will allow you to have sex anywhere you want, including the main rooms, the bedrooms, even the toilets.
Some parties have special rooms designated for sex, but most of them let it happen anytime, anyplace. So be prepared for a lot of explicitness when you go in.
Erection problems
If you're a guy, don't worry about potential erection problems. This happens a lot, especially to new guys who will have trouble getting it up at least once.
Sometimes, I recommend going to a party first and just getting used to it before you do a hard swap, as it will help you relax in the environment.
Some tips my boyfriend used to avoid soft dick.
Take a bluechew – a pill will help you stay hard and climax more than once
Don't drink too much alcohol
Relax (take deep breaths)
Don't let it ruin your night – if it happens, laugh it off and get involved in any way you can: make out, give oral sex, have fun. I can promise that most of the guys have had this happen to them at least once, and no one considers it a big deal.
What Should You Wear To A Sex Party?

This is the question I stressed over way too much my first time. Most parties will have a dress code, meaning you should look your best. Of course, not black tie, that's way too formal.
I usually wear dresses that are light and breathable and easy to take off. Sexy lingerie and high heels are a must.
My boyfriend wears a nice crisp white button-up with black jeans or suit pants with black boxers.
Everything is pressed and fresh because we want to give the best first impression possible.
Should You Shave?
As long as you're clean and well-trimmed, you can do whatever you like. I've seen some places with rules regarding this, but that's more to do with the cleanliness of things than anything else.
Swingers Reddit Is Filled with Expert Advice (want more info?)
There are loads of subreddits that are amazing for the lifestyle. On them, you will find useful information, experiences from other swingers, sexy pictures, and even personal ads for potential partners. You can check out these hotwife and cuckold subreddits in this article.

I'm Willow, I'm Brandon's girlfriend and we run this blog together (with the help of some friends). We both have an open relationship and both love being kinky (I mean who doesn't?). I love writing, music and my Womanizer. If you have any questions leave them in the comments.