Ever since we started this blog, I've become a sex toy expert. I've had my fun with dildos and vibrators before me and my man decided to share our sex experiences with the internet. But the blog made us try all kinds of naughty toys together. And I am here to share some of my knowledge with all of you. No matter if you're another horny lady reading this, or if you're a man who wants to offer an exciting gift to his girlfriend or wife, there's a lot to be learned from the following paragraphs. So, buckle up! Because you're about to learn all about dildos and how to use them properly for insane orgasms you never thought possible.
Types of Dildos
When inexperienced partners think about dildos, they just picture one of those classic rubber dicks they've seen in movies. Everyone is shocked when they visit a sex shop and find out how many variations of this toy exist. Each of them serves different purposes and different fantasies. I'm going to take you through the main types of dildos that you need to know before you make the first naughty acquisition. I've also linked all my favorite dildos from each type below.
Realistic Dildos are the most popular choices worldwide. They make for the perfect first toy. Whenever we masturbate, at some level, we try to emulate real sex. That's why men have all those masturbators shaped in the form of their favorite porn star's ass or pussy. The veiny texture, the protuberant head, and those balls touching your lady parts when you push the toy all the way up inside you will trick your vagina that you're getting the real deal.
The Suction Cup Dildos are my personal favorites. Whenever I buy a new dildo, I make sure it has a suction cup. That's because it's more practical and it broadens the horizon of kinky possibilities in which it can be used. Basically, this dildo comes with a suction cup at the bottom, which allows you to fix it on any kind of surface. We're going to talk more about the many awesome ways in which you can use a suction cup dildo both alone and together with your partner.
The Double Ended Dildos are perfect for when you have company. It's one of the best toys for lesbian experiences because it helps both girls enjoy penetration at the same time. These dildos are long, with heads on both sides. They can also be used alone for really deep penetration, and for naughty straight couples, they can be used as pegging devices. We have tested a lot of double-ended dildos and you can see our favorites double ended dildos here.
The Double Penetration Dildos are basically double-ended dildos with a twist. Or better said with a bend. They bend in the middle enough to allow the penetration of both holes at the same time. If you've never tried masturbation with double penetration, you're missing out.
Large Dildos are for the girls who like to be stretched. Stretching can be so enjoyable when done right. And for that, you need the right dildo. These massive toys might seem frightening at first, but if you're the kind of girl who likes more than four fingers inside her vagina, you'll surely enjoy a large dildo. For the best experiences, you have to train yourself. Don't go for the biggest one you find in the sex shop. Start small and increase the size when you feel comfortable. I have a size queens guide to large dildos that you should check out.
Fantasy Dildos can fulfill many of your naughty dreams. You can feel how it's like to be penetrated by your favorite porn star with a dildo that has been shaped in the form of his penis. In this category, we can also include all the fetish dildos, some that are shaped like animal penises, or others that look like alien dicks.
There's really no limit on how many types of dildos are there. You should experiment with all of them because you have the right to enjoy all your fantasies and fetishes in the intimacy of your own home, no matter if you do it alone or with your lover.
What are the Dildos are Made of?

Dildos and sex toys are made out of so many materials. Different materials are serving different purposes. Let me tell you more about each of them, with the advantages and disadvantages so that you can choose the one that's best fitting your needs.
Rubber Dildos were the most common at some point and they are the cheapest out there. Although they can be really fun, because they are flexible, they won't last too long. At the same time, they also contain latex, so if you have a latex allergy, you should take caution when buying a dildo. I have a girlfriend who learned this the hard way. Rubber toys are also high maintenance because the material is porous, and it easily develops bacteria. That's why a thorough clean after each use is recommended.
Silicone Sex Toys are the most popular at the moment. Silicone is easier to care for, and it offers all the benefits of a rubber toy, while at the same time it lasts longer and it doesn't trigger any latex allergic response. My favorite double ended dildo is made out of silicone and I'm impressed on how well it served me in the two years that I've had it. But again, I take good care of my toys.
TPE Dildos are really trending right now, especially in the niche of realistic sex toys. That's because TPE is the material that best emulates the feeling of real skin and flesh. But on the other hand, it's also the most pretentious material. It's sensitive to heat, so using it in the hot tub will wear it out in time, and it's easily stainable.
Glass Dildos are the fanciest of them all. A glass dildo will make you feel like a princess whenever you masturbate. And they're so easy to clean. But they are so fragile. I broke two glass dildos in the past. I don't know about you, but when I reach an orgasm, I transcend into another dimension. I broke one of the dildos when I was masturbating on the balcony of a hotel room in Vegas. It dropped right out of my hand when I climaxed. I dropped the other one in the bathroom while I was cleaning it. And they were both pretty expensive gifts. You can make them cold or hot for temperature play and a tiny amount of lube goes a long way. They also come in so many different shapes and sizes, some shaped like a realistic penis, others as tentacles.
Metal Dildos are the toughest ones. Nothing can break them, and nothing can stain them. They are the easiest to clean and perfect for rough couples. I recommend metallic dildos for BDSM sessions when sex toys are flying everywhere. You can drop a metallic dildo on the floor, pick it up, clean it a sanitary wipe and it can safely go right back inside of you. Bacteria won't stick to a stainless-steel dildo as it does to a silicone or rubber one.
Wooden Dildos are a thing now. They are the perfect choice for environmentalists. I've got one from a hippie friend of mine and I must say it exceeded my expectations. It's perfect for when you want to have a more sensual experience because it has this fascinating design and the feeling of wood in my hand awakens in me some kind of spirituality.
How to Use a Dildo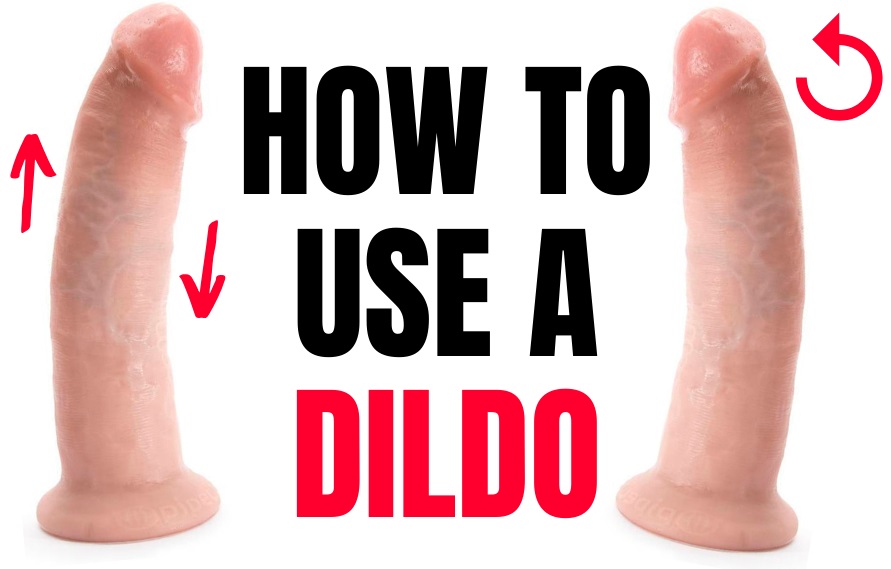 But enough with the technicalities! You know your dildo basics, now let's talk about things that are more exciting. If you've never tried a dildo before, don't worry too much. It's a pretty intuitive experience. But for the best results, I can teach you a couple of tricks I learned over time. I got my first dildo over 15 years ago, and I don't think I let a week pass without using one. Here's my ultimate guide on how to use your first dildo.
Picking the perfect dildo:
As any lady knows, size matters. And it's also true when it comes to dildos. However, I would suggest starting with something on the more regular side. I'm going to take liberty and recommend some of the toys that I think are the best suited for a beginner. And if you're a man reading this and thinking of buying your girlfriend or your wife her first dildo as a gift, these next recommendations are perfect starting points.
My favorite beginner dildo:
This is the dildo that I always recommend to girls when they ask me about dildos. It's not that big, but it's not small either. It has a suction cup to let you experience a hands-free orgasm. There is no latex in it, so you're not risking anything. And price-wise, we must admit that it's pretty affordable. I go for realistic dildo because realistic sex toys are a personal choice of mine. But I have something for the girls who don't want to be reminded of a penis when they try to have some fun on their own.
If you don't like the penis aspect, this dildo might appeal to you more:
Are you not feeling comfortable with a realistic dildo? This is the dildo you need in your life. I'm not saying that this is a toy for my gay ladies. I'm just saying that whenever I talked about dildos with my gay girlfriends, they always asked me if I know some toys that don't look like penises. At the same time, this is a great choice for couples and suited as gifts. We all know how fragile men can be when it comes to other penises near their women. The bent makes it ideal for quick and intense orgasms because it will tickle your G-spot. And it is harnesses-compatible, which makes it perfect for strap on sex. I've worn this one myself during a pegging session and it's excellent for milking the G-spot and give any man a crazy prostate orgasm. One of the most versatile beginners' dildos I know.
My favorite large dildo:

Are you feeling a bit more daring? Do you want to feel stuffed and stretched? This is the bad boy dildo that got me started on all the stretching kinks and experiences. It's not frighteningly big, and there won't be any risks of injuries using this toy without any prior experience, but it's long and thick enough to do its job perfectly.
How to Warm up Your Vagina (Before using a dildo)
If you've read my other posts on the blog, you know I'm a big fan of foreplay. No matter how horny I am, taking my time to get in the right mental and physical mood always pays off in the end. And it's also true when it comes to playing with a dildo. What you want to do is have your toy next to you and start all-natural. Touching yourself in all the right places will get you ready.
I love playing with my magic button and do a little finger play at first, before any penetration with a toy. It opens me up for a joyful ride, and whenever I do this, orgasms come quickly, and they are more intense. Another thing I like is to be completely naked. Once you feel like you're all wet, it's time to start playing with your toy. And here's the most exciting part of my dildo guide. Here are the best ways to use your new fun toy.
Basic Dildo Techniques
The best part of giving yourself orgasms with the help of a dildo is the very fact that you do it your own. How many times have you been doing it with a man and he wouldn't get the thrust or rhythm right? Not all couples have mastered the art of communicating during sex. But when the penetration is in your control, you can please yourself exactly how you feel at that moment. You can do it shallow or deep. You can go slow and sensual or quick and furiously. You can alternate between these techniques according to your feelings. Listen to your body and give it what it lusts for.
And don't just go in and out. Use your imagination. You can include a circular motion in your session, in which the tip of your dildo will touch the inner walls of your vagina, making sure that every nerve ending is stimulated. And if you choose a toy with a bit of texture to it, twisting it around will drive you mad with pleasure. And if you have a curved dildo, once its tip has found your G-spot, give it a bit of attention. It can feel too intense at first, but if you push through it, that intensity will turn into waves of pleasure that will travel all across your body from head to toes.
And while you do all these things, don't forget that you have another freehand. You should use this hand to please your clitoris. Combining the dildo play with clitoral stimulation is the secret every woman needs to know for explosive orgasms. Every woman is a squirter if she knows what gets her going. And this is one of the things that work on all ladies.
Try Different Positions
The angle of penetration is one of the secrets of good sex. That's why we do it in so many positions, and that's why each of them feels different. It's also true when it comes to dildo masturbation.
A mistake many girls do in the beginning is positioning themselves laid flat on their backs on the bed. It's a comfortable position, but it makes reaching down between your legs a bit harder. What I like to do is stack a couple of pillows under my back. This brings me forward a bit and puts me in a position in which I can better control my toy and reach deep inside me.
Doggy style is one of the most underrated masturbation positions. It might feel odd at first until you get the hang of it. The secret is to support your body weight on your collar bones and chest so that you can have both hands free. One can be used for penetration, while the other can please your clitoris or even your booty. Light anal fingering can spice up your solo session.
Sometimes, I like to go crazy on myself, and whenever I feel like enjoying some rough penetration, I do it while standing. It helps to have one leg up on a chair or some piece of furniture, and I make sure to grab hold of the wall or something because the intensity of my self-drilling makes my knees shake.
My all-time favorite position is a cowgirl. I love riding, and I do it even when I play with my toys. But for that, you always need a suction cup dildo. Let's detail the many possibilities of suction cup dildos in the next paragraph.
How to Use a Suction Cup Dildo (You need one!)
This is my favorite suction cup dildo. All the techniques and secrets I'm going to share with you in the next paragraphs were experienced using this very model. A suction cup dildo is a must in any sex toys kit. It also opens up lots of possibilities for the couple to play when you want to introduce some toys in the bedroom.
The Best Positions for Suction Cup Dildos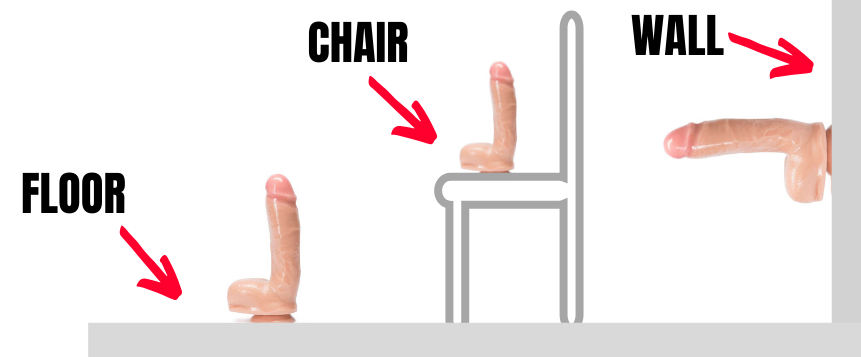 The most common use of a suction cup dildo is for riding. You can stick it on the floor and get on top of it. Try your favorite riding methods on such a dildo. Squat on it, grind on it, spell COCONUT on it. In case you don't know, "spelling COCONUT" is a form of grinding, in which you go all the way down to the balls on a dildo or a real penis, and you use your booty to spell the word COCONUT. It's a new trick that you need to try as soon as possible. The suction cup dildo is also ideal for when you want to train on how to ride your man like a porn star.
Do you like the feeling of getting it from behind? The suction cup dildo can also be stuck on a wall. I use this technique for shower masturbation. Mount your dildo, turn around, and thrust yourself back into it hard and deep. If you go for a flexible or a curved one, you can also use it facing the wall. It's a bit tricky at first, but once you get the hang of it, you'll have some excellent G-spot massage sessions with your wall mounted toy.
You can use the suction cup dildo on a chair. Grab a chair with a smooth surface, stick the dildo on it, and start riding. You can do it facing the chair backward, with each leg on the sides, grabbing hold of the backrest and going for a ride, or you can sit on a chair as you usually do and go up and down on it at your own pace.
The liberator sex mount
You can ride a suction cup dildo in your bed. It's one of the most comfortable ways of enjoying riding by yourself. But for that, you need the help of a liberator sex mount. This is basically a sex pillow, which can be used in helping you comfortably assume many positions during sex, but it also has an extra feature that lets you mount a sex toy on it, the best sex toys to mount in my opinion are thrusting vibrators, it literally gives you a budget sex-machine.
Other Toys You Can Use with Your Dildo
The sex shop is filled with products that will enhance any sexual experience, no matter if it's a solo one or one that you share with your partner. Here are some other things that could or must be used in combination with your dildo.
Lubrication is essential (MUST-DO)
No matter what you do during sex, when it comes to penetration, always use lube (this is my favorite lube). And that's also true for dildo play. Even if you get wet, it's better to add some extra lube, because that wetness will dry off during playtime and dryness is always a huge turn-off. However, pay attention to the lube you're using. On the one hand, the wrong lube can trigger allergic reactions, and on the other hand, it can wear out your toy. TPE and Silicone toys are sensitive to flavored or oil-based lubes. Your safest choice is a classic water-based lubricant. It cleans off easily, and it doesn't stain, but it's hypoallergenic and non-toxic.
The Secret of Squirting
My favorite toy to go along with a good dildo is this Magic Wand. It's my favorite toy of them all if I think about it. The Magic Wand is something every woman needs and something every woman deserves. If you've never squirted before, this is the thing you've been missing. Feeling a dildo inside of you and the powerful vibrations of the Magic Wand on your clitoris will sure get you bursting and screaming.
Into Butt Stuff? Try a Butt Plug with Your Dildo
One other toy that pairs up excellent with your dildo is this butt plug. If you've never tried penetration with a butt plug, you're missing out on some things. This toy also needs lube (our guide on anal lubrication) and a bit of warmup. Once you got it in, start playing with the dildo. The main reason for which it feels so remarkable is the fact that a butt plug will push on your vaginal wall from the inside of your booty, which will make your vagina tighter, and the dildo will be more efficient. For a more comfortable, but also intense sensation, you should get a vibrating butt plug. I have The Butt Tingler, and it never disappoints.  I also have a whole guide on finding the right butt plug, it's a must-read.
How to Clean Your Dildo
After you've had your fun with your dildo or a sex toy, it is always recommended to clean it right away. Some toys can wait till the morning, but the rubber, silicone and especially the TPE toys must be at least rinsed after each use if you want them to last longer, but also not to develop bacteria on their surface. You could clean your toys with soap, but I wouldn't recommend it. That's because of the residuals that can stick to the material and then get transferred inside your vagina. Also, soaps have all kinds of solvents that will deteriorate your sex toy. Instead, go for a sex toy cleaner. They look just like any sprayable hand sanitizer and will keep your sexual hygiene on point.
So, there you have it! My ultimate dildo guide for beginners. If you have any questions, feel free to send them to me. I will gladly respond to any lady who wants to learn more about how to reach the perfect orgasm, but also to any men who wish to find new ways of pleasuring their queens.

I'm Willow, I'm Brandon's girlfriend and we run this blog together (with the help of some friends). We both have an open relationship and both love being kinky (I mean who doesn't?). I love writing, music and my Womanizer. If you have any questions leave them in the comments.