Glass dildos are a sensual treat that has to be felt to be believed in. This is one of the most pleasurable types of dildo and after this, you'll never go back to rubber or plastic.
These exquisite pieces of art that will tease all your most intimate areas are stylish and luxurious glass sex toys which you'll soon be hooked on.
The way they look outside and when they are inside of you, the way they feel and their whole demeanor just takes a classic lifelike, colored and textured dildo to a whole new playing field, and it is something that everyone should own.
What Is A Glass Dildo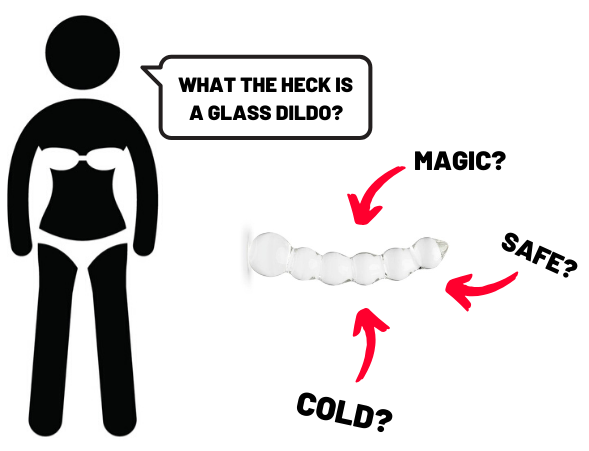 Glass dildos are sex toys designed for pleasurable penetration with a smooth, comfortable glass body, with elegance in design and in appearance.
This can increase stimulation and allow for a variety of unique sensations and could easily pass for decorative ornaments and a unique piece of art rather than a simple sex toy.
Glass-made dildos are designed in a wide range of shapes, forms, and sizes that allow you to explore various types of sexual stimulation and get more out of your toys.
They are completely body-safe, non-toxic, and can be easily sterilized. They are also completely odorless and tasteless and can be used for both anal and vaginal sex.
They are made from tough and durable borosilicate glass and are firm and rigid in texture, which makes them ideal if you prefer harder pressure to grind against. Additionally, unlike silicone sex toys, glass sex toys are compatible with both water and silicone-based lubricants and are extremely unlikely to get damaged.
The Benefits Of A Glass Dildo (Why You Need One)
If you are asking yourself why are glass dildos so popular, I will give you more than enough reasons for their popularity. We will start with durability and the fact that glass dildos are not easily destroyed.
They are hygienic, odorless and extremely easy to clean. Since glass is non-porous, you don't need to worry as much about germs or bacteria or allergies.
Some people can react badly to rubber, silicone, latex and other types of plastic, but glass will never cause a reaction. The sensual feel of smooth glass on the most intimate and sensitive parts of the body is unmatched and the hardness of the glass helps and increases the power of orgasm.
Whether you're buying a dildo for vaginal or anal penetration, you want the surface to be as smooth as possible. It has no nicks or rough edges to rub up against you and cause irritation, the surface is as smooth as silk.
They are ideal for G-spot stimulation, they respond well to changes in temperature, which increases the power of pleasure. Add some lube into the equation and the sensation of something so hard and smooth feels incredible.
They look amazing and some leave them in visible places because their aesthetic value brightens the whole space. A glass dildo is necessary for bed games and you will never be bored.
The Best Glass Dildo I've Tried
When I bought this beaded sensual glass dildo, honestly I wasn't really sure what to expect from it. It has a solid weight, it looks so pretty and it was completely different from anything I've used before. Very soon, this dildo became my favorite one and the best dildo I have ever used. What I liked the most, is its curves which are great, and the orgasms achieved with it which are the best orgasms I've ever had without clitoral stimulation. 
This is definitely the one that you need to use regularly with or without a partner. His bulged end is just amazing for deep penetration and ribs slowly help you climax, also you can turn it around and use the bigger bulb for your penetration. An additional plus is that is being super easy for cleaning and taking care of. Try it and you will not be disappointed.
The First Time I Used This Dildo
I had heard good things about glass dildos from others before and I decided to try one with my boyfriend.
Our first time with glass dildo was more than a delightful experience.
Our glass "hearts delight" dildo came with a small sample of lube, but we didn't need it since he had already done his job, he licked my pussy and turned me on so much, my pussy was so wet and I couldn't stand much more for my boyfriend to put the dildo in. 
The first touch and filing were cold but smooth. The head pressed in, opening me, then sliding in, without friction. Ahh, beautiful, I moaned softly.
The sensation of a cold glass inside my warm vagina gave me a sensational feeling.
The weight of the glass and the round head give you this incredible impression of being filled without the broken sensation of rubber or silicone dildo that sometimes catches in a dry place.
My boyfriend thrust it inside of me, about 4 inches in, so my g-spot rubbed the neck. Smooth but strong. Back and forth. Suddenly I realized that the cold filing has gone and my body temperature had been taken by the dildo. Pushing down the handle pressed my g-spot's head a bit harder as he fucked me and licked my clit.
After the first cum and a sense of fulfillment and satisfaction, I opened up more and I wanted more of it.
The second time, my boyfriend was sitting back, holding on to the handle and fucking me with it. The handle makes it easy to maneuver it as shallowly or as deeply as you prefer it.
He was pushing and pulling it, twisting it, shifting the head to touch every portion of my inside.
Slower and faster.
And all that time I was thinking, oh God, please don't stop. He changed various angles and varying depths.
The second time I came, I was pulling the pillow over my face and moaning, screaming almost, attempting not to wake the neighbors. I couldn't stop loving it and I quickly moved back and forth, countering his thrusts toward me, surprised at the soft surface and the way the weight made it feel like what was inside of me was so large and I was so filled and overwhelmed with a sense of bliss.
I came for the third time, and then for myself, because I wanted to see if it was simple to use alone, yeah, it was. My fingers were lacing right through the core and I could say that I could have held it up for as long as I required it.
The inserted portion of this dildo is approximately 5 inches. The shaft is around 3 1/2 inches and the width of the head is around 4 1/2 inches. So while it's not the biggest dildo, I believe the weight and temperature of it made it feel like something much larger without the "ahh ahh ouch!" factor.
What I Think 30 Days Later
Maybe a month, after the first experience with glass dildo I decided to try the dildo by myself and I popped it into the freezer before using it, as this a trick that everyone is talking about (I go into more detail on temperature play below).
30 minutes after, I took out the dildo from my fridge and headed straight to my bedroom. I couldn't wait to feel the sensation of a cold dildo inside my warm pussy.
I didn't use the lube, my pussy was so wet already, so I lay back and the magic started.
At first, as I began sliding the cold dildo inside my tight pussy, it felt overwhelming. My nerve endings started to feel the textured shafts and bulbous tips as I began thrusting it harder.
It felt like I was in heaven. To capture the moment I grabbed the phone and turned on the recording.
Curvation of the dildo perfectly pushed my g-spot making the stimulation so intense that sheets beneath me got soaked.
Omg, my orgasm was unbelievable. I came so hard that my cum soaked the bed and my glass dildo.
I kept on thrusting it inside of me, making my orgasm last for as long as possible before gently removing my glass friend. I lay back thinking I was in heaven.
After this I was thinking why am I feeling so special and why am I so delighted with this toy?
I realized that I like the fact that the glass felt firm with no smell to it, I liked the design and how it has ridges and doesn't just go straight up and down.
It helped to give me a very pleasurable sensation. There are no batteries to use or anything to a plugin, which is a plus for me when it comes to sex toys. Once you start using them you just want to try more and more of them.
The Rest Of My Glass Dildo Collection
Here you have some recommendations for dildos, depending on your preferences.
My Favorite Large Glass Dildo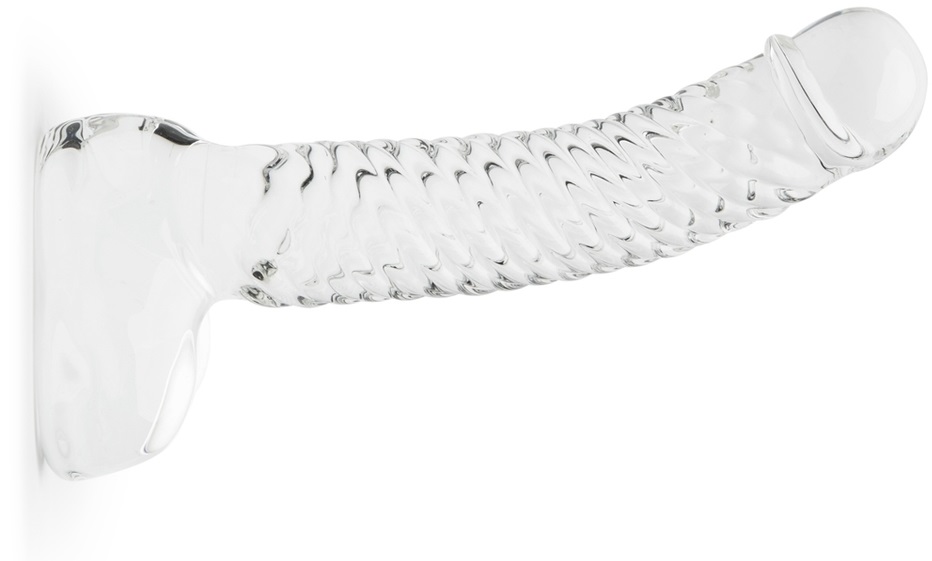 This glass dildo has some very unique and useful features which make it a great option for you to choose from. You can use either end for intense and mind-blowing stimulation, it's submersible so you can take it for some 'quiet' time in the shower. It's anal safe which means it's the perfect model to go both ways. Versatile, ideal for temperature, and perfect for reaching G-spot orgasms. It has realistic balls for a lifelike look and clitoral pleasure, and it's compatible with all lubricants.
This Beautiful Glass Heart Dildo
The crystal heart wavy glass dildo is an extremely beautiful and sensationally stimulating model that's bound to satisfy you in every way and can be a very romantic present for your better half. The textured sides that this toy has makes it all the more stimulating, bulbous shaft provides extra stimulation with every move, while the pink heart handle provides a sexy accent and greater control. The edges of this toy wave up and down to provide a unique sensation when inserted and removed. It can be used for both anal and vaginal sex.
Icicle glass dildo (Unreal)
I'm not even sure where to start with this fabulous toy. This Icicles No 5 sapphire spiral glass dildo 7 Inch is a sensational hand-blown glass massager that upgrades your pleasure to new heights. It's curved ever so slightly and has a perfectly rounded head, which means it's ideal to hit your G-spot. It's a good size for most women and has a ribbed design for tantalizing sensations. That curve is also pretty darn spectacular for hitting a prostate if you decide you want to share your toy with a partner.
Double Fun With This Double Ended Glass Dildo
Both ends of this double dildo come with completely different types of stimulation. One end mimics a penis, complete with an angled head, while the other provides some pretty amazing nubs and extra stimulants. You can share it with a partner for some double penetration fun. If this is your kind of thing you can see the big list of double ended dildos that we love here.
My Go-To G-Spot Glass Dildo
This beautiful G-spot dildo is one of my favorites on this list. It is a perfect size for beginners, a perfect shape for G-spot orgasms, and a wonderfully sleek, rigid, stylish, and modern glass dildo for anyone looking for intense G-spot orgasms. Although it is advertised as a G-spot dildo it will give you just the same amount of pleasure in whatever hole you decide to put it in.
Anal Glass Dildo
This heart dildo is so cute, it's so pinky, it has a heart on it, and it's got swirlies. For solo and couples play, with simple care, this glass dildo should last a lifetime. The textured shaft is heaven for vaginal walls, while the bulbous tip seems to say "G-Spot, please". 
How To Use A Glass Dildo
Well, it's clear why it's used, isn't it, but everyone needs to read some opinions and guidance.
Unlike other adult sex toys that can be used to stimulate both internally and externally, glass dildos are best when used internally. They're designed in a variety of sizes and shapes. Some glass dildos are curved or textured.
If you prefer smoother, curved toys or enjoy using a strap-on, both men and women alike should consider trying a glass dildo. As with any other sex toy, glass dildos can be used with or without lube or a natural lubricant.
Try several positions as well, the classic is to simply lay on the bed and stretch between your legs and put on a dildo, but many women have to try other positions if they want to find their G-spot more easily. Try to be on your knees and hands or in an upright sitting position.
If you decide for anal use, make sure that if you haven't tried anal sex yet, you start with smaller dildos that are made just for anal use.
Anal dildos are usually smoother. You can also choose a dildo that stimulates multiple sites at once if anal or vaginal use alone is not enough.
Anal games require even more lubricants and slow, gradual habituation, so do not rush and find your rhythm, otherwise, it can lead to unpleasant and painful experiences that will completely distract you from the incredible world of anal sex.
As long as you don't make a habit of dropping your delicate glass dildo on a hard surface, glass sex toys are safe to use. But, in case you drop it, be sure to check thoroughly for cracks and chips. Even the smallest fissures in the glass can lead to breakage and serve as a breeding ground for bacteria.
You can also check out this guide on how to use a dildo, if you want some thrusting techniques and tips and tricks I use to make it easier to orgasm using a dildo.
Temperature Play Using Glass Sex Toys
Borosilicate glass dildos are above all safe, even if exposed to greater temperature differences. Warm up the dildo with hot tap water (directly or in the pan).
A few minutes should be enough, depending on the size of the dildo itself. The use of tap water ensures even heat distribution and consequently pleasure and comfort during use.
Never place a glass dildo in the microwave or oven. Your dildo probably won't do anything, but it won't be comfortable for you at all.
You can cool the dildo with cold tap water or ice water, or you can put it in the freezer.
Most of us don't even think about experimenting with temperature while playing with erotic aids, primarily because most toys are not suitable for such experiments.
Borosilicate dildos are perfect for that! The heat suits us and is generally comfortable and inviting. Parts of your body you touch with a warm dildo will quickly become more sensitive.
The heat helps the part of the body that you touch to get better blood flow, which will ensure a more comfortable experience.
A cold touch will calm the nerves under the skin as well as blood flow. A cool dildo is exceptional as an inhibitor of clitoral pleasure. A lot of women can become hypersensitive after an orgasm, but a light touch with a cold glass dildo will immediately prepare you for the sequel. As long as it's a safe temperature, the difference in temperature can make sensations you're used to during sex feel different.
How To Clean A Glass Sex Toy
Cleaning and caring for your glass dildo is a completely simple matter and is one of the most important points in choosing glass over rubber or plastic sex toys and you will definitely want to take advantage of this feature. You can clean it with plain hand soap, just make sure you rinse it thoroughly with warm water.
Most glass dildos can be cleaned easily in the dishwasher along with other dishes. Rinse it off with warm water so that no traces of cleaner remain.
However, it is always recommended to use a mild antibacterial soap or cleanser to ensure your precious sex toy is free from potentially harmful bacteria before and after each use.
Additionally, there are plenty of sex toy cleaners on the market as well and if you are more comfortable with this option, you may very well do that. What's more, all lubricant types are safe to use with glass, so you can have a wonderful slippery time.
If you have not used your glass dildo for a long time, rinse it with warm water before using it again, to be sure it is clean. When you have finished using it, store the glass dildo in a box or other soft place so that your toys do not collide and damage each other.
Of course, you can leave it in a visible place and boast about it. As long as you are careful with these toys and do not drop them on any hard surfaces, they will last a lifetime.
After all, each is a unique work of art.

I'm Willow, I'm Brandon's girlfriend and we run this blog together (with the help of some friends). We both have an open relationship and both love being kinky (I mean who doesn't?). I love writing, music and my Womanizer. If you have any questions leave them in the comments.