Anal toys and anal penetration, in general, are not for everyone. Some people, like me, love it and can't wait to do it again, while others can be grossed out by the thought of having something in or near their ass. In the world of sex and porn, anal play is a kink, just like any other. Either it's for you, or it's not.
However, if you're reading this, you are likely one of those who are eager to get their hands on their next anal toy. Or perhaps even their first one ever?
Well, I'm here to help. As an ass connoisseur, I have tried quite a lot of toys the erotic world has to offer. Here, I'm going to talk about anal beads in particular because they are an amazing way to add extra pleasure to your already steamy sex and masturbation times.
Let's start!
What are anal beads and how do they work?
Anal beads are a sex toy meant to be used in the ass. (Duh.) They are essentially a string of beads of various sizes and various lengths that you can insert into you, with a ring at the base that you can use to pull them out when the time is right. (See my full guide on how to use them below.)
Why do I use anal beads? (What it feels like)
The reason I, personally, use anal beads is that they introduce extra spice to my playtime, regardless of if I'm by myself or with my boyfriend. I can't exactly climax by using only anal beads, but if I'm masturbating or having sex, they add a new layer of thrill that I like. Having something in your ass at the same time you're being vaginally penetrated makes you climax faster and harder, and I'm here for that.
The Best Anal Beads I've Used
You guys already know that I love spending my free time trying out various sex toys. I love shopping for them, discovering new designs, and I definitely love testing them out.
So here are some of the anal beads I fell in love with over the years. (Only one of them hasn't been tested by me, and you'll see why.) They are amazing for many different reasons, and I do my best to describe each one for you. Enjoy!
These ones are made of silicone. They are flexible yet firm enough to be inserted into your ass without much trouble (with generous lube, of course). They contour to the shape of your body, making them perfect for literally everyone, male and female. (Though I've heard it's a special treat for the male P-spot.)
I love teasing myself with these, and they're great for a beginner because of how small the first beads are. Go slow to get used to each bead, and keep them inside while you have sex for increased stimulation. Finally, just when you're about to climax, pull them out to scream in pleasure. I know I always do.
While I do say that the previous option is great for beginners, and it's true, these basic beads may be a bit better for someone who is just starting out with anal play. The reason for this is that the beads are quite small at the top, allowing you to get used to the sensation.
Even though there are 10 beads in this toy, with the last one being about 1 inch in diameter, you don't have to slide all of them in. Just go as far as you're comfortable, and perhaps go one bead further each time you play with yourself. All it matters is that it feels good for you, regardless of how many beads you can take in.
Now here's a bit of a challenge. These Thai beads are in reverse order, starting from the largest bead at the top to the smallest one at the bottom. The first bead is tapered, so it's easier to insert when you're ready. These are not really meant for beginners but for those who are more experienced in using anal toys.
The reason these beads are reversed is that when you pull them out during orgasm, the stimulation is intensified at the end. And it's real! For maximum climax stimulation, I love these reverse beads. They take a moment to go in, but it's nothing but fireworks when they come out.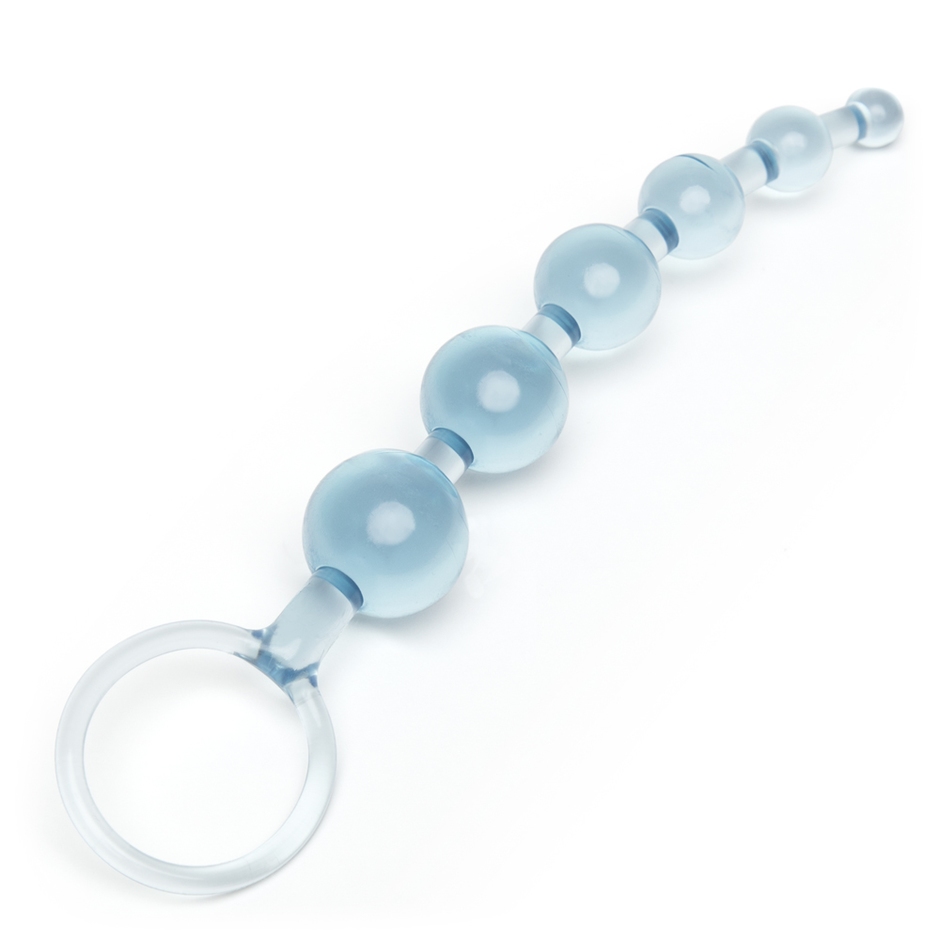 Even though these beads are promoted as perfect for beginners, I would advise maybe holding off on using them until you're more used to the whole deal. The beads do start out small, but the final one is 3 inches in diameter, which can feel pretty overwhelming.
However, for those who are more experienced, these PVC beads are great to have fun with. They're simple and easy to use, and they will enhance your alone time as well as sexy time with your partner. If you're a veteran and keen on a new toy, definitely consider adding these to your collection.
If regular beads aren't cutting it for you, you can always go for the vibrating version. These are my absolute favorite for many reasons. First, they're made of silicone that is incredibly comfortable and smooth. Second, they come with 3 speeds and 7 pulsating patterns. A true anal vibrator!
The way this works is that you get a bullet vibrator that you can place inside the base of the beads, making them vibrate as you play with them. You can also take out the bullet vibrator and use it separately. The obvious way would be to use it as a clitoris stimulation with or without the beads themselves.
If you would like to know more about anal dildos, check out my whole experience using them.
The first time I saw these, I actually had to take a moment to stop and admire. I love all things glass and glass sex toys, in particular, make me go all heart eyes. These aren't beads as much as it is a dildo with bulbous shapes along its length, but it has much the same use as anal beads.
The glass can be cooled down in the fridge or heated up in warm water for temperature play, something I never experienced before getting this toy. You absolutely shouldn't skip trying that out! The dildo can be used both anally and vaginally, so it is incredibly versatile in the bedroom.
While these may not have anything special about them, they are a perfectly solid option for a hot night in. They are made of silicone that is safe and non-toxic and that doesn't sport a strange odor the moment you unpack it. (I've been there with many a sex toy ordered online, not fun at all.)
The beads are smaller at the start, from 0.7 inches growing up to 1.5 inches in size for the largest one. The entire string is smooth and easy to maneuver both inside and out when you need them. They're also great for beginners because of the separated beads and the gradual increase in size.
So this is the one toy I didn't try from the list, for obvious reasons. However, from my close male friends who are adventurous in sex as I am, I've heard that this one offers an absolute knee-trembling experience. With a ball cincher, you keep your erection hard for longer foreplay and sex, and with the beads, you feel extra stimulation from behind.
The beads are packed closely together and slightly tapered, starting from the top. They're great for hitting that P-spot over and over again, especially if you're moving around. Like most toys, this one is also made from hypoallergenic silicone and it is safe to wear for as long as you want to.
Another toy that is more a dildo than a string of beads, this one doesn't allow for gradual stimulation; unless you're fine with keeping yourself up over the dildo for extended periods. The suction cup base allows you to ride it, whether it is stuck to the wall or the floor for a completely hands-free experience.
This dildo has six beads that increase in size towards the base and are fitted close together. They're smooth yet curved and able to flex with the contours of your body. In my opinion, these aren't for beginners, but you could use them to quickly adjust to the feeling of something relatively big in your ass.
This is a star among sex toys. With it, it's not just about the ass; it is also about the clitoris and the partner's erection at the same time. This toy is the ultimate pleasure system with two rings – one of the cock and one for the balls – a beaded dildo for your ass, as well as a bullet vibrator, to stimulate your clit.
I won't lie, getting it all properly positioned to work for all of those parts takes some time. You may even get a little disheartened by all the fiddling and the, "Wait, lemme just… Ugh." But trust me when I say that when you get it right, it'll be worth it. The orgasm this complex yet thrilling gadget provides will have you shaking in pleasure in a matter of minutes.
This string has only four beads, but they are twelve inches in length and each around five inches in girth. That's a considerable size, but the space between each pair of beads allows you to get used to it before you move on to the next. I would definitely not advise this one for beginners.
The Large Anal Beads are meant for super intense orgasms. Just when you're on the brink of climax, pull them out one by one for eye-popping results. I love a good size challenge, and these will definitely be that.
If you're into large play then I have two amazing guides for you, this fisting guide (amazing) and this guide to the best large dildos, both are must-reads for size queens.
Finally, speaking of a size challenge… Are you ready for something extreme? These Cannonball Beads are out of this world. One is big enough to fit into my palm, and if you manage to get all three inside you, you will become a veritable 'master of the anal arts' as the toy description declares.
I will admit that I only ever managed to fit two of these inside me in one go. With patience and diligence, I'm confident that I'll be able to enjoy all three at one point, but it's important not to force it. If you're up for something truly out there, why not give the Cannonball Beads a go?
Before you go for something like this be sure to check out my anal stretching guide.
Are Homemade Anal Beads Possible?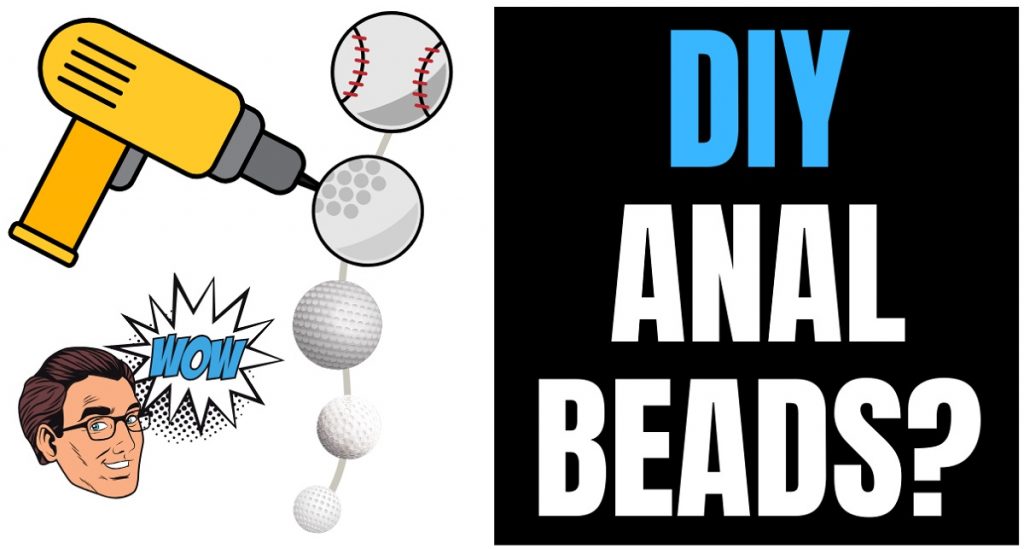 They are possible, in theory. You can make homemade anal beads using ping pong balls or golf balls that you can drill holes into and tie together with string or similar. Alternatively, you can stack the balls into a condom and make a sort of beads/dildo crossover.
However, keep in mind that these sorts of toys are not safe. They can accidentally detach and stay inside you or, more likely, and you won't be able to clean them properly because they're made of porous materials. Homemade sex toys are usually breeding grounds for bacteria, so I would be either extra cautious when cleaning them or avoid making my own beads entirely if possible.
The First Time I Used Anal Beads
I think my problem the first time around was that I was too excited. I was by myself, couldn't wait for my boyfriend to come home and play with me, and I rushed into it. I didn't let myself relax, I didn't prepare enough and I didn't take my time, which is essential with any first-time anal play.
Simply put, I wasn't ready for it. I couldn't get the beads inside my butt because it hurt and I wasn't loose enough. I didn't even know about the proper positions that increased the chances of inserting something into your ass (on your knees with your head down). I was just so frustrated with everything, with myself, with the toy, and I didn't want to do it again for a while. It was only when my boyfriend insisted that I decided to give anal beads another chance.
The First Time I Successfully Used Anal Beads
The second time around, it was so much different.
Firstly, I had a couple of glasses of wine in me. Alcohol instantly makes me pliant and mellow, and I was a lot more relaxed than before.
Secondly, I wasn't alone. My boyfriend was there, touching me and kissing me, and he was the one to slide my beginner beads into my ass while he was eating me out. I moaned so loud, arching off the bed; each bead was a stretch, but he lubed me up so well and was so gentle and careful. I probably wouldn't have done it without him.
We left the beads in while we had sex. It was strange in a great way, and I definitely came faster than I usually do. Just before I climaxed, he slowly started pulling them out, bead by bead. It was one of the most intense orgasms I've ever had. I couldn't wait to repeat it as soon as possible.
How To Use Anal Beads
If you're new to anal beads or anal play in general, here are some tips that will start you off. I found that these worked for me when I was alone with my beads again. Try them all out, see if they work for you. The most important thing is to be patient and gentle with yourself!
Best to start on your own
If you're on your own, there's no pressure to move on to the next phase of penetration or whatever you like doing with your partner. It's just you and your toys, and you have all the time in the world. This obviously didn't work for me when I just got my beads, but I'm willing to disregard that as a fluke.
When I masturbated with the help of anal beads by myself again, it was a long and truly pleasurable experience. So best try it out for yourself and then involve your partner later on.
Test Different Sized and Length Beads
For beginners, I always suggest small beads and a small length. Maybe beads that start small but grow larger down the length could work as well, but they can't be too large.
If you're not a beginner, however, pretty much anything goes? I went through a phase where I was constantly looking for the next big toy to insert into my ass, so you might want to play around with different lengths, sizes and even shapes of the beads.
Pick a relaxed position
From experience, the most relaxed position for me is when I'm on my knees, with my forehead pressed into the bed (or the floor, if I'm on the floor). This is how your ass opens up the most and your legs don't get in the way. If this isn't up to your speed, choose a similar position where you're not tense or clenched in any way. Relax your thighs!
My favorite anal lube
Never play with anal beads without lube. Never ever ever. You can use the one I love this amazing water-based anal lube, but you can also use any other that you like the feel of. Apply it generously before starting your fun time, but also keep applying it during sex or masturbation as well. You don't want to hurt yourself in any way, so lube is essential here.
You can also check out this guide we did on the absulute best anal lubrication.
Get relaxed and aroused
Have a drink if you want. Watch your favorite porn channels or find a good cam site. The hornier you are, the more relaxed your ass will be. Make an atmosphere out of it, wear sexy lingerie and light a couple of candles (especially these BDSM candles). Be loud if there's no one home to hear you. This isn't a race of any kind; this is for you to feel good and to orgasm like you probably haven't in a long time (or ever).
Warm-up with a butt plug
This is for those who have never indulged in any anal activities. Butt plugs are smaller and more convenient than beads or especially dildos, and they are easier to maneuver. You will have a lot less difficulty stretching yourself out with a butt plug than any other toy.
You can use a cute butt plugs decorated with a jewel (my favorite) to either warm up before using anal beads or you can just play with it until you cum. Again, if you've never touched your ass before, this is an ideal toy to start with.
How to insert anal beads
Fingering or butt plugs (see before) are great ways to warm up and get you open before using anal beads. Lube is the key component, so don't leave it out even before you unpack your beads. You need to be nice and slick for any type of anal penetration.
As I mentioned before, there is no pressure to take in all of the beads at once. This is your time and your pace, so go as far as you're comfortable with. Gradually insert the beads one by one. If you feel like you can't take another bead, that's fine. Leave them as they are. Remember where you stopped and try to go a bead further next time. But don't force yourself! Slow and steady and you'll get there.
Pulling out anal beads
The most obvious time to pull out anal beads is the one I already talked about in this post: the orgasm. When you reach climax, slowly pull out the anal beads to intensify the sensation. Don't do it too quickly! The slower the pull, the better the feeling.
Alternatively, you can increase stimulation during masturbation or sex by lightly pulling on the beads or their ring without taking them out.
Mix with a vibrator or masturbate (game-changing)
This one may be obvious, but anal beads themselves, while exciting, aren't the most active of toys. You just slide them in and leave them there until it's time to pull them out. I often consider them a pleasure aid more than the main event.
So definitely combine them with clitoral or vaginal stimulation if you're a woman, or with cock stimulation if you're a guy. Masturbation never felt as good as with something tingling in your ass, making you writhe on your bed.
Always keep your sex toys clean
Don't put your toys away without cleaning them first. Most are good with a little bit of soap and warm water but make sure to read the instructions on your toy when you get it.
Regular cleaning ensures that your toys remain safe for you to use over and over again, as it prevents the development of bacteria and other unpleasant things on the surface. I know it can sometimes be a drag to have to clean up after yourself, especially after a powerful orgasm, but there's no way around it I'm afraid. Keep your sex toys clean for your health and for their durability.
How Long Can You Wear Anal Beads For?
It all depends on how used to having something in your ass you are. Some can't handle anal beads inside them for more than a few minutes while others can wear them for days. As long as they're comfortable and they don't interfere with your regular life (and physiological needs), you can leave them in as much as you want. You'll have to keep lubing yourself up, however, and possibly washing the beads from time to time before you slide them back in, just to make sure everything is in order.


I'm Willow, I'm Brandon's girlfriend and we run this blog together (with the help of some friends). We both have an open relationship and both love being kinky (I mean who doesn't?). I love writing, music and my Womanizer. If you have any questions leave them in the comments.