We have all heard about fisting at one point in our lives and reactions to it are quite different. Some are disgusted by the thought of it, some are kind of neutral, and some you can see a little smirk on the lips like they like the idea or have already tried it first hand.
Whatever category from the previous three you fall into it doesn't really matter when it comes to reading this blog. I will try to explain everything about fisting and guide you through all the things you should know so you can make your own conclusion about it based on facts and not only the initial reaction.
I am in no way biased or judgemental towards anyone. The number of things I like and the things I tend to do in my sex life is pretty non-standard so I always say to each their own. Without further ado, let's get into it.
What Is Fisting?
The definition of fisting is that it is a sexual practice in which an entire hand and all five fingers are inserted into the vagina or rectum. That is quite true but bland in appearance. There is much more to fisting than just shoving your hand or having someone shove their hand in your private parts.
Fisting is actually a sex play that has to be practiced by people that trust each other and can relax and know that their partner will not hurt them in any way. Fisting is something that is a bit on the extreme side of the sexual spectrum and needs to be done with extreme caution and knowledge. And that is I will try to explain further in the text.
Why Do People Enjoy Fisting?

There are numerous reasons for one to enjoy fisting but it is not for everyone. If you ever had sex or used toys and didn't feel completely filled, then maybe you should give it a go. Besides, what is there to lose? You can give it a shot and see if it is your thing or not. Anyway, some of the reasons people enjoy fisting are the following:
Some women love the feeling of complete fullness in their vagina or butt.
There is an aspect of total surrender in fisting
The intimacy tends to be quite high in the art of fisting
Intensity also can be pretty high as it is quite an unusual way of having sex play
The intensity of orgasms it can provide
There are no guidelines on this subject and it has a plethora of reactions and sensations in different women, so you should give it a try yourself and experience it in your own way.
The Best Fist Dildos
There are only a few fisting dildos that are worth mentioning and the ones below tick every single box and will please you on a whole new level.
The Most Famous Hand Dildo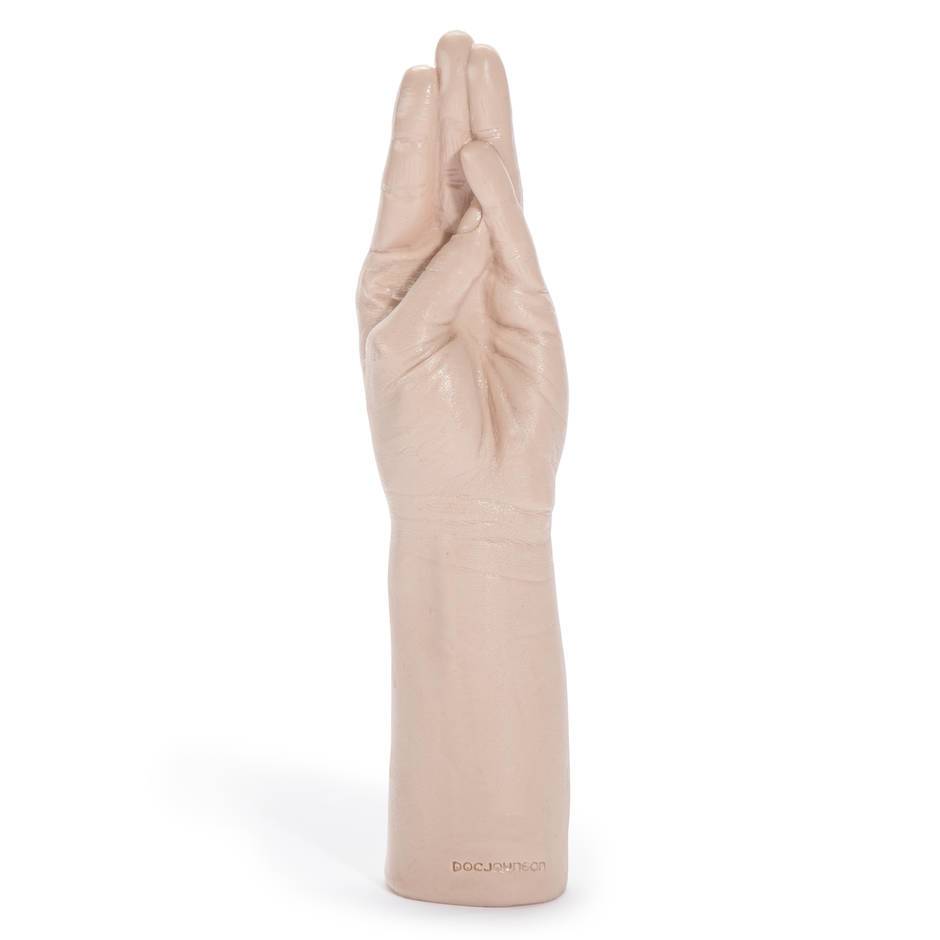 This magic hand dildo is the perfect toy to start your fisting adventures with. It is molded directly from the legendary porn actress Belladonna and features graduated finger shaping that helps with insertion as well as an insertable length of 11.75 inches and a girth of 8.25 inches. Since it is based on the real hand of a porn star, it has incredible detail, a firm but flexible fist, individual skin creases on all knuckles, and lifelike nails that add to the appearance. It is submersible, phthalate, and latex-free, and the material used for making it is PVC.
The Closed Fisted Dildo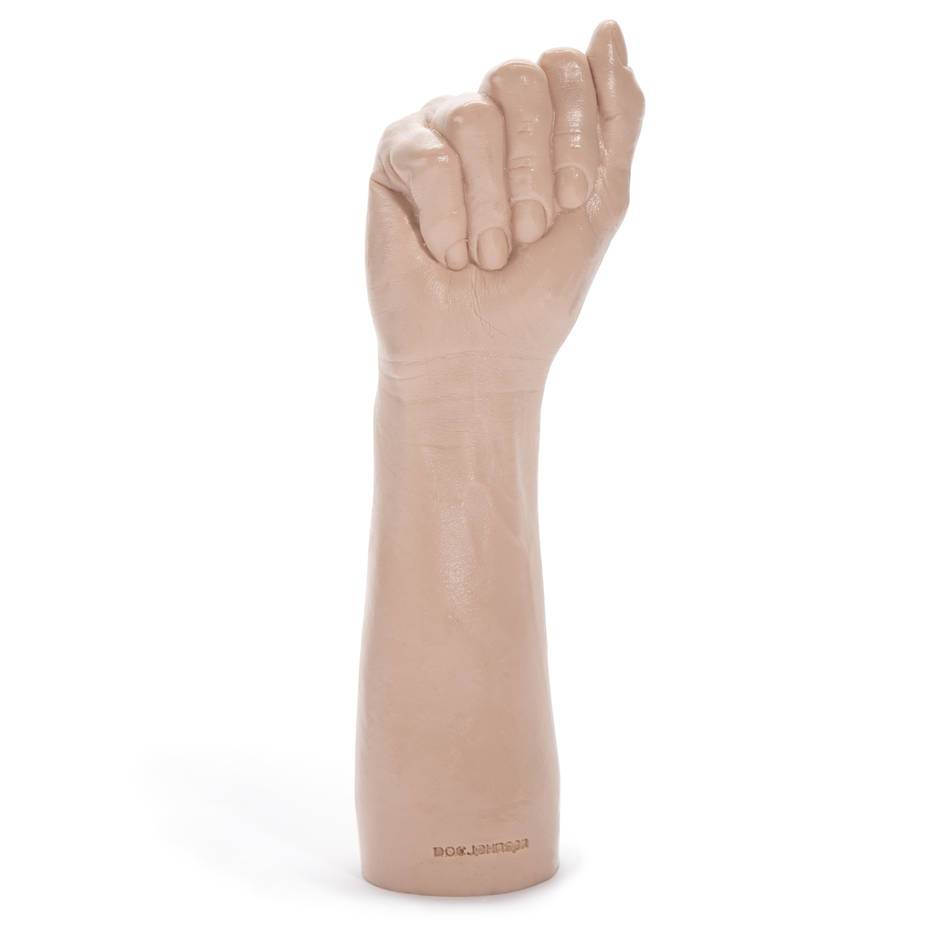 Introducing this amazing closed fisted dildo is clenched and ready to pound your holes like nothing before. It is also molded directly from the porn star Belladonna's fist and has amazing detailing with minimal tapering that provides a sizeable challenge. This lifelike hand has everything that a real deal offers. Realistic fingers, slender wrist, lifelike nails, and individual creases on the knuckles add up to the sensation of getting fisted by the porn star herself. Made with antibacterial Sil A gel with an insertable length that measures 8 inches and a girth of 9.5 inches at the widest point, this toy will fill you up all the way. It is latex and phthalate-free, water submersible, and firm in flexibility. The material used for making this wonderful dildo is PVC.
The Infinity Fist (Monster)
Who says that you can snap the gauntlet only once is seriously wrong. This clenched infinity gauntlet dildo is perfect for Marvel fans and dildo fans alike. While it won't give you the infinite power, it will give you titanic orgasms and mindblowing sensations while you slide it gently in your hole. Handmade from 100% body-safe silicone and 100% waterproof with a total length of 9.5 inches, this golden fist will rock your world. The weight is 813 grams and the circumference at the widest point is 10.25 inches and maybe a challenge for some but step up your game, don't be discouraged and you will receive a universe of orgasms. Firmness is soft/medium (shore A-15).
Turn Your Hand Into A Fisting Dildo
This amazing product from Lovehoney is perfect for fisting without scratches. It is a long latex fisting mitten that is perfect for numerous fetishes and kinks. It can be used in bondage and latex fetishes as well as fisting. Putting it on may prove to be a tedious task so be sure to put lots of talcum powder on your hand, which will serve as a dry lubricant for the mitten to slide over your hand. It is pretty long and reaches the elbow in length. Keep in mind that oil-based lubes are not compatible with latex and since oil-based lubes are the best for fisting, you should research a bit for different options. 
Other Large Dildos Which Create The 'Full Feeling'
Some people that enjoy fisting do it because of the feeling of fullness in their private parts. In that case, there is no problem in using some of the other products that don't necessarily have to be fist-shaped. Some of the toys I would recommend are listed below.
The Incredible Deep Dong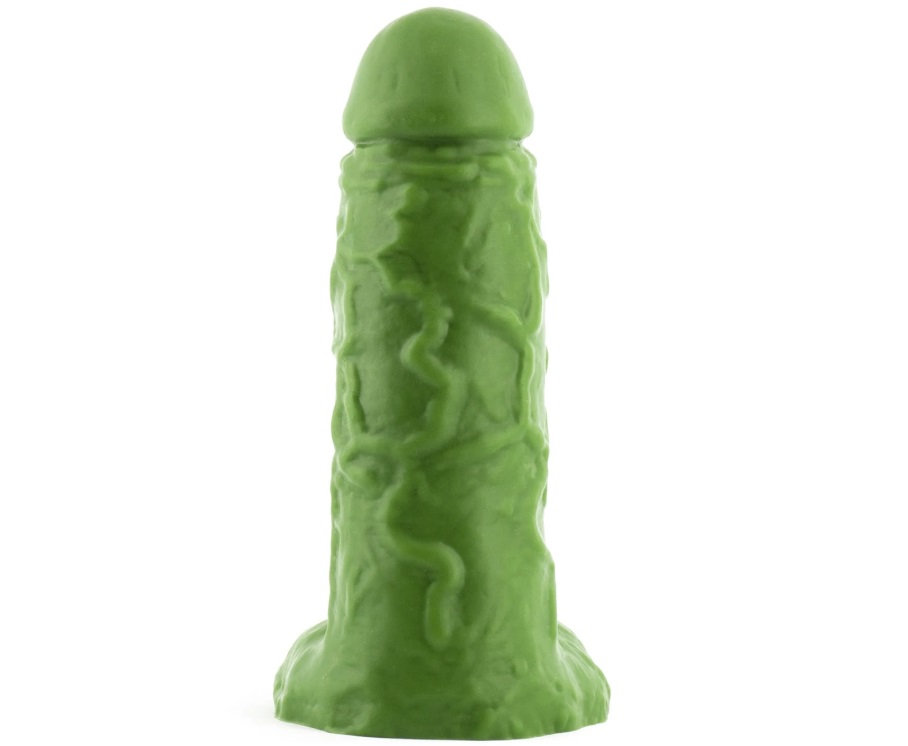 This Incredible Dong is themed after the incredible hulk and its amazing features live up to the name. Smash your pussy or anal hole with this green Hulk-penis looking toy and you will feel orgasms strong as never before. It has a whopping 8.5 inches of insertable length and a circumference of 7.8 inches at its widest point and will prove a challenge for even experienced fisting lovers. The Incredible Dong is handmade, weighs 747 grams, and is made from 100% body-safe silicone. Color is green and may vary for each product, but it stays faithful to the Hulk's original color. Firmness is soft/medium (shore A-15).
Building Up Dildo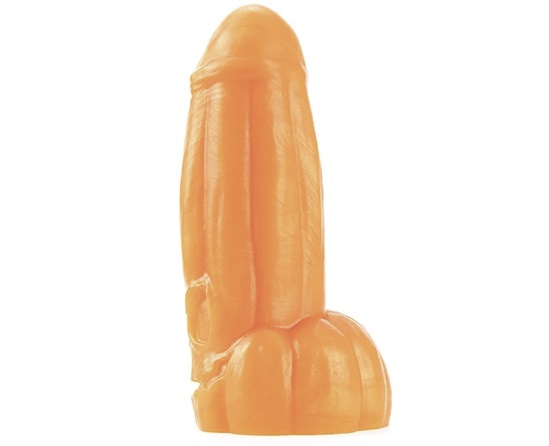 This cute dildo we got from Geeky Sex Toys is amazing in its own way. It is Halloween themed, orange in color and has a skull-shaped bottom of the shaft on the upper side of the dildo. This dildo is the best Halloween themed dildo I've seen and it will surely leave a mark on you as well. The tip and girth of the dildo are amazing and the scull at the bottom just adds to the sensation. The Halloween dildo is handmade from 100% body-safe silicone and features a 5.5 inches insertable length with 7.5 inches of circumference. Weighs 563 grams and is 100% waterproof. It has one of the rarer firmness on the market as it is extra soft (shore A-00) and is perfect for sensual sessions. A pro tip is to twist the dildo during each thrust for maximum pleasure and sensation.
Inflatable Dildo (Perfect For Beginners)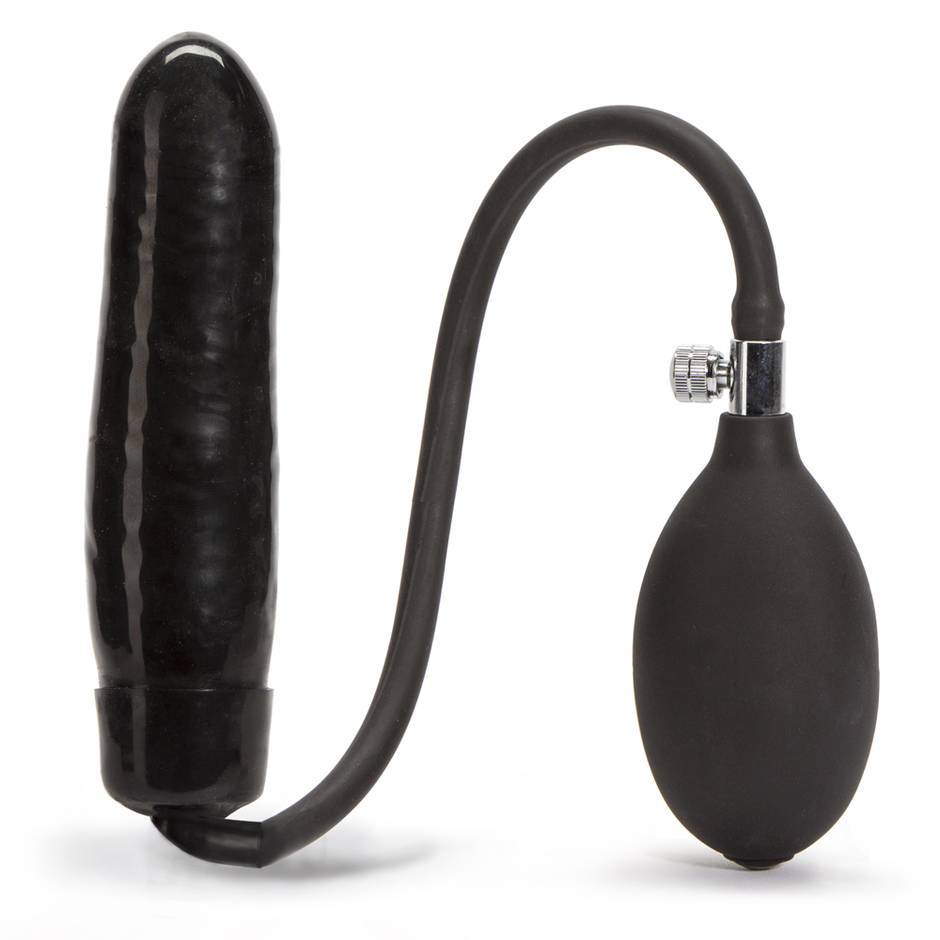 Who says that dildos should have only one size? With this fully inflatable dildo, you can expand your pussy as much as you like and fill your holes with as much length and circumference you desire. This is a beginner-friendly toy for people who want to get into inflation and fisting. Before inflation, it measures 3.5 inches in circumference and 4.5 inches in length. However, with just a squeeze of your palm, the fun begins as it can stretch out to 9.5-inch circumference and a delightful 5.5 inches insertable length. It is recommended that you use a water-based lubricant as this dildo is latex made and oil-based lubricants can cause damage to the product. Keep in mind that you should always pump slowly to get the feel of how much it inflates. If there is any trouble, there is a quick-release valve that will instantly deflate the toy for easy extraction. Hop on this wonderful toy and pump your pussy to the rim.
Inflatable butt plug (perfect for warming up the butt)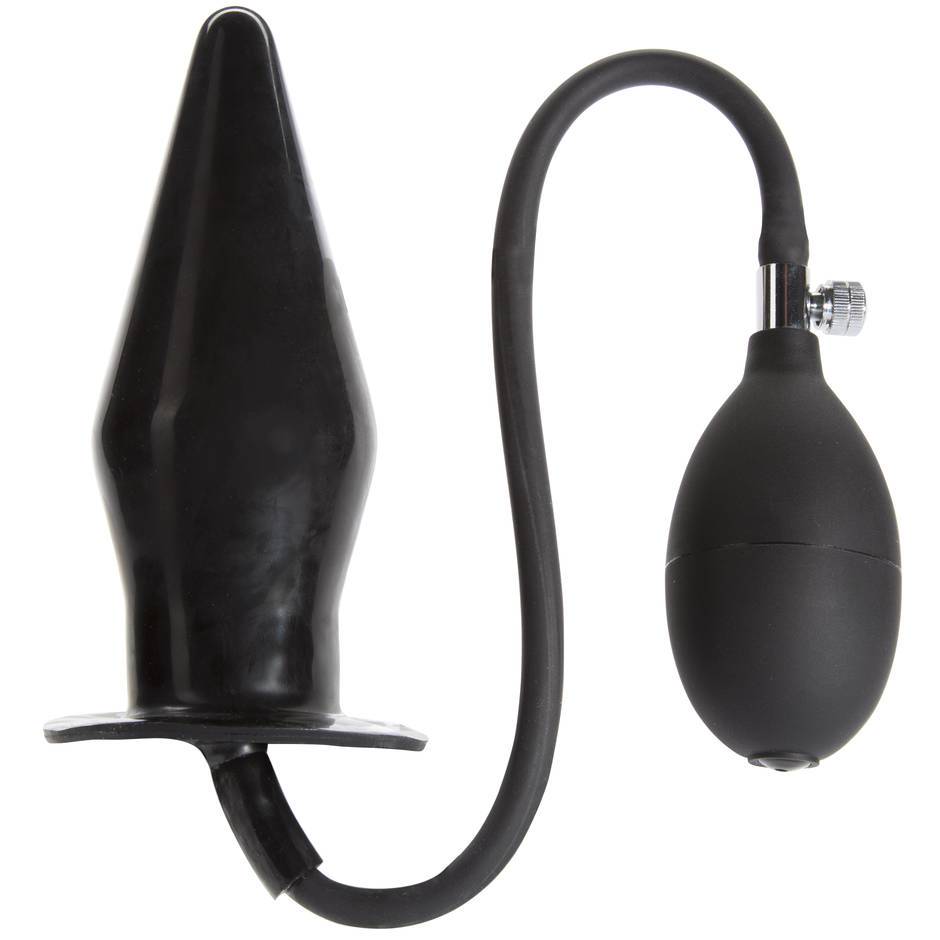 We have gone through inflatable dildos and now it's time for their anal counterparts. Introducing this inflatable butt plug of 7.5 inches. With no core in it, this plug is completely flexible and inflatable, which allows any sort of movement during your sex sessions. From its base 6.25 inches in circumference and 5.25 inches of insertable length, it can quickly expand to a mind-blowing 14.75 inches in diameter and 7.5 inches of insertable length that will leave no one unfulfilled. The palm-sized pump is easy to use and the quick-release valve is always there for fast deflation. It is recommended to use lots of anal lube (full guide on anal lube here) with this product to maximize the experience.
The Best Fisting Lube
As I've mentioned above, all of these toys must be used with lots of lube. Depending on the material of the toy you use, the lube will also vary. Most latex toys can't be used with oil-based lubes as it will cause damage and breaking of the toy and you most certainly don't want that.
One of the best lubes you can use: This fisting lube is considered to be original and still the best. The transparent, odorless, water-based and non-irritating features make it perfect for use with toys and condoms. The tube is pretty large so you don't have to worry about running out of it. It has an ultra-thick formula that gives you extra lubrication, whether you have sex or solo play.
Anal fisting lube: This anal jelly is specially formulated for the lovely, long-lasting slippery feeling when used with toys or anal sex. It is great for anal beginners and experts alike because it is pretty safe and easy to use. The long-lasting formula will ensure that you don't need to reapply it that often and can concentrate on more important things like orgasming as much as you like. It is oil-based, so keep in mind that it cannot be used with latex toys or condoms as it will break them down. Use it liberally as much as you like and you can't go wrong.
The Safe Guide To Anal/Vaginal Fisting
Make sure your toy/hands are clean
Before any fisting session, you need to make sure that the conditions are highly hygienic. As you will be plunged by a hand that can be dirty, you need to be sure to wash them clean before allowing any kind of fisting. Also, make sure that your nails and fingertips are not rough or sharp as that can lead to pain and unpleasant feeling.
Warm yourself up
Before you start inserting toys or letting your partner insert a whole fist in your pussy, you need to warm yourself up. Start by stimulating your clit with your hand, partner hand, a vibrator or any other technique or toy you are used to. Once you get to the first orgasm, you are nearly ready as vaginal parts start to open up and reach full arousal at 40 minutes into the play.
Building Up To Bigger
When you are all horny and aroused and ready to take things in your pussy, keep in mind that you should always start with smaller things. Get a finger in there or two, then three. Try to move your way around and feel how much you can take in. After that, try a medium-sized toy that will expand you even further. As you get used to the feeling of stretched out pussy, you can keep going and insert larger and larger stuff that you have until you reach the maximum for that session. There are sets of toys that allow you to slowly expand your pussy or butt without much effort or concern.
Dildo training set
This size training set will ensure that you warm-up and expand your butt slowly, so it doesn't hurt when you get on to bigger stuff.
Also, inflatable toys can be quite helpful in achieving the same thing, whether it vaginally or anally.
This is an amazing toy for doing just that and it allows you to really ease yourself in and control the size you wish to achieve with the added comfort of being able to deflate and inflate the dildo instantly.
Get Real Fisting Lube
Lube is very important in fisting and you should do some research on what is best for you and your preferences. The best lube for vaginal fisting is water-based, but it all depends on what you want and what toys you want to use.
Get Your Body In The Right Position
Not everyone can experience the full pleasure of fisting in the same position as someone else. You should try and experiment and see what position is the best for you. Also, try to relax as much as you can because that will ensure the maximum sensation and pleasure.
Slowly push the fisting dildo
Always go slow! This kind of sexual play can easily go wrong and end in tears. The sizes of the toys are nothing to be taken lightly and you should always keep that in mind when doing stuff like this.
Add a vibrating wand (if you can take it).
This massage wand vibrator is a perfect addition to your fisting sessions. Maximize your orgasms with 7 thrilling vibration patterns, each with 10 levels of intensity for external pleasure. Have your partner thrust a fist in your pussy while you massage it with this wonderful toy and you will reach heaven in no time.
Slowly remove
The rule of slow is not only for when inserting, but it also goes for pulling things out and it should be taken with a serious note. Carefully pull out the toy or the fist out of your holes, so you don't feel pain or get some sort of damage done to your private parts. It is a sex play that should be done with caution.
Having your partner do it for you
One of the best ways of fisting is when done with a partner. Be open and communicate with him on what you want, how deep do you want it and if you want any special things done with the hand. Have a safe word just in case things go sour.

I'm Willow, I'm Brandon's girlfriend and we run this blog together (with the help of some friends). We both have an open relationship and both love being kinky (I mean who doesn't?). I love writing, music and my Womanizer. If you have any questions leave them in the comments.