In my quest for the next category of sex toys to explore, I had a sudden realization – I have never written about blowjob machines! I have written about various pocket pussies that I can stick my dick into and as heavenly as they are, there isn't a lot of them that are hands-free.
Since I am a man of artificial pleasures, it's only normal that blowjob machines should be on my list to try out. They really advanced in recent years, so I was almost giddy in excitement to try some of them out. Looking at some numbers online, their sales skyrocketed with the technological advancements!
I am guessing most of you are new to this area of sex toys, so I invite you on this neat meat journey (sorry). I really encourage you to try some of these out because not only did my alone time shoot to new pleasurable heights but so did my girlfriend's and mine's fuck session.
But all of that aside, this is my favorite moment out of them all: now I can get a blowjob anytime I want. Sure, I can always give myself a handjob, but these sex machines let me enjoy the depths of artificial throats anytime I want them to. The lube is there to simulate the spit, the warmness and to add to the pure satisfaction that comes with a male sex toy where you gotta do nothing but kick back and relax as you watch your dick get pumped.
How are these different from other toys? The main takeaway is that they really aim to feel like oral sex. Some mimic the insides of a throat, some have realistic-looking lips and tongue. It's up to you to choose what you please.
The Best Automatic Blowjob Machine You Can Buy
This. This is my mistress and the one I bring sometimes into bed with my girlfriend, much to her satisfaction, too. This is the blow job master thrusting masturbator. What can I say, we share a passion for the kink.
I love the feeling of the cold lube trickling down my cock while I plunge into the depths of this masturbator, feeling the ridges and knobs as I go in. And when the machine gets going with its 6 thrusting motion and I enjoy it hands-free… hoo boy.
This was the first machine that I have tried and still holds the title of the most sensational one that I have used. When it arrived, I was so anxious to try it that I was plunged into it literally an hour later.
I swear I almost came there and then as soon as I inserted my length to the very end of the sex toy, just from the texture inside and the massager. And once the machine got going with its slow stroking settings, I was in bliss, playing with my balls and nipples, holding myself from cumming like an expert. But the want to blow my load was very strong, thanks to the fantastic feeling of the toy.
After 15 minutes or so, I turned the settings to a faster mode and felt my balls contract in anticipation of the ejaculation. Not soon after, I was sent to the heavens, as my cock spewed sticky gush after sticky gush. I just lay in ecstasy for the next half hour, trying to come to terms with the fantastic ride I have just experienced
What You Need To Know About This Oral Sex Toy
First of all, it's a cheap steal, seeing how it's a blowjob machine for a mere 80 bucks.
Besides the multiple functions, I should further explain that you can go all out with fast motions or opt for the excruciatingly and pleasurably slow strokes that will test your control and stamina.
I loved the beaded massagers included inside because they stimulated my cock better than any mouth before.
Homemade Blowjobs on Tap (Why This Is The Greatest Blowjob Toy)
Um, as I have said above, what man doesn't want to have blowjobs whenever and wherever he pleases? For this price? Yes, please
The inner canal is pretty tight, which especially suits me as I plunge deeper because it mimics the narrowness of the throat
I appreciate the transparent moment because I have a front-row seat to the action
From a practical side, the toy comes in a discreet package, is pretty quiet and easy to transport for travels and such
The Other Blowjob Toys I Recommend

I have dedicated some time to carefully selecting other toys to try. Some of these I chose with the aid of my girlfriend. I say this to remind you all that the mere "simple" act of shopping for toys together can bring you and your partner closer together and get you to grow closer intimately.
The Vibrating Mouth Sex Toy
I love the name of this. The fun zone vulcan mouth masturbator. It has all the adjectives I could ask for.
But you're not here to hear what I think about the name of this toy. Nah, you want to hear what it feels like. And starting with the lips themselves, I can tell you they feel sensational.
That alone makes my cock stiffen a bit more, while the vibrations that ensue can make me come even on my worst-functioning days. So, thank you for the vibrating bullet that mimics the feel of a blowjob perfectly. When I throw in the lube into the whole story – the feelings are out-of-this-world.
Warming Oral Sex Machine
This blowjob toy is just like an inviting mouth that promises to keep you happy and satisfied. I turn it on and when it's warm enough, I slip into it all lubed up, getting that familiar feeling of a wanting, warm mouth. Then, the vibrations and pulsations come into the picture, adding another level of horniness to the whole experience.
It's just so practical – easy to recharge (I charge it for a mere hour and a half for a full hour of fun!), easy to clean, has lifelike sensations with 9 patterns and speeds altogether. Definitely one of my faves.
The Most Realistic Blowjob Stroker
The la bocca della verita is a godsend with its moveable tongue (and a bonus uvula!)! Besides that, I also love the ridges that simulate the tenderness and firmness of the throat. The teeth are a strange, but welcome addition – they never bite! I love how the makers were careful to imitate other lifelike moments, like the narrowing throat that just teases you to go full deepthroat.
We use this in bed to roleplay a threesome and my girl gets off watching the pillowy lips of Della Verita engulf my cock while I grunt in pleasure as I destroy this fake throat.
If you like this level of realism then you should check out these onaholes, it's the category the la bocca falls into and they are awesome.
The Male Vibrator That Feels Like A Mouth
Cobra Libre is a dangerously pleasurable gadget. It's pricier for a goddamn good reason – it doesn't imitate just a blowjob with a simple massage, it sees to press all the right buttons of yours, going right for the glans and frenulum. Speaking of buttons, it's easy to control.
When I start my pleasure sessions, I like to move it and twist it around my cock, getting new sensations each time. Add to that the silicone material that adds to the gentle feeling around the cock and you got yourself a huge win.
If you want to see the full story about using this male vibrator then you can check it out here.
Fleshlight Turbo Thrust Blowjob
This turbo thrust blow job masturbator is a one-way ticket to knee-trembling orgasms that have me squirming with pleasure 15 minutes after I have finished. Why? Because I literally go through several stages of bliss with it. First comes the inviting opening glistening with lube. Afterward, the tongue flicks at my rock-hard dick, as I push past it to be greeted by the toe-curling sensations of the coveted deep throat feeling.
This is a patented blowjob simulator by Fleshlight, so you just know it's gotta be good. I did a whole guide on finding the perfect fleshlight, teaches you everything about the,
Blowjob Enhancing Toy (Make A Blowjob With Your Partner 10x Better)
This quickshot fleshlight has dual orifices. And it's not a blowjob machine per se, but it's a great toy to shoot your bj to new heights. My girlfriend uses this on me, pushing it all the way to the base and working her mouth and tongue at the tip of my penis, flicking and twisting around it like it's the most delicious ice cream in the world. This sex toy lives up to its name, Quickshot, because it does make it reaaally hard not to cum quickly. Especially when my girl starts twisting it on my dick, so I feel the whole spectrum the Quickshot offers.
Make Any Fleshlight A Blowjob Machine Using The Launch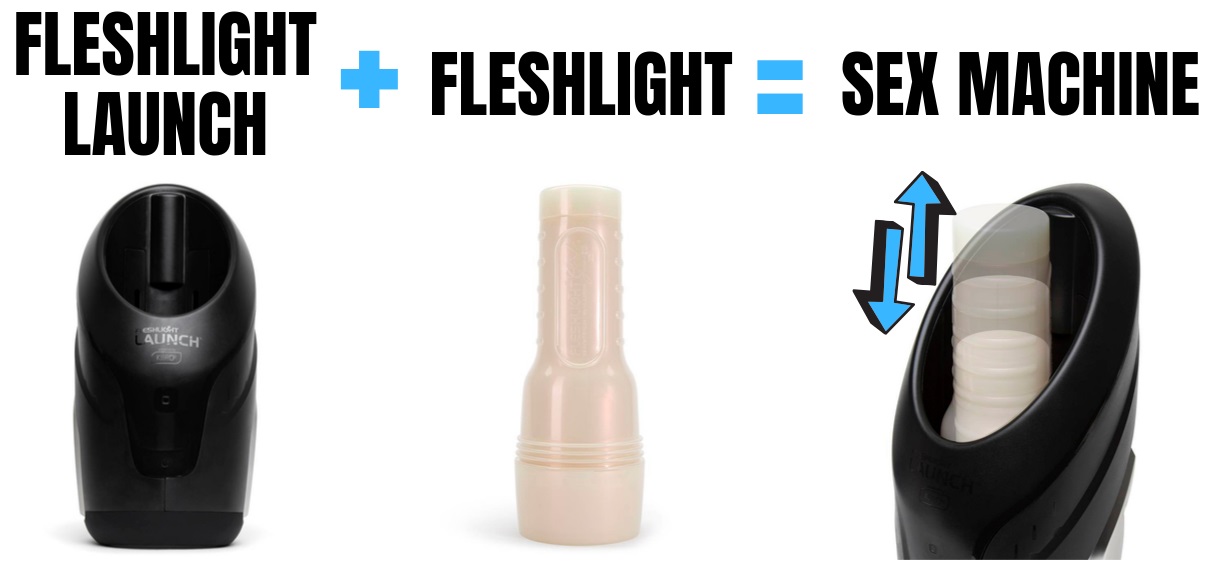 Ah, the Launch. Yes, it's expensive, so if you're able to afford it – great. I have invested in it and I am definitely regret-free. This enhances my playtime with Fleshlights and is so easy to control, be it speed- or length-wise. You can even sync it with VR, videos, games, and webcams! I didn't do that yet but rest assured it's on my list.
So, how does this work? Simple – I stick my favorite Fleshlight in it and let the Launch do the stroking!
How To Clean Your Blowjob Machine
Just like with any sex toy, it's crucial that you clean your BJ machine after each use. Be sure to read the instructions beforehand to learn how to dismantle the toy (if it is required) and which parts are waterproof and which aren't.
Use mild-temperature water for rinsing, and antibacterial soap when cleaning your gadgets. Feel free to use your finger to probe around the parts that are more difficult to reach. Afterward, go over the toy with a microfibre cloth and leave it to air-dry completely.
Why is cleaning and letting the toy dry that important? It eliminates the risk of bacteria and yeast having a romp around your toy and risking your health.
If you have a BJ machine that has parts made of silicone, you can coat it in cornstarch once it is dry, because it helps with the longevity of your toy. I mean, you paid good money for it, surely you won't let it go to waste.
You may think this takes up a lot of time because you gotta be pretty thorough. Not necessarily, especially once you get the hang of it. It will become an automatic non-burdening action. And every time you take out your toy to play with it, you will know it is squeaky clean and ready for your hungry cock.
How To Use A Blowjob Machine
You Into BDSM? Try This!
The blowjob machine is great for BDSM play with your partner if you're into it. My girlfriend and I don't engage in this a lot, it's not really our dynamic. But sometimes we do. More importantly, we have several close friends in our sex toy community that nurture a BDSM relationship with their partners.
So, I have gathered some tips from them. Mostly blowjob machines can be used for "orgasm torture". Sounds like an oxymoron, but it's not. In the scenario, both sides have agreed to their roles and the man is the supposedly unwilling participant and receiver of the artificial blowjob. The woman controls the gadget. The duration of the ordeal, the length of the teasing… The dominant has full control of when and IF the man gets to ejaculate.
A friend of ours even has this dynamic with her significant other where she makes him wear the BJ machine, secured in place. She makes him turn it on, usually on the low stroke mode and just leaves him like that.
He can whimper like that for a whole hour in sweet agony, while she goes around the flat doing her regular business. Then she returns to tease him more directly, speeding up the vibrations and strokes or stopping the whole thing completely. And yes, she is one of those dominants that sometimes doesn't even let her submissive cum!
Cover The Toy In Lubrication
Not to be the party-pooper and to be boring, I didn't mention every time in the options above that you should lube up. But you most definitely should. Why take away from a pleasurable and spine-tingling experience? Just add a bit of water-based lube and the whole ordeal just skyrockets to otherworldly heights and pleasures.
Read The Instructions
Freely read and use the instructions that come with the new gadget, because every toy and brand is different.
So, to eliminate the stress of probing around the toy and its features, get to know the good stuff and star features right away.
Relax bro!
Always see that you are relaxed and that you set the right mood.
So kick back with drinks, erotica, porn or something fourth. Have a relaxing shower before and after your session. You deserve it. Treat yo self.
Use this in bed with your partner
There are lots of fun scenarios you can play out:
Were you both fantasizing about bringing a girl into bed? Then this might do the trick or be the right baby step in that direction. Roleplay with the scenario of picking up a willing, kinky girl from a bar one Saturday night. I guarantee you, if you get into the story enough, you'll be gushing streams of sperm from your rock hard cock
You can even 10x it with a sex machine, watch your partner enjoy hands-free pleasure while you enjoy your blowjob machine.
Have your girl watch you cheat on her or simply perform for her pleasure with another gal. Look her in the eye while the BJ machine milks you with each stroke, bringing you closer to the edge.
There doesn't have to necessarily be a whole storyline to it. Just have your girl lay beside you with a vibrator up her pussy, while your BJ toy does its thing. I guarantee you'll be having a big, unforgettable simultaneous O!
I'm Brandon, I'm one of the main writers and owners of ewsingles (the other being my girlfriend (Willow). My girlfriend and I have an open relationship and share our passion for sex toys, sex and dating.