Oh, Japan. The land of such delightful weird and pleasurable experiences and stuff. You didn't just give us anime. You gave us hentai. You gave us onaholes, too – your own type of stroker male sex toys. Extra-soft to the touch and pleasurably squishy. You really know your stuff, Japan.
As for you, the readers of this kinky little universe, you probably saw this coming. Onaholes are popular almost as much as fleshlights, so everyone who is a little bit better accustomed to the subject of male sex gadgets knows about these pink pussies with slightly tighter canals than other toys. It kinda makes sense that onaholes are but on the smaller and tighter spectrum. After all, they are made after Japanese porn actresses and anime characters – and they are usually all a bit more petite!
Where does the name come from? Well, "onanism" is another word for masturbation, if you already didn't know that. But enough about etymology and let's move on to the sexy, juicy stuff…
What Is an Onahole And What Types Of Onahole Exist?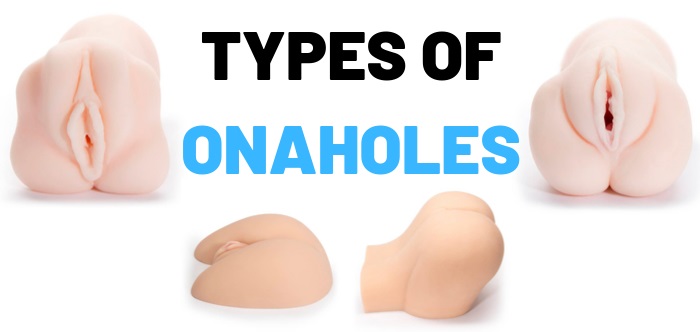 Onaholes are a must-have if you're a sex toy junkie like me. Essentially, they are like pocket pussies and fleshlights, but from Japan. The thing is that they're a tad more squishy kind of stroker toy. They are male sex toys with orifices most commonly resembling a pussy, but also buttholes and mouths for blowjobs.
Some of these represent just a sleeve with a pussy or a mouth, but some have two holes – an asshole and pussy, so you get the buttcheeks too in that case. Moreover, some onaholes have a whole torso with boobs or are a more complete sex doll!
Just like fleshlights and other similar toys, they are great for training your longevity in bed. Some guys claim they really boosted their stamina thanks to onaholes!
I am always happy to do some research in the good name of science. Thus I have bravely and hornily ventured into the world of onaholes. Sometimes alone, sometimes along with my girlfriend in bed. In all cases, the missions ended in an, ahem, explosive and sticky fashion.
The Best Onahole I've Ever Used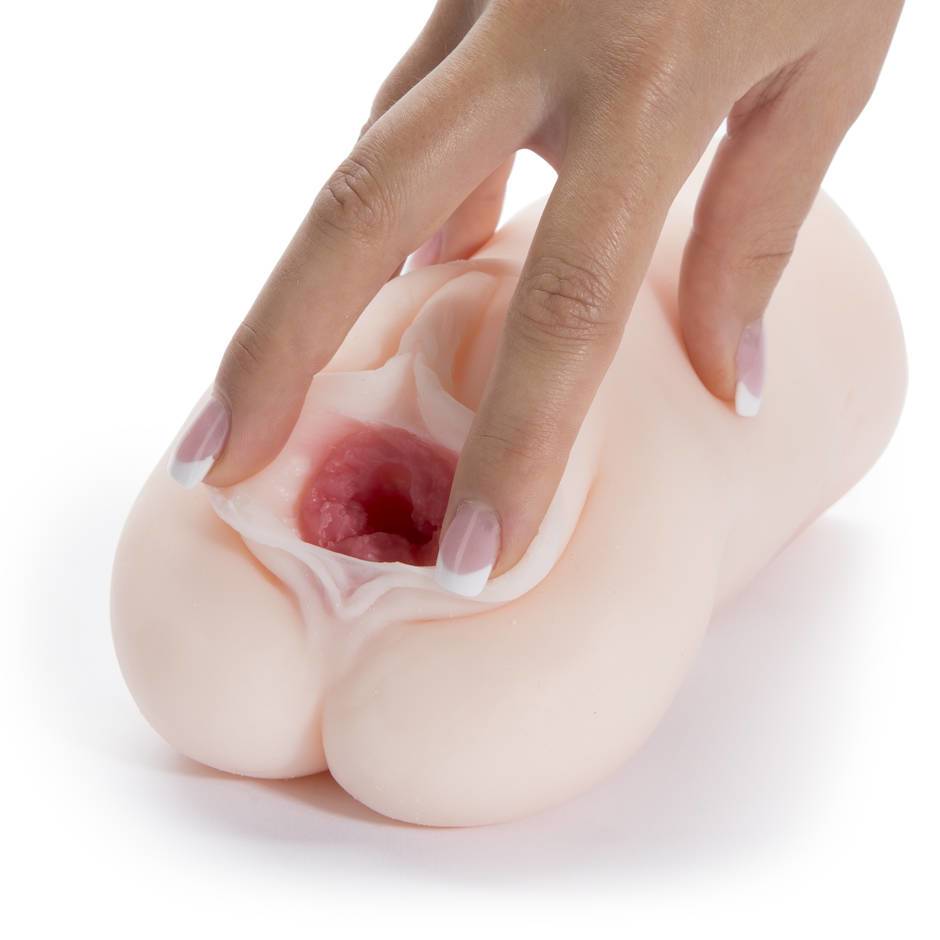 The ZXY Onahole is truly a goddess in her own might. It's, obviously, modeled after the pussy of China's top-ranking nude model, the heavenly Zhang Xiao Yu. I hold it in the highest regard because I immediately took a liking of those supple pussy lips and the opening that seems to tease me, especially when I lube it up and it glistens back at me.
True, it is a bit pricey, but if you can and want to invest in gadgets like these, you won't be making a mistake with this one.
The ZXY inviting, fun and squishy pussy has a canal that makes my cock twitch just by thinking about it, so I think it's fair that I give you a glimpse of its powers with a story about my first time using it.
When this arrived, I had the pleasure of unpacking it with my girlfriend. As soon as we took it in our hands, we were blown away by the realistic feeling of the pussy and the horniness that arose when you'd run your fingers over the puffy lips. You could practically smell sex in the air. But still, I have used it alone the first time. I was thrown into another world as soon as I started jerking off, or more exactly, from the moment I entered, because the sensations are incredible. The textures change as you slip into new depths, so it really is a toe-curling experience. Those ridges and the tightness had me coming in gushes!
On another occasion, my girlfriend surprised me by taking this out during foreplay and in a mocking and playful voice, doe-eyes and all asked me if she could invite her friend to join us since she just broke up and needs a hard cock to fuck her wanting pussy senseless. Confused, I watched her open the drawer next to the bed. When she took out the ZXY, it dawned on me – my girl was roleplaying.
She proceeded to ask me if she could be the voyeur while I use her friend. I nodded silently while my lady positioned herself on the chair in our bedroom, legs spread, ready to play with herself. I secured the onahole with cushions and lubed it up.
Once I started going at it, there was no way of stopping me. I was like an animal thrusting in and out senselessly, asking my girlfriend if she likes watching me fuck other pussies, while she answered in screams of pleasure, her fingers already deep in between her pussy lips. Needless to say, I came with such vigor that I nearly collapsed from the wave of positive intensity.
Why You Need to Try This Onahole
The material gives this artificial pussy an awesome surface
It simulates reality on the inside, too – thanks to the tightness of the canal (although this is also due to the suction technology)
I loved the different "levels", aka the various ribbed parts as you slip in
If you know your porn stars and nude models, this will be a treat for you, because it's modeled after Zhang Xiao Yu, who happens to be China's fave nude model
You can bring it into a tub with you because it's waterproof. This also makes it a breeze to clean!
The Other Onahole Masturbators I Recommend
The one above is my current favorite, but it is seriously hard to pick a favorite when there is so many good masturbators out there.
Below are some other onaholes I had to mention, seriously, the adult toys below are some of the pound for pound best male sex toys I've used.
Another Super Realistic Onahole
Let's stick (in)to this realistic onaholes, because being as close to the real thing as possible is one of the selling points of onaholes in general. Another one I like is this anime yet realistic vagina modeled after AV star Hibiki Otsuki. I got it just recently and I'm totally satisfied with it. I got it after reading a lot of favorable reviews. My fave feature is the G-spot that stands apart from the ridges and the rest of the divine inner canal.
There is a special kind of satisfaction in fucking this pussy because it's not made for a quick release. You really take your time in exploring it and thrusting slowly. The orgasm builds up along with the intensity, resulting in an earth-shaking ejaculation that makes you praise the elaborate labyrinth of nodules and ridges the 008 comes with.
I always appreciate a lube that doesn't need much squeezing and the one that comes with this sex toy is just like that. I use a little amount and I actually appreciate the realistic stickiness it gives. Especially the sloppy sound!
The Cheap Onahole That Is Still Amazing
Surprise! This pussy isn't just a great cheap onahole, it's also a 2-in-1 and you are welcome. This stroker is great for securing between couch cushions, grabbing those cheeks and fucking that inviting pussy hole, and then moving on to the lubed-up tight ass. I should know, I love using this when I'm on my own and pretending it's a girl I just met in the club and hooked up in an alley, imagining her teasingly sticking out her ass for me to rim.
Onahole Mouth
The La Bocca Della Verita is such a treat. I love thrusting into it, thanks to the ridges that imitate the throat so well, but even more because of that tongue that can move around. And the uvula is a fine bonus, too! Also, this onahole has smooth teeth, but it doesn't bite, so score.
Apart from the lifelike pillowy lips that encapsulate my cock, there is even a nose to add to the realistic features. You know what else makes up for the realistic moment? The fact that this gets tighter as you go in, just like a real inviting mouth ready for deepthroat. If you're into mouths, then you need to have a look at these blowjob machines, it's something every man needs.
The Onahole From Amazon
The Ride Moeana is the epitome of squishiness in onaholes. It's fun to squeeze just as a stress relief toy alone! It doesn't require a lot of lube and my girl and I use it when we're feeling a little bit kinkier because it isn't as realistic as the other ones represented here. So this one has more of an anime kinda feel from the outside.
That adds to the oddity and excitement. The texture is different if you twist it around your cock as you go at it, so this is what my girlfriend does – we make out with our tongues down each other's throats while she jerks me off with this fun thing. I came like a champ several times with the Ride Moeana, filling the tight canal with my sticky sperm.
My Favorite Onahole Anal Toy
Sure, the Alana onahole is on the pricier side, but if you're an avid sex toy aficionado like me, splurging on these comes to you often. I know I have categorized this as an anal toy, but of course, it also comes with an equally divine pussy canal ribbed in distinct and awesome ways. So I switch it up often, pumping in both holes during one session.
Actually, I use this in bed with my girlfriend, too, because she likes the prominent pussy lips. So sometimes we use it for roleplaying threesomes because Alana proved to be so handy.
If you like the sex torso, then here's a few more sex doll torso's, they are not onaholes, but they are just as awesome.
My Onahole Warmer Technique
I still soak my onaholes in warm water, because this is the technique I am just used to the most, so that's the only reason why I'm not fully using the onahole warming rod. The USB-powered rod gets the job done neatly and with no mess because now I don't soak half my bathroom or bedroom with my dripping sex toys. A great bonus feature is the fact that the makers took care not to have the toys overheat when charging, so the rod stops warming up after a certain point. 
Onahole VS Fleshlight VS Pocket Pussy (Who Wins?)
Ah, the age-old question. Just kidding, the question isn't THAT old, but it is a common one. Listen, the simple truth is – they all win. It comes down to individual preferences. I mean, I like 'em all! Wake me up in the middle of the night and I can give you the names of my favorites in every one of these "categories". I have put quotation marks because the taxonomy sometimes becomes confusing. B
ear with me now: the term "pocket pussies" is sometimes used to describe all gadgets that represent artificial vaginas. This would mean onaholes and fleshlights, too. But if you want to make a distinction between all of them, here it goes… For example, pocket pussies are small and compact and do not have the typical hard case of a fleshlight. Moreover, Fleshlights are actually a brand, a patented product. Just like you have Coca Cola and other dark carbonated drinks. And not every carbonated dark drink is a Coke, get it?
So, what should you choose? Do you want squishy and soft on the outside? Choose an onahole. Do you like hard cases and more durable surfaces for your sex toys? Choose a Fleshlight. Also, onaholes are not as compact on the inside in the sense of engulfing your penis and putting pressure on it. So you may need to squeeze them a bit more and twist them around your member. In other words, you control the tightness.
How To Use An Onahole (Techniques & Advice)
Take it slow and lube up. Especially if it's your first time using an onahole. But worry not, this is a great toy for first-timers and newbies in this sphere. To help you out with the best lube option, I have singled out my favorite water-based one, since those are the best kind for male sex toys of this type.
The Sliquid lube is highly appreciated in our household since it is eco-friendly and also friendly towards the delicate vaginal flora, so when my girlfriend and I use some of these toys together it doesn't irritate her one bit. Dunno if being vegan is your vibe (ours certainly isn't), but it's also vegan-friendly.
Mostly tho I just appreciate its watery-but-not-too-watery structure and thickness, so when I slip into one of the pussies I own, I have the feeling almost as if it released its own natural juices.
How To Clean And Look After Your Onahole
Since onaholes are generally made from delicate material all over, you should take extra care when cleaning after use and storing right. Also, doing it properly will keep you safe from mold and bacteria, because you don't want to develop a UTI or something more difficult to manage. So, here's how you do it:
After using the onahole, wash it under mild-temperature water. Warmer water can potentially damage the material and you don't want that happening. Avoid turning the sex toy inside out while rinsing so you don't rip it accidentally. Use your finger to clean the inner part in detail, twisting the finger to get between the ridges. You can use antibacterial soap on the outside, but do not use it on the inside, 'cause it's more difficult to rinse out properly.
Make sure you let the whole thing dry COMPLETELY before storing it away, so you don't kickstart a moldy extravaganza in your beloved toy. So brush the toy with a microfibre towel and leave the said toy on the towel upside-down, allowing it to air dry.
If you're extra careful with your belongings, first of all, congrats. Second, you can use baby powder later on to ensure durability and longevity of your sex toy, because the powder additionally protects the sensitive material.

I'm Brandon, I'm one of the main writers and owners of ewsingles (the other being my girlfriend (Willow). My girlfriend and I have an open relationship and share our passion for sex toys, sex and dating.