Fair warning, this isn't about hot women with tight asses and perky boobs. This is about big women, and I mean truly big women who are proud of their bodies and who feel sexy and sensual and who like to have as much fun in the bedroom as the next person.
If you're a man who likes big beautiful women, you're welcome to read on. If you're a big beautiful woman who is confident in her sexiness, this post is also for you. If you're a big beautiful woman looking to gain confidence in her sexiness and body shape, you've definitely come to the right place.
Yes, we are big women. And we like sex. It's as simple as that.
In this post, I'm going to talk about the practical aspects of BBW sex, as well as my personal likes and dislikes that might work for you and/or your partner.
For the guys: this is just based on personal experience! Whatever you read here, you should discuss with your girl and see whether or not she's willing to try a new position or a new toy or even a game. Odds are, she'll be over the moon that you suggested something fresh and exciting to spice up your sex life.
So, my gorgeous cupcakes, let's get started!
What does BBW mean, for all of you that don't know?
BBW is an acronym for Big Beautiful Women or Woman, depending on the context. In the porn industry, it has become an entire category in an of itself, where big women enjoy sex in all sorts of naughty settings and scenarios, just like your regular-sized pornstars.
If you're wondering just how big the Big in BBW is, I'm here to tell you that there's no clear definition. But it certainly means big. I'm not talking about sexy curves. Jennifer Lopez may have a plump ass, but she's as far from BBW as it can be.
I'm talking about really voluptuous bodies, plus-sized women who are thick in all the glorious ways. Big Beautiful Women may be outside of what is defined as conventional beauty and attractiveness, but that doesn't make them any less beautiful or attractive.
I'm A BBW And I Love, Like Really Love Sex
Before I go any further, I have to level with you: I'm a size 22. I am a BBW no matter how you spin it, and I'm proud of that. I love my body, I love how it looks like, I love what it can do, and I really, truly, can't get enough of sex.
I'm a sexual person, and ever since I lost my virginity at the tender age of 18, I only wanted to have more of it, to explore and find out what kinks are out there, what sweet pleasures wait for me to discover them.
If I could have a new man every day, I would. Sadly, real life is a thing, and with my full-time job, hobbies, and my social life, I don't have time to meet up with guys and have sex with them whenever I want. This doesn't diminish my desire in any way.
I love hooking up, I love dating, and I love both satisfying men and having them satisfy me exactly the way I want them to. My size doesn't affect my sexual appetite in any way.
The No-BS Guide To Sex With Big Beautiful Women
As I mentioned at the beginning, this is my guide. It is based on my sexual experiences – and there have been a lot, trust me – but keep in mind that every woman is different. The things you'll read here are what drive me out of my mind, and I wish more men knew about them when they're playing with my big beautiful body.
If you want to please your BBW, bring up what you read here in a conversation with her. Gauge her reaction and ask her whether or not she'd like to try any of it. If she's at least half as sexual as I am, she'll jump on the idea.
The Sex Position Is Everything
If you're a BBW, there are certain things your body can't do. That's just a fact. It all depends on how flexible you are, how your weight is distributed, what your body shape is, and of course, what you like and dislike.
The only way to figure out what works for you and your partner is to try out as many positions as you can! To ease your road of experimentation, I'll list my favorite ones here:
Lazy Doggy
Regular Doggy
Spooning
Missionary
Keep in mind that you and your partner don't have to constantly change positions during sex to have a great time. If he's kissing, touching, and playing with all the right places, I'm perfectly comfortable being in one position until I orgasm. It's all in the technique, the devotion, and how horny the guy can make me.
I Love Size
Now here is something that not many guys are ready to hear: because of the size of my body, sometimes it's hard for me to enjoy the full length of my partner. You'll understand that it's nothing personal. It's just the way I'm built.
When I talk to my BBW friends, they all say the same thing. Most BBW prefer a well-endowed man, just because they can feel more of him.
However, don't be discouraged! There are ways to extend your length, so to speak, so that both of you can get what you need out of your sexy playtime.
Behold, this penis sleeve! This toy is essentially an extender that you fasten to your own penis and it can add up to three inches in length. It not only keeps everything snug and in place, but it also helps reduce stimulation so that you can last longer. 
If you and your BBW are having trouble because of your size, why not try a toy like this and see if it works? It will open up a whole new world of pleasure and make so many different sex positions possible.
I also did a whole post and story about the first time we tried a penis sleeve here.
How To Get The Most Out Of Your Length
If you're unwilling to try a penis sleeve, there are some other things you can test out. Even if you are open to a penis sleeve, this next technique will definitely be a bonus for you both.
The best way to make the most out of your length with your BBW is to try the doggy style position, but with a cushion underneath her belly and hips. This creates the perfect angle for you to go as deep as possible, and for her to moan loud in pleasure. Any time I do this with a guy, I orgasm in record time.
If you want to level up the experience, instead of a regular cushion, you can this position enhancer. These are great for various types of positions, not just doggy style, and you're sure to love its versatility and how easy it is to get off with just a little bit of support.
I also recommend checking out all types of sex position enhancers, they really do unlock loads of sex positions.
Touch, Kiss, and Play With My Whole Body
If it weren't already obvious from the text up until now – I'm a hot-blooded woman. As such, I like to be caressed, touched, kissed, squeezed, perhaps even bitten all over. If you're determined to make me feel good, you need to pay attention to my whole body, just like you would if I were a Victoria Secret model.
Don't skip anything, especially not my belly, my ass, my boobs or my neck. I've been with men who avoided my belly, thinking it would somehow offend me. Please don't do this. If I'm naked with you, I want you to take advantage of all of me, so don't be afraid to lick, kiss, and caress any part of me that you like, including my belly.
Once again, I'm in love with my body. It is big and it is sexy as fuck. I want you to love it as much as I do, so give it proper attention when you're having sex with me.
Manhandle Me
Boy, do I love being manhandled. I practiced BDSM only on occasion, but even in regular settings, I love being a bit of a sub. There's nothing hotter than a skinny guy who can make me feel light and who handles me right. (Hey, that rhymes!)
I love it when men take the initiative when they know what they want in sex and exactly how to get it. Move me around, grab me, position me how you want to make me cry out in ecstasy. I am not going to break, so don't be afraid to go hard.
Slow and tender is nice when it's intimate and with someone I care about, but I also love my fair share of rough sex that is all about those animalistic urges getting the better of us.
Take charge and show me what good sex really is!
I'm A BBW Who Loves Anal Sex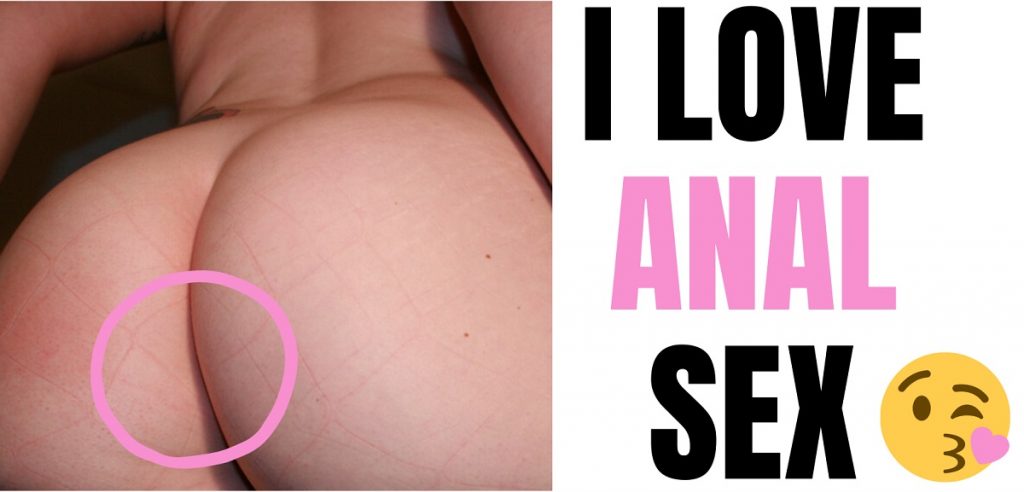 Speaking of good sex, here's something that you may not have thought of before: BBW also love anal sex! Just because we're big doesn't mean we're not into experimentation and finding new ways of reaching orgasm. If your girl is open to it, anal sex can add a whole new layer of pleasure and intimacy to your sexual and/or romantic relationship.
Anal sex with a bigger woman doesn't have to be all that different from anal sex with a skinny woman. There are some things you can use to enhance your experience, as well as some things to keep in mind, but overall, it's a great time.
Next time you and your partner are talking about sex and what you'd like to try, mention the idea of anal sex, because you sure won't regret it.
Here's what you should know about BBW anal sex:
Positions
The same as with regular sex positions – some are easier to do with a skinny woman, while others are totally fine for a BBW as well.
The most obvious position you can go for is doggy style. Spooning is also an option, and maybe you can even bend your girl over a table or a kitchen counter if you're both feeling particularly rowdy.
There are plenty of positions for anal sex to choose from, so don't be shy! As always, you never know until you try, so make sure to cover your bases before you decide what works for you both.
Butt Play Toys
Oh, this is my favorite part. If you're unsure of the right position or how to best penetrate your BBW for anal sex, why not play with some toys? There's just so many out there, from dildos and anal beads to butt plugs of all kinds – my favorite butt plugs are these:
You can play with a butt toy during foreplay; you can use the toy while you're having regular sex at the same time, you can do all kinds of things if you're in the mood for something kinky.
As always, make sure that your girl is on the same page as you. If that's the case, there's no telling what you can do!
You can also look at more of the butt play toys we love here.
Warm-Up
If you've never had anal sex before, you have to know that the key here is the warm-up. This is true no matter who you're having anal sex with, whether a skinny woman, a BBW, or even a guy. The foreplay and the warm-up are where you get your partner relaxed and open, and where you make it enjoyable for them.
The main thing is not to rush. If you want speed, then opt for regular sex or a nice blowjob. Anal sex takes time because your partner needs to loosen up. Once you hear her moaning and asking for more, that's the moment you can maybe pick up the pace. Listening to your partner's reactions and instructions is crucial, so pay close attention to how they respond to your touches.
Lube, Lube, Lube
You can't have anal sex without proper lubrication. You just can't. Going in dry just makes it painful for you both, especially the receiving partner, and you also risk causing bleeding or internal injuries. Lube is an essential component of anal sex!
Some people say that spit is enough, some use lotion, you'll even see people use butter or cooking oil in movie scenes. While I understand that you may be in a pinch, it's no excuse not to get proper anal lube. Get informed about what types are out there and what could be the best choices for you, I personally love this lube for anything to do with anal sex. 
Lube up your BBW before you start playing with her butt, whether with toys or not, and the whole thing will be a lot easier for everyone involved.
How Do I Make My Large Wife Feel Confident?
First of all, it's amazing that you're asking this question. It shows that you truly care about your girl, that you accept her exactly for who she is, big body and all, and that you want her to know this. Not every man is as loving or as caring as you, and I applaud you for wanting to help your wife feel better about herself.
Here are some of the things you can do to show your appreciation for your wife:
Compliment her body. Not only the eyes and the hair and the hands. Compliment her ass, her thighs, her boobs, anything you love about her.
Tell her she looks good whenever you think she does. She can read you better than you think, and her seeing that you're genuine in your compliments will go a long way.
Be enthusiastic! Encourage her to go shopping! Cheer on her if she chooses a more

daring outfit

. Hype up that big beautiful body that you love so much!
Communicate. Be open and forward and honest. Tell her how much you love her and why. Repeat that often.
Talk about sex! Make a list of things you like and ask whether she'd be open to doing them with you. BBW are sexy! Make sure she knows just how hard she can get you.
Building the confidence of your BBW (and any woman in general) means that she becomes more relaxed around you. A relaxed girl is comfortable and self-assured, and when I'm that with a guy, I can't wait to give him all of me. I love seducing, teasing, playing around… This usually means that our sex is mind-blowing.
So the more confident your girl feels, the better your sex will be. Work for it together!
Questions Answered About My BBW Sex Life (FAQ)
Now that we've gotten through most of the review, here I will answer some of the most common questions about BBW sex. If you have any more that I haven't mentioned here, feel free to leave them in the comments and I'll be happy to reply.
Do You Have Unprotected Sex? (Creampies?)
This entirely depends on my partner. If it's someone I know and trust, if he's clean and healthy and there's no risk of getting pregnant (such as me being on the pill), then why not? I'm as kinky as the next girl, and I love a good creampie shot. Twice I even got the guy to take a picture of it so I could see the final naughty result.
If you're considering doing this, make sure to take all the necessary precautions and check whether your partner isn't carrying any STDs.
Do You Like Public Sex?
I, personally, love the thrill of public sex. In a car, in a restroom somewhere, behind a curtain… The fear of getting caught mixed with the pleasure of sex can become quite addictive.
I don't often have the chance to try this, however, either because I don't have a suitable partner or there's not enough space. But if an opportunity presents itself, I'm not going to say no.
Do You Clean Properly?
Surprisingly, I get this question a lot. I suppose it's expected since skinny people assume it's not easy to wash a big body.
Well, I'm spotless. I take good care of my hygiene, and I shower and clean every inch of myself before I have sex. Some places are indeed less accessible to me than if I were skinnier, but that's what loofahs and brushes are for. If I expect the guy to be fresh and smelling nice in the bedroom, it's only fair that I do the same for him.
Does Sex Feel The Same With A Bigger Women?
I feel like this is something I should be asking you, not the other way around. But I'm going to say that sex with a BBW is not exactly the same as sex with a skinny woman. If it were, there wouldn't be guys who are particularly horny for BBW or guys who are completely put off by it.
I'm not sure how much of this has to do with the mental state and the personal preferences of the guy. As you saw in this review, some aspects of BBW sex require a bit of finessing, slight changes you need to make to have the best sex possible. But overall, my personal opinion is that there's not that big of a difference between sex with a skinny woman and a BBW.
Do You Have Trouble Finding Good Partners?
Honestly? No. When I first ventured into the world of sex and dating and meeting people, I was afraid that no one would love me because of my big body.
However, I quickly realized that was not the case. And with the onslaught of dating sites and adult sites promoting connections for casual sex, it's just gotten so incredibly easy to find a guy who will satisfy me in all the right ways.
Usually, when I hook up with someone I met online, the guy already has experience with BBW and knows exactly how to handle me. And even if he doesn't, I don't mind showing him the ropes as long as he's open to suggestions.

If you are a BBW and want to look for an online partner, please do everything you can to stay safe. Don't give out your personal information to strangers, arrange video calls before meeting someone in person to make sure they are who they say they are, and meet in hotels as opposed to your or his place.
If anyone is rude or offensive online, don't engage. Simply block them and move on. It's their problem that they're so consumed by their anger and pettiness they can't see the amazingness that you are.

I'm Willow, I'm Brandon's girlfriend and we run this blog together (with the help of some friends). We both have an open relationship and both love being kinky (I mean who doesn't?). I love writing, music and my Womanizer. If you have any questions leave them in the comments.