God, I really love my job. I get to try out the kinkiest stuff with the person I love. I get to feel like a bonafide pornstar with some of the things I come across. And whoa, with the toy I'm going to describe to you today, I really felt like an adult star and sex-machine.
I gotta say, there is great satisfaction in trying out new things that you have never even considered at some point in your life. It keeps your sex life and relationship unpredictable and fresh. Yes, even I had adult toys I was unsure about. But thankfully I came around on those topics!
Now I get to cum in ways I never knew before and get horny from the lust-filled look in my girlfriend's eyes. And knowing I am the one who made her feel like a cock-hungry sex goddess… wow.
I get to see her eyes get misty from horniness and see her body tremble from the force of these orgasms that are more than ever followed by squirting!
That's why I'm so proud that I got rid of my prejudices towards penis sleeves, aka penis extensions because that's another earth-shattering addition to our bedroom shenanigans.
What is a penis extender sleeve?
It is an underappreciated adult toy, I can tell you that.
Seriously tho, a penis sleeve is an extender for your shaft, adding a few inches to it and some extra girth. Of course, there are extenders with additional kinks, such as vibrating ones or ones with nods, bulging veins, etc.
I have tried quite a few sex playthings and was always intrigued by this one, albeit a bit embarrassed to buy it. I was like a voyeur checking them out on online shops. Because even though I wanted to try a penis sleeve, I was plagued with questions such as "But what if my gf starts to think I'm not big enough", "What if I become insecure afterward", etc.
Gradually I started warming up to the idea of buying one, giving myself pep-talks and slowly coming back to reality, which is that of course, my girlfriend doesn't expect me to have a huge, perfect pornstar penis. Because let's be real, even though I use huge dildos and vibrators on her, she still also screams my name in ecstasy just from my penis alone.
So, I mustered the balls and dove into the world of penis extensions, excited to finally try them out.
Sidenote: yes, I told my girl about my reservations around trying this. Needless to say, she burst into laughter at my stupid paranoia, especially knowing how unabashedly confident I am overall. The next step was telling her that I've made up my mind and decided to buy a few sleeves.
Of course, she was ecstatic! And when a week later I showed her the haul that was delivered to our house… horniness took over and she jumped to make out with me. We stopped here, agreeing that we will pull them out when the time is right.
Okay, moving on now!
Like I've said, I've bought a few of these, tried them all out and here is my favorite:
Trust me, this is the best penile sleeve out there
This looks a bit too stiff at first glance, but this penis extender actually fits nicely and is properly set in place with the ball loop (which is also comfortable).
I wanted to be as confident and relaxed as possible when using this for the first time, so I whipped it out after a pub-crawl session with my missus. We didn't get plastered on this date night, but we were definitely more than tipsy, feeling ourselves and were slowly getting more and more handsy with each other as the night went on.
When we finally got home, we were already ready to fuck our brains out hardcore, balls-deep style. "This is the perfect moment", I thought. I voiced my opinion out loud and my girlfriend agreed.
I quickly got the sleeve out of the drawer and the box, setting it beside us for a moment while I fingered her moist lovebox hard and fast. This was not a night for a lot of foreplay. She wanted her pussy pounded deep and I could not wait to slam into her vagina with my balls. It was easy to slip the sleeve on my cock while my girlfriend went to get the lube.
We lubed up both her and me, I positioned myself in missionary and then slowly stretched her pussy while going in. Her eyes were wider with each monster inch that dived in.
She later told me that she never experienced something that deep inside her. When I felt I was the whole way in, I gave her a fucking rodeo she won't forget, slamming into her mercilessly while she screamed in vigor and with a look of horny disbelief.
I didn't expect her to come, because we were going at it hard, but she did, strongly. She started thrashing around and whimpered that she's close. Surely enough, ten seconds later she was arching her back, moaning so loud I thought the neighbors will check upon us.
Later on, I removed the cock extension and continued fucking her until I pulled out, cumming on her tight tummy.
This first experience alone made us certain that I made the right decision.
Why you have to have this cock sleeve
The Mega Mighty extender really gives you a glimpse into that pornstar mega-cock life. I get to stare down on my girl while she has this huge dick inside her and I get equal pleasure of seeing her tight pussy slowly lowering itself on the sleeve and engulfing it while she is on top.
I appreciate that I still have a view of my own penis, thanks to the transparent material. The rubber material itself is pleasant to wear, while also ensuring that I am desensitized to drill my partner's pussy for a long time for maximum prolonged enjoying.
I've Singled Out Some Other Awesome Penis Extensions:
The one above is my favorite, but I've also built a collection of some other penis extensions I use to spice things up.
You guys all have partners who will like different sensation, some will want longer, deeper pleasure and others prefer thicker, stretching pleasure, so below will give you some more options.
Thick cock penis sleeve
This sleeve is next on my shopping list. Because the reviews are insane. I am getting hard just from thinking about my girlfriend trying to take it all in. This extra-thick sleeve also has bulging veins and a huge head, so it will fill up any pussy with no problem and a lot of lube.
Vibrating Cock Sleeve
If I would make a wild guess, I'd say this is my gf's favorite. Just look at this thing and you will understand. She told me that the nubs are like an awesome bonus to the sensations that wash over her. Besides that, the vibrations provided by the vibrating bullet are insane, while the bunny ears stimulate her clit. It's such a turn-on to fuck her with this one because I fill her up to the max while stimulating her in multiple ways. A must-have.

Strap-on For Men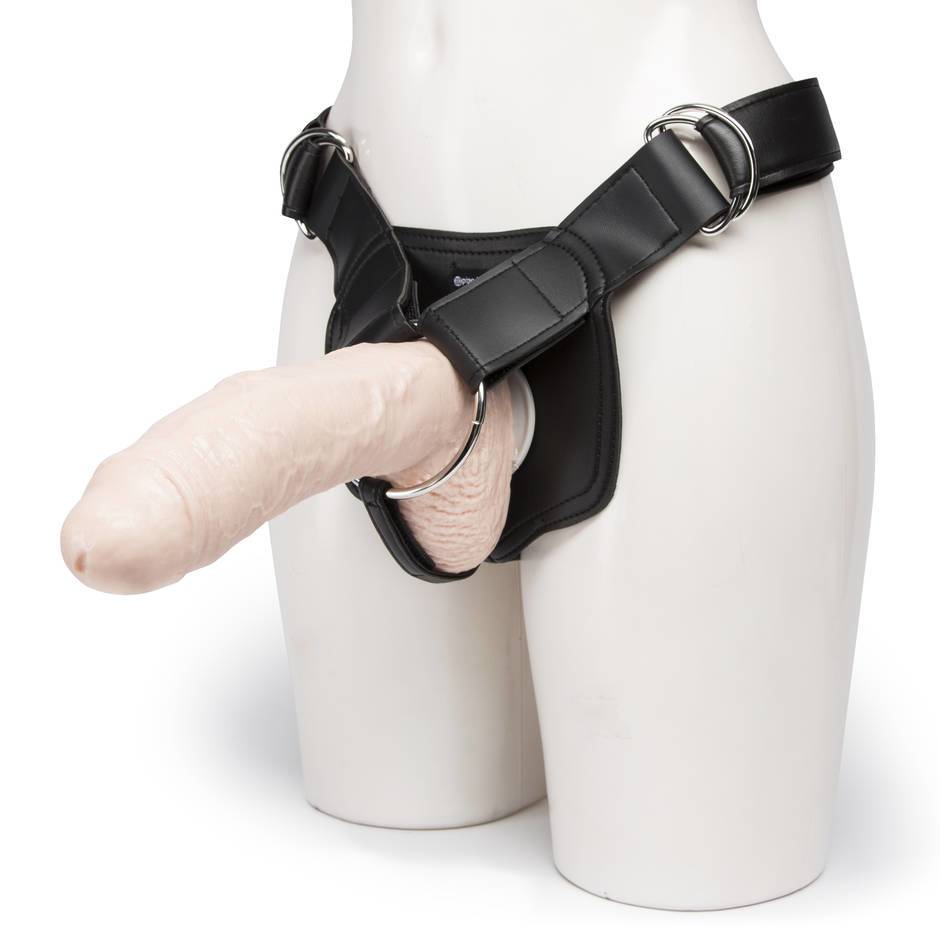 What, you did not know these male strap-ons exist? You are missing out. We're obviously an advanced couple when it comes to sex, and this mammoth cock is perfect for people like us. With its impressive length, you will need quite a lot of lube to put it on your penis and slide into the wanting pussy in front of you.
It's hollow, but it can also be used by girls for pegging and lesbian action. The curved shape and huge head just add to the almost surreal length of this. I fill out every inch of space in my girlfriend's vagina and have her orgasm and squirt multiple times, until she lies on the bed, spent and sweaty, in a wet pool of her own juices.
Extra Large Penis Extender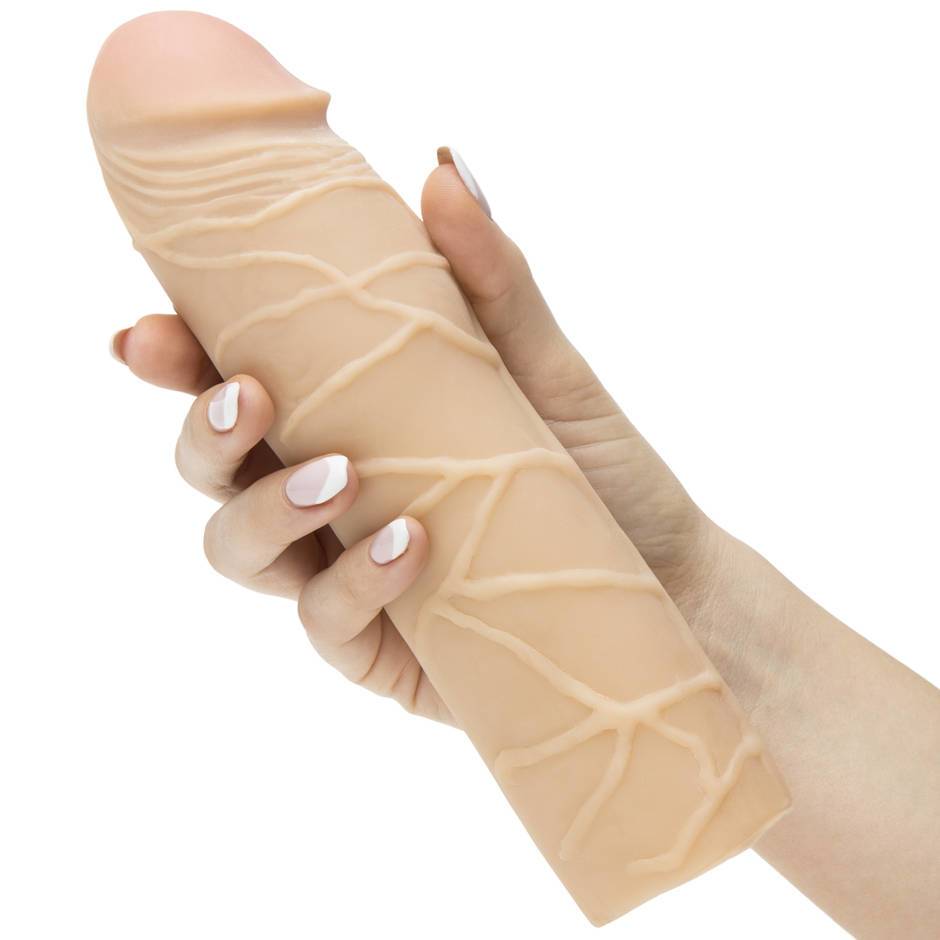 The Fantasy X-Tensions is another sleeve I have yet to try out but again, the reviews are out of this world. It offers 3 extra inches and a 66% increase in girth (yes, you read that right). I imagine it is such fun seeing if your partner can take this in at all.
It says that the material and feel are really realistic, while it is also temperature-responsive for that extra feeling.
The Most Realistic Cock Sleeve
This extender is a bit on the pricey side, but just look at it and tell me if you ever saw a more realistic-looking toy. The folks at Vixen really outdid themselves with this one that boasts almost everything – length, girth, veins, a prominent head… There is even an awesome tip – soak it in warm water for 10 min for that body-realistic feeling. Add some lube and get ready to have your partner squirt and come like crazy.
Pro Tip: Warm Your Partner Up
Like I have said, my girlfriend and I were so horny when using this the first time that we got to the main action almost immediately.
But this was more of an exception – you should always let your partner ease into it, stretching her pussy a bit, allowing her to get wet and to get into the right headspace. Usually, we start slow and there are several ways we usually go:
I go down on her. A classic move we both adore. I freaking love eating her out and smelling her scent. Give me a few minutes and she's already cumming and begging me for more
Good ol' fashion fingering. One of the best routes you can use. Why? Because you stretch her pussy and get her ready but you still maintain her tightness. And just like with eating her out, it's a bonus if you make her cum because this relaxes her mentally, gets you both worked up more and it makes for an easier entrance.
Feeling double the kink? Why not use a toy before the other toy? Let your imagination run wild – maybe a small vibrator, or vibrating nipple clamps. Ask her what she wants and in what ways she wants to cum and squirt.
How To Warm Up Your Partner To The Idea Of Using A Sleeve
This can be a touchy subject for some people. Feelings may get hurt, some guys will think there is a problem with their length, while some women will be intimidated by the size of the extension.
You should focus on exploring fantasies: It's ok if she fantasizes that it's another guy fucking her. It's really just that – a fantasy. Just blindfold her, leave her on the bed for a few minutes, then return with lube and without a word, start going at it.
Let's get a bit more specific how should you approach these subjects:
Woman's Guide
Be gentle, but be open. Explain to your SO that this is something common and just an enhancer for your sex life – just like any vibrator or dildo. Assure your man that this won't replace him, but just make things a tad more sensual and exciting, while ensuring that you get pounded deeper than ever before. Heck, tell him honestly – even porn stars rarely have the length and girth of penis extensions! I mean they really can be extreme in size.
It's still your guy's penis fucking you, and tell him that he will still be the one controlling the movements and making you cum from his thrusting. This sleeve just makes him a bit… different.
Man's Guide
Be honest and tell her what you want to try out, especially if she is accustomed to sex toys. Tell her that you want to gift her new sensations and depths. Show her how much you want her and that you want to watch her moan in orgasmic pleasure.
Give her the facts, too – it will make you last longer, it will spice it up a bit and it is just a few inches bigger than the usual package she gets from you. Choose a good setting to approach her on this subject – a cozy night in, a romantic dinner where you're both relaxed, or during online sexy shopping. You know your relationship dynamic the best.
Common Penis Sleeve Questions I Had Before Purchasing
Let's cover some basics, so you have a maximum comfortable experience that will leave both of you aching for more.
So, how do you use a penis sleeve?
I've mentioned it several times, and by god, I will say it again – lube up! These things are usually huge and it really takes an effort to take them all in (props to our partners and their pussies).
Once more, we're talking about the trusty Sliquid lube! A little goes a long way, so it lasts me quite some time. I prefer lubes with no smell, so this is also a win for Sliquid, as well as its non-sticky consistency.
While penis sleeves make you last longer, you might encounter a bit of a softness problem, since they desensitize a bit. A cock ring can help with this. This one is great and I use it a lot since it's stretchy, the material is nice and as a result, I really do last longer and my girlfriend can confirm this!
I also did a whole guide on finding the perfect cock ring, as they pair so well with penis extenders you should definitely give it a read.
Can you use a penis extender as a reusable condom?
Let me counteract you with this question – why risk it? Sure, some people do it, but it's really just easier to buy condoms and have your mind at ease. So, in my humble opinion, you shouldn't use extenders as reusable condoms.
Strap-on or sleeve extender?
It depends on your own preferences. Are you more comfortable with a strap-on harness keeping everything in place, or with a ball loop as it is something that keeps away the feeling that you have too much material around your manhood? A ball hoop is better if you want something more discreet. Answer these questions, go through the reviews and find your perfect fit (pun intended).

I'm Brandon, I'm one of the main writers and owners of ewsingles (the other being my girlfriend (Willow). My girlfriend and I have an open relationship and share our passion for sex toys, sex and dating.