Using furniture for sex has been around since the dawn of civilization. People have used chairs, tables, benches, and even cabinets sometimes to maximize their sexual sensations and they have managed it pretty good. If you think you never used any furniture in your sex life I would like to remind you that beds and sofas are also furniture like any other.
Even using a pillow to hit that sweet spot is considered using furniture in your sex play. However, this article will focus on another kind of furniture. One that is designed in a way to maximize your pleasure and take your sexual sensations to heights you never knew possible. The kind we are talking about here is Sex Furniture.
Now, I know what you might be thinking. Why would you pay for a piece of furniture that is similar to something you already have at home? Why would you buy something that maybe doesn't fit into your interior decoration? I know that these are some of the questions that go through your head because I was once in your place.
Ever since my love life started to take a turn for the dull I started reading and researching how can I improve the sex life with my boyfriend. I soon found out that sex furniture can help and I started digging. I will present to you a quick guide list that can help you decide what you need or want from sex furniture.
How Much Does Sex Furniture Cost?
Since this is a guide for every budget, and not all of us can spend a fortune on sex furniture and products, price is a really important factor. Even ordinary furniture that catches your eye can be very expensive, and sex furniture is no exception.
The first thing you should do when venturing in sex furniture shopping is setting a price range. It is very easy to get carried away and spend more than you wanted if you do not set your budget.
If your pocket is deep enough and can spit out 600$ – 1000$ you are in luck. You can get your hands on the best high-quality pieces on the market and treat yourself you a whole new world of sex options and positions.
If on the other hand, you are more in the 100$ range like I was in the beginning than you should opt for more simple sex wedges that are also effective but without so many options and positions.
Do You Need To Hide The Furniture (Will people tell)?
Let's imagine that you are in the first group of the price range and you have the means to buy the biggest and the badest of sex furniture. What then? Do you buy anything and hope for the best or do you aim to blend it in with the furniture already in your house?
Keep in mind that these things are pretty big and they will raise a few eyebrows on your guests if they stand out from everything else in the house. If you have a room that is hidden from plain sight then you can buy anything you like and make your sex dungeon there.
Types Of Sex Furniture
There are plenty of things that fall into the sex furniture category. Anything that is sturdy enough to hold you, your partner or both of you can be called sex furniture. Even your furniture at home can be called that, although you won't get the same results and it's probably best that you do not.
The types of sex furniture we are going to cover today include sex chairs, tantric chairs, the esse (also called BDSM chair), folding chairs, sex couches, sex benches, sex swings, spanking benches, BDSM beds, and last but not least, the Zeppelin.
I will go through each and every one with a detailed description in the following text and I hope that helps you decide what to get.
The Best Sex Furniture
Okay, now it's time to start talking about this amazing furniture, I try to cater for every budget and for every need and I think I did a pretty good job.
Budget-Friendly Sex Chair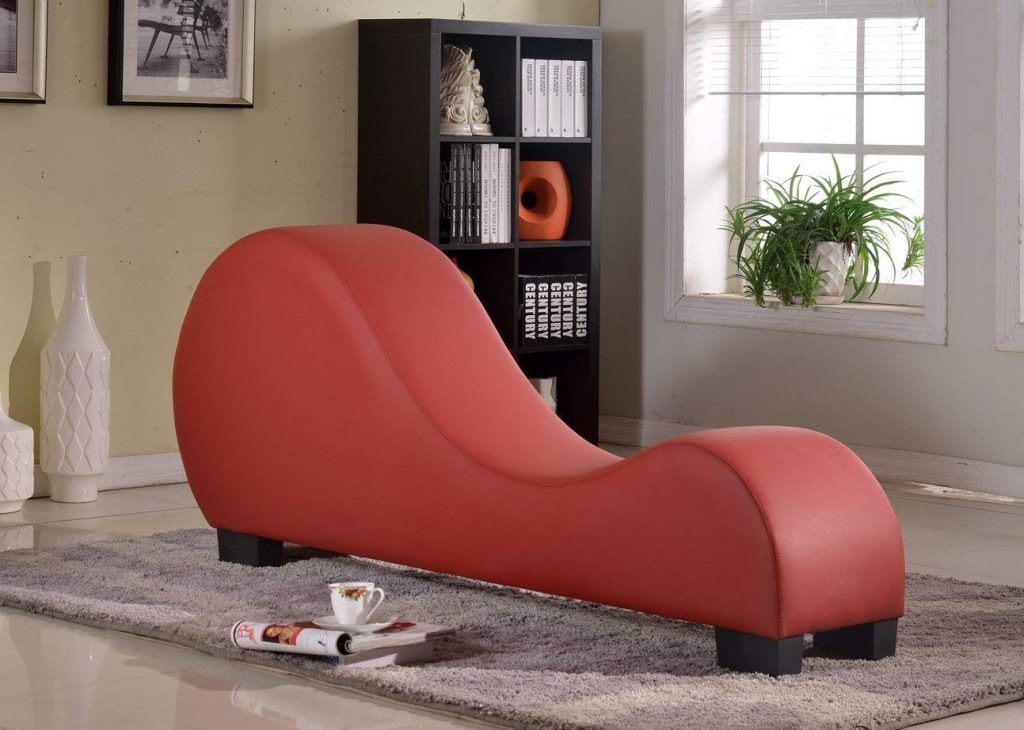 Made from solid wood and curved frame this yoga chair is coated with faux leather and will give you the best experience for a budget price. This sex chair measures 29″H x 14″W x 67″L, weighs 48 lbs, and arrives almost completely functional. All you have to do is attach the legs and you can start your adventures.
We have a whole article on our favorite sex chairs here.
Tantric Chair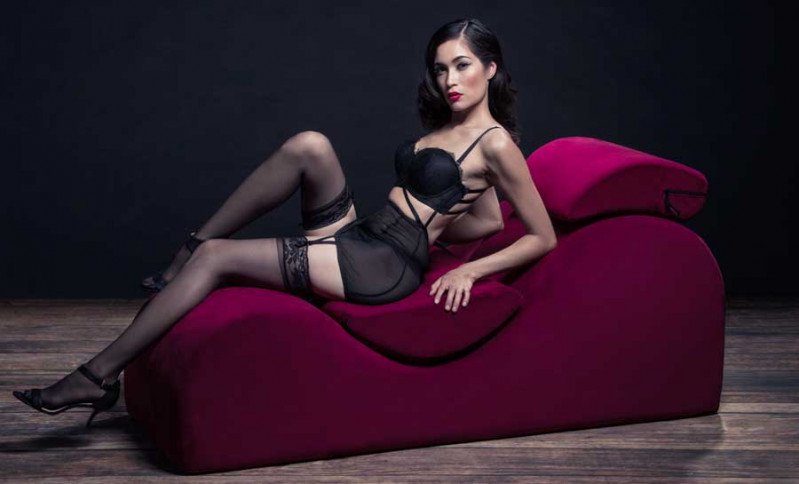 When it comes to sex furniture Esse tantric sex chair is a worthy competitor. It has 2 curves for comfort during both oral and doggy style sex. The low curve in the middle can be used for stability and enhanced thrusting power.
The headrest can be added for additional height on each of the 2 curves and make standing positions all the more fun. This chair also includes a mini scoop that can be used to fill in the curve in the middle and level out the surface for extra positions. All of this is covered in a machine-washable cover and beneath it has a moisture-resistant liner and a foam core.
The Esse (BDSM Chair)
This black label esse is similar to the one above in almost all features but with a twist. It comes in black and has 24 connector points spawning on each side which makes your BDSM fantasies come alive. Apart from that all the curves and additional headrest and mini scoop are there at your disposal to build and experiment however you like.
If you want more BDSM furniture you can check out this guide we did on the best bdsm furniture.
The Pleasure Folding Chair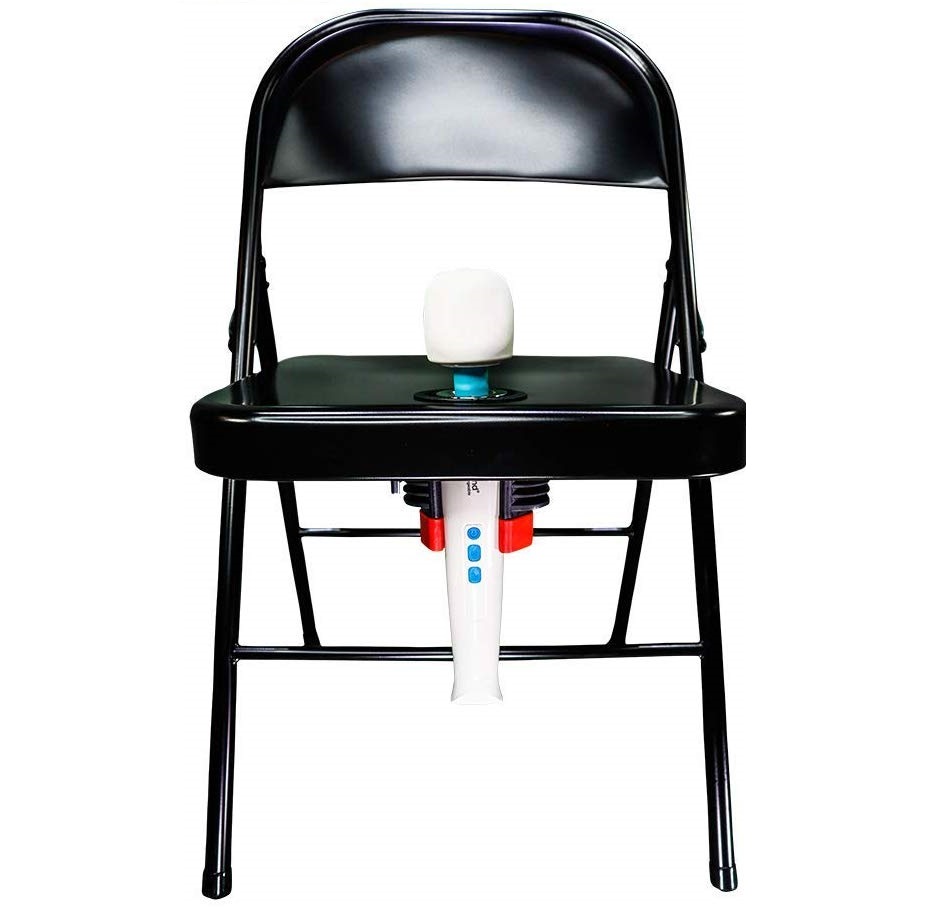 This is a toy mount chair that has worked wonders for me. It is so good that I am using it every once in a while solo, and more often with my boyfriend. Since it is hands-free and I just slide in my dildo vibrator in the build-in clamp, I can use both my hands to pleasure my boyfriend.
The clamp is fully adjustable and will fit your favorite toy in no time. The chair is completely foldable and allows for easy transport around the house or even outside. If you are climaxing from clitoris stimulation and don't want to use your hands all the time, then this chair is just the thing you need. Cleaning is easy with a bit of soaped water and a non-abrasive cloth.
Sex Couch
This zeppelin lounger is medium-sized and made from shredded high-density polyurethane foam. The two big pillows inside are angled for better access during missionary and doggy style and make way for almost limitless positions.
The atmosphere it provides is wonderful and it is great not just for sex but for cuddling and sleeping also. The soft, removable, machine-washable cover ensures easy cleaning and the inner foam is protected by the moisture-resistant liner. Fits perfectly into any room of your home.
The Zeppelin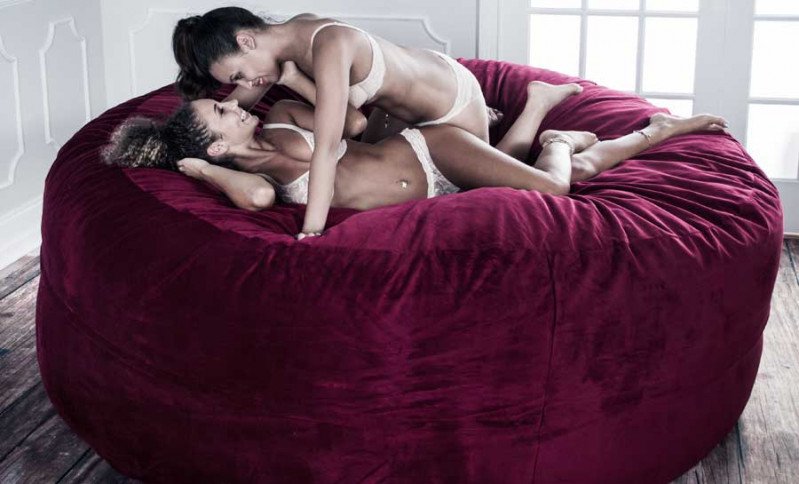 My personal favorite and the thing I've wanted to have for years. The zeppelin from Liberator. It is a giant size cushion bed made for having fun with one or multiple partners.
The space on it is huge and the possibilities are endless. Not only does it make for perfect sex furniture but in addition, it gives you a space to cuddle, sleep or even read a book. The moisture-proof liner prevents any moisture from penetrating the inner foam and the cover is removable and machine-washable for easy cleaning. Definitely a must-have in every household.
Sex Swing
The Pipedreams sex swing is a thing of beauty on its own. It is made for couples who don't want to drill their ceiling in order to have some swinging fun. The swing is fully assembled in less than 10 minutes with no additional tools required.
It features tubular pipes on top which can be used for extra support in heated moments and the sturdy swing can withstand up to 400lbs. There are plenty of built-in bondage loops so you don't have to worry about missing any BDSM action. When you are done swinging around just break it down to its components in less than 10 minutes with the tools provided with the swing.
We have a list of our favorite sex swings right here.
Spanking Bench
When it comes to spanking you should always look for the most comfortable position in order to maximize the pleasure you get from getting spanked.
The obeir spanking bench does exactly that and more. With this bench, you will never go back to your old ways of spanking and even some sex positions will be a true revelation. The pedestal on the bottom offers the best possible doggy and cowgirl positions you will experience and with 4 d rings on the sides for cuffs, this bench will lock your lover tight for everything you desire.
BDSM Bed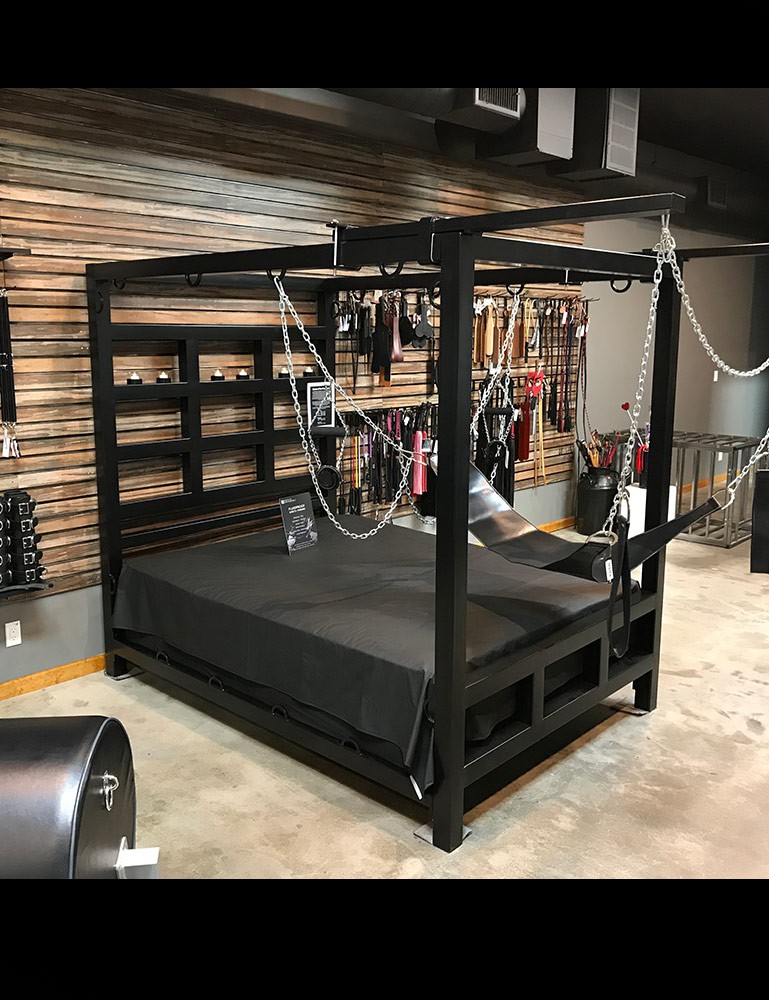 Everything you ever wanted and everything you never knew you needed in BDSM practice will be delivered by this incredible depot dungeon Bed. The design is stunning and it is truly a work of art.
It is made completely from steel tubing which is finished with several coats of clear top-coat acrylic. The bed is sturdy and won't make a squeak even during the most intense BDSM scenes you host on it. There are plenty of restraint hoops that go all around the bed offering a plethora of options when getting into the bondage spirit.
Sex Throw (Make everything sex proof)
Keep every piece of your new furniture spotless with this fascinator throw water barrier. With one side amazingly soft and the other silky smooth, and an inner moisture barrier this piece of fabric can be used on any furniture and in any way you want. It is discreet and blends in perfectly with your bedding. It is machine-washable and perfect for squirting pussies.
DIY Sex Furniture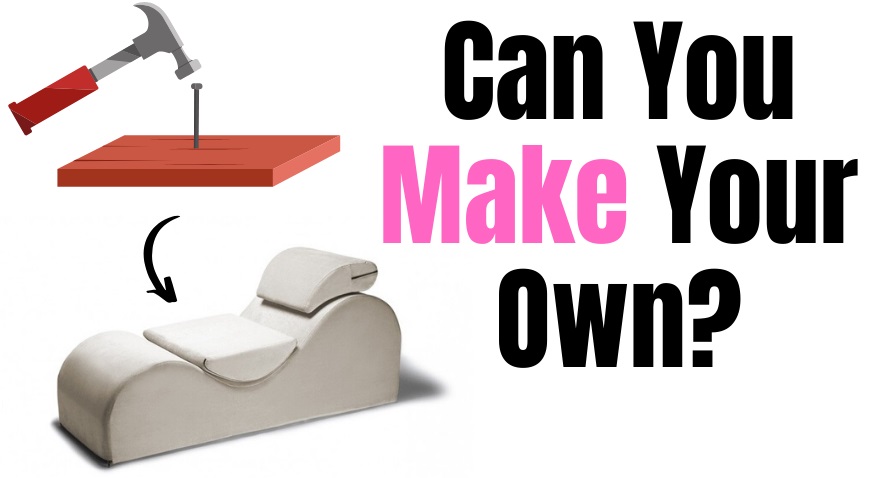 Some people make their own and I encourage you to try but be aware of the risks involved. All of the furniture you see here is guaranteed to not break easily and is intended for hard usage. Having said that you can always experiment and try to make a couple of sex chairs or even a sex bench.
My advice is that you start your adventures with a massage table. They are sturdy enough to hold the weight and are designed in a way to make certain parts of the body more approachable. They are also made to be moisture and fluid resistant which is a plus from the start. Get one of those tables and start experimenting by adding restraints and any other thing you want and go from there.
Things You Need To Know About This Furniture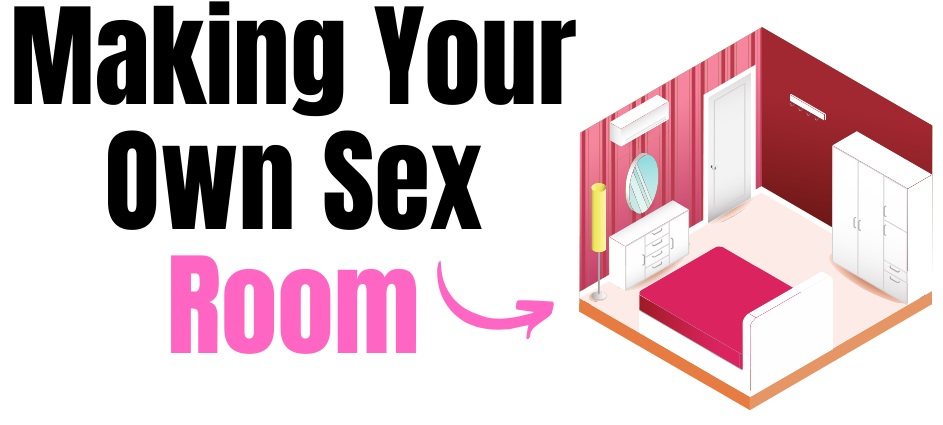 What material is used in making?
I would recommend staying away from inflatable pieces as they are often made from cheaper material and feel kind of bad on the skin and in usage. Go for a bit more money and it will take you a long way.
How easy will it be to clean the furniture?
While personally, I don't see this as a problem since I use PVC sheets when I and my boyfriend get down and dirty I can see how it may be a problem. That is why some of the furniture like Liberators come with removable and machine-washable covers and I recommend them to all who don't want to worry about getting anything extra.
How much do you love it?
Honestly, this is the most important part. No need to buy something that you will not use and you don't fall in love with at first sight. Either you go nuts for it or you don't buy it.
Apart from this advice, you should speak openly with your partner and go through some questions together before buying anything. Try to discuss what you want from your sex furniture.
For example:
Do you want new positions?
Do you crave enhanced comfort?
Is it just kinkiness? (bondage, restraints)
Is it for BDSM play? (more heavy stuff)
These questions will help you categorize the sex furniture and differentiate what you need from what you think you need.
What Else Do You Need?
You probably are not just starting out, but if you are and don't have much of a BDSM toy/tool collection, then you could treat yourself to a ready-made BDSM collection, it will save you loads of time.
I hope you enjoyed this and if you have any questions leave them in the comments.

I'm Willow, I'm Brandon's girlfriend and we run this blog together (with the help of some friends). We both have an open relationship and both love being kinky (I mean who doesn't?). I love writing, music and my Womanizer. If you have any questions leave them in the comments.