Using all kinds of different sex toys is fun for everyone involved. We all love a good dildo, a vibrator, a magic wand, anal beads, what have you. Regardless of your sexuality and gender identity, sex toys bring a lot of fun to your playtime. You can use them by yourself or with one or multiple partners. There are no limits to what you can do with them!
While some toys can be considered standard and even mundane, others are a little more extreme and serve to fulfill specific kinks. These are paddles and floggers, nipple clamps, collars, and chains, and maybe even restraints and cuffs if you don't use these regularly.
These specialized toys also include anal hooks, for the type of anal play that you likely never experienced before.
In this post, I'm going to give a brief overview of what an anal hook is and how it works, and then I'm going to help you decide which one to get and how best to use it. I'm excited! Let's start!
What Is An Anal Hook And Why Do People Use Them?
Anal hooks are U or J shaped hooks (though sometimes they can be relatively straight in shape as well) that may have a ball on one end meant to be inserted into the ass. On the other end of the hook, there is a ring that you can use to loop rope or chains or whatever you choose through. These restraints are then tied to something (see below for a short guide and a few ideas on what to connect the hook to) to keep the hook in place.
The purpose of the hook is for the sub in a BDSM scene to feel more restricted than usual. It is meant for posture training or extreme bondage (like predicament bondage) and generally a total feeling of helplessness. This is why I love it so much.
What does an anal hook feel like?
An anal hook is not comfortable, I'll say that right off the bat. It is not painful either, because then I wouldn't be able to wear it around the house like nothing's amiss.
The thing is that hooks like these are made from medical-grade stainless steel (or should be made from that, anyway) and, as such, are not flexible at all. Unlike most other sex toys, anal hooks don't curve to the shape of your body. A hook is simply there, hard and unforgiving, and you always feel it in your ass. Sometimes, depending on how you're bound, it can be uncomfortable to move in any way because of how it drags against your insides.
It may not sound like a pleasurable experience, but for a sub who thrives on pain and discomfort and a dom who likes to see their sub having a hard time – it's one of the best tools there is.
Types Of Anal Hooks
These are relatively straightforward toys, but there are still a few varieties you will stumble upon on your search for a good option. Here are the most common types of anal hooks:
These are hooks that have one ball on the end that goes into the ass. The ball can be smaller or bigger, and it is great for P-spot massage (assuming you're a guy). Even though I don't have a prostate, these are still my favorite hooks because of how full I feel with them.
Instead of just one ball on the insertion end, a hook can have two or more! These can also vary in size and even in how much space there is between them. They can give you a feeling similar to that of having anal beads inside you but more extreme.
Alternatively, the hook doesn't need to have a ball at all and can just look like a regular hook with a rounded insertion end. These are good for beginners as you don't need to stretch yourself open too much. The tip must be rounded and never sharp because otherwise, you could seriously hurt yourself!
The Best Anal Hooks You Will Ever Use
Since I've started my anal hook journey, I've tried countless of products of this kind. I liked most of them, but not all. To help you choose the right hook, I've put together a list of anal hooks suited for specific purposes. Check out a hook for beginners, solely for men, a hook with two balls on its end and more!
If you're just starting out with your anal hook play, then this is the one I'd suggest you get. It has about 6 inches of insertable length and isn't too big overall (though it is big enough to give you that nice feeling of being spread open, whether you use it vaginally or anally).
The hook is made of stainless steel and the ball is made of aluminum and is easily detachable. This makes for easy cleaning, though you have to make sure to tighten it back on each time before you start your playtime. As far as anal hooks go, this one is cute and uncomplicated and great for your easy pleasure.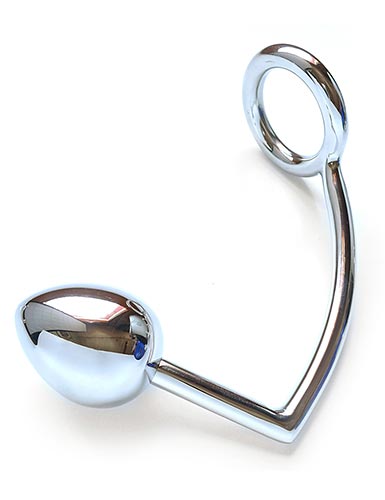 Here is something unique that you might not have seen before: a butt plug that hooks to the penis! Rather, this innovative toy is actually a cock ring attached to a tapered butt plug. The cock ring is nice and tight around the erection, making the guy go on for longer, and the butt plug provides insane sensations.
This Kingpin hook is made from medical-grade stainless steel, which is high in quality. It won't tarnish or stain and it is also hypoallergenic and easy to clean. If your guy is into anal play, I think he'll have a fun time with this one.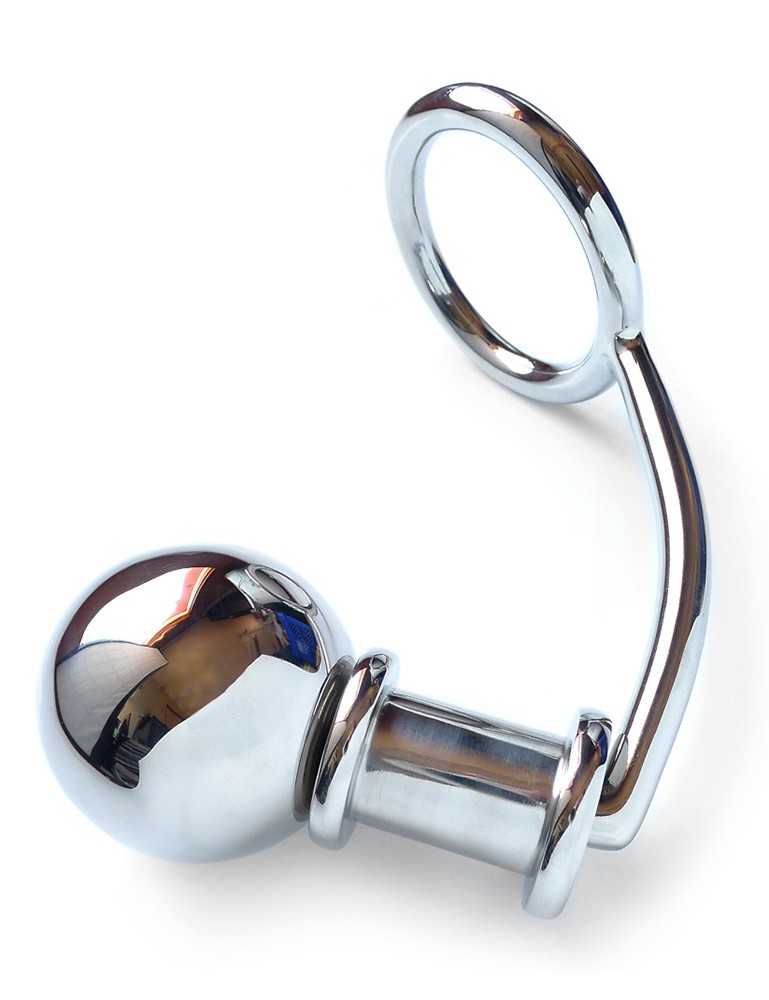 Another cock ring/butt plug combo, this one is slightly larger in diameter to the previous one, offering far more stimulation. The cock ring delays the orgasm, making it all the more intense when it finally comes, and the ball is great for P-spot massage. I personally like using this one for cock and ball torture scenarios.
The anal ball diameter is 2.3 inches, which is sizable, and the whole thing is made from stainless steel of the highest quality. As with all other toys of this type, it won't take you too long to clean it and safely store it until it's time to play with it again. Not for beginners!
If you're looking for versatility, this is the toy that you need to get. Essentially, this is a steel bar with a ball attached to it via a stem, with two rope rings on either end. The ball stem can be adjusted to rest anywhere on the steel bar, however, is most comfortable (or uncomfortable) for you.
The hook itself is 9 inches long and you can use any type of rope you want with it. I know the hook might look a bit intimidating – it did for me when I first saw it – but it offers so much pleasure in so many different positions. Get ready for hours of BDSM exploration with this toy.
A level up from the previous toy, this one also comes with a 9-inch steel hook, only it doesn't have only one ball attached to it. To make everything more interesting and a lot more intense, this ambitious toy has two balls attached to the hook that stretch you open like little else. The first time I tried it, I couldn't get both balls inside me at the same time.
Same as before, the double-ball addition can be moved along the hook to rest wherever you want it for so many imaginative positions. The only thing you shouldn't be using it for – as well as any other anal hook – is suspension.
For one well-rounded anal hook experience, all you really need is The Tailgater. This hook has three different rings and is longer than a foot. You can attach any type of rope to any ring you want and you can also move the stem with the ball along the hook for easier positioning.
I love this one because it gives you everything. You can use it for posture training, you can attach it to restraints – the only limit here is your imagination and how far you're willing to go to feel that stretch and restriction. Just remember to clean the toy regularly and use plenty of lube and it'll be amazing.
Can You Make Your Own DIY Butt Hook?
In theory, yes, you can make your own anal hook.
I've read how people make it from a metal rod bought at Home Depot combined with a steel ball they got from a gym equipment store. Some have also used a bent umbrella handle. Others have tried to fashion an anal hook out of a butt plug.
With all of these options, I have to say one thing: you have to be aware of the risk you're taking with a DIY anal hook. Your colon is a relatively delicate organ and even regular, high-quality anal hooks can cause serious damage to it if you're not careful. DIY butt hooks are not recommended in any way, no matter what they're made of.
I know it's not preferable to spend money if you don't have to, but I would say that anal hooks are something you definitely want to invest in and get a relatively safe product. Better safe than sorry!
My Experience & Story About Using Anal Hooks
When we got our first anal hook, my guy and I weren't too sure what to do with it. We had to go digging online for guides and instructions and ideas. We have some experience with rope and bondage, but nothing too intricate. Making a nice set-up with an anal hook required a bit of trial and error.
One of my most favorite things to do is to get all tied up and hooked to the bed. I like being completely restrained, with my wrists and my ankles cuffed and with the rope looped through the anal hook to keep me in place further. Being at my boyfriend's mercy is what turns me on.
The position we use for this is usually me on my knees, with my head buried in the pillows. That way, my ass is nice and open and my boyfriend has full access to all my holes. He loves teasing me with vibrators, magic wands, his fingers, his cock, but also a remote-control love egg. He can get pretty intense with making me moan and then pulling back, which drives me up the wall.
I'm a squirter, so after a while of this type of edging, when he finally does fuck me (with the anal hook still in place), I squirt all over the mattress and the sheets underneath me. I shake and shake until he decides that I've had enough and finally releases me from my restraints. I love it when we play rough like that and anal hooks are a vital element in our games.
Wearing it around the house
When I'm particularly kinky, I like wearing my hook around the house. My boyfriend and I fashion a simple rope harness for my shoulders and back and then we tie the hook to it. I can wear the hook around the house and even to the store for a couple of hours without any problems, as long as the ball is relatively small.
It gets him so hard to see me walking around casually with a hook in my ass, and I like to make him wait until he can finally touch me. A couple of times, I've been hooked while we had guests over. They barely drove away before I was bent over the kitchen counter because my boyfriend couldn't take it anymore.
Giving my boyfriend complete control of my body
As a sub, being 100% powerless in any sex play is my all-time favorite feeling. It gets me off incredibly fast. When you combine an anal hook with restraints and a sex machine, you get me hot and sweating in a matter of minutes.
Not even being able to move with my ass and my vagina full with toys is what I'm all about. Especially when my boyfriend is watching, talking dirty and controlling the machine in a way that makes me beg for an orgasm. He can be really mean and I wouldn't want him any other way.
How To Use An Anal Hook
An anal hook is not an average sex toy. Before you hook yourself (or somebody else), you will need to prepare and decide what you're going to do with the hook. Here is a list of things you need to consider and some ways you can use your hook to get an earth-shattering orgasm.
Inserting The Anal Hook
Since this is mainly a toy meant for the ass (though you can also insert it vaginally if you so desire) it stands to reason that there are two main things you will need here:
Since most hooks are made from stainless steel, any type of lube will work (doesn't matter if it's water-, silicone- or oil-based). But if you're going to use condoms to have sex during or after hooking, perhaps it's best to go with a water-based lube.
With a toy like this, it's important that you don't just force it inside you. Take time to relax and warm up. Make a cozy/romantic atmosphere, loosen up with a glass of wine. Open your ass with fingers or a butt plug (using this butt plug guide). Play around a little until you get really turned on and feel ready to take more in. Be gentle with yourself; if it's not working, it's not working. Try some other time again.
The Hitching
While you can have your partner simply hold the hook in place, the main characteristic of an anal hook is that it's tied to something. This can be:
A rope is the most common material to use with your hook. You can make anything you want out of rope, from harnesses and restraints to more elaborate bondage set-ups. While we're not experts in rope, my boyfriend and I still find it the most versatile.
You can also use chains like dog leads and other BDSM chains. These add to the aesthetic but are usually not as comfortable or as customizable as rope. Of course, the comfort factor is relative here, because you might just want the sub to not be comfortable at all.
Restraints with rings to loop the rope through are also good. They keep the wrists and ankles in place and yet allow you to tie up the sub however you want. You can come up with a system to connect the anal hook to the wrists and to the bed at the same time for maximum immobility.
What Do You Tie It To?
What you tie the hook to depends on what you want to achieve. Some people tie the hook to their hair (or ponytail) using a rope. That way, you can't really move your head much and it adds a nice layer of desperation to the position.
Other people connect the hook via chains to a BDSM collar. This can be neat if you want to wear the hook around the house.
Finally, some also hitch their hook to BDSM restraints.
If you're not sure how any of this works or what it's supposed to look like, do some online snooping. Read manuals and guides and try to figure out how people created their own hook systems through their pictures and videos. I promise it'll be worth it.
Things That Compliment Hooks
Here are some tools and toys that will complete your hooking experience, either through making it easy for you to insert your hook or keeping you restrained or providing you eye-popping pleasure.
Even though you can use any lube you want with an anal hook, water-based lube is still your safest bet. I love this one because it has natural ingredients and is extra-thick for longer playtime without needing to reapply. We also have this whole guide of different types of anal lube, it's epic and a must-read.
I still remember the first time I used these, wow. These neck-to-waist restraints are a must-have if you want to play with more intense bondage. Love how they're padded for comfort and fully adjustable. If you like this type of restraint, you'll also love this amazing collar-to-back restraint, it's unreal.
When I want my boyfriend to leave me bound on my knees with a hook in my ass, these are the restraints we use. They have simple Velcro closures and the cuffs are detachable for maximum versatility.
If you're not new to this blog, you will know that I love my toys and accessories colored and cute. This pink collar is made from premium leather and is incredibly comfortable when I'm all tied up and unable to move.
394 inches of rope should be more than enough for all your bondage ideas. This one is made from cotton, meaning it is nice and soft on the skin, and there is no pattern you can't make with it as long as you're skilled enough.
I like to put this one inside my vagina while the hook is in my ass. Then either my boyfriend or I can control my orgasm at a click of a button. The love egg has eight different patterns and twelve-speed levels that can be used in dozens of combinations.
For that restraint + anal hook + sex machine combo, I talked about earlier. This machine allows you to adjust the penetration angle easily and change the speed with a single click of a button. It is also incredibly quiet, too!
Safety And Care Advice For Ass Hooks
Lastly, to avoid injuries and nasty infections, it is imperative that you regularly clean and maintain your hooks. All of your sex toys, for that matter, but especially anal hooks.
Before and after each session, wash the hook with soap and warm water. Take the ball off if it's detachable so you can get to all the hard-to-access places. It would also be useful to disinfect your hook with alcohol swabs or special antibacterial cleansers.
For extreme protection, you can use a condom over the ball of the hook. Never, ever, play with toys that haven't been properly cleaned! That's sex toy safety 101 and is especially important when it comes to anal hooks.


I'm Willow, I'm Brandon's girlfriend and we run this blog together (with the help of some friends). We both have an open relationship and both love being kinky (I mean who doesn't?). I love writing, music and my Womanizer. If you have any questions leave them in the comments.