Everyone knows that over the years sex with the same partner or even sex with different partners can get somewhat dull. This happened to me in multiple long-term relationships and I didn't really know what to do. I started reading and I came up with two solutions.
The first solution is to start exploring deeper with your partner and finding out other things you like, and the other solution is to introduce sex toys and sex furniture in your life. The second option seemed easier for me and I started looking around for sex furniture sellers.
I've seen all sorts of furniture and even tried a few but nothing came close to the sex chairs for me. They are versatile in every way and have helped me and my boyfriend overcome the stagnating sex life. Read on to learn more about how sex chairs can and will improve your own bedroom playtime.
Why Are Sex Chairs So Special?
Sex chairs, in my opinion, are the pinnacle of sex furniture and I will try to explain why. First of all, they are pretty straightforward and easy to use. I mean, everyone knows what a chair is for and I am pretty sure that everyone sat on a chair at one point in their lives.
The second thing is that you don't have to worry about space too much. Sex chairs are often found in normal sizes, like regular chairs but they have a few things that stand out. You don't have to worry about making space in your home for a sex chair, especially if it is a foldable one.
The third thing I like about sex chairs is that they tend to blend in naturally in any room you put them (except of course some really advanced sex chairs, but more on that later).
There are numerous types of sex chairs and the features and quality all depend on how much money you are willing to spend. Having said that, I will try to put them in a few categories for you, so you don't have to wander around and lose yourself in the sea of suggested products on sex shops.
Most of the sex chairs can be put in the following four categories:
Queening chairs
These chairs are made in a way that one partner is seated on the chair and the other performs oral sex from the bottom laying on his back.
Queening chairs are often designed to be lower than usual so that the partner who is laying down can reach the pussy or ass and lick them without too much trouble. Smother box can also be put into this category, the only difference is that the box can be locked and person inside will be trapped while the other performs oral sex.
Thrones
Thrones are similar to queening chairs and often mistaken for them. The difference is in the design. Thrones tend to have a higher back that often has a menacing look to them to aid in the roleplay. They often feature O rings and D rings for bondage play. There are plenty of variations of these chairs and that is why they are sometimes compared to queening chairs.
Lounges or sofa chairs
This type of sex chair is a bit bigger than the previous two kinds and with their own purpose. You will not usually find a hole in them for oral sex and they are designed to provide lots of different sex positions and make some sex positions enhanced for both partners. Some chairs even include restraints or O and D rings that can be used for bondage gear.
Balls
Last but certainly not least we have balls. These balls are similar to the yoga or exercise balls you can find in stores but they have a dildo attached to them. You can work out and get your pussy or ass stuffed at the same time.
We will go into more details below about each of these and where you can find them.
My Favorite Love Chairs (Budget and High-end)
It's time, let me show you my all-time favorite tantric chairs, these are my go-to's and the ones I always recommend. I did my best to include something at every level and for people with different level budgets and floor space.
The All-Round Best Sex Chair
Certainly one of the best products you can get on the market. One of my personal favorites and the thing I use regularly. The tantric sex chair from Liberator is everything you want from a sex chair and more. You and your partner will not be able to keep your hands off it and off each other when you get a taste of this magnificent thing.
There are two high curves for enhanced doggy style and bend-over positions. If the higher curve is not high enough you can add a headrest to it and elevate it enough for the best possible angle. You can use the same headrest on the lower curve.
To flatten out the middle curve you can use the provided mini-scoop and enjoy all positions without having to worry about where to put your legs. The low curve can also be used for stability and more thrusting power. The inner foam core is protected by the moisture-resistant liner and on top of that, it has a removable machine-washable cover that ensures easy cleaning and maintenance.
Budget-Friendly Tantric Chair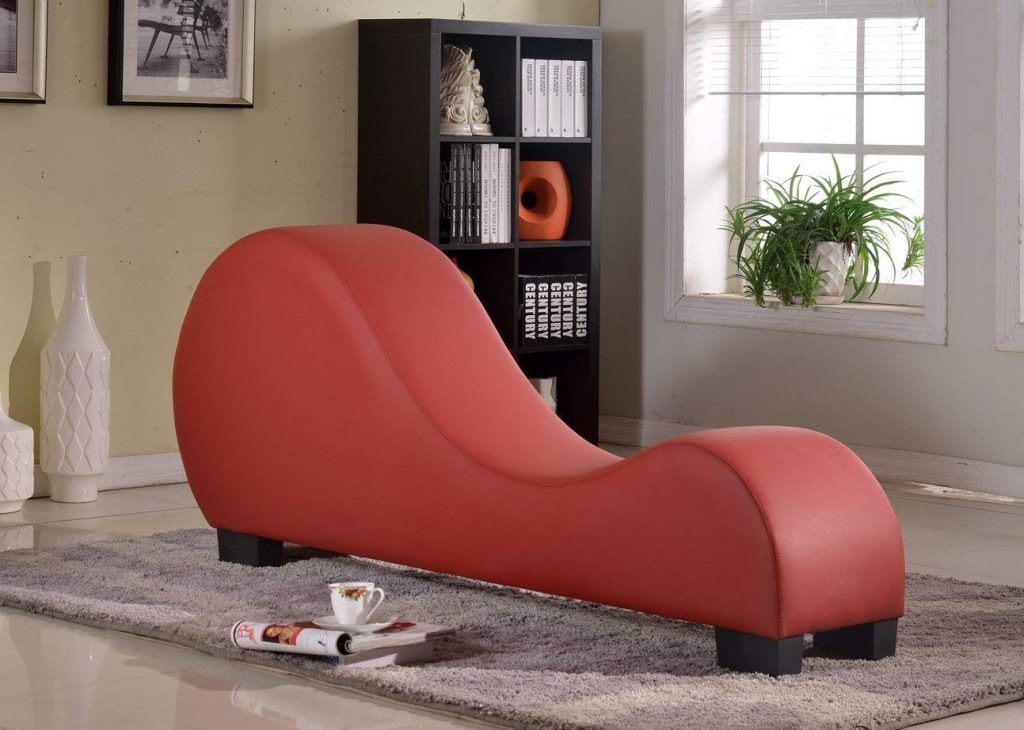 This curved lounge chair comes in deep red, black, and gray and is very appealing to the eye. It is advertised as a yoga chair and can be used in that way, but we all know for what it is going to be used.
The two curves provide a solid support for bent-over positions and doggy style and the middle, low curve is there for extra stability and thrusting power. The chair is made out of solid wood and has a faux leather finish over a thick layer of padding.
The chair weighs just 48 lbs and is easy to clean making it very easy to move around the house and maintain. Even if you don't use it as a piece of sex furniture it will blend in any of your rooms like a charm.
Inflatable Hot Seat
Take a break, sit down, and enjoy this chair to the fullest. Introducing the inflatable hot seat.
Inflate the seat and center yourself on the 6-inch dildo and forget about everything else. The dildo itself is a vibrator with multiple speeds of vibration. The whole seat measures around 16 inches in width and 12 inches in height making it ideal for every user.
The seat is flocked and even has handles on the side for a better grip. The handles can also be used to hold the seat behind you in the doggy style. If you fear that the seat will be ripped from all the fucking don't worry, there are an eye mask and repair glue included in the set for easy repairs.
Bench Prince (Sex Bench)
At first sight, this bench piece seems like it has nothing to offer compared to a normal bench, but that is just the first impression. Its elegant design and timeless style will prove to be an excellent addition to any room you choose to put it in.
Although you may put it anywhere my advice is to put it in your bedroom because of all the stuff it hides beneath the innocent look. This perfectly weighted bench offers full-body support and has a series of hidden restraint clips for the wildest of bondage plays.
Don't worry about spilling anything on it because it has a moisture-resistant liner that prevents any liquid from damaging the inner foam core. This sex bench comes in two textured fabric options: slightly textured lambskin or silky smooth lambskin and the fabric ensures easy wiping and long-term durability.
If this bench is too small for you and your partner you can always get the king-size here.
Sex Position Enhancing Stool
The sex position enhancer chair is what every couple should try and is quite affordable. The strong metal frame provides sturdy support for up to 150 kg and the frame is covered in foam so you don't have to worry about injuries.
The four layers of reinforced elastic offer very good support and bounciness for any user. Easily dismantles and can be stored under the bed. Assembly requires two people but that is where the fun is, right? This chair opens a world of sex positions and possibilities.
BDSM Sex Chair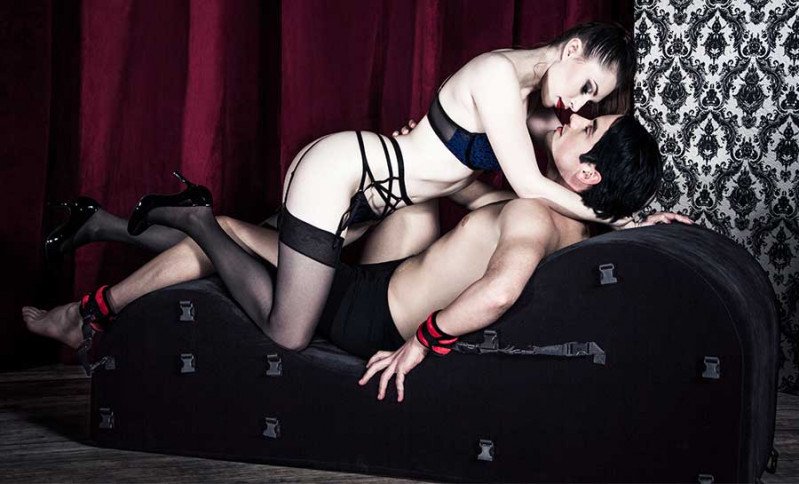 This version of black label esse is all in on the BDSM scene. It features a low and a high curve on both sides and one inverted curve in the middle.
The two curves on the sides provide enhanced doggy style sex and the one in the middle ensures more thrusting power and greater stability. If the curves on the sides are inadequate you can use the headrest to elevate the position for a whole 5 inches.
The inverted curve in the middle can be filled with a mini-scoop and flatten out the surface for even more positions. It is made from sturdy material and the core is filled with foam protected by the moisture-proof liner. The whole chare is wrapped in a removable machine-washable cover and makes for easy cleaning.
Why would it be called a BDSM chair if it doesn't have any features to back it up? For your BDSM pleasure, it has a whopping 24 connector points for any cuffs or bondage gear you may already have or wish to purchase.
For more BDSM furniture, check out this.
The Zeppelin
From Liberator we get the Zeppelin Sexual Playspace and I must say that this one is my personal favorite on the list.
The possibilities it provides are truly endless and depend only on your and your partner's imagination. It is made from high-density polyurethane foam covered by soft, removable and machine-washable cover.
The inner foam is protected by the moisture-resistant liner beneath the cover. Its big size offers support for multiple partners and the velvety smooth cover makes not only sex but also cuddling and chilling perfectly.
Sex Toy Mount Seat
Liberator bonbon toy mount is what every kinky girl should have in her collection. The cushion is made from high-density foam and includes a responsive core that will provide full support for one or two bodies at the same time. This toy mount is perfect for numerous sex positions and will enhance almost everyone to the fullest.
The premade toy holder is suitable for all of your vibrating or non-vibrating dildos with or without a flared base. Note that the vibrator doesn't come with the pillow and you will have to provide your own to experience this amazing thing.
Guide To Getting The Most Out Of Your Sex Seat
Keep It Clean (Cleaning Guide)
Most of the products featured here can't be sterilized so you will have to keep them nice and clean for longevity and safe usage. The advantage of some of these chairs is that they have a removable machine-washable cover that provides easy and safe cleaning. You won't need to worry about stale bodily fluids or any oils or lubricants you are used to using.
However, some of the products don't have that luxury and you will have to tend for them in a different way. All of the products that don't feature the removable cover can be wiped down with a non-abrasive cloth and some water with soap. The more you tend to the toys and furniture you buy the longer they will last and put a smile on your face with every sex act.
If, on the other hand, you are a bit lazy like me, you can always get something like this:
Throw
This fascinator throw will ensure that none of the fluids and oils or lubricants penetrate and ruin the furniture underneath. You can use this sheet over your existing furniture (bed, sofa, table) or you can use it on your newly bought sex furniture without any worries.
The throw features two sides one silky smooth and one silky satin. It also has an inner moisture barrier that will stop fluids from even the hardest of squirters. Fascinator Throw Water Barrier Sexual Blanket is discreet for traveling, machine washable and will easily blend with any of your furniture. It is available in shag or microfiber.
Use High-Quality Restraints
There is nothing better than using restraints with your sex chair. It doesn't matter if the chair comes with built-in connectors or no, it is all up to your mood and imagination. I prefer furniture that already has all the O and D rings on the sides which make it a lot more fun and easy to use but to each their own.
Sometimes even regular chairs can be fun if you use some cuffs or bondage gear and get into the BDSM spirit. Try out different high-quality restraints that go well with the furniture you picked and experiment with your partner.
Master Different Positions
Variety is everything. No matter how much you love your favorite position you can always get bored or you can always learn how to change one or two things to make that position even better.
With sex chairs, all positions are enhanced and nothing will ever feel the same. The orgasms you will have will be the most intense and mind-blowing you ever had and you will rarely have sex the old-fashioned way.
Try out different positions on the sex chairs and experiment with your partner. Keep your communication open and always talk about what works for you both and how you feel about a specific position.
Create The Scene
Nothing is more romantic than creating a perfect scene for you and your partner. Try to let your imagination go wild and explore different options in setting the scene and the mood just right.
For instance, you can surprise your partner by moving your chair to the middle of the room, dimming the lights and putting on some romantic music.
Light up some candles around and wait for him to come home. As soon as you hear him come inside the house, hop on the chair and use any of your toys and greet him like that. The look on his face will tell you everything you need to know and I am sure he will be stunned.
Get Some Slutty Roleplay Outfits
You don't always have to be yourself. You can set the scene a bit differently every time and surprise your partner with different roleplay outfits. There are plenty of guides for roleplays and tutorials on how to make your night better.
For me, there is nothing hotter than my boyfriend dressing up as a doctor and me coming in like a nervous patient not fully ready for my check-up. The arousal we get from that is extraordinary and we do it every once in a while. Try not to do it often as that will make it a bit dull or boring.


I'm Willow, I'm Brandon's girlfriend and we run this blog together (with the help of some friends). We both have an open relationship and both love being kinky (I mean who doesn't?). I love writing, music and my Womanizer. If you have any questions leave them in the comments.