Not everyone is fortunate enough to be hung, so to speak. While people mostly avoid discussing this topic, the fact is that there are guys with small dicks out there. I get that it's a sensitive issue: it doesn't only affect the guy's potential relationships and sex life but also his confidence, how he views the world, and how he treats others.
It's clear that most men directly relate the size (and functionality) of their penis to their ego and masculinity. If something is wrong with either, both their ego and sense of self-worth can take a big hit.
This is why I want to address the taboo subject of having a small dick. I want to talk about it from a woman's perspective and how women really feel about small penises. I also want to offer advice in terms of what you can do to improve your sexual performance and wow your partner, even if you feel like your size is inadequate.
Before we jump into the meat of the post, let's start from the most important question:
What Is Considered A Small Dick?

There have been numerous studies done on the topic of penis size. Not all of them have consistent findings, but they mostly agree on the following length measurements:
Small dick: around 4 inches (10 cm) when erect
Average-sized dick: between 5 inches (12.7 cm) and 6.2 inches (16 cm) when erect
Above-average-sized dick: over 6.2 inches (16 cm) when erect
The size of your dick when it is flaccid doesn't have to correspond to its size when it is erect. Some men can have flaccid penises roughly the same size but vastly different when they are erect.
You should also consider penis girth or thickness. The average circumference of an erect penis is between 4.5 and 4.8 inches (11.5 and 12.2 cm)
If you have a short but thick cock, it can still get the job done.
What To Do If You Have A Small Dick?
So, you have a small dick, what is next for you? Is it really as bad as some people make out? Here's the first things you need to do.
Accept it.
It sounds cruel, but it's true. Having a small penis is something that bothers you but that you can't change. The same is true for people who don't like the look of their face, the color of their voice or anyone who thinks something about them is inherently unattractive.
The sooner you accept this as fact, the better off you will be. You must make peace with this for your mental and emotional health. (If you feel like it's getting out of hand, definitely seek professional help, like a therapist who will help you come to terms with this.)
Understand that not everyone wants big.
I can't stress this enough. I can't speak for gay men (or not all gay men, anyway), but I can confidently say that women don't care that much about size.
But they haven't seen how small my dick is! you might be crying out.
Trust me, no matter how 'small' it may be, there are other things that are way more important. Are you witty? Do you make her laugh? Do you listen to her when she talks? Do you offer comfort and support and warmth? Do you respect her? Can you make her orgasm with a toy or a different part of your body? (More on that last question later on.)
Believe me when I say that, to women, there are hundreds of things that are a lot more important than penis size.
Get confident, don't be scared of your member.
The last thing you want to be is scared of your own body part. Your penis isn't going anywhere and you have to learn how to be confident with it! Sure, it may not be as big as you'd like it to be, but it still gives you pleasure! You should masturbate, make yourself feel good, and embrace your size. Plus, women are turned on by confidence a lot more than they are with penis size.
Learn how to use what you have.
Having a small penis doesn't give you an excuse to be clumsy in sex. You need to learn how to make the most of your size. Know what it takes to turn on a girl, to please her, to make her orgasm. Learn how to be a good lover, regardless of your penis size.
Stay until the end and I can show you how to experience what it's like, having a big penis.
With just a little bit of help, you can easily feel what it's like to be well-endowed. Read on for the tips on how to achieve this!
Don't compare yourself to others.
Lastly, this may be the most important part. Everyone has a different dick. You likely haven't seen many in life, barring those in porn. (And the dicks you see in porn are extremely rare, please don't burden yourself with them.) Who knows, one of your friends might have a small dick, perhaps smaller than yours, and you're not aware of it. You have no idea what someone has (or doesn't have) in their pants until you see it with your own eyes, which you probably don't do often.
So put these thoughts behind you and spare yourself the mental torture.
Do I Enjoy Small Dicks?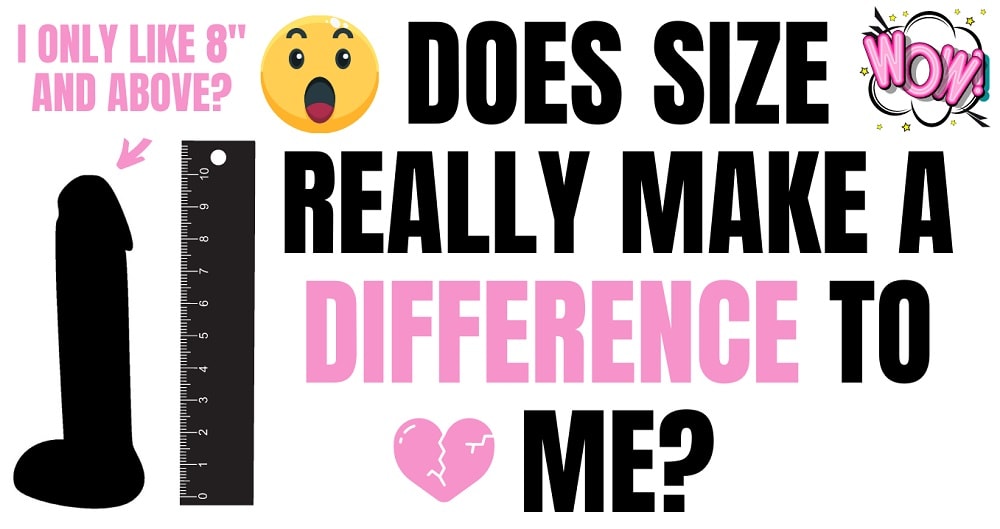 Small dicks are perfectly fine! I don't have a small dick fetish (though there are girls like that out there), but I have been with two guys who have had small penises and I've had zero complaints.
Sex with a small dick is not that different than sex with an average or an above-average-sized one. In fact, I'd say that my partners with smaller penises were more attentive and more attuned to my needs and wants and kinks. This made for some great sexual experiences because I truly felt appreciated. I orgasmed every single time.
Men with large dicks tend to think that just sticking it in and thrusting a little bit is enough to make the girl climax. This can't be further from the truth, which brings me to my next question.
Do Women Only Want Big Dicks?
Of course not. All women are different and even the ones who like them big may also like a change on occasion.
Personally, I like all sizes, and that's why using sex toys is awesome. I can enjoy my partner's cock, then a larger cock, then a smaller cock. Just because you enjoy one sex position, doesn't mean you don't want to try a few others.
Not to mention that having sex with a large penis comes with its own set of issues, which is a topic for another post.
How To Use Your Small Penis The Right Way
Here are some tips and tricks to make the most out of your size. As I said before, sex doesn't have to be (and shouldn't be) just about putting your dick in and pounding until both of you climax. (Or at least you do, because if this is your technique, I guarantee that she is faking it.)
Sex is a lot more than that, and most women welcome variety and experimenting and new positions and toys. So here are some things you could try to blow your partner's mind.
Sex Position!
Sex position, sex position, SEX POSITION. I can't stress enough how important this is if you feel like your size isn't enough. The right sex position can completely change your sexual experience.
The perfect sex positions for a small dick:
Doggy Style – the version where the girl's head and chest are on the bed or whatever horizontal surface is underneath and her ass is high in the air
Side Saddle – the girl sitting on top with both of her legs on one side
Pile Driver – a bit more intense, a position where the girl is on her back and her legs are high up (over her head) and wide open
Reverse Cowgirl – standard girl-on-top position but with her facing her partner's feet
If you can (considering the position), push your partner's legs closer together; it will make you feel larger.
Additionally, consider anal sex and anal sex positions. A smaller penis is great for anal penetration, and according to one study from 2009, when playing with a partner who had a small penis, women orgasmed from anal sex 91% of the time!
Use Sex Toys
This is a logical step forward if you feel like your partner needs more stimulation. Don't be afraid of using magic wands, vibrators, dildos, and similar sex toys. The more open you are to this stuff, the more fun your partner will have.
There are plenty of guys out there whose tiny egos get shaken and they worry that the sex toys will replace them. Don't be that guy. I know of many couples where the guy has an average or even a large dick and they still use sex toys because it's kinky and fun!
Learn How To Eat Her Out
Nothing can replace amazing oral sex. Absolutely nothing. If you know how to eat your girl out in a way that makes her shout in ecstasy, you will be one of the very few to have mastered this skill. Men aren't that skilled when it comes to oral sex, and those who have knowledge and experience in this area are like rare treasure gems.
To begin your oral sex research and develop all the best techniques, start with the first comment on this post is a must-read guide. I wish half the men I slept with knew how to handle a woman like this. Our sex lives would've been so much better.
Play With Her Whole Body
Just as it says in the above Reddit guide, don't skip any part of her body that you like. You not only can, but you also should kiss, touch, hold, and caress different parts of her during foreplay. Women thrive on a sense of intimacy, closeness, and hot anticipation. While you're going down on her or having sex, this makes it more of a full-body experience that she is bound to love.
I know it may sound a little weird or like a Hollywood cliche to you, but take it from a woman: don't rush, and pay attention to more than just her crotch.
Cock Rings
Another option would be to get a vibrating cock ring. It will make your penis harder and will vibrate on your partner's clit while you're inside her. This is an amazing way to effortlessly get better in bed. I've used this with partners of all dick sizes and had earth-shattering orgasms.
The cock ring in this link is textured for bonus stimulation and it drives me wild. It has dual rings that you can wear both around the shaft and the balls for even more intensity. It's completely safe and made from hypoallergenic silicone. Treat yourself and your partner with this and thank me later.
Try A Dildo, Extender or A Hollow Strap-on
Extenders and hollow strap-ons are great to help you feel like you have a large penis. Read on for the best options for these toys and how to use them.
Experience What It's Like Having A Big Dick

Did you know that you can add size to your penis instantly? If you want to show your partner what bigger feels like, now you can.
Penis Enlargers/Sleeves (Add 3+ Inches To Your Size)
This is my favorite sleeve (review of this penis sleeve). It adds extra length and extra girth to your penis and has all the right shapes and textures to feel like the real thing. (Oftentimes even better than that, in my own experience.)
These extenders are a game-changer for anyone that wants to experience what it's like having a big cock. It's amazing to let your partner experience this too.
For me, they feel so great that I've been known to ask guys to wear an extender like this even when they are average-sized.
Some other amazing penis extenders:
Why These Extenders Are Awesome
These extenders allow your partner to experience different sizes, from small to fat and average to long and fat, you name it. You can get a few different extenders and add something new to your sex life.
This is amazing for finding your partner's perfect cock size and is also nice for roleplaying. With each new extender, you could pretend you're a different lover. I know women who would be down with this in a blink of an eye.
Compared to strap-ons, extenders feel a lot more realistic.
Too Small For a Penis Extender?
Sometimes there's still room at the end even when you put the extender on. You can fix this by using rubber balls in that space between your penis and the end of the extender. I've also heard of people using golf balls for this, but they seem a little hard. Make sure that, whatever you do, you don't hurt yourself and your partner.
Hollow Strap-Ons (Amazing)
This strap-on is out of this world. It is hollow inside, so you can easily slip your penis in. It doesn't matter what size you are – you can definitely use it! The strap-on itself has 8 inches of insertable length, which is more than enough to satisfy your partner.
Not only that, but this one comes with a vibrating option! It has controls that either you or your partner can use to boost your experience.
Strap-ons like these are a great toy because they stay in place no matter what. All you need to do is put on the harness, slip your cock in, and you're ready to go.
Other Amazing Strap-Ons:
Why These Hollow Strap-ons Are Awesome
Even extra-small penises can use them without any problems
Some of them can vibrate which adds another layer of heat
You can go as hard as you like and it still stays in place
You can play with different sizes and penis shapes
Try Suction Cup Dildos
One last toy that you might want to incorporate in your fun time is this suction cup dildo. You can attach this dildo to a surface (either vertical or horizontal) and let your partner ride it while she gives you a blowjob. You can also use it while you go down on her. The options are many and you are only limited by your imagination here. You can also just have her ride the dildo while you watch – I'm sure she'd love to put on a good show for you.
Get a few dildos, try different sizes, and work out what your partner likes. Just because you're small, it doesn't mean you can't satisfy her craving for something bigger. Suction cup dildos offer a great hands-free experience.
Other suction cup dildos I use:
Lifelike Lover Classic Realistic Dildo (beginner dildo): If your partner is a beginner at using toys, go for something shorter, like this dildo that is about 5 inches in length. It has a defined head and veins along the shaft for textured pleasure. I particularly love how it bends along with the body for maximum comfort during the ride.
Lifelike Lover Classic Realistic Rotating Dildo Vibrator: It seems as though there is a vibrating version of pretty much any sex toy; there's a good reason for it – vibrations lead to faster orgasm in women. So choose this dildo if you want to have her arching her back in record time. This one has 6.5 inches of insertable length, so make sure she can take it all in first.
Should You Try A Penis Pump?

Even though penis pumps are mostly aimed at aiding erectile dysfunction (meaning if you can't get it up or have trouble maintaining your erection) they can also work for penis enlargement, to an extent. However, they take time and energy. You need to use a penis pump about 30 minutes per day, with a break every 10 minutes. (Meaning using it for 10 minutes three times a day is ideal.) DO NOT use the pump for longer than 30 minutes!
In terms of time and effort, using a strap-on or an extender is a much quicker fix.
That being said, if you have the time and you want to try a penis pump, then go for the Bathmate range.
This bathmate pump uses hydraulic pressure to make your penis larger and even improve your stamina. It is perfect for men who have a penis 3 – 5 inches long when erect and less than 6 inches in girth. There are measurement lines on the cylinder of the pump so you can easily keep track of how big you've gotten.
Penis pumps don't come without their own set of risks, though! So be super careful when you're using them and make sure to read up on how to do it safely before you try anything.
You can read a penis pump before and after here.
It's Not All Bad
Having a small penis is far from the worst thing that ever happened to you. There are many positive sides to this, and here are a few of the most important ones:
You can experience deep-throating and amazing blowjobs. Women love to swallow dicks whole and yours will hit just the spot.
If your partner likes anal sex, it becomes a lot easier to have. It's no secret that anal sex can hurt, especially with a massive cock. Yours is the perfect size to ease into anal play without much pain.
Some women love smaller cocks. This is what I meant by having a small dick kink. You just have to find someone who's sexually compatible with you and your size. You'll never find the right person if you don't put yourself out there.
Thank you so much for reading! I hope this guide helped give you some ideas of what you can add to your sex life to enhance it and make your partner wild with desire, despite your penis size. If you need any more advice or help, please leave a comment below.

I'm Willow, I'm Brandon's girlfriend and we run this blog together (with the help of some friends). We both have an open relationship and both love being kinky (I mean who doesn't?). I love writing, music and my Womanizer. If you have any questions leave them in the comments.