What we have here today as a topic is something I am very fond of, and you are in for quite a treat. Since every one of us has that little thing called prejudice, I too have stayed away from cock rings in general, as I didn't know much about them and I feared the whole blood flow constriction thing.
Boy, was I mistaken.
The very essence of wearing a cock ring can only be truly felt but I will try to come at least close to describing it with words since I cannot actually show you.
In this blog, I will try to go as deep as I can in the fascinating and incredible world of cock rings and teach you everything you need to know about them.
Men, brothers in arms, I have to say that this guide is more for us and our age-mate but ladies, by any means, don't feel left out.
There is plenty to go around when it comes to the glorious cock rings that we have on the market today.
So please sit back, relax and try to enjoy this guide as much as I enjoyed making it!
What is and what does a cock ring do?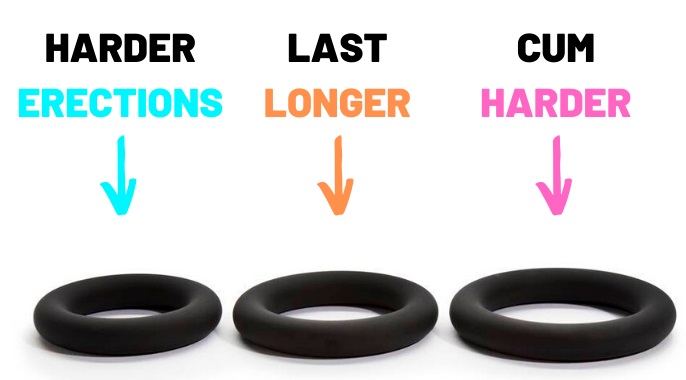 What is and what does a cock ring do you might ask, but I would ask you, in the realm of sexual pleasure, what doesn't it do?
The very act of putting on a cock ring makes you horny. Seeing your dick getting bigger by the second as soon as you put it on gives you an incredible feeling of might and power.
Your cock getting rock hard and dripping pre-cum will make your significant other drop their jaw by just looking at it. And that are just the ones that go over your dick.
Enough of my personal experience, let's talk general stuff now. The cock ring is a circular band that wraps around your Johnson and traps blood in it, causing bigger and harder erections.
In addition, a cock ring can help you to delay ejaculation, increase sensitivity, make your erections last longer and take your orgasms to a whole new level.
There is a vast variety of different cock rings, depending on what you need and want from it.
Materials used in making cock rings can be very different also – silicone, metal, leather, rubber, plastic, or even rope ( rope being a bit unconventional). Styles of cock rings can be plentiful, vibrating, adjustable, stretchy and flexible (or not), for couples, or even anal play, whatever rocks your boat.
I hope I caught your attention because we are going into every material and style in the detailed description later on.
What cock ring size are you?
Picking the right cock ring size is essential for having a great time using it, but it is nothing to be feared. Most of them are stretchy anyway so they shouldn't be a bother to use, however the rigid ones made from solid materials can be a little tricky.
The main thing is to measure your penis' girth. You can do this by putting your fingers around your erect woody and measure the diameter, or you can use a flexible and soft meter like the one tailors use if you want to get precise results.
Both methods are fine as it is not an exact science, you just need to make sure it doesn't restrict the blood flow too much because that can lead to pain or injuries.
Types of cock ring

Adjustable – if you are a bit afraid of using a cock ring like I was, you should try and get an adjustable one for your first run.
The benefit of using an adjustable cock ring is that you can set the tightness yourself. You can loosen or tighten to your preferences.
The concept of adjustable cock rings is that it has a soft loop that can go both ways for tightening and loosening the grip it has on your dick.
Be careful though, as you don't want to tighten it too much. Take your time and slowly tighten the loop until you have the right feeling for it.
From there you just make little adjustments to maximize your experience.
Vibrating – if your lady or man (whatever rocks your boat) wants or needs vibrators in their life, then this kind is perfect for you. Not only will it stimulate their most intimate parts but it will also make your sexual pleasure much greater.
The benefits of vibrating cock rings are numerous but depend on their style. A variety of vibrating patterns and different intensities give you a lot of options you can choose from. But don't forget that not all of them are that diverse – there are some that have only one vibrating pattern or intensity.
You can get one that comes in direct contact with the clit during deeper penetration and enhance your partner's orgasms, in turn, you will feel like a human vibrator pleasing your woman in such a way.
The vibrations will enhance your feeling and orgasms as well, shaking the root of your dick that you will feel all the way to the prostate.
Anal play cock rings – I guess you can imagine where this is going… we all know that the glands in your anus lead to the prostate and some pretty wild things can happen if you stimulate it properly.
These kinds of cock rings can give you exactly that. On one end there is a dick ring and on the other, there is a ball-shaped rigid object that goes into your butt and can make way for a fantastic sensation. Don't forget to lube up and you are ready to go!
Metal – if you ever used a metal cock ring, you know what I'm talking about. If u didn't let me tell you that when you try it you will always go back to it.
The metal is cold and if that's your cup of tea it will deliver, but you can always warm it up in your hand before putting it on.
The rigid form of a metal cock ring firmly grasps your dick and allows little to no wiggle-room, giving you all the best from sexual intercourse. It is also stylish and best looking on your dick in my opinion.
Silicone – as you can imagine, silicone cock rings are the most popular and abundant on the market but that doesn't make them any less great.
These rings are made to be soft, flexible and stretchy, which means that they will easily wrap around your penis and apply gentle pressure at first, but as your dick gets harder, the pressure will naturally grow accordingly.
They are easier to put on and remove than metal rings but try to trim your pubic hairs as the silicone may twist and pull them, and we all know that sort of pain…
For couples – not all cock rings are exclusively for men and these types of cock rings prove that. They are designed and made specifically for couples and enjoyment of both parties during sex.
They can be vibrating, non-vibrating, and all sorts of shapes and sizes, so be sure to check them out!
This is the vibrating cock ring that changed everything
As I ventured deeper and deeper into cock ring valley I stumbled upon a particularly strange-looking cock ring. At first sight of this vibrating cock ring, I wasn't sure I would know how to put it on but I quickly saw that it comes with a guide.
This cock ring is made for the pleasure of both parties during sex, causing vibrations and stimulating the clit, balls, and shaft of your cock all at once!
First time using this vibrating cock ring
When I came home with the newly bought bionic bullet cock ring I immediately put it on and waited for my girlfriend to come home. She always came home shortly after me so I knew I can start playing solo before waiting on her for long.
Putting it on wasn't complicated as I thought it would be and the feeling I got was amazing.
My cock started getting hard by itself, almost helped up by the strength and tension the cock ring had provided.
Finally, my girlfriend walked in and she had a sight to behold. I was butt naked with my dick strapped on and fully erect.
She was in awe!
With no clothes taken off, my love rushed on her knees and started sucking my already hard and cum-dripping cock. Soon after we were on the bed and real fun could start.
We switched the thing on and it gave us a bit of a shock at first since we set it on a strong intensity but we managed to find the right one for us shortly.
We changed the vibrating patterns to our desire and as we were fucking we could take the more intense vibrations.
My balls and cock were tingling from sensations, and I could tell that her clit was stimulated in the best ways possible from the look on her horny face.
We orgasmed together like we never did before and we knew at that moment that this was the cock ring to rule them all.
These simple reasons why it's the best
If the best orgasm I've had, and the best orgasm my girlfriend had is not enough to tell you why it's the best, then I will try to put it this way simply.
Of all the rings we tried, nothing comes close to stimulating all three of our intimate parts – balls, cock, and a clit like Lovehoney vibrating cock ring.
You don't believe me?
Give it a go and be sure to leave your impressions below.
Other cock rings I recommend
I am aware not everyone is going to love my cock ring as much as I love it and feel like the beauty of sex toys is that there is so much diversity out there and something for literally everyone and every taste so below I have listed out all of my other favorite cock rings for you to read through.
Metal Cock Ring
This stainless steel cock ring is rigid for all of the right reasons, it grips your cock with efficient power, giving you a stronger, more erect, and even larger erection. The cock ring can also help you to work on your stamina, the gentle weight offers a delicious sensation that will make you fall in love with your cock ring again and again.
Adjustable Cock Ring
Ideal for penis ring (cock ring) beginners this adjustable, silicone, stretchy cock ring allows you to really tailor your needs to you and your erection. The tightening sensation can give your cock a larger appearance and may help you last longer (by limiting blood flow). Being able to adjust your cock ring easily at every step of the way allows you to learn what you like and ensure your orgasm is how you like it every single time.
Silicone Cock Ring Kit
With this cock ring set you can pick the ring you like best, change the ring you use when you feel like it to change things up or use all three along your shaft and balls for the ultimate experience. These stretchy silicone rings are comfortable to wear and can be slipped along the penis with ease, they can help strengthen your erection so that you're always ready to go.
Stainless Steel Cock Ring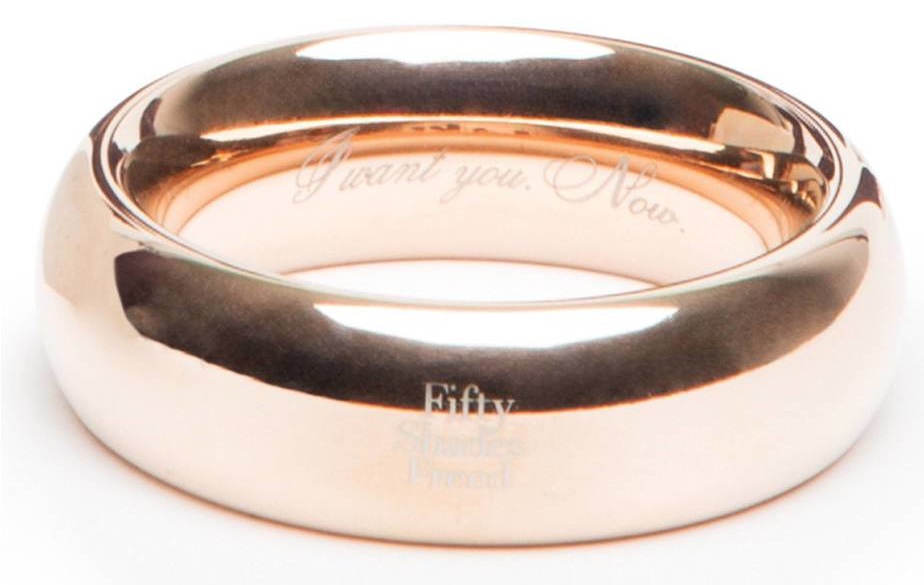 Inspired by the hugely popular heart thumping series fifty shades of grey this cock ring. It's can be used for temperature play, this firm stainless steel cock ring can improve your erection, orgasms and boost your thrills, the weighted body of the cock ring is something really different and something many people look for in stainless steel cock rings.
Vibrating Rabbit Cock Rings
I adore this vibrating cock ring, it's ideal for those couples who enjoy mutual orgasms as the bunny ears do all of the vibrating work on her clit during penetration and the cock ring makes his erection harder and stronger plus the vibrations can be felt in the cock ring which is such a bonus. You can also remove the bullet vibrator from its sleeve so it's like getting two sex toys in one.

Cock Ring Butt Plug
Enjoy prostate and shaft stimulation with this interesting butt plug/cock ring combo. The perfectly crafted prostate massager pushes your p-spot into sensational places you didn't even know existed whilst the cock ring keeps you hard. This tantalizing combo keeps you on your toes from the second it slides into you.
Cock and Ball Ring
The Thick TPR materials used for this cock and ball ring make it feel as if someone has their grip on your erection and balls, the stretchy yet constrictive design of this cock ring feels great as it rests against your manhood. Just like with all of these cock rings the constriction can help you maintain a longer and harder erection.
Double penetration cock ring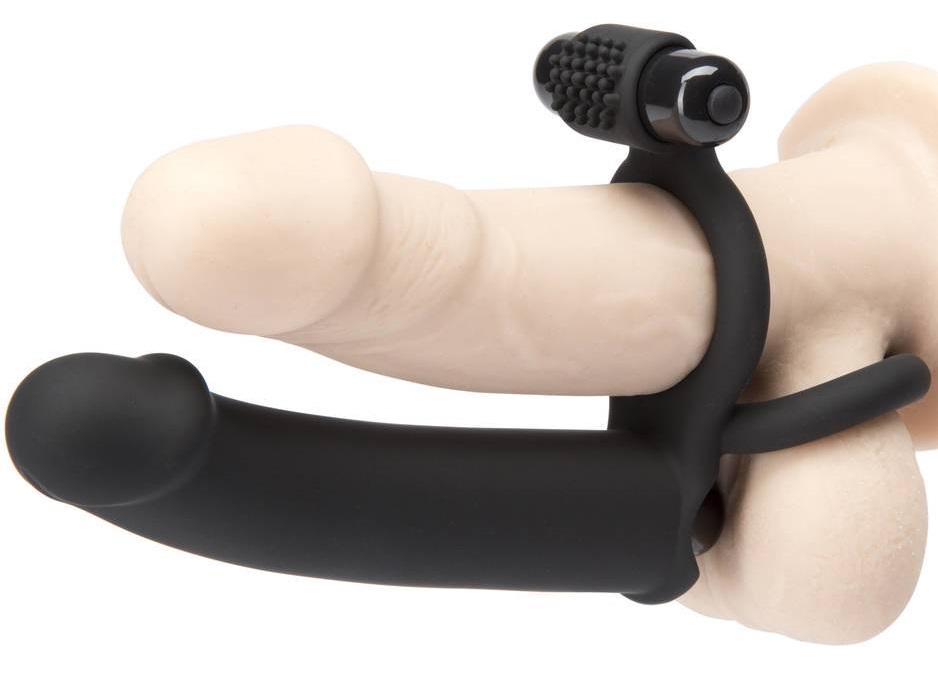 Fill your partner's butt and pussy with this double penetration cock ring. It features a realistic cock that lays tandem under your own, a ball loop, cock ring, and vibrator that has 2 speeds and 5 pattern settings for you and your partner to enjoy. Enjoy mutual orgasms, insane stimulation, and something just a little different.
Glans Ring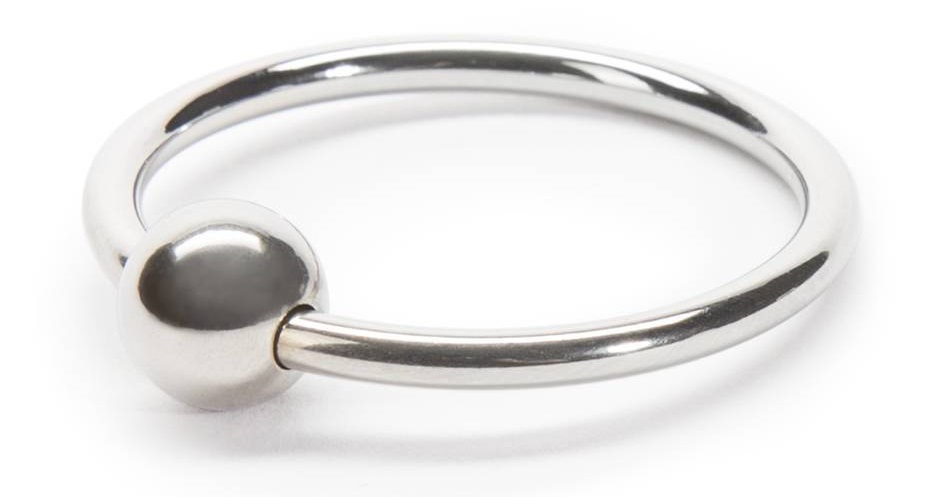 Unlike the other cock rings, we have seen this gland ring is designed to sit under the head of the penis, this enhances sensitivity and arousal. Ensure it sits on your frenulum and it may not just increase pleasure for you and your cock but it may also increase pleasure for the person on your cock.
The Homemade Penis Ring (DIY)
If you don't want to spend money on a ring from a shop right away and want to see how it feels first, fear not. I have here some examples of DIY penis rings for you to check if they work for you at all. Any object that can be tied around your cock or balls can be a cock ring, just be careful when doing it.
DIY Cock Ring Ideas:
Shoelaces and other strings – pretty straightforward approach. Tie a shoelace or something similar to your cock or balls and tighten as much as you want without it hurting.
Rubber bands – These are popular as you can usually find them lying around the house. Stretch them out and put them on your cock or balls to get the effect of a cock ring. Make sure you use lube cause it may hurt when trying to take them off. Also, be aware that they might snap and cause pain.
Rubber bracelets – almost any rubber bracelet that you find around the house or in the shops can be used as a penis ring. Just lube it up and you are good to go.
Plumber's rings – most of the plumbing supply stores have metal or rubber rings of various sizes. Pick the one that is your size and pick up some lube on your way home.
How to use a cock ring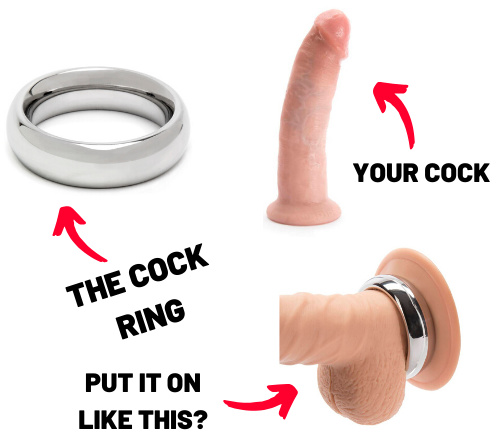 Cock rings are pretty safe and easy to use if you do it respectfully and correctly, hence I am going to give you a few things to look out for when belting up your man down under.
Step 1 – The first thing you gotta do if u want to get into cock ring pleasure is that you have to measure your penis. This is not a requirement if you use the majority of flexible and stretchy cock rings but if you want to try out the rigid ones, it is a must. The blood flow is everything and if you restrict it too much it can lead to pain or even injuries. I've explained how to get your measurement in the text above.
Step 2 – never rush things. Maybe the most important thing of all, especially if you are new to cock rings, is to take it slow when putting it on! Always have lube at hand for both rigid and flexible cock rings since it will make it a lot easier to put on and get off.
Step 3 – getting the right tightness of a cock ring. When you measured your penis, you will have the information to go on and stick to it. Never get cock rings that are smaller than your penis' girth; otherwise, it will restrict the blood flow too much. However, this mostly applies to rigid ones as stretchy ones will flex enough not to have problems (unless you have a monster dong).
Step 4 – always be flaccid when putting a ring on your cock. Do not attempt to put a cock ring on an already erect penis, even if it is a stretchy one. Make sure you put it on and then proceed to do whatever it is that you wanted to do in the first place.
Step 5 – cock and balls ring. If you want to wrap up your balls as well as your dick, there is a certain way to do it. First lube up your balls and cock, then always slide the balls in first and only then your dick. Do not do it the other way around because it can cause severe pain in your balls.
Are cock rings safe?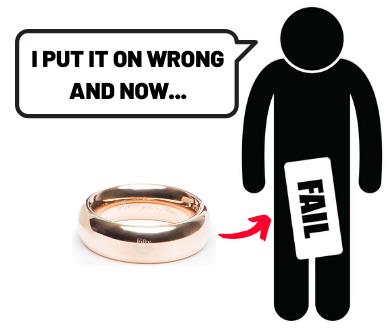 As I mentioned before, cock rings are relatively safe to use if you do it properly. Keep in mind that they are designed and made for the dick so if you don't do any shenanigans outside their purpose, you are good to go.
It is important to note that you shouldn't wear a cock ring for more than 20-30 minutes.
The easiest way of trying out cock rings is to go for stretchy and flexible ones first so you get familiar with them, before going onto rigid ones.
Even if you follow all of the steps and advice from above it is not impossible to have some problems with cock rings. If you feel any sort of pain or discomfort while wearing them or trying to put them on you should stop at once.
Nothing is more important than keeping your willie safe and sound.
Relax and don't pressure yourself into anything.
How to take off a cock ring
If you put on a silicone cock ring then no worries. It can come off easily by stretching it and removing it from the shaft of your dick and balls (if you decided to wrap them up also).
Lube can always be of assistance and it is a good thing to keep around when exploring this sort of stuff.
However, if you put on a metal or plastic cock ring that is rigid in the form, you should wait for your dick to go back to its normal flaccid state before trying to remove it. Otherwise, it may have consequences, both short and long-lasting.
Again, lube is your friend here and try to use it as much as you can so you don't end up hurting or scratching your little accomplice.
There you go, my fellow readers. Everything you will ever need when it comes to the amazing cock rings at your hand, ready to make your sexual encounters go to new heights! I hope you find as much fun as I did in this wonderful toy.
I'm Brandon, I'm one of the main writers and owners of ewsingles (the other being my girlfriend (Willow). My girlfriend and I have an open relationship and share our passion for sex toys, sex and dating.