This is a question I get all of the time, from friends and our lovely blog readers and although I always try my best to answer, it's much more intricate than just simply saying: 'it's fun'.
I figured I would answer this question that I get constantly as openly and honestly as I can. I love to be transparent and give out so many personal details about our sex lives on our blog and answering this burning question for so many people once and for all, is really exciting.
People become hotwives for many different reasons and everyone's experience can be different, I am answering this question from my point of view and that of people I know who are also involved in this lifestyle.
If there's anything left unanswered feel free to comment below or get in touch and I will get back to you.
What Is A Hotwife?
A hotwife is a wife or girlfriend who sleeps with men outside of her relationship, with her partner's consent. Sometimes she is accompanied by her husband when meeting new lovers or she can be on a solo venture. Sometimes the husband considers himself what's known as a cuckold and enjoys watching and witnessing his wife/girlfriend with other people.
A hotwife is any woman in a relationship who is involved in extramarital sex with her husband's knowledge. Extramarital sex can be done during one-on-one meetings with pre-selected lovers, during threesomes, swinging, or cuckolding.
Why I Became A Hotwife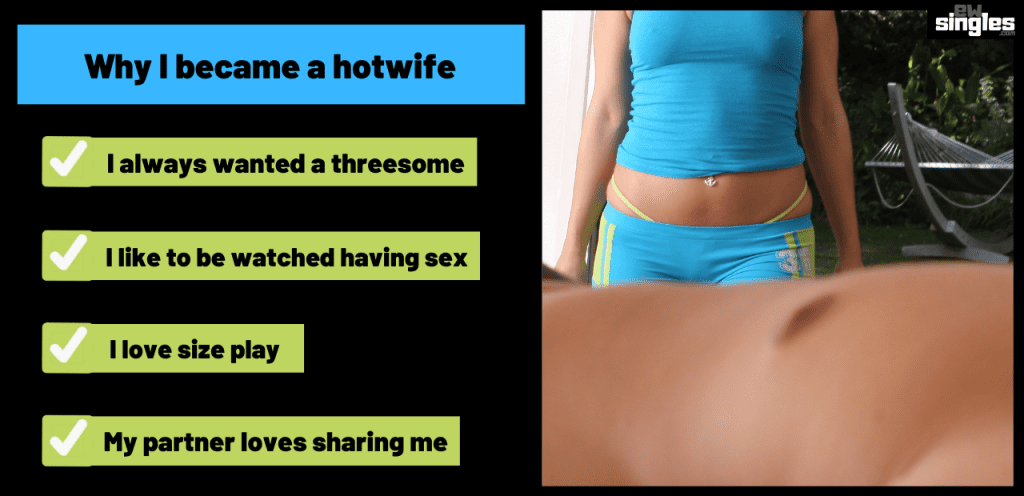 Everyone has their different reasons for joining this lifestyle but for me, it was pretty simple.
It was a fantasy of my boyfriend's: He would really get off talking about sharing me, watching me with other men, having threesomes, and having group sex with me. Once we talked it through, we were both open to trying it out for real, and luckily for us, it went extremely well and it opened us up to a whole world of different possibilities.
I had also always wanted an MFM Threesome: Threesomes weren't anything new to me but trying an MFM threesome was something I had always lusted after. I didn't mind it if was my boyfriend and another man or just two strangers but it was certainly something I wanted to tick off my bucket list and doing it as a hotwife just made sense.
Enjoy being watched during sex: I am a bit of an exhibitionist, the thought of being watched and marveled at during sex really gets me going, and knowing it would be my own boyfriend watching really turned me on.
Love playing with different men: I love my boyfriend but being able to play with men of all different shapes and sizes with the green light go-ahead is marvelous. I can explore different men from all over the world and turn my boyfriend on whilst doing it.
Love size play and being with men who are different sizes: Cocks come in different sizes, we all know that but being able to experiment with what I like and try new cocks is incredible. I can try and squeeze in huge cocks or play around with something small. Whatever I feel like, I can try, and that in itself is magical. I've talked about my love for size play in my size queen guide to large dildos, you'll get a better idea of the size I love.
What Is It Really Like Being A Hotwife?
Being a hotwife is thrilling, it's like nothing I had ever experienced before it. No amount of threesomes or flirting with other people could scratch the same itch that hotwifing does.
For me, it makes me feel so sexy, so desired and so in control. I am constantly satisfied and I get to try and experience new things whenever I want them. I do know you have to be in a strong relationship and with someone who is 100% down with the idea of hotwifing but aside from that, it's certainly for me and it makes my sex life feel so complete and wild.
It's like The Best Parts Of Being Single Without The Crap

– Willow
The first dates, the first kiss, the pampering beforehand, shaving/going and getting a fresh wax, being excited to see them naked, knowing that your partner is going to be at home waiting for you while you're getting fucked, the dressing up and getting myself to look nice, the dates and going to nice places, it's all the same buzz that you get when you're first with someone. Except you get the fireworks with new people constantly and it never has to end.
The Good Parts
There are good and bad sides to this lifestyle but for now, let's focus on the good. These are the things I love, they may not be everyone's first choice but for me, these things are what gives me a thrill and rush of adrenaline about being a hotwife.
The Nerves At The Start
The first date with your partner, the first time you have sex with someone else, the first phone call. To me, it's so exciting and I absolutely adore the feeling of tip-toeing into sex and building a bond with someone for the first time. You don't know how it's going to go, you don't know what is going to happen and it's like an explosion of adrenaline and excitement going off inside of you.
Signing Up To Tinder, AFF & OKCupid
This is the easiest and most rewarding part at the start. It's exciting to create a profile, then look at different men with your partner. We did all of the talking together at the start but now I do look and talk to men on my own from time to time.
Dates With Your Lover
Going on dates with your new lover is amazing. Of course, it's not always dates and romance, sometimes sex comes quick and fast but when you do go on dates, it can so exciting and I absolutely love knowing my boyfriend is at home and I am out with another man, seducing him and teasing him into bed with me.
The First Threesome (What It's Like)
I had had threesomes before I became a hotwife but doing it as a hotwife is a different kind of thrill. Having two men cherishing and adoring my body, making me feel like the best thing on the planet, and having them roaming me and exploring my naked body, there's nothing else like it, especially knowing how hard Brandon (my boyfriend) is getting off to it as well.
What does DP feel like?
For me, double penetration is heavenly. I love to feel filled up and having two throbbing cocks inside of me at once, letting me ride them and take them unanimously is just incredible. Double penetration isn't easy, but it is so satisfying once you are able to do it, and knowing my holes are being stretched to capacity by two different men as I behave like a total slut is so much fun.
First Time Having Sex Without My Partner
This is certainly a weird one, it's exciting but it can also be overwhelming for some people. I struggled to relax for a little while but I soon did and when I got home I was so glad to tell Brandon everything. I always find it better (even now!) if you take lots of pictures, and a video, and remember everything to tell him later on.
You may experience guilt, anxiety, and shame after. This is totally normal and happens to a surprising number of hotwives. All of these feelings are completely valid, the key is to discuss them and understand why you might feel that way and how to stop it from happening again.
Reclaiming Sex
This may be one of my favorite parts of being a hotwife. Coming home from a hot date, filled with another man's cum, sweaty and sticky with sex juices, to find my loving boyfriend and have him reclaim me as his. He cherishes my body and we have the most romantic and loving sex as a way to reconnect and re-align and it works every time.
Dirting Talking
The dirty talking should come with a warning label! talking to my boyfriend about everything afterward, letting him know what a naughty girl I've been, showing him the pictures and videos, and telling him exactly what happened while he reclaims me is how we do it.
I also love after a threesome when he tells me how hard he was and what turned him on and I do the same. It takes dirty talking to a whole new level.
I Enjoy Size
I like taking big dick so, it's really hot when I get to fuck a nice big cock and my boyfriend loves when I do that. Being a hotwife allows you to experiment with all different kinds of shapes and sizes, you can have your preferences or just try out anything!
It's Becomes Really Addictive
The first time you do it, it's like wow! You will want to do it again, you will crave it, and you will think about it all day every day. This can be bad if your partner didn't enjoy it as much as you did as you will find it hard to stop, especially at the beginning when everything is so new and fresh.
Pictures And Videos
It's hot having pictures of me sucking off a guy I just met and then fucking him. My boyfriend loves them too and we look back on them frequently to get turned on and refresh our memories about someone. I can't wait to be 80 and browsing through dirty pictures of my younger self.
The Bad Parts
A lot of people will lead you to believe that everything about being a hotwife is arousing and fun but that's not the truth. It's important to know that it's not all sunshine and rainbows, we have to be realistic about certain things and although as with everything, everyone is different, these are the bad parts about being a hotwife that I have found in my own journey.
Hotwife Emotions, Angst And Problems
This lifestyle can come with its own set of complicated problems. Falling in love, dealing with a bad date, lust for someone taking away the lust for your husband/boyfriend. These things can happen, no matter how strong or determined you both are. You have to be aware of the risks and the complications that being a hotwife brings.
Flaky Dates and No Shows
It's hard, but it does happen, sometimes when you least expect it from a potential date.
You can minimize it by speaking on the phone before meeting, having a video chat, swapping pictures to make sure they are not a catfish, or even holding up a piece of paper with each other's names on it so you can make sure they are not using old photo's.
It can still happen though and it sucks when you're all ready and waiting to go and you are plied with excuse after excuse from them or you are just ghosted and you never hear from them again. These people are usually just horny and too scared to try out this lifestyle and should be avoided at all costs if you don't want to waste your time.
Bad Dates/Sex
Bad dates and bad sex does happen, it's not all wild and free-loving. You can find the perfect date and he may suck in the bedroom, he may not be who he says he is or he may be a selfish lover.
I always make sure men know I care deeply about hygiene, to the point where I would make a guy have a shower with me before we engaged in sex. Hygiene is so important and unfortunately, there are people out there who think it's ok to turn up to a date stinking of B.O.
Small penises and massive penises both can be bad. The idea might be hot and sexy but the reality is pain, discomfort, and feeling nothing at all. You have to be prepared for cock disappointment and know what to do and how to handle that situation.
A lack of erection can really dampen the mood or premature ejaculation (can ruin things too although this can be fixed if they can keep going/have a small amount of time needed between orgasms).
Lastly, a lot of people talk a big game but when it comes to it, they might suck in bed. Not everyone is going to live up to your expectations and that's ok. You learn what to look for but you mustn't go into this thinking everyone is going to blow your mind because not everyone can read your body.
Leaked Picture and Videos
I don't have any pictures or videos on my phone, I use a digital camera, and don't let my bulls take any pictures that could easily identify me. I keep all of the pictures and videos we take and although it may seem extreme, I don't share them with anyone either. You never know what someone is capable of and I wouldn't want anyone to have that kind of power over me.
Jealous Partner
You will deal with jealousy, we did everything we could to minimize it, but there is still jealousy and guilt and worry that things are going to ruin your relationship.
For us, it wasn't too bad. It happened a few times at the start and we had to have long chats and bring up all of our emotions with one another. After a few years, we know what we want and we stay honest and open about everything that happens inside the bedroom and in our minds.
STI's/STD's Can Happen
During the heat of the moment, it happens. You forget the condom or you forget to ask for your lover's STD checks. Remember, If you ever have sex without a condom get tested, and tell your husband, don't keep it a secret.
If you want unprotected sex, get tested and get the guy you're sleeping with tested before. In most places, it is quick and easy and will stop any potential infection issues.
Pregnancy Risk
There's always a risk, even if you're using a condom or using birth control. You need to talk through with your partner what will happen if you were to fall pregnant and what your plan would be. You can do everything you can to minimize the risks but learning your patterns, knowing when you're ovulating and not, and using contraception, however, it's always still a possibility.
Do I Love My Boyfriend Any Less (Is It Weird He Wants This)?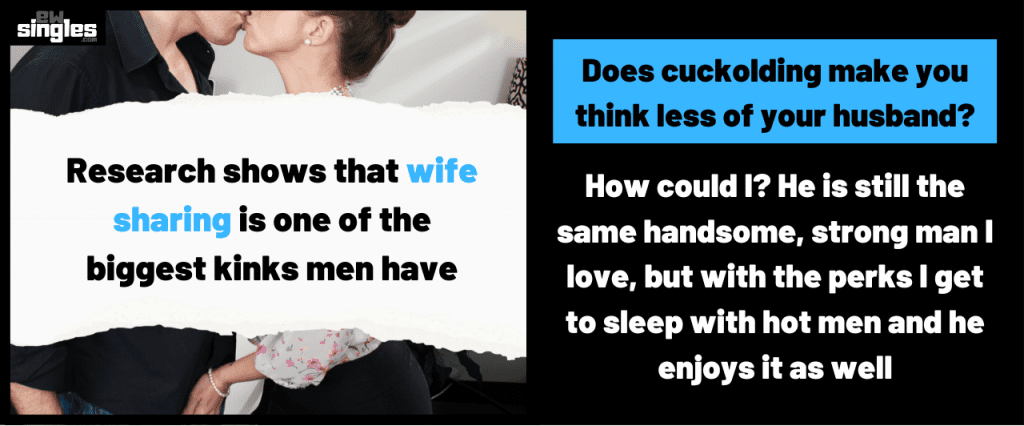 Statistically, it's men who bring up this kink more than women, and if you're sitting there, wondering why your partner even considered this, I am here to tell you it's probably not as complicated as you think.
There are loads of reasons why he might want this, if it turns him on and he is happy why would it be a bad thing for him to want you to have pleasure.
There are so many reasons he could want you to be a hotwife and here are just a few:
He wants someone to bring out your slutty side
He fantasizes about watching you with someone else
Seeing you getting pleasured turns him on
Perhaps he wants to make sure you are completely satisfied
Seeing you take a bigger cock than his may turn him on
Wants you to feel hot and attractive
Having a threesome with you and another man may sound great to him
Is he thinking about the visuals of you with another man?
He wants to find out how you would be with another man
Would love to see you doing things you have never done with him
Would like to see you let go and have a good time
Has a humiliation kink
Perhaps he is a secret sissy
There's a chance he is considering his sexuality
Has premature ejaculation or troubles getting erect and wants you to try someone who doesn't
There are so many reasons and most of them are around you being pleasured and sexually liberated and made to be confident enough to try kinky things. This doesn't sound that bad, does it?
Nope, it grew us as a relationship and as people, and if anything I love him more because of it and him opening himself up to me.
Should You Try Becoming A Hotwife?
If you're ready to start your own journey I personally feel like threesomes, having your boyfriend/husband watch or listen from another room, playing together with a third, and enjoying group sex is usually the best way to start.
I'd say that playing with my partner and a third makes up 80% of my play and the solo dates the other 20%. Even though the solo play is so much fun, it can ruin your relationship if your husband/boyfriend isn't ready. He has to 100% love it and you have to have so many boundaries. I'd say the success of hotwifing comes down mostly to the wife.
You have to know what your husband gets out of the deal, give it to him 100% and be honest with yourself. Never do hotwifing to get something you're lacking from your relationship, our sex was amazing before I became a hotwife and I'm 100% satisfied emotionally, we are best friends and love each other we have our bad days, however, most successful hotwives that I know have a similar relationship to what we have.
Check out this video on someone's first-time cuckolding experience.
If you are ready to try being a hotwife:
Try these steps before jumping into anything, patience is a virtue in this world and making sure you are definitely ready by educating yourself and simulating the powerful experience will help you see if it's really for you.
Hotwife training – Read our full guide (coming soon), it will teach you all of the steps to becoming a hotwife and how to do it successfully.
Simulate it all first – I always recommend people simulate their experience first. Imagine it all, close your eyes and feel the emotions, practice it in your head, have your husband wear wigs, and roleplay being with another man. You can also simulate being a hotwife using the methods below:
Using sex toys: You can simulate a threesome by using sex toys such as suction-cupped realistic dildo, you can thrust onto it as your mouth is used up by your partner. Play around and use your imagination to make a three-way come to life.
Sexting: Sext men that you find online, flirt with them, exchange pictures and let things get hot and heavy, and see how it makes you both really feel.
Webcam Sex: Upgrade from sexting to having sex over webcam or facetime. Masturbate with the stranger you met online, have your partner watching discreetly and see what it does to you. Can you handle the realities of it or is it best to stay as a fantasy?
Dirty Talk: Talk with your partner about fucking another guy, talk about what a big dick would make you feel or how sexy it would be to fuck a hotter guy, see how it makes your partner feel, do the same for you, and have him talk to you about fucking other men while you're getting off.
Here's a big list of hotwife and cuckold dirty talk ideas. It will tell you everything you need to know about dirty talk.
Talk a lot with your partner about it
Talk about everything, all your past sex, what type of guy you want to fuck, what happens if you fall in love, condoms no condoms, anal, everything. Get dirty with the details, discuss and discuss again, and bring up every scenario and every eventuality until you are tired of talking about it.
What you're trying to do is see what sparks emotions, triggers each other, feels uncomfortable, and feels arousing.
Create rules – We did a whole guide on rules. These are personal to us but they are quite broad and many people find them extremely helpful, however, once you have read our guide it's time for you to make your own rules, and never go into a situation without your rules firmly in place.
Need Help? If you need any more help or guidance, comment below and I'll answer you the best way that I can.

I'm Willow, I'm Brandon's girlfriend and we run this blog together (with the help of some friends). We both have an open relationship and both love being kinky (I mean who doesn't?). I love writing, music and my Womanizer. If you have any questions leave them in the comments.