I don't even know how to write about these dildos without getting horny. As I am making this guide, my favorite squirting dildo is standing right next to me, on my desk, ready to be used as soon as I finish writing.
I can't get myself to write more than a couple of words without looking at it, that is how amazing it is. If you are like me and your teen years went with a lot of fun experiments, you know that we tried putting almost any phallic looking object in our most intimate holes just to get us off.
From fingers and plastic toys to wooden stuff or even vegetables, you name it – I've probably tried it. Luckily, I don't have to do it like that anymore since I don't live with my parents and I have tried real cocks in the meantime.
As my sexual curiosity grew, the sex market delivered – all sorts of dildos were coming up and I've had my share with them, but they were all lacking something. They just didn't have that thing that made them life-like, but that is where squirting dildos come in, and oh my god, do they cum…
Of course, nothing can beat the real deal, but nothing can come close to it except squirting dildos.
Whether you want to ride solo or with a partner, squirting dildos will make it a vastly better experience.
They come in all shapes and sizes and there is something for everyone! If you are new to squirting dildos or dildos in general, stay tuned and find out why these are the best of the best.
What is an ejaculating/squirting dildo?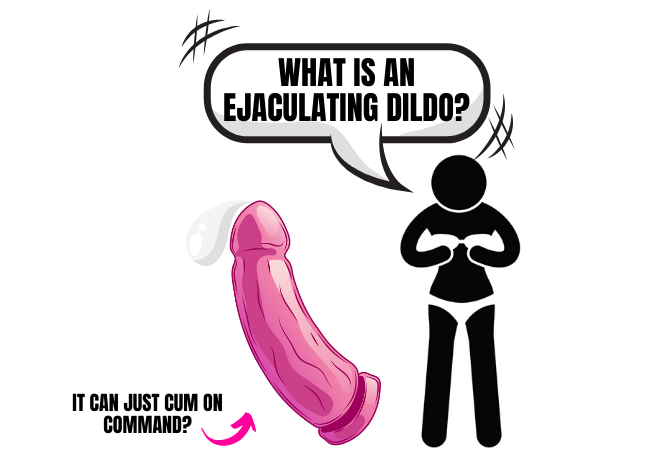 An ejaculating (squirting) dildo, at first glance, doesn't differ much from regular dildos. It is regular in shape and size but has more than meets the eye. Inside of them, you can find tubing filled with artificial semen that you can force out in many different ways.
These dildos can be used for pegging, realistic facials, artificial insemination or you can even see them at college parties (for shot dispensing mostly).
There are different ways to force the semen out. Some have syringes that give you precise control, and others have suction cups in the balls that let you put the head in the sperm and squeeze the balls to suck up the jizz inside, and then just squeeze them again for the warm liquid to hit you on any part of your body.
Some, on the other hand, have an external pump connected to the tubing inside. These are great for harnesses cause they don't accidentally squirt when the balls are squeezed.
Each has its own pros and cons.
My All-Time Favorite Ejaculating Dildo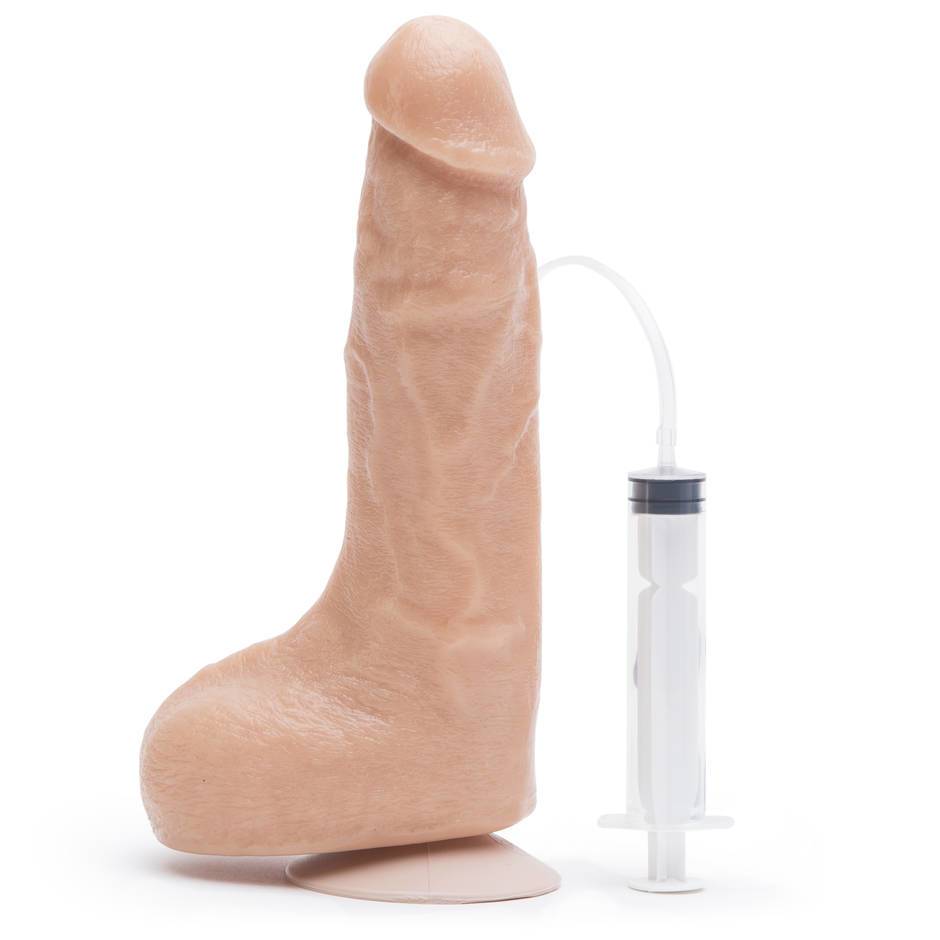 Over the years, as dildos evolved, I've tried many different ones, but this ejaculating realistic dildo with Vac-U-Lock takes the cake. 
If you like feeling the warm jizz on your face, tits, ass or any other part of your body, this dildo will deliver.
It is realistic looking, moderate in size and squirts on demand!
Fill it up with your favorite semen and close your eyes and enjoy while it covers your face with warm gooey liquid we all know and love.
First Time Using This Ejaculating Dildo With My Boyfriend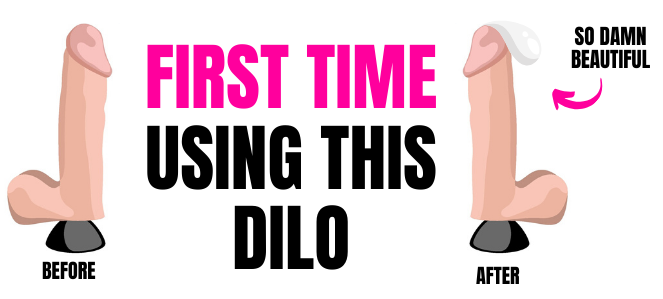 Being a horny and kinky girl that I am, I was no longer satisfied with regular dildos and sex ads. I needed something more for when my boyfriend isn't home and I can't wait for him to give me an orgasm.
There was something in the way he came inside or on me that made me go nuts every time he did it. I was trying to fill that void with normal dildos, but it just didn't work for me and I quickly saw what was wrong.
The ejaculation part was missing.
I found out about squirting dildos and told my boyfriend about them. He wasn't too sure about it at first, but I managed to convince him to give it a go.
We bought the Bust It Dildo above and decided that we will relax and see where it goes. 
Assembly went smooth with "Nut Butter" jizz-like fluid that we put inside and the fun started. After starting as we usually do without the dildo, he started gently stroking my body with the dildo, before putting it in my mouth. 
The feeling of having a real dick in my pussy while this amazing dildo was in my mouth was stunning!
My boyfriend saw how horny and aroused I was and didn't think for one second before filling my mouth with artificial semen from the dildo.
The jizz filled my mouth and the sensation was more than I could bear – I orgasmed with such intensity it made my boyfriend cum inside me with the strongest ejaculation he ever had.
We laid quietly for a few seconds, both thinking about the intensity with which we came and new that this thing will be a part of our sex life from now on.
First time using this dildo by myself
As I've already tried it with my boyfriend, I knew how much I loved my new toy. I couldn't wait to try it out by myself when my boyfriend wasn't home ( a bit selfish, I know, but don't judge until you try it). The next morning when he went to work, I jumped out of bed to the drawer where we left the dildo the night before and started breathing heavily.
The excitement it gave me is indescribable. I filled it up with the same fluid, lubed it up and the party started.
I started pressing it slowly against my clit before sliding it inside me and my mind was blown.
It felt just like my boyfriend's cock, but this time I had all the control. I stroked it and twisted and pulled on it and it made me wanna cum but I took my time.
Every time I was close, I would pull it out and put it in my mouth where I would suck on it until my pussy was ready for more.
The feeling got more intense by the second and I orgasmed while squirting it a bit in my pussy before pulling it out and dropping the rest of the load on my face and tits.
Why I went for this dildo?
The stunning ultra-realistic veiny look was all I needed to be attracted to this fantastic dildo, but that is before I took it in my hand.
Sturdy with a moderate head and a nice nutsack just made it better and I couldn't wait to get it in my holes.
It comes with a special "Nut Butter" jizz-like formula that is almost as good as the real stuff.
The price is affordable and it really pays off for what it's worth.
It has a Vac-U-Lock suction base for hands-free play, easy-squeeze "semen" dispenser, storage bag and is harness compatible.
Try it and you will have no regrets.
What I Think 30 Days Later?
30 days with countless hours of using it and I can safely say that this dildo is perfect in every way. I've had so much fun with it, solo or with my boyfriend that I almost forgot about my other toys.
Other Squirting Dildos I Highly Recommend
If you read my blog you will know that I like to show you other options, not everyone is going to like what I do so I like to show off some of my other favorite products so that you can see how much diversity there is and how many sex toys I like to play with.
The Thick Ejaculating Dildo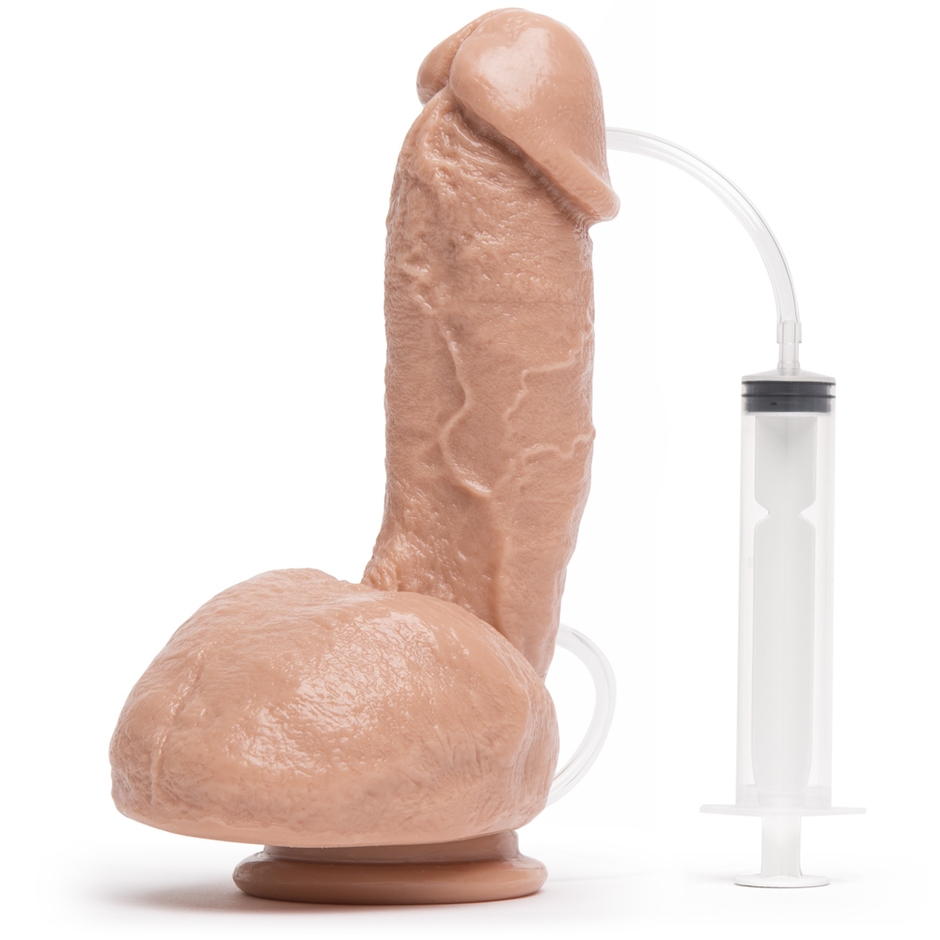 This realistic ejaculating dildo measures 5.5 Inches. This amazing squirter can be filled with jizz-like lube and be enjoyed in all sorts of fun ways. 
Veined shaft, realistic balls, and strong suction cup are just the beginning of what this product has to offer.
At a reasonable price, this is a good dildo to be your first and only one.
The Large Black Squirting Dildo
This bust it dildo with Vac-U-Lock measures in at 7 Inches. Coming with a special "Nut Butter" semen-simulating formula, this dildo is one equal parts water mix away from fulfilling your wildest fantasies! 
A sturdy suction cup base sticks to surfaces or goes into harness slots for a captivating hands-free enjoyment. Girthy shaft, busty balls, easy-squeeze "semen" dispenser, and storage bag are all included when buying this fantastic toy.
Did I mention it comes in black?
Life-like Classic Squirting Dildo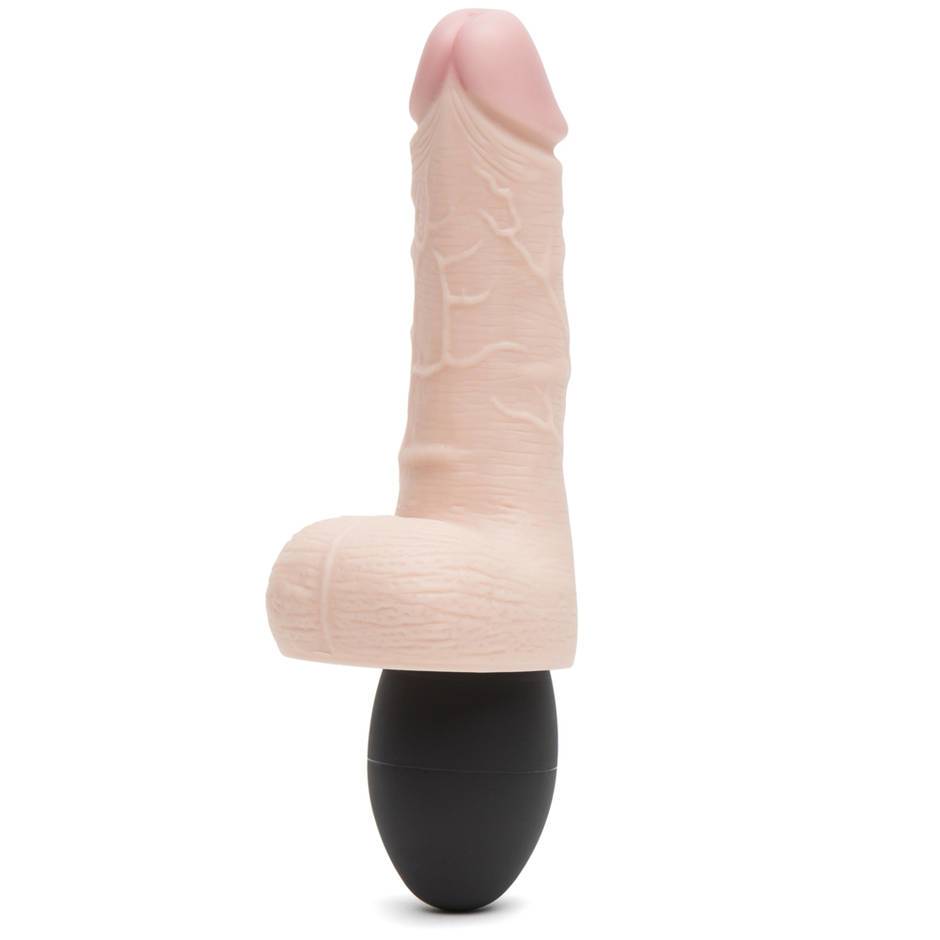 This squirting dildo is the classic of ejaculation dildos. 
If you enjoy the classic cock style, then this dildo is perfect for you. It has a veiny shaft, a nice tip, all-around balls with texture, and a bulb at the end that you can fill up with your jizz-like preferred substance.
It will bring all your ejaculatory fantasies right wherever you want them on your body.
5 inches of the shaft and 5 inches of girth, this one will be suitable for everyone wishing to try what an ejaculating dildo is all about.
You just need to squeeze the bulb to release air, put the head in the desired "semen" fluid you want, and release the bulb again to fill the whole thing with juicy goodness.
Harness Friendly Dildo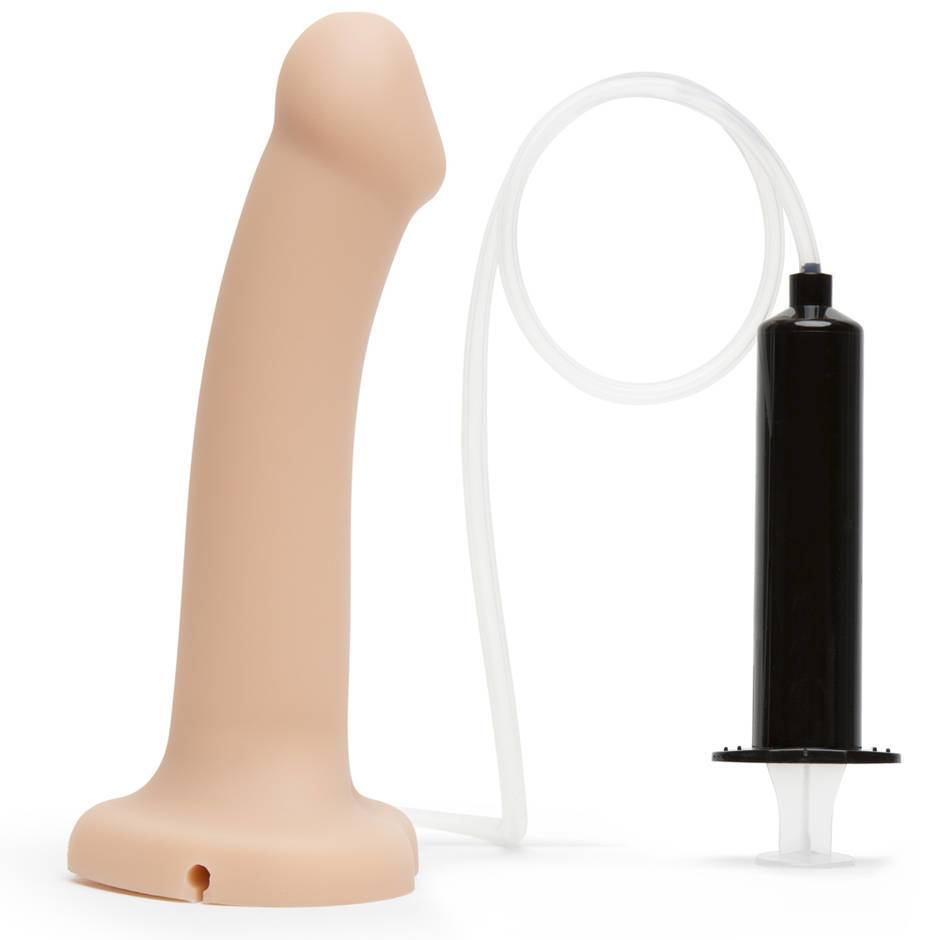 Time to welcome the Strap-on-me dildo that boasts an impressive 7 Inches. This one is a bit expensive, but what it does is worth the money. 
Ultra-realistic with an external pump and a tubing mechanism gives you complete control in your ejaculating fetishes. It has a length of 8 inches, while 6.5 inches are fully insertable. The girth of 4.5 inches is more than enough to fill you up all the way.
The King Cock Realistic Ejaculating Dildo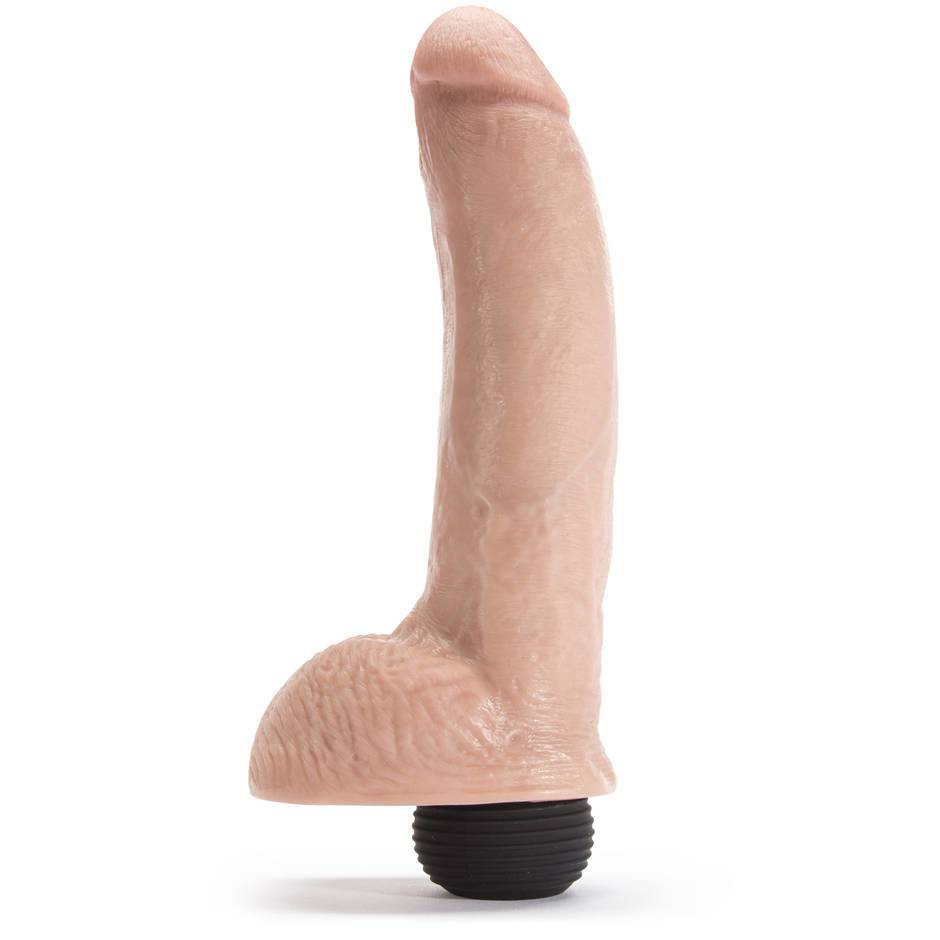 This king cock realistic squirting dildo is un freaking real. No point in naming it king cock if it doesn't meet the expectations. At 7.5 inch fully insertable length this one is for brave souls and the ones willing to give it all. 
It has pink lifelike flesh with balls that feel like the real stuff. It can be used for any type of sexual play with the according lube at hand.
Coming with a 2oz bottle of Jizzle Juice this monster dildo has everything needed for your wildest dreams to come true. With a gorgeous girth and a glorious head, you can hold it by the textured balls and twist and stroke it just the way you like it, before releasing the full load on any part of your body.
The price is a bit steep but definitely worth it.
Where Do I Get Cum Lube From?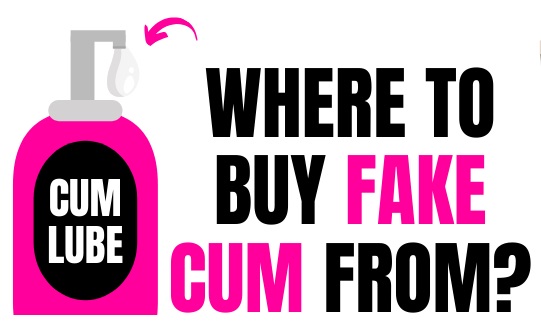 If your ejaculating dildo didn't come with a cum-like fluid, as most of them do, don't worry about a thing.
There is a variety of different cum lubes you can get depending on your preferences and taste.
The one I use comes from LoveHoney (this cum lube) and it is my favorite. This silky Lubricant is perfect for exploring your cum fantasies as well as lubing up your favorite toy. 
It is white in color and a treat for the eyes and has a hybrid formula containing silicone for extra-long gliding. It is odorless and flavorless, condom friendly and compatible with all toys.
Easy to travel with and a mess-free application is possible due to a travel-size pump bottle.
Other Options For Fake Cum
Of course, you don't need to use only one jizz-like fluid all the time. Experimenting with all sorts will give you insight into what works best for you.
Here are some examples of different solutions for your cum fetishes:
This lube feels so realistic, it's pretty stringy and feels so close to real cum.
This one smells like, feels like and looks like real cum. Definitely give it a go!
Another amazing cumlube that I recommend, any of the lubes on this list will do you well.
You can also learn how to make your own fake cum here.
Fun Ways To Use The Ejaculating Dildo
There are many different ways of using an ejaculating dildo and I will list some, but be sure to let me know in the comments below if I missed something.
– With A Strap-On (Risk-free dildo creampies) – whether you want double penetration or you want to do a little pegging on your man, ejaculating dildos will make you smile in the end.
Of course, for any of these things, you will need a good strap-on harness and I have just the thing you need.
This strap on is my go-to and is super-supportive, full-back, fully adjustable and it comes with 3 different O-rings that can be used for all of your favorite dildos. 
Designed to fit up to US dress size 28, adjustable between 25 inches and 68 inches, machine washable, and with a pocket in the harness to slip a vibrator, is there anything else you need?
Threesome Simulating Using The Liberator – this sex toy mount is a bit different from all the other products on the list. Reason? 
It has a cushion underneath that holds your favorite toy in place so you don't have to.
It is sort of a hump that holds the dildo or vibrator upwards for you to just sit on it and rock your world.
It's a soft and supportive structure that will be perfect for your hands-free orgasms. The high-density foam in the cushion is great for both solo and partnered up sexual intercourse in any position you want.
Moisture-resistant non-slip microfiber liner protects the inner cushion from the inevitable bodily fluids that will coat it but fortunately, it is machine washable for easy cleaning.
Ever wanted a threesome but without actually inviting someone in your bed? Then this liberator is perfect for you.
Let your partner control when you cum – just relax and let yourself completely go in the hands of your partner, as he has full control over a squirting dildo that is in your pussy, mouth or even anus.
There is a sea of possibilities when you don't know when or where your next squirt will come.
Have trust in your partner and let go of your doubts and you will have a great time!
I hope you have a good time reading this guide on squirting dildos as much as I am going to have fun riding the one I've been drooling over while writing this. Farewell!

I'm Willow, I'm Brandon's girlfriend and we run this blog together (with the help of some friends). We both have an open relationship and both love being kinky (I mean who doesn't?). I love writing, music and my Womanizer. If you have any questions leave them in the comments.