I am used to writing about topics that are deemed unusual, embarrassing, kinky, etc. It's just part of the job when you decide to tackle sex dolls and other male-oriented sex toys.
But there is significant unease when you mention the word "prostate". Let alone "prostate massagers" or anything that has to do with male anal play.
So let's be grownups and just get this out of the way right now, so we can dive deep into the otherworldly pleasure of prostate orgasms:
Anal. Play. Is. For. Everyone.
If you let go of stupid prejudices, you too can conquer the Olymp of male sexuality. Why? Because it's said that prostate milking leads not only to multiple orgasms but to the most intense ones.
When I say intense, I mean mind-blowing. The ones that make your whole body shake uncontrollably, bring you to the edge of consciousness and you get a glimpse into the way female orgasms take over the entire body.
Today I'll give a crash course to prostate milking, using prostate massagers and show you the best one I've come across.
What Is A Prostate Massager?
A fun history lesson, one from which your health can also benefit:
Massaging your prostate was initially recommended as a way to prevent prostate cancers by doctors. Yep. Actually, it still is!
So, it's kinda funny when Aneros, the company that made prostate massagers in the nineties for health reasons, realized that men use them to achieve sexual gratification.
Prostate massagers are toys designed to stimulate the P-spot (aka the prostate spot, the would-be equivalent of a female G-spot) and some of them vibrate. Further along, I'll present some options that require using your hands, while others are hands-free.
Are Prostate Orgasms Really That Good?
Um, is the sky blue? Yes, prostate orgasms ARE that good.
First of all, the sensations are not the same as the ones you get from penile orgasms. The sheer feeling of ejaculation feels pretty localized most of the time, albeit great. On the other hand, prostate orgasms seem to radiate from deep inside your body and they just take over.
The strongest one leave you quivering from satisfaction, you feel them in your arms and legs, too.
One of the best things about it is multiple orgasms in succession. I was always jealous of the way women come many times in a row. When I truly mastered the art of pleasuring my P-spot, I finally learned to come a few times in succession, with around a 10-second break in between.
FYI, most of these orgasms are without ejaculation, which is okay, since penile orgasms rely on the ejaculation part of orgasming.
The Road To My First Prostate Orgasm
You always remember your first one.
I was never shy about letting my girlfriend play with me a bit down there. But it was just massaging my P-spot from the outside.
Most of you know this, but you just have to apply pressure and massage the perineum, which is the part between your testicles and butthole.
I love our blowjob sessions where my girl wraps her lips around my cock, attentively sucking the head of my member and moving on down, slowly breathing and opening her throat to give way to my throbbing dick. After a while, she speeds up and I feel my orgasm slowly building up.
My lady always senses this, taking a cue from my growing moans. That's when she moves down with her hand, using her finger or two to gently, but firmly massage my perineum. This unmistakably makes me cum more intensely and just brings the experience to a whole other level.
A fair number of guys have experience with this. But what if I told you that even these orgasms were MILD compared to prostate milking?
This revelation hit me as soon as I succeeded in my first PO.
Honestly, I was a little tentative and unsure of what to expect when I started my journey, despite reading about it.
I think it was my uneasiness that stopped me from succeeding the first few times, but still, I had a blast exploring new sensations and the jerk-offs at the end of these first few sessions were definitely stronger than usual.
Not to mention the volume of my ejaculations. Because you see, prostate milking is the process of emptying out the prostate glands, so it's only logical that you come vigorously after stimulating the P-spot.
I'll explain later the technique in detail, but when I finally orgasmed from anal stimulation, it was so worth it.
I used a prostate massager and felt the orgasm build up and radiate from my whole insides. It completely overwhelmed me and I felt like I was going to faint. My whole body became receptive and honestly, I was hesitant to touch myself ANYWHERE for a few minutes after that.
Can't You Just Use Your Fingers?
Well, yes, but I didn't have much success like that. As I've read, seldom other guys do, too. Usually, you can cum like that when it's someone else using their fingers and they are pros in bed. In a way, the situation is similar to women and hitting their G-spot with your fingers. You really need to know what you are doing and the amount of pressure you're applying.
That's why prostate massagers are a godsend.
The Best Prostate Massager Ever Made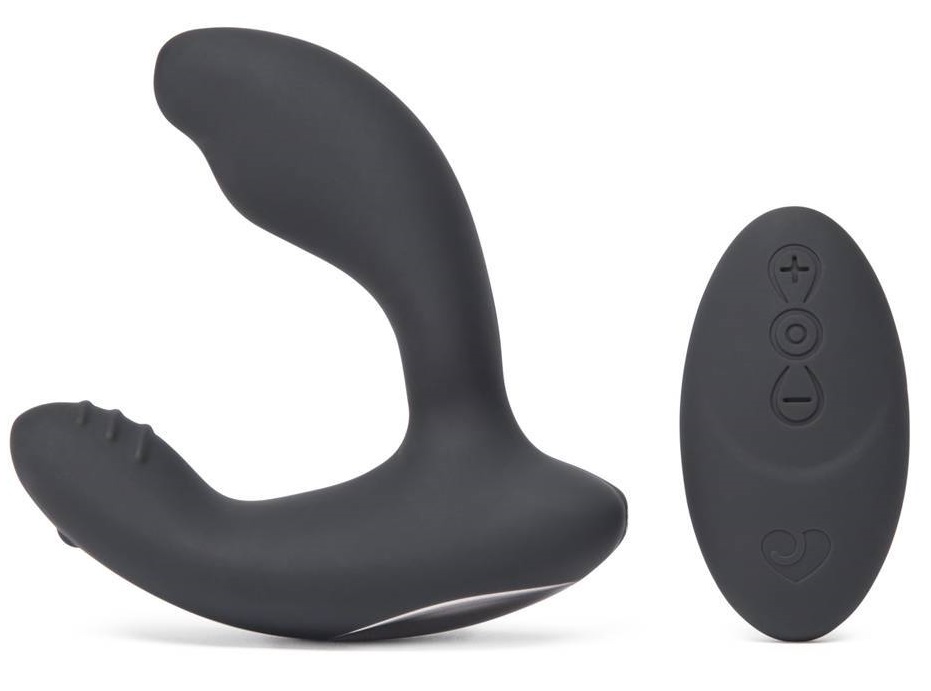 In my humble opinion, this prostate massager is the best in the category. 
I've used it myself and brought it to bed with my girlfriend. It just gives me so many options and intensities of pleasure, thanks to its 8 modes and 12 intensity levels.
The first time I let my missus use an anal toy on me was exactly this one. Thankfully, unlike the first time using it by myself, I was completely relaxed with her.
This just goes to show yet again that you should use gadgets like these with people you're comfortable with and don't have to hold back. It's the only way to maximize the experience, I think.
Anyway, we wanted prolonged foreplay before we got to the jackpot, for the sheer horniness and for the fact that it would enlarge my prostate gland. So we started out slow, kissing while she grinded slowly on me on the couch.
I flipped her on her back and started making my way down, breathing into her neck and licking it lightly. I felt my girl shiver with anticipation as I continued downwards. As I got to her gently spread legs, I teased her over already soaked panties.
I took in her scent hornily, after a short while removed this obstacle to reveal her soft pussy glistening in those heavenly juices and buried my face eagerly in this favorite place of mine. It didn't take her long to start moaning my name, grabbing my hair, her chest lifting up quickly. I felt her orgasm in waves as it washed over her body. Spent, but still horny, she lifted herself up for a steamy kiss, happily getting a taste of her own pussy from my lips. So, it was time.
I got up and got the prostate massager, the remote and lube. I positioned myself sideways and slipped it in carefully after lubing up thoroughly. Feeling it in the right place, I gave my lady the sign and she kneeled in front of me, the remote in her hand.
Turning it on, she started sucking my cock me while I was losing my mind from the countless sensations. Changing the vibrations a few times, she just brought me more to the edge until I came with the intensity I rarely achieve.
What makes this prostate massager so damn good?
As the name suggests, it is rechargeable, and easily so! It's up and running in just 2 hours
It's compact and has a travel lock, so rest assured you'll be safe while traveling
Again, 8 vibration modes and EACH has 12 custom speeds of intensity? Yes, please.
The slightly wider tip really does things for me, I love the feel of it, as well as the general L shape
The remote has an 8-meter range! I can see my gf having fun with this.
Bonus: it's eco-friendly thanks to it being USB rechargeable
The Other Prostate Sex Toys You Gotta Try
Before I started writing this, I came to terms with the fact that most of you are butthole virgins and queasy about this subject. Not after this article, I hope! Anyways, that's why I'm starting with a beginner option.
Beginner & Budget Friendly
This ribbed prostate massager is a fun plaything that brought me pleasure for just 30 bucks. I definitely appreciate the easy entry it grants, along with the awesome sensations from the ribbed and curved shape. It has multiple patterns and speeds and even my girlfriend can attest that it brings pleasure, if you catch my drift.
Nexus Revo (One Of The Most Famous Massagers)
This one is in the Hall of Fame of prostate massagers. It has 34 sensational combinations for pleasure and I still didn't get the chance to try them all out. But so far, perfect!
One of the ultimate selling points of this baby is the rotating head which had my head spinning, too! I was a bit overwhelmed with all the speeds, directions, and vibrations when I first used it, but I just decided to kick back and enjoy, so now I'm looking forward to each session with the Nexus Revo, cause I know it will bring a new intense feeling!
Aneros Helix (Non Vibrating)
If vibrations are not your jam, this Aneros massager is something you need to try out. Aneros has a lot of fans and they vouch for it online. I haven't tried it myself, but I'm looking forward to your feedback!
What caught my eye while reading about it is the quality of the design and shape that helps achieve the PO along with the natural clenching of the muscles. And all of that hands-free!
The Luxurious Lelo Hugo
Another favorite of mine is the Lelo Hugo. Pricey, but worth it. I love the SenseMotion remote, it got me hooked instantly. The thing is, it follows your hand movements and personalizes the whole experience. This showed to be especially fun during sex with my girl.
I also love to have this in me while we're doing it since the smaller size makes it convenient. When I use it alone, I especially appreciate the "curved external tip" that stimulates my perineum.
How To Milk Your Prostate & Use A Prostate Massager
Now let's cover the steps, so you can go and have fun yourself.
Finding The Perfect Lube
You gotta lube up. If I tell you to do so for fleshlights and similar gadgets, this is even more important. You want to have the most pleasurable experience possible.
This is the only lube I use for anal toys because I like my butthole lube a specific way – thick and without a strong smell. The Sliquid lube is just that and a little goes a long way, so it will last quite a while.
I also did this whole guide on finding the perfect anal lube (it's a must-read).
Picking The Perfect Prostate Toy
I would recommend the beginner option mentioned earlier in the article. After you figure out the kinks of anal play and feel more comfortable, you can move on to some of the prostate toys I also described.
You could try a butt plug to warm up: The Slimline Butt Plug is specially designed for beginners. Comfortable and small, I bought it for my girl to wear while in bed and she can confirm it's enjoyable! You can also use this guide to find the perfect size butt plug and learn how to use it.
Cleaning method, aka The "Dreaded" Anal Douche
Most people are taken aback by the idea of anal play because of the mess they think it's gonna create. It doesn't have to be that way, especially because we're all different in terms of our diet and general being.
So, in preparing for anal play, do see that you eat mainly food with a lot of fiber that day, including fruits and vegetables, and stay away from sweets, snacks, and similar heavy food.
Then move to douching. I use this one, just like thousands of other people.
It should be filled with water (mild-temperature, because hot water can do damage do you and the material of the douche)
Sit in the shower
Point it at ya hole and squirt the water inside.
Important: expel the water after a few seconds most, because leaving in longer than 5 seconds inside can lead to an enema
Do this a few times, until you use up the water in the douche
Shower
Starting Slow (Warm-Up Method)
Everyone has their methods to relax. Mine was taking a blindfold, so I am fully concentrated on the palpable sensations.
Here are some other tips:
Don't jerk off for at least five days, so your gland becomes enlarged and easier to find
If it's your first time, try doing it on a more relaxing day, maybe a weekend
When you're set to play with yourself, watch a bit of porn without touching yourself
Prepare lube
Mind your breathing
Be patient! Sometimes these things take up a year, but it's still a pleasurable road getting there
Prostate Milking Positions
Just like in sex, everyone has a favorite.
Laying on your back, with a pillow underneath the back, legs spread (my favorite)
Kneeling
Doggy style
Fetal position, aka lying on the side
Position yourself against the wall and squatting
Laying on your back again, but with legs in the air and pressed against the wall
Techniques For Using The Prostate Massager
Remember, all of these techniques require lubing up and first inserting your finger and playing around for a few minutes to loosen up:
Vibrating prostate massager
It's one of my favorite ways to go, although I do see that I don't overuse the vibrating feature since I've read that the very same vibrations cause you to feel less sensations over time. I start from weaker intensities and work my way to the bigger ones. I often touch myself while I do this.
These are usually for people on higher levels, because getting accustomed to using this takes some practice since you have to be quite in control of your body and muscles. But the reward is definitely the most intense orgasms. Also, Aneros is the only company that makes medically patented prostate massagers, so they know their business. You can use Aneros in multiple ways:
This method requires you to force your anus muscles to spasm for a few minutes, which leads to them spasming involuntarily. When they start doing so, continue contracting, but more gently. If you relax and do it right, it will lead to an orgasm.
This technique is for advanced prostate milkers who know how to relax, meditate and let go with the toy in their ass. They breathe slowly, touch other parts of their body and have the sensations wash over them, as breathing alone makes the toy move. It's a method that relies on mindfulness and meditation, so it requires time and patience.
Benefits Of Massaging Your Prostate
I've mentioned above that Aneros started producing massagers for medical reasons. Why is milking your prostate good for your body?
Massaging your prostate can reduce the risk of prostate cancer because the tumor will have difficulties to grow if the gland is being moved around often
Erectile dysfunction can be helped with adding anal play and it can stimulate the libido.
On the subject of ejaculations, some guys have painful ones. If this is you, check with your doctor, but maybe your fluid system has a blockage. Milking may help the passing of semen
If you have difficulty peeing, one of the solutions may be massaging the prostate, so it can relax and let urine flow better.
I'm Brandon, I'm one of the main writers and owners of ewsingles (the other being my girlfriend (Willow). My girlfriend and I have an open relationship and share our passion for sex toys, sex and dating.