It's always exciting when you're shopping for new sex toys and items you'll be using either for your own pleasure or with a partner. I know I get a kick of confidence whenever I'm trying on something lacy and alluring because it makes me feel good and eager to see my boyfriend's reaction when I put it on for him.
However, for you, it may not be about the new and shiny, never-before-used things. Quite the opposite, you might be a fan of dirty or used panties, of slightly smelly socks, and sex toys that have already been places.
Nothing to be ashamed of. We all have our kinks and fetishes, and we all deserve to explore them as much as it's sanely possible.
If you're a fan of used clothes and sex objects, you'll be glad to know that there are loads of websites out there dedicated to selling them. That's right, you are not alone, and there is an entire market dedicated to meeting the needs of people who have the same fetish as you!
So grab a drink, sit back in your favorite chair, and read on to find out where you can get your hands on used sex items!
Types Of Used Items You Can Buy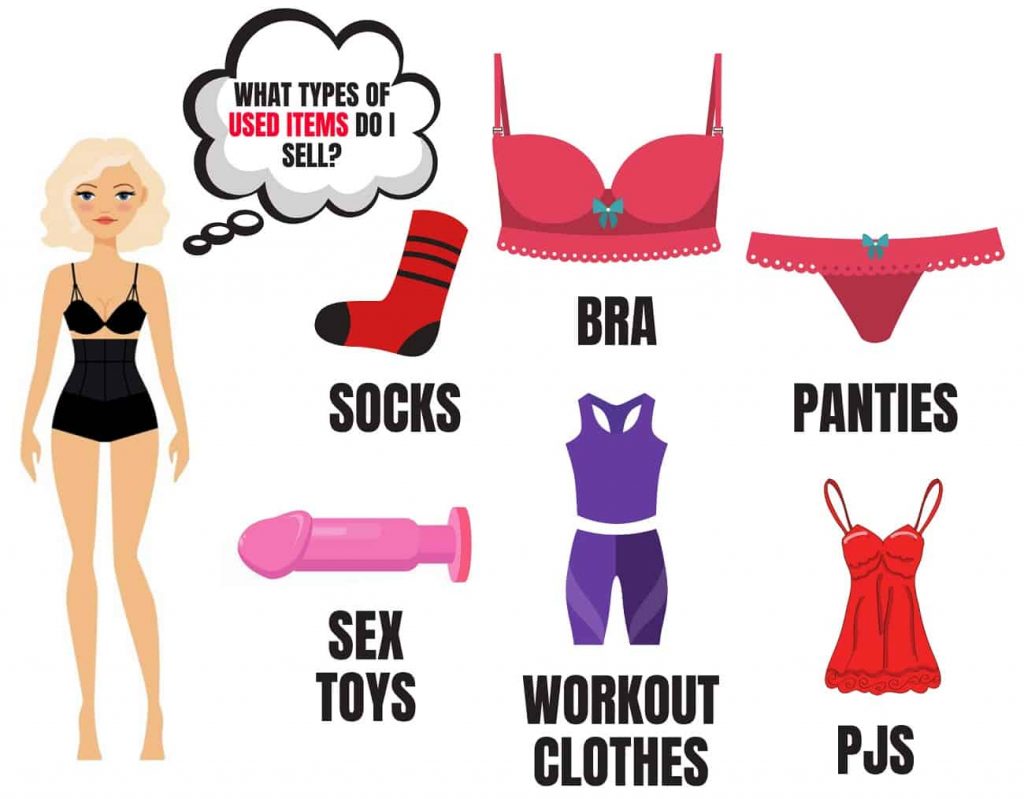 It isn't just about the panties and the sex toys. Depending on the specificity of your fetish, there is an entire range of used objects and articles of clothing you can buy. No matter what turns you on, you're bound to find it online sooner or later. Here are some of the items you can get, in no particular order:
Panties
Used panties are the number one seller, and if you're someone who enjoys the knowledge that a girl was wearing them and hadn't washed them before they fell into your hands, then you're in luck.
Socks (for foot fetishists)
I personally don't have a foot fetish, but I have heard from those who have that it is often about the smell of the feet as well. And there's nothing like a used sock to invoke that smell when you need it.
Bras
Perhaps bras may not leave as much of an impression as panties, but you can also find some that have been worn and not washed, if you're turned on by the fact that an ample pair of breasts was in the bra beforehand.
Lingerie sets
If I were ever to sell anything of mine that's been used and for the purpose of other people's kinks, it would definitely be lingerie sets. Racy, silky underwear flowing under your fingertips, having been worn by a sexy woman not too long ago… Heaven.
Roleplay Outfit
You might see a few people selling roleplay outfits, like nurses, french maids, sexy secretaries, and even the occasional slutty superhero custome.
Workout outfits
Whether they are sports bras or hot yoga pants, you can find used workout outfits in any type of combination. These pieces of clothing are not inherently sexy, but if they speak to your kink, there is no reason why you shouldn't get them.
Pajamas
Thick flannel pajamas or skimpy satin ones or a sexy see-through nightgown… There are no limits when it comes to the type of used nightwear you may run into when you're browsing for previously worn clothing. Seize the opportunity!
Pantyhose and Stockings
I may not be a used pantyhose enthusiast, but god do I appreciate a sexy stocking or pantyhose in the bedroom. I love the tightness, the restriction, I love the feeling of it on my skin, and with used items like these, you're gonna love it too.
Accessories (dildos, vibrators, etc)
Aside from panties, used sex toys of all kinds are also insanely popular. Dildos, vibrators, butt plugs, anal beads, chances are that you will find any sort of used sex toy you can possibly think of for sale.
A handwritten note
It is not out of the ordinary for the seller to include a cute and sexy handwritten note in your package once you purchase an item from them. After all, this is a business, and they would like you to become a repeat customer. I love the thoughtfulness that goes into this!
Where To Buy Used/Dirty Panties, Socks And Sex Accessories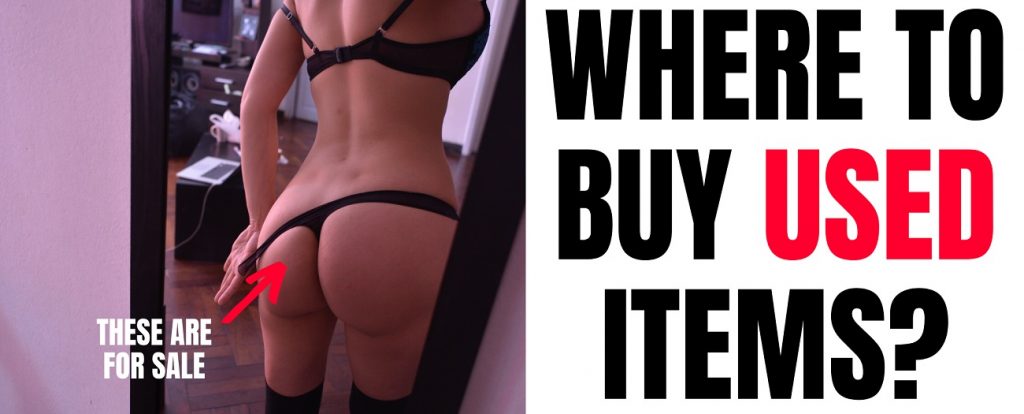 Now that we have established what you can buy, it's time to direct you to the places where you can buy it. These are mostly geared towards used panties, socks, and sex toys, but with a little bit of digging, I'm sure you will also find other things I've mentioned. (I'd always start with Reddit because that platform is a sex paradise no matter what your kinks are.) Let's get into it!
SofiaGray (#1 Place)
My favorite place to look for used panties is Sofia Gray or Sofiagray.com. It is one of the most trusted and most successful websites of its type, and I'd definitely always first start looking here before I branch out. The site is sleek and modern, easy to use, and it does a great job of meeting your needs.
On Sofia Gray, your shopping is completely anonymous. You get the advantage of talking to the sellers directly, of accessing their private gallery with enticing pictures of them wearing the panties you're looking to buy, and you can even make custom orders if you so desire! Sofia Gray is a wonderfully reliable shop for used-panties fans.
Reddit (#2 Place)
I wasn't kidding when I said that you should check out Reddit. If you have a relatively rare kink, are a fan of amateur porn or would like to meet people for casual hook-ups, then you're greatly missing out by not joining this platform. Make a free account and access hundreds, if not thousands of communities devoted to all corners of sexy activities.
So it is no wonder that you will find great sources for used panties and other sex items on Reddit, as well. These communities are open and welcoming, and they are a wonderful place for you to meet like-minded people and purchase what you want. Here are some subreddits you need to take a look at:
r/Sexsells
Sexsells is dedicated to all sorts of posts, from attractive ladies selling used panties and sex objects to hot babes offering to make custom porn videos and to sext with you all day. I have a bit of an issue with how many other types of offers this subreddit has, compared to ads for selling used items, but you might still find something that is right up your alley.
r/usedpanties
Now here is a place more dedicated to selling used panties, as its name suggests. The pictures you will find here will instantly make you want to get in touch with the seller because some of them are outrageously kinky. Keep in mind the rules of the subreddit, and you should have a blast browsing through all the items on sale.
r/ThePantyDrawer
While The Panty Drawer is dedicated only to selling panties, often you will find package offers, where the sellers include videos of how the panties got dirty, pictures of them wearing the panties, and even handwritten notes for that special personal touch! Love the vast selection here.
r/Panties4Sale
From young and tight girls to pregnant ladies to BBW MILFs, Panties4Sale welcomes all types of sellers from all corners of the world. You will also find package deals here, with pictures and videos and handwritten notes and, of course, used panties, and I can tell you that scrolling through them is an experience on its own.
UsedPanties.com
Not as aesthetically pleasing as Sofia Gray, Used Panties is still a solid place where you can find all types of items. Panties, bras, hosiery, even some less popular objects such as hair scrunchies, used training sneakers, sandals and shoes of different designs, and so much more. Some sellers even offer their private sexy Snapchats for a certain price.

One thing I mind about Used Panties is that the site is not as optimized as I would've liked it to be; some pictures are either too low in quality or take too long to load. However, you can still get in touch with the seller directly and ask for more pics or for a live demonstration of them wearing the panties before you buy them, just to make sure.
Panty Deal
At first glance, you might mistake Panty Deal for a business website of some kind, perhaps of a consulting firm or a financial company. I am a fan of the sleek design, but it may not be sexy to everyone. Nevertheless, Panty Deal boasts over one million members, both buyers and sellers, who are looking for those best panty offers.

This site provides you with not only used panties but also worn clothes in general. You can enjoy private photo sets of the sellers, video clips, Skype calls, and so much more. I love the way users can be ranked according to their engagement and popularity, which makes it easy for you to find the best deals.
Kinkie (for people in the UK)
If you're based in the United Kingdom and don't appreciate the shipping prices of some US-centered sites, you'll be pleased to know that there is a special marketplace just for you too. On Kinkie, you will find panties, hosiery, sex toys, and various other accessories such as shoes and sandals.
The site even has a selection of items worn by men and transgender people so you can feel right at home if that's your thing. Kinkie is easy to navigate and it shouldn't take too long before you're ready for your first purchase. If you wish for some additional naughty material, check out their collections of pictures and videos for the buyers.
Snifffr.com
With such an original name, Snifffr is the fastest-growing used panties online business. It offers many of the same features as other websites, such as direct contact between the buyer and the seller, no hidden fees, and guaranteed anonymity for the buyers, which makes it a secure place to shop at.
The selection on Snifffr may not be as big as that on other sites since they are still fighting their way through the market, but it's worth visiting. You never know when you might stumble on a seller who checks all of your boxes and who will graciously offer you a pick of their underwear collection. So if you need some fresh content, give Snifffr a go!
Why Do People Love Used Sexy Items?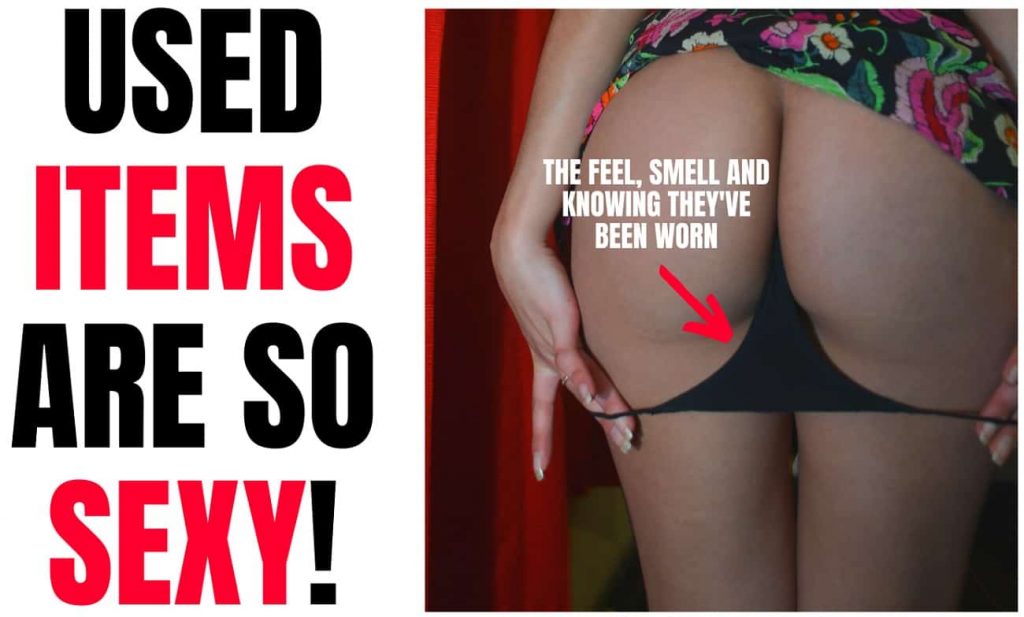 Playing with, sniffing, masturbating with, or even simply having used sex items is a fetish like any other. You don't need to understand it completely to know there are people out there who get off on used panties, just as there are people who get off on watching interracial porn or BDSM scenes or any of the thousands and thousands of fetishes that exist out there.
While I can't say that this is my fetish per se, I did purchase a pair of panties or two from these sites, just to try them out. And as far as kinks go, this is a pretty tame one, so people should enjoy it as much as they can!
Do I Sell My Own Used Panties/Socks?
The thought did cross my mind, I have to admit. I never tried this, but looking at all the plump booties and creamed panties online, it made me think that maybe someone would enjoy having my own panties or perhaps hosiery or socks in their collection. I am an adventurous and open type of person, and I feel like this is something that I would like to explore.
What do you think?
Let me know in the comments if you would be interested in my used lingerie, and I might even put up a few things for sale!
How To Sell Your Own Used Panties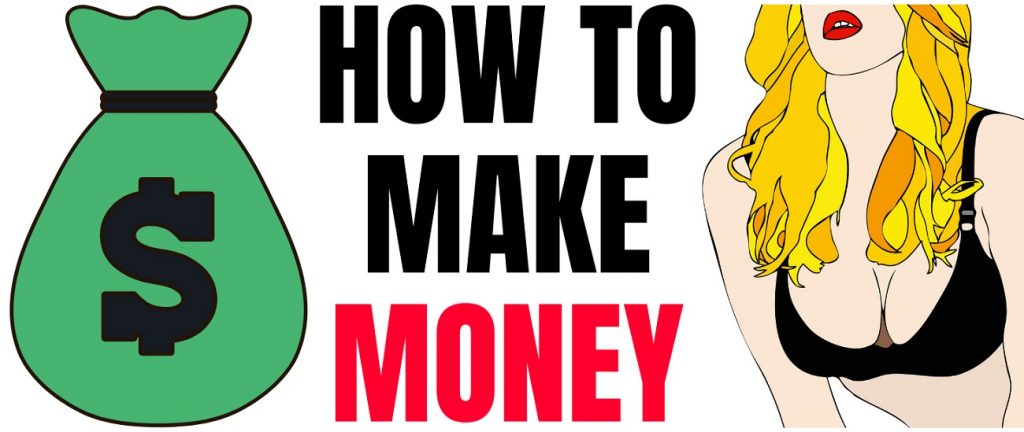 If you're looking to become a seller, then there are some things you should know before you begin your journey. These are the steps that I will take in case I do decide to sell my sexy things. I've tried to condense them into neat little bullet points so that you can follow along more easily.
Choose a site (or more)
The first thing you need to do is pick out a website you'll be a seller on. This can be one or several websites since nothing should prevent you from making offers on multiple places at once. (Make sure to read the site's Terms and Conditions to check if they say anything about exclusivity.)
Read up on the commission the site is charging their sellers, if any. Sofia Gray famously doesn't take any money from the purchases of its sellers, so that site is definitely a good place to start. Inform yourself as best as you can, so there are no unpleasant surprises later!
Sign up to the site(s)
This is a somewhat obvious step, but the next thing you have to do is sign up to your chosen websites. You don't have to use your real name or reveal your face in the profile picture. In fact, I'd argue that it's best that you don't. Buyers like to preserve their anonymity, but it is also safer for sellers if they don't reveal too much of their personal information.

Sign up to the site, set up your profile in a way that makes you sound like a cool, kinky, sexy person that you are, and you're almost set!
Approve yourself
Buyers tend to distrust sellers who are not verified in some way.
Find what the website requires you to do so that you can get verified, then do it! If you are approved, that means that buyers will know you are a real person and who you say you are, and they will be more inclined to purchase from you.
No matter the site that you're using, whether that's a used panties marketplace or Reddit, get verified on all of the ones you want to sell used sex items on.
Buy bulk panties/socks/gym wear
It may be tempting to instantly go for the expensive, silky, lacy, extravagant panties that make your ass look great and that will make a couple of jaws drop. I know that would be my first instinct.
However, as you're first establishing yourself, perhaps it's better to be smart about your investments. Remember that the more money you spend on your lingerie, the more you will have to charge for the item in question. Some buyers may not be willing to spend so much on used panties.
This is why you should turn away from Victoria Secret for the time being and focus on bulk buying a few items. These can still look cute and sexy, of course, and you will have an easier way of setting up shop without dipping into your budget too much before you actually start earning money.
Include selfies of you wearing the used item
If you want to be professional and forthcoming in your used-panties-selling business, you need to provide some type of proof that you did, indeed, wear the panties. (Barring actual marks on the material itself.)
It is common practice to provide selfies of you wearing the panties you're selling. Again, you don't have to include your face but do play around with the angles. Make them hot, provocative, showing off your best assets, and the buyers will come flocking to you.
You can even print out a hardcopy of the pictures and send them to your buyer with a sweet handwritten note. They will appreciate the gesture and will likely come back to you in the future.
Focus on Reddit and Twitter
In this day and age, digital marketing is everything. This is true for doctors, lawyers, dieticians, hairstylists, influencers, software developers, right down to porn stars, OnlyFans and cam site models and, why not, sellers of used sexy items. 
To promote your sales and increase your revenue, create accounts on Reddit and Twitter and advertise your items here. Follow others within the community, both sellers and buyers, if they share their social media accounts, and interact! Building relationships and strengthening bonds will bring more people to your shop and will make your business thrive!
Include special deals
Once you're more secure in your role, you can start offering special discounts and package deals. These can include more private photos, custom-made videos, even Skype calls if you're not afraid of potential exposure. If you think you have something more to offer that will encourage other people to buy from you, don't hesitate to make it happen!
Look for other sellers who are in the same trade as you and take inspiration. Reddit is the best place to look at what others are doing and consider including that in your own marketing methods.
How to Stay Safe On Sites Like These
It goes without saying that you want to protect your identity and your personal and credit card information in transactions like these. Whether you're a buyer or a seller, there are a few things you should keep in mind to be as safe as possible when you're online. Here are the most important ones:
Never give out your real name, exact address or even profession
If you're sharing pictures of yourself, hide your face
If you have any distinct tattoos, birthmarks or scars, conceal them
Arrange videos and video calls so that your face is not as visible
Be wary of leaving your credit card information on random sites
My boyfriend and I guarantee the safety and security only of the sites mentioned on the list above, as we have tried them ourselves and never had any issues. However, be vigilant when you're surfing the web. The online porn industry, in general, is all too eager to take people's money without giving anything in return. Carefully go through the forms you're filling out and pay special attention to potential footnotes or fine print.
Conclusion
All that being said, thank you so much for reading this lengthy review! I hope you've found what you were looking for and that you're excited to start buying used sex items as soon as possible. Please let me know in the comments whether you were successful and whether or not you would be interested in buying something from me personally. I'm looking forward to hearing from you!


I'm Willow, I'm Brandon's girlfriend and we run this blog together (with the help of some friends). We both have an open relationship and both love being kinky (I mean who doesn't?). I love writing, music and my Womanizer. If you have any questions leave them in the comments.