Being a hotwife isn't easy. There are emotions to contend with, new people to meet, lots of sex to have and of course, the right look is essential and so many of us get it so wrong.
My boyfriend and I have a semi-open relationship, we enjoy threesomes and he shares me with other men (and women!) and I find the right outfit or lingerie is essential to making me feel good and giving me confidence sometimes when I really need it.
For hotwives, having the right outfit is as important as having the right dress for an important event or the right shoes with a suit. However, today is the day I share with you my ultimate guide on dressing like the sexiest, most confident, and most incredible hotwife out there.
How To Dress As A Hotwife

Becoming a hotwife is sometimes the easiest part, going to wild sex parties, raunchy sex clubs, meeting handsome solo dates, and having erotic threesomes. It's all amazing and life-changing, yet if you don't feel good in what you're wearing, you won't feel complete as a hotwife.
Wear What Makes You Feel Sexy: My number one piece of advice is you don't have to dress like everyone else (unless you are going to a sex party or club with a dress code), so make sure you wear what makes you feel good and sexy, but something that you are comfortable in too.
Make a fun day of going shopping with your husband: I like to have my man pick things out for me to wear with potential new dates, he will pick my lingerie and my sexy dresses and it's a whole experience for us both. He knows another man will be peeling the clothes he buys off of me and that makes everything I buy even hotter.
Heels Complement Everything: Heels make an outfit go from a 5 to a 10. They elongate your legs, they look super sexy and they really complete the hotwife 'look'. Of course, you will be kicking them off as soon as you get down to business but they look nice when you're just enjoying the calm before the storm.
Now you have the basics, let's move on to the actual outfits below I am going to show you my favorite outfits to wear, no matter what kind of hotwife you are.
My Favorite Hotwife Outfits

I wanted to include all of my favorite outfits (lingerie is further on below) and then a few wildcards for those of you who like something a little out of the ordinary. I hope you like my outfits, feeling sexy and confident is so important as a hotwife, it really has an effect on your performance and mindset and I really hope you like what I have picked for you beautiful people!
#1. White Mini Dress: This dress also comes in red and black, it's figure-hugging, it slims your waist, it makes your legs look longer and it's ideal for sex clubs, parties, or just kinky sex. I love this dress, it washes so well and for me, the white version makes me feel like an exotic island princess. It's a beautiful fit and when you take a spin, everyone is always floored by the seemingly discreet fishnet open back.
#2. Fierce Leather-Look Basque Set::If you want to stop the show, this leather-look piece is jaw-dropping. It's intense, it's sexy, it's seductive and it looks incredible on anybody. The corset gives you a smooth and irresistible silhouette and the leather look is impossible to ignore, it dominates the room and keeps all eyes where they should be, on you.
#3. Criss-Cross Kong-Sleeve Mini Dress – The stretchy material weaves with your figure, the deep v-neck draws all eyes onto your cleavage and the long-sleeved arms give a sense of discreetness to your otherwise sheer outfit. This dress captivates your body and smooths out any lumps or bumps, it gives you a smooth finish, and although it's sheer, it does give you a decent amount of faux modesty due to its length.
#4. Seduce Me, Push-Up Dress – This dress is a one-of-a-kind type of piece, from the front the lace panels add a beautiful and sexy detail, along with the push-up cups which make your breasts look amazing, and once you spin around the 9.5-inch slit gives a nice peek of your rear without you having to remove a thing. Wear it with panties or without and enjoy easy access in a beautiful gown.
#5. Pink Lipstick Bra and Skirt Set – Simple yet effective are words I would use to describe this set, it's sparkly, it's flattering and it makes your cleavage looks incredible. It can be worn in clubs, at parties, at events, or just during casual meets. Under the light, you will sparkle and yet still leave something to the imagination as this cute set is peeled from your body.
#6. Simple LBD – This is a simple little black dress, except for its, of course, hotwife style. It comes in red or black, it's florally, stretchy, sheer, lacey, and flattering on any figure. Wear it easily under clothes, wear it with or without lingerie, and enjoy being covered up and yet showing everything. This is a super popular dress amongst the hotwife community and it's not hard to see why.
Hotwife Lingerie That Looks Amazing
Now that you have feasted upon my outfits, it's time for my lingerie sets. These sets are beautiful and I am so excited to share them with my like-minded jaw-dropping ladies.
#1. White Crotchless Lace Spaghetti Strap Teddy – White and lacey to keep you cool, made with a crotchless feature so that you can keep your pretty bodysuit on as you flirt and play. This bodysuit can be worn under clothes, as a top, or as a stand-alone piece, however, if you wear it, you will look amazing, with long legs and a stretchy material that fits effortlessly around you.
#2. Boudoir Belle Cherry Quarter Cup Bra Set – Flirty, chic, and burlesque-inspired, this lingerie set looks way more expensive than it actually is. It's classy, soft, figure-hugging, and pretty unique too. It's crotchless too so you don't even need to take it off when things get heated.

#3. Rene Rofe Red Plunge Heart-Back Teddy – I have this in red but it is also available in black if that's more your style. This lingerie piece fits like a glove, with its deep v-neck for ultimate cleavage appreciation and a heart-shaped buttocks cut-out on the rear, you leave little but oh so much to the imagination with this cute and simply flirty piece.
#4. Fierce Tough Love Wet Look Studded Open-Cup Teddy – With a wet look and bold tough appearance, this lingerie piece isn't for the faint-hearted. It gives the wearer an intense look that has everyone on their knees. Silver bondage-inspired studs, a high-flattering leg, and open cups make for an evening of arousing exploration.
#5. Treasure Me Red Push-Up Basque Set – One of my favorite pieces is this pretty set. It comes in three different colors, you can wear it as a stand-alone lingerie piece or under clothes, and every time I wear it I am showered with compliments. It's easy to get on and off, it's flattering and it makes your ass look irresistible.
#6. Late Night Liaison Blue Crotchless Lace Teddy – A classic hotwife look that wows the wearer and its admirers. With a useful open crotch, lace detailing, and flattering material, this teddy can be easily worn under clothes for a delightful surprise or just enjoy the amazing fit as a stand-alone piece.
#7. Exposed Crotchless Open Cup Mesh Teddy – When I bought this the blue color wasn't available, I have it in black but now I can't stop thinking about the blue version. Although this is a small piece, the paneling really flatters the stomach, and thanks to the crotchless and cupless design you can enjoy all of the fun without ever having to take off your pretty piece.
Traditional Hotwife Outfit
If you want to keep things traditional, this is the ultimate hotwife outfit. Put together they make an outfit that looks like it has just waltzed off of a porno set. You can set tails wagging in this lingerie fit and enjoy the attention.
These stockings: These stockings come in four different sexy colors to suit anyone's needs, they are classic, and traditional and look insane with literally any lingerie piece you choose.
With these:
Panties and bra: This set gives you a vintage look thanks to the high-waist panties and detachable garter straps. It's a gorgeous piece that looks incredible paired with the stockings above, it's elegant, sexy, and a real show-stopper.
Accessories That Show You Are A Hotwife

Accessories can be just as important as the outfit when at sex clubs, special events, or even just out and about, they let others know your status, your power, and what you're looking for. They are like a signal for the like-minded to know what you're into whilst still being discreet.
Hotwife Anklets And Jewlery:
A hotwife piece of jewelry is one of the most common ways to spot a hotwife. These are seemingly innocent pieces of jewelry that let others know what you are into. They are always pretty and look gorgeous and once you know about the hotwife accessories, you will never stop looking at people's jewelry and searching for those like us in the wild!
Hotwife Necklace:
If necklaces are more your thing, these are going to be perfect for you to show off your desires. Necklaces are less subtle than bracelets or anklets as your eyes are instantly drawn towards them so for the less discreet, these necklaces are going to love you.
Customize your necklace: If you prefer to be called 'mistress', or 'slut' or even just simple 'hotwife', this necklace is able to be customized to your favorite name. It's so pretty and looks divine as it hangs across your neck.
Custom Choker: Sometimes a necklace isn't enough and a bondage-style choker is required. This choker is far from discreet, it's in your face, and it's so sexy. You can choose any word, up to 8 letters, and have fun with your new choker name tag. Some of my favorite words to use on a necklace are, slut, cum here, hotwife, vixen, whore, cock, cum dump, cuck, cute, slap me, choke me, taste me, QOS, blacked, etc.
Fake QOS Tattoos:
Another really common way to spot a hotwife and show people you are a hotwife is fake tattoos. Most people don't want to commit to a permanent feature but by using fake tattoos and stickers you can show off your desires and wash them off the very next day.
This QOS tattoo, is affordable, it's cute, it says exactly what you need it to and it washes off really easily. I love the subtlety of this fake tattoo and the fact you can place it anywhere for anyone you want to see.
This QOS tattoo, is affordable, it's cute, it says exactly what you need it to and it washes off really easily. I love the subtlety of this fake tattoo and the fact you can place it anywhere for anyone you want to see.
Queen of Spades Options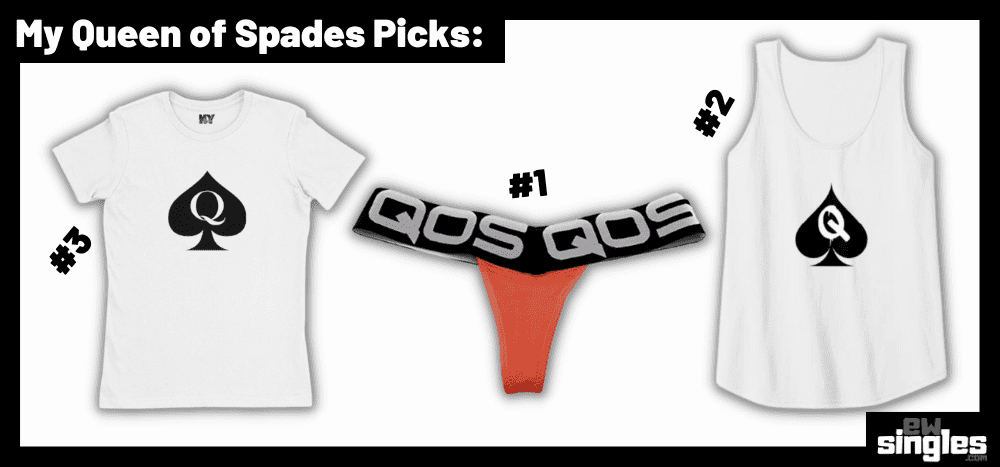 If you're a queen of spades lover, these are some of my favorite clothing options. It can be difficult to find non-gimmicky options for those with a spade preference but I have included my favorites for you to enjoy.
#1. Lingerie: These are my favorite QOS branded panties. They are silky, soft, and tight-fitting, and brandishing a cute Brazilian thong back that looks divine when you're walking around or under clothes for a cheeky surprise.
#2. Cute Shirt: Cute, goes with anything, flirty and straight to the point, this shirt comes in a variety of colors and can be dressed up with a tight skirt and heels or down with a tight pair of shorts and flats. It doesn't compromise on design and is super affordable for any QoS.
#3. Sexy Shirt: Slutty, modern, and easily dressed up or down, this qos shirt lets everyone know what you want and how you want it without you even having to say a word.
Other Wording That Shows You're Open To Play

If you didn't quite find what you were looking for, there are other words and phrases to look for that let others know what you're into. You can get these custom printed on T-shirts, panties, and other clothing items and accessories. These are some of the most popular:
Hotwife
Slut wife
Slut in training
Vixen
QOS (Queen of Spades)
Male symbol, Female symbol, male symbol.
A lock and key
BBC
Ask Me, I Might…
Shared Wife
Upside down Pineapple
Big Cock Only
My Husband Likes To Watch
My husband won't mind…
I <3 BBC
I <3 Big Cock
BBC Queen
If you have anything to add or have any questions feel free to leave your comments in the box below!

I'm Willow, I'm Brandon's girlfriend and we run this blog together (with the help of some friends). We both have an open relationship and both love being kinky (I mean who doesn't?). I love writing, music and my Womanizer. If you have any questions leave them in the comments.