Squirting orgasms are no joke, they are intense, leave your sheets soaked and are as hot as hell. The first time I had a squirting orgasm I had no idea it was going to happen, I was told you would know instantly when it was going to erupt but I didn't know it was going to happen until it did.
Another thing with squirting orgasms is that they can be very difficult to achieve, some women go their whole lives without discovering them but with the help of a sex toy, I believe any woman can do it.
What Is Squirting and can anyone have a squirting orgasm?
I just want to clear some things up before I begin, there are people out there who don't believe squirting orgasms are a real thing and a woman with a real-life vagina and as a woman who has experimented, known and enjoyed many women I can assure that squirting orgasms are real, it's not peeing its cum, it's female juice.
Squirting occurs when the g-spot inside of a woman's vagina has been stimulated enough to make her 'squirt' during her orgasm.
I do believe that most women can have a squirting orgasm they just don't know how to do it. It's not rocket science, it's your body and even if you have never had a squirting orgasm before it is possible if you are hitting the right spot.
How To Find Your G-Spot?
Your G-spot might seem tricky to find but it's not, you can reach it with your fingers but it's easier to use something like a dildo. Once you slip the dildo inside of your vagina your dildo will find your g-spot and begin stimulating it for you.
You aren't going to cum instantly when stimulating your g-spot, you have to persevere and keep stimulating it with your dildo, think of your g-spot as a button that the more you press it the more the pressure builds and the more your orgasm builds along with it.
Why having a g-spot vibrator makes squirting SO MUCH easier?
Using a g-spot vibrator means your g-spot is stimulated directly, the dildo pushing up against it without you having to get tired using your fingers, the added vibrations adds a new kind of stimulation and makes it even easier to cum with the increased sensations.
Combining direct thrusting stimulation with intense vibrations is a match made in heaven, your orgasm feels like it erupts from within and if you have never tried g-spot stimulation before the new sensations are an absolute pleasure.
Another thing to mention is that these vibrations are resting up against your clitoris so you can enjoy clitoral and g-spot orgasms combined, which is always my favorite way to squirt.
The Best G-Spot Vibrator I've Ever Played With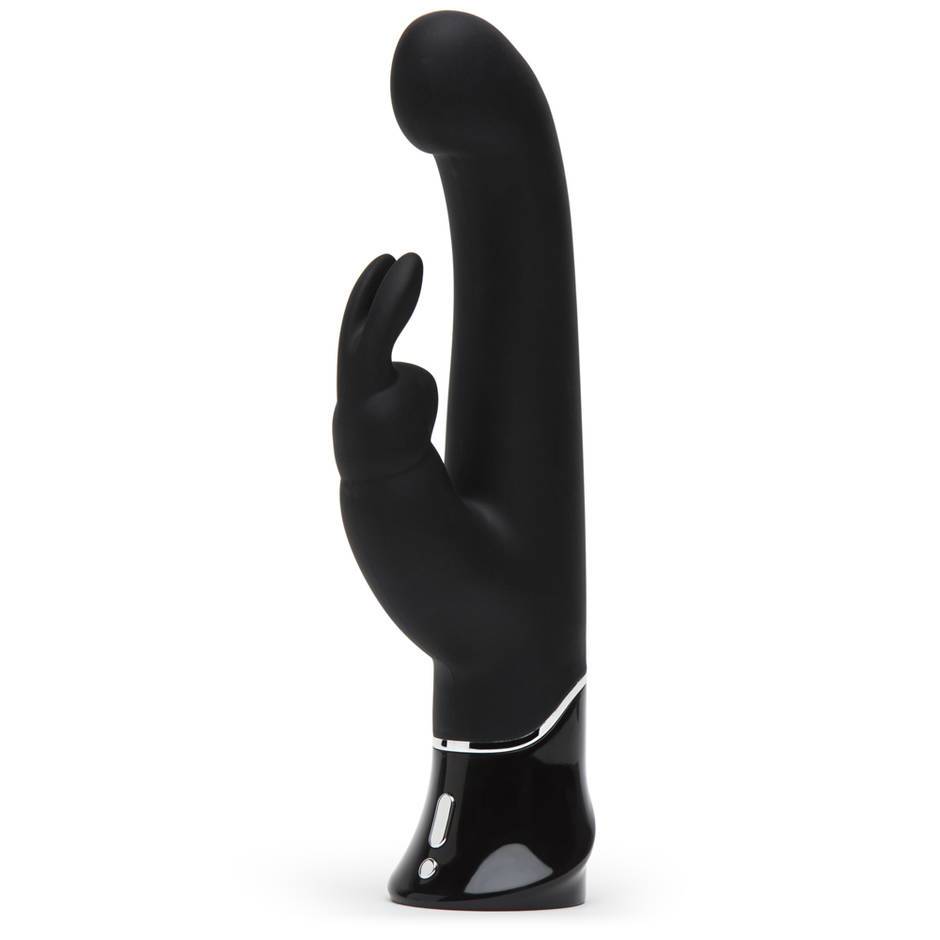 2 powerful motors power this g-spot vibrator, it is the best I have ever played with. The curved internal shaft has 3 speeds and 9 patterns that tease and play with your g-spot and then you have the clitoral stimulating ears that flick your clitoris with their powerful 3 speeds and bring you into delicious orgasmic ecstasy with their pleasure.
Combining the g-spot massager and the clitoral stimulator all at once makes for a mind-blowing orgasm. I like to really take my time, playing with my g-spot and then my clitoris, combining them both and not allowing myself to cum via my clitoris before my g-spot is ready. Once I feel both orgasms building at once, I let the g-spot vibrator what it does best and bring me to another dimension with its power and precision. I always squirt when I use this vibrator, it's so good to me and couldn't be easier to use.
When I first used it I was a little put off because it does look to be quite a handful but when I felt the vibrations I knew I was going to enjoy it. I coated it in lube, all alone in my bedroom I lay back on my bed and began teasing my g-spot vibrator inside of pussy. I turned the vibrations on once the vibrator once inside of me and instantly I moaned. Feeling the little clitoral stimulating ears against my clit and the shaft teasing my g-spot was wonderful and my squirting orgasm came thick and fast, soaking my bedsheets and leaving me gasping for air and desperate to do it all again.
The Main Reason I Love this G-Spot Toy:
USB rechargeable which is such a bonus for me, it makes your life so much easier.
Despite it featuring two motors, it's actually incredibly quiet yet still infamously powerful.
There's a huge number of vibrations and patterns for you to combine and experiment with which means every time you play it can be different and exactly how you like it.
It's totally waterproof so you can take it for a dip in the bath with you should you feel like it.
You can enjoy clitoral and g-spot stimulation all at once resulting in an insane eruption of squirting orgasms.
Other G-Spot Toys That Will Help You Squirt!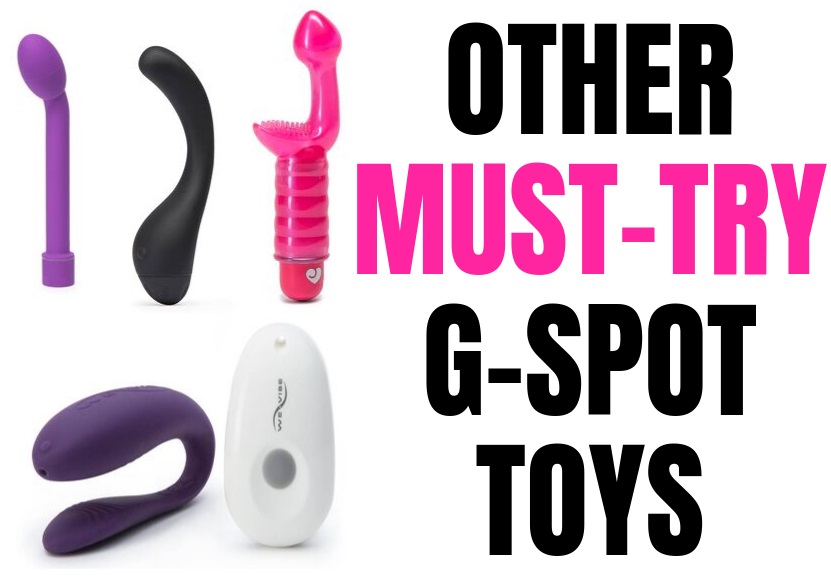 I can never just settle for one sex toy, I have to show you a plethora before I feel comfortable. I know everybody is different so I wanted to show you my favorite g-spot vibrators that all have their own different quirks.
Budget-Friendly G-Spot Vibrator:
I love the shape of this g-spot vibrator, the curve is the perfect shape to push against your g-spot and caress it to orgasm. It isn't just shaped to perfection, it also features 3 speeds and 4 patterns for you to enjoy, these vibrations make g-spot stimulation even better for me and take the experience onto another level.
Couples G-Spot Vibrator (Used During Penetration):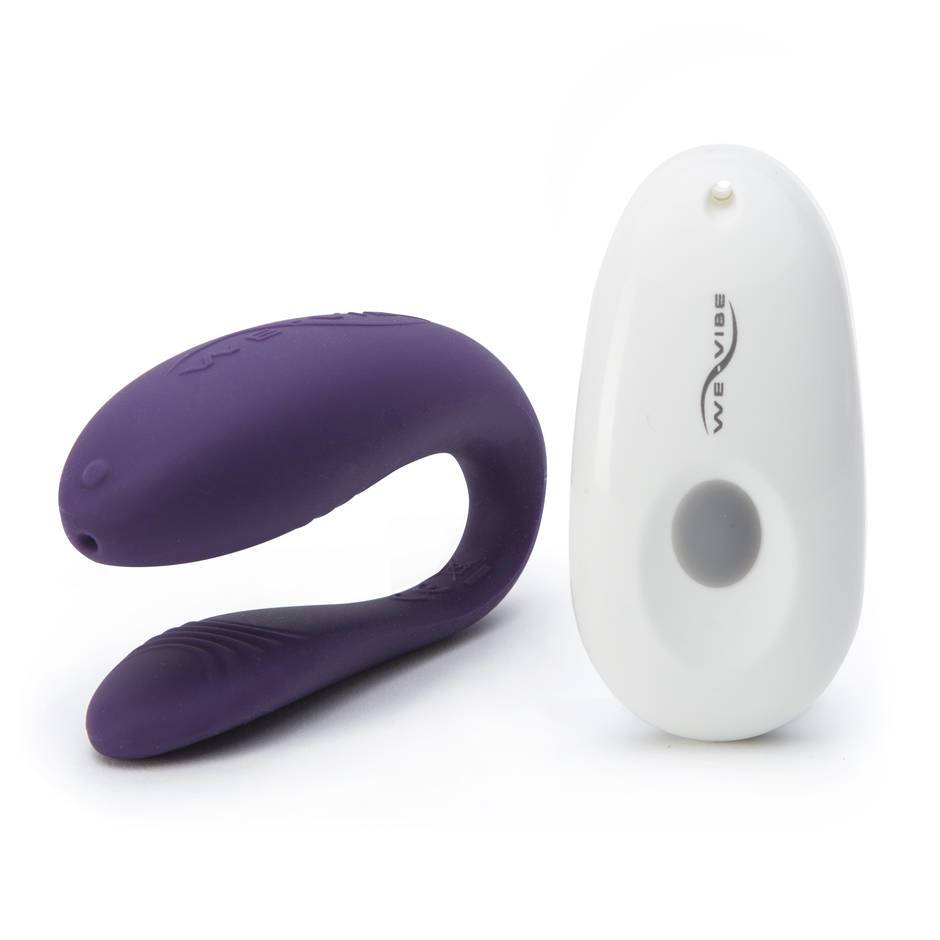 The we-vibe couples toy is an amazing sex toy if you and your partner want to experiment together. Slip this vibrator inside of your pussy (use lots of lube, you get a free sachet with the vibrator) and switch it on. You can enjoy 9 vibration patterns with just the flick of a button on a remote that works from up to 9 meters away.
It stimulates your clitoris and g-spot with military precision and it's even designed so to stimulate the penis as well so slide your partner in too and you can both enjoy the vibrations, g-spot, clitoral, and penis stimulation. If you like the remote control aspect of this vibrator you can check out my amazing vibrating panties, they are unreal.
G-Spot Tickler
A non-intimidating design this g-spot tickler is ideal for those new to sex toys and those who prefer something a little more discreet in its design. Easily slide the slimline bulb up against your g-spot and lay back as the soft external stimulator tickles your clitoris.
Powerful 3 speeds and 4 patterns to enjoy, you can have a fun time and time again, bringing yourself to orgasm without any effort at all.
Basic G-Spot Only Vibrator
The bulbous head of this vibrator is a wonderful design, it goes directly to your g-spot, the slimline handle is really easy to use and makes it so easy to decide how you want to thrust your vibrator.
You twist the base of the vibrator to increase the vibrations, it's so easy to get it perfect. Completely waterproof and ergonomically shaped so that you can enjoy g-spot orgasms every single time. I love this basic g-spot sex toy.
Special Toy For Women Who Don't Enjoy Penetration: Womanizer
If penetration isn't your thing I found that the womanizer was a great alternative. This article is all about squirting via your g-spot but this clitoral stimulator makes me cum, there's something to do with the way it stimulates your clitoris that makes it possible to squirt.
It gentle sucks and releases your clitoris, the sensation is unexplainable. It's so gentle yet so effective, my orgasms always come out of nowhere. The orgasms I have with the womanizer are incredible, my bedsheets are always soaked.
How to Make Yourself Squirt (Guide To Squirting)
-Relaxing is the key for me and achieving squirting orgasms, I have to stop overthinking and just be present in the sensations in my body, once I relax and ignore everything around me then it happens for me.
-Use the right sex toy for you, the sex toys I mentioned all work for me but only you know your own body. Just by looking at something you will know if you are going to enjoy it or not. Achieving a g-spot orgasm is also far easier with a sex toy than a penis or your fingers.
-Lots of women describe getting to a point where it almost feels like their bladder is full (maybe this is where the myth of it being pee comes from?), once you get past that feeling it will unlock incredible sensations for you, it's worth persevering.
-Practice makes perfect, keep at it if it doesn't happen the first time you use a g-spot sex toy.
-Stimulating your g-spot is key, master that and you will unlock great things. It isn't difficult to master, you just have to learn what feels good for you.
Questions about Squirting
I thought I would answer some questions that I hear people ask all the time about squirting if you have a question just leave it in the comment section below (you can do this anonymously if you would prefer) or just send it into me and I'll get back as soon as possible.
Can You Squirt From Anal Sex?
Unfortunately, there is no g-spot in your ass, men do have one but that's called a P-spot orgasm. Combining g-spot stimulation or clitoral stimulation with anal stimulation would feel really good though and may make your actual orgasm more intense.
What Does A Squirting Orgasm Feel Like?
For me it feels like a more intense orgasm, my entire body feels it. When it's over I feel a rush of calm all over me, it's a pretty great feeling. I have never actually felt the 'squirt' leave my pussy but I have seen it and heard it, it doesn't feel like anything coming out of you until you realize you have created a giant wet patch. However, everyone's experiences can be different. The actual orgasm itself is indescribable.
Can You Squirt Without Penetration?
Yes, enough stimulation on the clitoris, the right sex toys (like the womanizer above) and enough teasing and you should be able to build yourself up enough where you can squirt.
Is Squirt Pee?
No, absolutely not pee. I can't reiterate this enough, I have squirted countless times as have many other women and trust us, the people with vaginas to know, it's not pee. It's cum.

I'm Willow, I'm Brandon's girlfriend and we run this blog together (with the help of some friends). We both have an open relationship and both love being kinky (I mean who doesn't?). I love writing, music and my Womanizer. If you have any questions leave them in the comments.