Does your sex doll replace your girlfriend?
I get asked this all of the time and I think people expect me to say 'no', but the truth is it's far more complex and that's what I'm going to be explaining in this article.
Firstly, I must mention that I have a girlfriend and the sex dolls I own and share aren't your usual hundred buck dolls, instead, these are ultra-realistic sex dolls like this: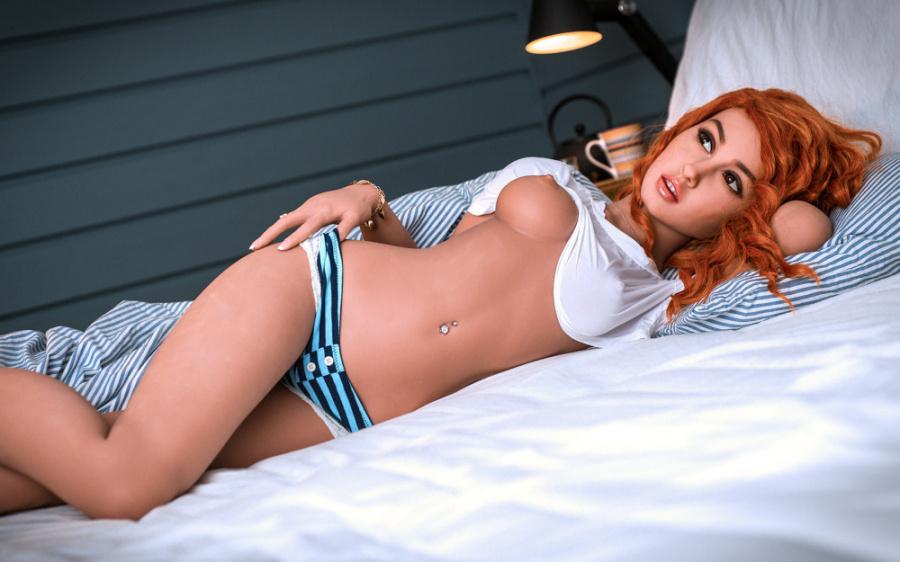 These dolls are life-size, extremely realistic, have vaginas, a penetrable butt and mouth and are becoming increasingly popular with men and women.
Depending on your preferences, if you enjoy VR porn and pair it with one of these sex dolls your experience almost certainly mirrors real sex. Even without the VR porn, your experience with sex dolls is so realistic.
You can actually see this amazing collection of real sex dolls, it will show you just how advanced these dolls are getting.
The 5 Ways Sex Dolls Replace Women
As someone who uses these dolls and has a girlfriend I thought it would be interesting to see where I feel these kinds of sex dolls may replace women.
Sex on demand
We live in a get what you want society, with hookup apps, porn everywhere, and sex toys based on celebrities that are available at the touch of a button.
In this society you no longer need a woman (or man) to satisfy your sexual needs, you can get a silicone doll and get to work trying different positions and exploring various sexual fantasies with no judgment.
Not only that, but you can pleasure yourself when you want, as many times as you want.
With the way we abuse social media, TV, and gaming, we've become people who don't want to wait and want to hit that dopamine button as many times as we can.
You want the next BIG thing
We're searching for the next big thing and currently, these realistic sex dolls are exactly that.
HD porn, VR porn, sex clubs, wife sharing, BDSM, we're always looking for the next big thing, that will excite us and make us feel alive. We live on the edge of our sexual comfort zone and sex dolls go slightly past it and when you mix sex dolls with couples sex and VR porn you create a sexual fantasy simulation that's unlike anything else I've ever tried.
Less time, more libido
I worked a high-stressed job 6 days a week, I didn't have time to meet, even go to dinner with a girl.
Everything was on a schedule and if I wanted something done it had to be in the 3 hours I got off every night after work.
This made real sex impossible and is the reason I purchased a sex doll, I could have sex, release my sexual frustration, and continue working without issues.
This isn't healthy, but I can see more men and women adopting this mindset with the help of sex toys.
Exploring yourself sexually
I've mentioned this a few times, but add VR and a silicone sex doll and you can live out almost all your sexual fantasies.
This opens up a world of pleasure that just isn't possible without a life-sized sex toy.
As someone who's experienced a lot of sexual fantasies in real life, I can also mention that when done with a doll it's completely different.
It's like the difference between masturbation and sex.
They're both fun, but both different.
The sex doll fantasies are more relaxed, heart racing, and can sometimes even feel better.
There's no pressure, you're in your mind and what happens has no effect on your real life, unlike real-life sexual fantasies coming to life.
No relationship pressure
Relationships can be amazing, currently, I love every second of my relationship, but when I was younger I used to find relationships draining.
In these years I wanted to exercise, work, game, and drink. I didn't want to spend ages texting and as selfish as it was, I didn't want to build an emotional connection with someone.
I wasn't ready for it, that's where sex toys of all sorts become amazing.
They stopped me randomly hooking up with people I had no intention of dating and allowed me to focus on the things I really enjoyed.
What A Sex Doll Could Never Do
Although I mentioned the things above, there are definitely a few reasons why sex dolls won't replace real women.
Connection and emotional support
Unless you live away from people in a protected world, you will have to go into the harsh big world
People are mean, stuff happens without explanations and life can kick you when you're down.
When that happens my girlfriend is my savior and I'm hers, we look after each other and that's worth everything.
I look back at the times I had no relationship pressure and that feeling of complete freedom is great, till something goes wrong and it's you, a dark room, and nothing else.
Give you the satisfaction. 
There's a real sense of deep satisfaction that comes from making a woman orgasm.
This kind of emotion makes me feel complete and that's something a sex doll currently doesn't give. It may be different for you and you may not feel this same kind of completion but it's something I have yet found a way to replicate the feeling.
Sex Is Different
Currently, these sex dolls are amazing, but they're not like a real woman.
The feeling, the primal instincts, the lust and excitement, nothing beats that.
It's a different type of pleasure to masturbation and I enjoy both, but that one reason alone is enough for sex dolls to not be able to replace women (at least for now).
Maybe once sex dolls get warming devices and have movements, vibrations, and weird AI ability, they will replace that part as well.
The Real Answer
Sex dolls are dolls, they don't have feelings.
Yes, they feel amazing, yes it's similar to real sex, but what makes real sex awesome is two consenting adults trying to pleasure and please each other.
So, sex dolls just like porn, aren't going to replace real sex, real relationships, and real love.
They will cause problems for some and create issues of overuse and lack of motivation to date.
However, all it takes is one real connection to snap you out of that and get you wanting something real.
I actually believe there are some additional upsides to sex dolls:
Relationships can try out sexual fantasies without using a real person. Things like threesomes are easier.
People can explore their sexual fantasies.
It's another pleasure creating a device just like a vibrator
It gives people the sexual fulfillment they need when not in a relationship.
It's easy to judge something like a sex doll, but excluding price, what's the difference between a dildo shaped like a penis, a masturbation device that's the woman/man genitals and chest/breasts or fleshlight in the shape of a butt, it's all the same, we're just less used to big sex dolls.
The only exposure normal people get to them is the weird documentaries that paint the users in a weird way.
Not the real reality of sex dolls, which is people who enjoy orgasms, like sex toys, and have a normal kink.
I'm Brandon, I'm one of the main writers and owners of ewsingles (the other being my girlfriend (Willow). My girlfriend and I have an open relationship and share our passion for sex toys, sex and dating.