Not everyone has to watch porn videos to get themselves off. I mean, sure, videos are still the main way people get their porn kicks, but over the years, audiobooks and logs are getting more and more popular. One of the categories of audio material is ASMR audios.
At first, I didn't think much of them as they seemed like a watered-down version of porn, but let me tell you, I was so wrong. There is something very erotic and sensual in hearing a woman's voice whispering all sorts of things while you just close your eyes and imagine all the stuff she talks about. There are different kinds of ASMR videos and many different girls take this approach, so there is something for everyone.
The usual ones you will find are some kind of whispering or mouth making sounds. They range from regular ASMR, which is meant to be just relaxing and calming in a non-sexual way, to sexual and heart-pumping audio scenarios that will rock your world. Many of the girls that do ASMR will tell you that their content is meant to be non-sexual, but that doesn't mean that you can't jerk off to it if it gets you horny.
The less represented ASMR videos and audios are about scratching surfaces, tapping sounds or even sounds produced by objects. There really are no restrictions when it comes to this as different things work for different people.
What Is NSFW ASMR?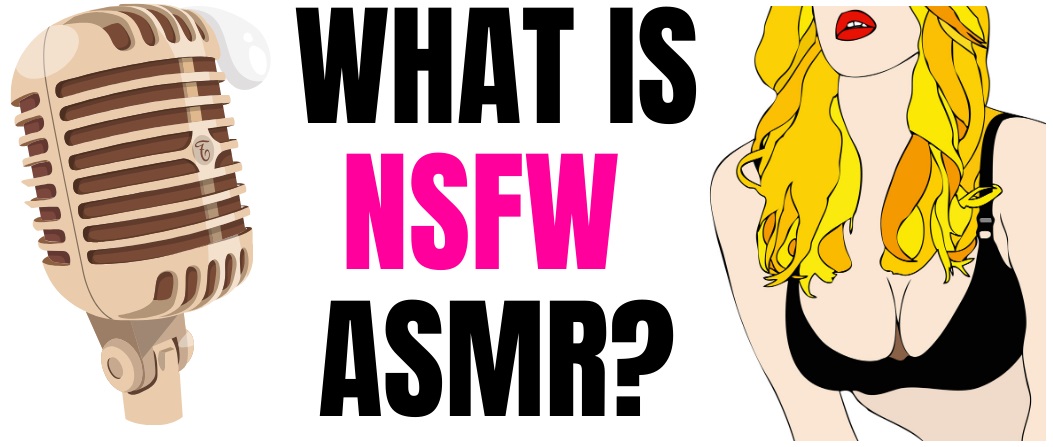 First of all, the NSFW part is something that most of us working folks are familiar with. It is an abbreviation for Not Safe For Work and is usually put in front of material that you wouldn't want your boss to catch you while looking at it. It is also put there to stop you from clicking on it as it may come up in the office search history. That said, I'm sure you can think of a few ways to avoid this. Plus, when you are not in the office, it narrows your search quite a lot.
The ASMR is an abbreviation for Autonomous Sensory Meridian Response and it represents a combination of calming and pleasurable feelings often accompanied by tingling sensations. To keep it simple, it means that there are some things that make us feel good that we didn't even know about. For instance, if you try some whispering ASMR and you get the tingling sensation in your spine it means that your ASMR is whispering. It doesn't mean that that is the only thing that does that for you. Experiment with different kinds and find all that suits you.
Why Do People Get Off On ASMR?
ASMR doesn't have to be all about jerking off or getting horny. Lots of people use it for relaxing, sleeping or even studying. But, as we are not here for any of that, I may as well try to explain why it works for sexual pleasure.
As you may already know, not everyone can experience ASMR at all, , but those who can say that it is some of the best sensations they felt. Most people call it "brain orgasm," and since your brain orgasms during ASMR, why can't your genitals as well?
The point of ASMR videos is finding the right trigger for you. It may be whispering, tapping or scratching stuff (maybe body parts). I don't know about you, but listening to a hot female voice while watching her do stuff to her body is pretty sexual to me and it doesn't have to get any more hardcore than that to get me going. To each his own, I guess, but there is nothing holding you back to explore ASMR and see if that is the thing for you.
Some of my favorite NSFW ASMR Videos
Here they are, the hottest ASMR videos and audios from all over the internet.
This is my collection so it will always be growing and if you have any to add put them in the comments below.
This Boob Playing ASMR Is Amazing
This amazing video shows a beautiful girl playing with her delightful boobs in a sensational fashion. She then proceeds to tease you with a lovely voice speaking in two different mics that makes you imagine two dicks around her face. Her sexy lingerie adds to the whole spectacle and she changes her sweater throughout the video. It was a pleasure watching this ASMR video and rubbing one-off.
You Like Ear licking ASMR?
If your trigger is ear licking, then this kind of video is perfect for you. This gorgeous girl has all the equipment she needs to provide you with the best view and audio you can possibly dream of. Her mic is set up in a way that resembles both sides of the head and there are silicone ears mounted on each side. The mic is professional and you can hear every little sound that comes out of her beautiful little mouth. She also touches the ears with her fingers and that is pretty hot to watch. I recommend using headphones for this type of video.
Does it get hotter?
Another video of ear licking and I can't guarantee you will find anything better in this category. This amazing blonde with blue eyes and lips that will blow your mind is all over those silicone ears. Her kissing and licking them leave her red lipstick marks and it is one of the best videos around. Not only is she a fucking hot piece of meat, but she does the ASMR licking perfectly. The video is quite long, so you can just relax and enjoy all the nasty sounds her lips and teeth produce.
Do you like lotion being rubbed over skin?
The same girl from two videos above is at it again in this specially made video for people who enjoy hand stimulation and oil rubbing. She starts off by rubbing her fingers across her dry palms, making quite a nice sound before she proceeds to put some lotion on her hands and then the fun begins. She gently applies lotion all over her hands and then uses thrusting motion to mimic a dick being jacked off in a very sensual way. All the time looking at you with her lustful brown eyes like she wants you to come all over.
Is kissing your thing?
If kissing is your thing, then you can't afford to miss this amazing ASMR video. It is nothing but lips, teeth, and tongue all the way through. The close-up of the mouth is hot by itself, but the things she does with her lips and tongue… Oh, my god! One of the most viewed videos by this eye candy of a girl and it deserves that title. She goes all out on the camera lens, making you horny and sweat nervously like she is in the room with you and just an inch from your dick.
Wet mouth with Gina Carla
Ah, the glorious Gina Carla. The things she does with her mouth always get me going. In the first few minutes of the video, you won't even realize that the sound you hear is from her coming from her mouth, that's how good she is. With her amazing looks and glorious ASMR talents, she will provide you with an experience you won't soon forget.
Some Really Not Safe For Work ASMR (Audio Porn)
We would be friends if we f**ked right now
This amazing ASMR audio lets you experience the scenario of friends who never hooked up getting together and fucking in the most erotic way you can imagine. Her voice is so good it will make you cum in seconds when she starts moaning.
Although it starts as a normal ASMR audio, soon you will hear her suggesting to her friend that they should have sex. She explains every step of the way with her hot voice and they start slowly with getting her naked. You can skip the foreplay straight to the fucking part where the girl sucks the guy's dick and spits on it like a good little slut and then her friend starts to fuck her. You can hear the girl moaning and orgasming halfway through before he pulls out and cums on her tits.
Stressed and can't sleep? Let me help
This is a Reddit thread about a user named Skitty testing out her new mic. You can be the judge of her audio and comment on what you liked or didn't like. The main plot is her begging to suck your cock and when you finally let her do it, you won't be disappointed.
Her tongue twists and twirls around your dick as she breathes heavily and moans into your ears with the horniest voice you can imagine. This audio gave me a boner without even touching myself. She tells you at one point to lay back and enjoy, and I would recommend the same. If this audio doesn't do the trick, don't worry, there are plenty other posts in this thread that are waiting for you to listen and give feedback so they can tailor their next audio to your preferences.
Your ex's mum wants a piece of you
Ah, this asmr is one of those scenarios, every one of us had in their head at some point in life. We all know that young mom who had her daughter a bit early and still looks fine as fuck.
This soundgasm audio is pretty lengthy and it really gets you involved in the story. The voice of the mother is so hot your dick will be hard all the way to the end (if you don't cum in the first place). She starts talking about "you" and the things she would do to you, so you know what to expect, right? Well, you got another thing coming.
We've been having trouble getting pregnant, could I borrow you?
I would lie if I said that I don't envy some of my friends when it comes to their wives. This ASMR audio lets you get into the role of a helping hand, of some sort… The wife of your friend comes over and tells you that they need your help in getting pregnant.
Her husband can't do it, so they agreed that you are the best option they have and that everything will be ok between all of you. She starts by convincing you that it will be a one-time thing and nothing romantic and you play hard to get. By the way, did I mention that your wife also doesn't mind?
This sexual audio is from Reddit also and it features a girl that just got out of a relationship and wants to take things slow with her new friend. They start kissing and touching with her being a bit hard to get.
They go kissing and touching until she asks does he have a condom since she also doesn't have one. All horny and sweaty, they decide to go bareback and just fuck each other's minds out. Listen to this audio and you won't be disappointed.
The Best Places To Find Sexy ASMR
It is one of the best places for ASMR material. From body parts to full body oil massages, with or without talking and sexy women just kissing the mic in front of the camera, there is absolutely nothing this thread doesn't offer. If you are more of an old-fashioned type, you can also find girls touching their pussies and asses or just sucking toys. There are also smoking cigarettes, scratching sounds and close-ups.
Gone wild audios that you can find here are some of the most inspiring on the whore Reddit. I love this kind of subreddits because not only do they feature already taped audios but also scripts that you can download and read or give them to someone to read them to you. If your partner is up to it, you can find a suitable script and have them read it to you in their own sexy voice. They come with the intended scene in mind, so there is actually no improvisation needed.
If you want more, you can check out this list of amazing adult sub-reddits.
Soundcloud
Soundcloud is a platform for all kinds of sounds and NSFW ASMR is no exception. It may take you a little longer to find what you are looking for, but it can be worth your while. Just type NSFW ASMR into the SoundCloud search bar and browse as much as you like.
Youtube itself has plenty of good and safe NSFW videos that you can explore that will surely fulfill your ASMR fantasies.
Pornhub
Who says pornhub is only for videos? Lots of the naughty stuff is on Pornhub ASMR, also some stuff that gets taken off YouTube ends up there. So be sure to check those out next time you visit the famous website.
Patreon
You probably know that Youtube has some strict policies about posting videos and sometimes they tend to be pretty harsh. Most of the content creators on Youtube also have space on Patreon to provide you with content that Youtube has blocked or taken down. If you're happy to pay there's a lot of people providing sexy ASMR.
Some Patreons I recommend:
This is the link to the Bunny Marthy Patreon page. Bunny Marthy is one of the cute chicks above who gave us the glorious ear licking and hand rubbing videos so be sure to support her if you can on her Patreon page. She has three pretty cheap membership levels with the highest price of 30$ per month.
This lady will give you the ASMR of a lifetime if you subscribe to her Patreon channel. She offers a number of membership levels ranging from 10$ all the way to 1500$. The 1500$ offers a full-length custom video with 2 actresses that is personalized just for you.

This sensual ASMR channel whispers you in the most erotic voice imaginable and all that comes in five different membership levels you can subscribe to. The first four are pretty cheap, but the last one is a bit pricier with a 150$ per month tag.
Tell Me Your Favorites
Let me know if you find any good ASMR audios/videos that I didn't add above. I do my best to keep updating it, so your help is amazing.


I'm Willow, I'm Brandon's girlfriend and we run this blog together (with the help of some friends). We both have an open relationship and both love being kinky (I mean who doesn't?). I love writing, music and my Womanizer. If you have any questions leave them in the comments.