Femdom is wonderful, it's eye-opening, exciting, and a real glance into the world of BDSM and all things dom/sub. Many people out there love this fetish and it's really not hard to see why. There is so much to explore and so many different ways you can express yourself, the pleasure derived from this kink is unmatchable.
Most people understand femdom as hardcore female domination, it's an art and a fetish that requires trust and communication, however today, I want to talk all about gentle femdom and how you can become a gentle femdom queen.
Warning: As always take care when performing any BDSM-related sex practices as they can be dangerous and even potentially fatal.
Consent: Never forget consent. It is so important to be on the same page as your partner and ensure you both understand the practice and communicate throughout.
What Is Gentle Femdom?
Gentle femdom is just another form of femdom as we know it. It is still female domination, but more gentle, caring, and loving. The same rules apply, and there are similar punishments and the same pleasure aspects, but this time it's done out of love and with a more soft approach.
Gentle femdom tricks you into thinking that getting spanked or punished is a nice thing, it's done with a kindness that has you in adoration of your dom and your dom in adoration of you.
Why Is It So Popular?
For me, I find it teeters on the edge of good and bad, you know it's a dominant and submissive role but the lines are blurred.
I think many people find it much more enjoyable than just normal femdom, the love and caring aspect mixed with the pain and torture appeals to many people. The gentle femdom subreddit alone has over 250 thousand active members, which is a huge amount of people for one kink.
It's nice to be loved and adored and gentle femdom gives you all of that, she is in charge, she calls the shots and makes the rules but cuddles you and treats you well at the same time. Positive reinforcement is at the forefront of this kink and so many people respond very well to that.
Gentle Femdom Guide (How To Be A Femdom Queen)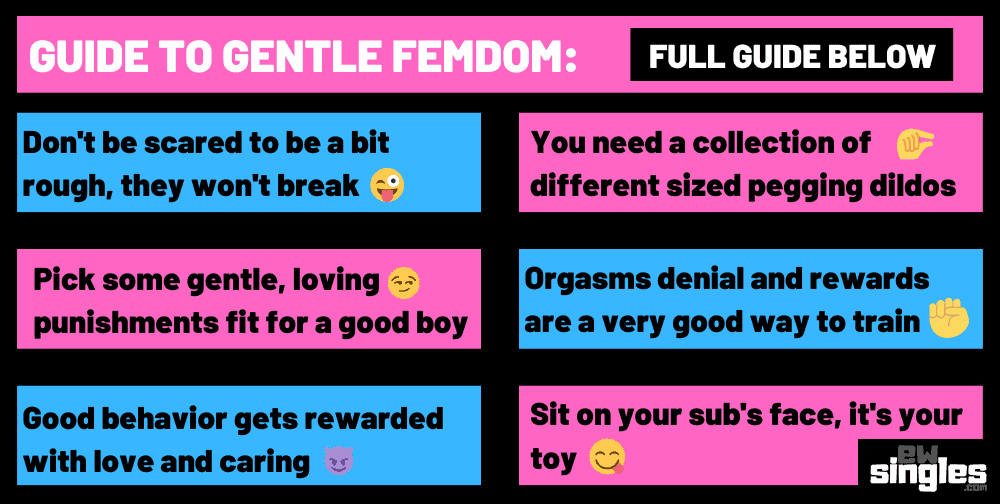 Gentle femdom, of course, changes from couple to couple and looks different on everybody. Therefore, do what you enjoy and don't do anything that you don't want to. Learn what works for you and your partner and you will have the best results.
This guide will give you everything you need to know about being the best gentle femdom mistress, tweak it to suit you and your partner's needs and you will be the femdom queen of the bedroom. If you have anything you would like to add, feel free to leave your suggestions in the comments down below!
The first thing you are going to want to do is:
Rules, Boundaries & Understanding Your Sub
Create the rules for your sub and teach them what will happen if they disobey or break your rules. Your rules can be anything from them removing your shoes for you to bending over to get spanked whenever they greet you.
Understand what they don't want, the unbendable things that they don't enjoy, and respect that. However, make sure that your partner understands that with every action there comes a reaction, even if it is done with love and adoration.
Be In Charge
If you're the dom, you have to be in charge and despite the affection and the warmth you may radiate to your sub, there has to be a clear and distinguished line between you both that shows that you are in charge.
These are the key ways to assert your dominance and show that you are in total control:
Know exactly what you want from sex and your time together.
Understand exactly what you want from them during sex and let them know it.
Make them agree (however nicely) to you being in charge and giving you their full trust.
Lead them entirely. Be in complete control of their body, their pleasure, and everything that happens.
Use them for your pleasure and make them thank you for it, give them plenty of hugs and positive reinforcements, even if they haven't been allowed to cum yet.
What You Say/How You Say It
How you say and deliver a command will keep you at the top of the pecking order. You are in total control but you can send that message across nicely and assertively.
Communication, talking and what you say/how you say it is 90% of this kink for most of us.
You don't need chains, you don't need whips, you don't even need a strap-on (even though that stuff does make it a lot of fun), you just need to embrace the part of yourself that loves female domination, make it soft and gentle and once you've done that communicate it, communicate what you want, how you want it and don't hold back.
List of some gentle and cute femdom dirty talk ideas:
It would be so hot if you…
You look so cute when I…
You want me to do happy, don't you?
You know what would make me happy, don't you?
Do you think you deserve it…?
I love you.
You look so cute from this angle.
You're beautiful, aren't you?
Beg me
How badly do you want it? Show me
Don't worry sweetheart, it will only hurt a little.
You love taking mommy's cock, don't you?
You're so good and all mine.
I'm going to force you to cum inside of me sweetie.
Little prince.
Learning The Art Of Love And Caring Domination (Being Gentle)
Gentle femdom is about being loving and gentle. Showing affection and allowing your sub to feel comfortable, but still completely submissive to your every word and command.
Ways you can be gentle without even trying:
Speak softly: Even when ordering your sub to do something, say it softly, as if any loud words will break your sub.
Use cute pet names for your sub: Address them with names like cutie, sweetie, honeypie, prince, baby, etc.
Tell them they are a good boy: Give your sub constant positive reinforcement by telling them how good they are.
Encourage them: Encourage your sub to do better, to perform, to take your commands and demands better, and build your prince up.
Give Them Compliments: Say things like this: You're taking it so well, you're being so good, you look so cute when I'm inside you. Compliment their achievements.
Gentle Femdom Toys and Tools To Use
You can do a lot without sex toys and tools, sex is all in the mind, and vanilla sex can be transformed into femdom sex with a simple dynamic change, but some toys add so much to the experience. But, you don't need them to get started.
These are the toys and tools that we like to use in the bedroom when we explore this kink, they can also be alternated between femdom and gentle femdom, it's how you use them that counts.
Strap-on: For beginners and advanced users, this strap-on is incredible. It has interchangeable O-rings so you can change the dildo size whenever you need it. It's perfect for prostate stimulation and it's easy to wear. Your prince will submit to you when you wear this, it's too cute not to.
My Favorite Pegging Dildo: The glorious pink of this dildo gives it a nice gentle appearance, it's lifelike, it can suction to any hard surface and it will leave your little sub in a world of pleasure and arousal.
Magic Wand: A magic wand is one of those sex toys that is so versatile that it's a sin not to own one. Not only is it unisex, but it can also be used for your pleasure, the sub's pleasure, and everything in between. Use it to tease, arouse or make cum and enjoy its endless possibilities.
Restraints: We couldn't live without restraints, these ones give you a bondage feel whilst still maintaining the gentle illusion. They keep your sub where he needs to be and make his hands rendered useless, which is perfect for a sub that needs to be kept still.
Butt plugs: This cute, heart-shaped butt plug is ideal for a gentle femdom queen to have in her arsenal. It looks so idyllic as it sits firmly inside of a cute tight butt, it feels good and your little prince will never have such a cute hole ever again.
Cock Ring: Keep your sub hard with a cock ring, they ensure a mighty erection and are great to use when teasing and prolonging your sub's orgasm. They're also so easy to use and a must-have if you like edging and/or denying orgasms.
Pegging & Femdom Go Hand In Hand
Enjoying and having your partner submit their asshole to you is the ultimate achievement. A lot of subs don't know what they are missing out on until they let you in and you give them that first mind-blowing prostate orgasm.
This is our guide to guide to pegging and understanding pegging. It will give you a nice introduction to the world of strap-ons and butt seduction.
No matter if you're new to being a femdom or you want to try out the gentle and softer side of things, pegging works well for both aspects and will leave your sub feeling satisfied, insanely pleasured, and knowing who is now in control.
This is my favorite pegging dildo and strap-on (it's really good at hitting all the right spots). It's non-intimidating and any user will be able to take this smooth dildo into their ass and feel the pleasure that it radiates so wickedly.
Face Sitting Is Powerful In A Femdom role
Facesitting is a way to get your own pleasure from your sub and assert domination by pinning them down and forcing them to lick and suck you into an orgasm frenzy.
Facesitting is easier than it seems and many people have great results with it. The most effective way for a femdom to have good results with her sub is by restraining him as you sit on his face and force him to bring you to orgasm before he gets any kind of release, you can also tease him and leave him with something inside of butt as he's licking you to push him over the edge of pleasure.
This video from Chelsea Nichole gives some great tips on how to face sit properly and effectively:
List Of Gentle Femdom Punishments
Even though this is a gentle femdom guide there still needs to be punishments for misbehaving and naughty subs. The way you deliver the punishments makes all the difference but there still needs to be consequences so that your sub can learn and understand their place in your world.
Remember to give your punishments gently but effectively, don't be too lenient, and make sure your sub knows why they are being punished. These are some of my favorite punishments to administer to naughty subs:
Days without orgasm: This means you choose how many days they don't get to cum, the number of days should reflect the severity of their punishment.
Ruined Orgasm: Ruin their orgasm however many times that you need to.
Orgasm Denial: Tease and torture your sub and deny them their orgasm.
Orgasm Torture: Make them cum again and again without any cooldown, bring them to the brink of orgasm over and over again, etc.
Chastity: Keep your sub locked up for as long as you see fit.
Spanking: Spank your sub to make them learn their lesson with sharp whacks.
Ignoring till he behaves: Ignore him until he decides to be good again and submit to you.
Shut him out of the bedroom: Wait until he begs and is cute enough to be let back in.
Facesitting: Sit on his face to teach him a lesson, though this can be a reward, depending on your sub.
He has to wash you: Turn him into your own personal sponge when you're in the shower or bath, if he's been really bad, he can't use his hands to clean you, only his tongue.
Tickling: Tickle him for as long as you want to teach him a lesson.
Gentle Humiliation Ideas
What about when punishments become pleasurable? You need humiliation to counteract this. Although humiliation isn't always considered a gentle femdom way of doing things, it is an important aspect as you can still be kind and caring whilst treating your sub to some friendly humiliation.
I try to keep it tamer than full-on female domination and so here are some of the humiliating tasks I make my prince do:
Human furniture: Turn your sub into human furniture, and use them as a footrest, a seat, a table, etc.
Naked around the house for the whole day
BDSM body writing: Write slutty things on their body.
He can only pee sitting down
Make him wear cute nail polish
Feminization with clothing
Rewards for good behavior
Rewards can be as powerful as punishments (sometimes more powerful). I like to have rewards for good behavior and for bonding time, although it seems counterproductive to the domination side of this kink, rewards are really important and actually keep the dynamic extremely fresh and obvious.
These are some of the ways that I reward my prince:
Stroke and soothe him
Play with his hair
Cuddles
Spoon him
Rub his back gently
Create a wishlist: Ask them to make a wish list of 10 things they want, and tick off one when they are really good.
Let them masturbate freely for a day
Massage
Neck kisses
Full body kisses
Favorite candy
Brush his hair
Give them a sensual shower
Book them cookies (shape them like dog treats)
Chill and watch a movie
Petting his head
Closeness and Togetherness
Let him lay down with his head on your lap while you stroke his hair
Positive reinforcement
A Loving Aftercare Routine
This is something you should never miss, especially if you have used a lot of punishment or painful experiences in your session. A lot of the rewards above can be used in your aftercare routine as a way to reconnect and show your sub some love.
Aftercare is important for the dom too, depending on what you like, it's ideal for you both to cuddle, kiss and get affectionate with one another to balance out your dynamic and show each other some good old-fashioned love.
Orgasms Are The KEY To Training Your Sub (Withhold, Deny, and Tease)
In order to have an obedient and submissive prince, you need to know that orgasms are the key. Everything you need to know about ruining and denying orgasms is here, it will teach you how to have your sub hanging onto your every word and aching for that sweet release that only you have the power to give.
What About Being A Good Sub Boy?

I thought I would include a little guide for the subs reading this. This is a gentle femdom guide for the submissive, everything you should do and follow to become the best sub, one that your dom would be proud of.
Submit to your Submissiveness (Obedience and openness)
Let go of anything holding you back and be completely submissive, if you are a sub this will come naturally. If not, it might be a little bit harder but practice is the key, listen to your femdom mistress, do as she says, and relax into her commands. Enjoy the experience, and communicate everything you want to happen.
Learn What Makes You A Good Boi
This is between you and your dom, learn what she wants you to do and behave, does she want you to give up your ass? does she want you to do chores for her? does she want endless orgasms before she even thinks about yours?
Learn what it is that makes you the bestest boy out there and do exactly that. Your dom is in charge after all and whatever she says, goes.
Learn About Pegging and Keeping Yourself Clean
Educate yourself on pegging and what to expect, don't just let your dom do all of the work, learn how it works, how to make it better, and be enthusiastic about having your hole fucked.
Size Training: Stretching and training your asshole is one of the best ways you can be prepared for anal play, by learning all about anal stretching you will make the experience even more enjoyable for yourself and make your doms life easier.
Cleaning advice: Keep yourself nice and clean for your dom, these are some great tips on keeping yourself hygienic and fresh so that your dom has the best experience with you.
Extra: Dress Up & Wear Lingerie: Dress up for your dom, make yourself cute and pretty, wearing clean clothes and underwear If you want to be sissified then check out this sissy guide.
Let Go Of Judgement And Have Fun
At the end of the day, both the Sub and Dom need to let go of judgment, shame, and guilt for this wonderful kink and encourage each other to be honest about what you both want and how you want it.
Let me know how you enjoy this fetish down below – Willow.

I'm Willow, I'm Brandon's girlfriend and we run this blog together (with the help of some friends). We both have an open relationship and both love being kinky (I mean who doesn't?). I love writing, music and my Womanizer. If you have any questions leave them in the comments.