Whenever I heard the term "ball gag" I immediately associated it with hardcore BDSM scenes with chains, whips, harnesses, etc.
But as it turns out, ball gags are something very different and can be used in a whole variety of ways. They are linked to BDSM, of course, but they can stand alone as a sex toy even if you are not into the whole bondage scene.
Personally, I was pretty concerned about wearing one. The thought of not being able to talk or swallow my saliva was a bit off-putting.
Add to that constricted airflow and you might get an idea why I was reluctant to use them. Anyway, all these things are pretty dismissable when it comes to using a ball gag in the right way and under the right circumstances.
Not all ball gags are designed in the same way, actually, there are so many types that I didn't know where to start at first. This guide will, hopefully, help you choose the right ball gag for you and your partner to use in your erotic bedroom scenery.

What Is A Ball Gag?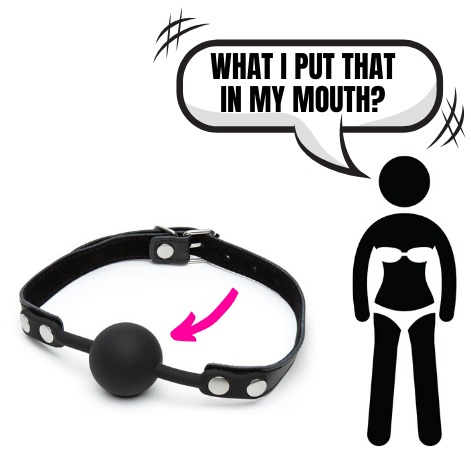 A ball gag is a term typically used to describe any item that goes into your mouth and is tied around your head to keep it from falling out. Now, this doesn't mean that you should just tie a piece of string around any object and put it in your beloved partner's mouth. Please, read on to know more about what I'm talking about.
A ball gag is a sex toy used mostly to limit someone's speech and reduce the ability of that particular someone to make loud noises, but that is just the physical side of them. The true potential of using a ball gag comes from the submissive/dominant relationship status and the psychological effect it has on both sides.
Types Of Ball Gags (Ball Gag Vs Lip Gag Vs Ring Gag VS Dildo Gag)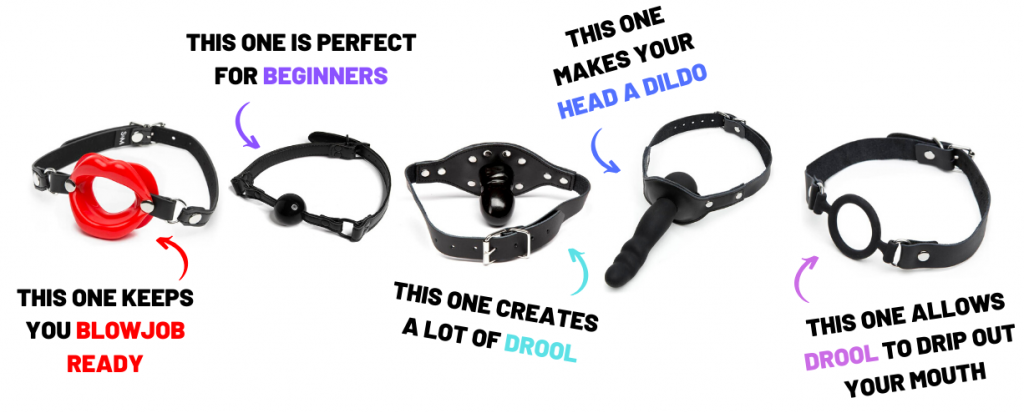 There are numerous types of mouth gags, but they mostly fit into four different categories.
Ball gag – typical mouth gag that is usually portrayed in movies and magazines. These types of gags are pretty straightforward – there is a ball, usually made from solid material and a belt or a strap that goes around the head of the wearer. The belt or strap can be both locking and non-locking, leaving you with the freedom of choice. The balls can be breathable and non-breathable. For beginners, it is highly recommended to use the breathable ones because it takes a bit of time to get used to wearing one. Advanced users or experts tend to go for non-breathable ones as they make the whole roleplay a bit more intense and satisfying.
Lip gag – a lip gag is a bit different from your standard ball gag, and it is rarer to see in movies but it has its perks. The lip gag usually goes on your lips, as the name says, but it has a hole and your teeth will be behind it meaning your mouth will stay open. This leads to possibly some of the best blowjobs you will ever give/receive or letting your partner explore the inside of your mouth with his fingers. Plus, various designs make them catchy and good looking. The downside is that they don't prevent loud noises as much as a ball gag would.
Ring gag – ring gags are similar to lip gags in a way but have their own advantages. While a lip gag is usually made from soft materials, a ring gag is made from metal which leads to little to no leeway in your mouth. The metal can be as it is or coated in some sort of silicone to make it easier on the teeth. Ring gags, like lip gags, have a hole in the center that differs in size and can be used for inserting fingers, penis or even sex toys.
Dildo gag – dildo gags are a whole different story. Who wants to get deepthroated without the possibility of getting it out while getting fucked? I do. A dildo gag has a dildo mounted on the harness pointing inside the mouth of the wearer. It doesn't have to be a deepthroat dildo though and can be shorter in length but to each their own. It gives you the feel of sucking a dick that you cannot get out and it is amazing. Dildo gag can also be an exterior one, meaning that the dildo is coming out of your mouth and you can use it for pegging, vaginal play or even mouth to mouth. The possibilities are endless.
The Best Ball Gag I've Own
After a bit of experimenting with all sorts of gags, I've come to my all-time favorite one in the form of this simplest ball gag.
The 4.5-inch circumference rubber ball is the perfect size for my a bit smaller mouth. It has D-shaped rings on both sizes that make my mouth look extra slutty when I'm all tied up with the head strap that is fully adjustable for the perfect fit. The ball gag I'm all hyped up about can be found here.
Story Of The Time I Used This Ball Gag
The first time I used this gag changed everything for me. My boyfriend and I have a pretty distinct relationship in which he is the dominant one and I am the submissive little slut that does his bidding.
This time was no different. We started with our usual foreplay involving ropes and bondage and I started getting pretty horny. That went on for some time until he stopped and asked me if I was his little cumslut and I screamed "YES"!
He pulled out the ball gag and said, "no talking". As soon as he strapped the ball gag around my head, I was ecstatic. The feeling of humiliation and dominance was overwhelming.
I couldn't close my mouth and my moans were louder than ever, but no sound was actually heard. He was fucking me from behind doggy style spanking my ass and my mouth was drooling all over the sheets. My boyfriend was pulling my hair and fucking me roughly until I sensed an orgasm coming.
I screamed and yelled, "harder, harder". The words were only in my head as it was only indistinctive mumble for him but he understood every word. Thrusting ever harder, he made me orgasm in a way that made my whole body shake.
The screams were muffled by the ball gag but they were as loud as none before.
Is This Ball Gag Really That Good?
The elegant feel of the faux leather ball in my mouth is the best I've experienced so far. Fully adjustable head straps made it fit like a glove in the middle of our foreplay, which was very good since we didn't lose any "heat" we built up.
The rubber ball is very comfortable to bite on when I'm getting hard spanked by my boyfriend and the style of it all is very appealing to the eyes. Definitely worth trying!
The Other Amazing Ball Gags I Highly Recommend
A person can't just have one gag, especially when they are a kink like me.
I have a big collection and below are the other gags I use, it just depends on the scenario and what kind of kinky I'm feeling.
My Favorite Lip Gag
Out of all lip gags, I tried this open mouth lip gag is definitely the best one. This nickel-free lip gag is suitable for beginners and all skin types. This silicone gag keeps teeth covered and mouth open for the best blowjob experience you will ever have.
Bondage Boutique XL Silicone O-Ring Gag
This advanced silicone O-ring gag is designed to open and stretch your sub's mouth for a variety of options. The silicone makes it hypoallergenic, odorless, and tasteless for endless enjoyment. The ring makes the opened mouth stable while providing room for delicious activities. Pure leather straps make it a treat for the eyes. It is for experienced users I have to mention.
The Great Dildo Gag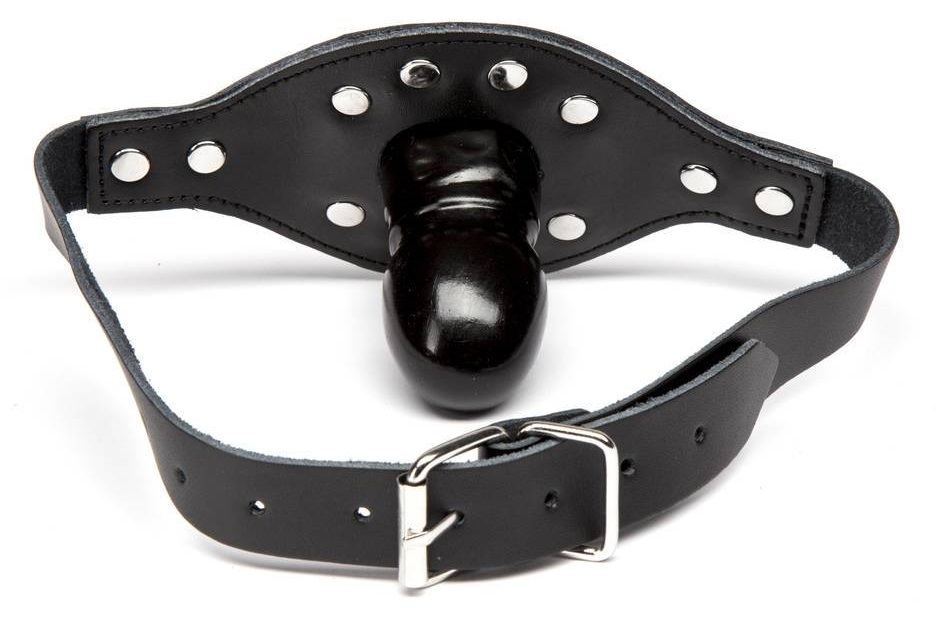 This interior designed dildo will keep your sub's moans discreet and quiet. Adjust the leather strap until you sub moans from pleasure and continue to do with them as you please with this gag.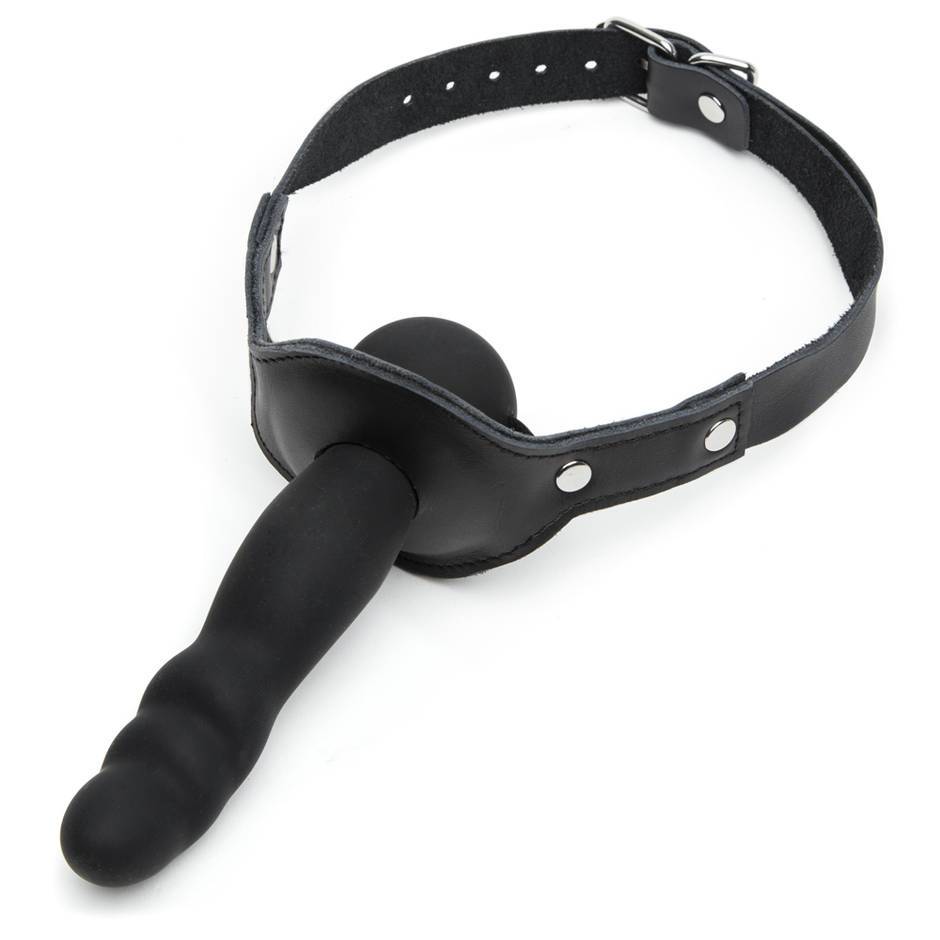 If, on the other hand, you need a little bit of dildo on the outside, don't worry. This large silicone ball gag with dildo with 4.8-inch exterior silicone dildo will fill your needs just right. The straps are adjustable between 14.5 and 19.5 inches which makes it perfect for any size.
The BDSM Spider Gag (Super Hot)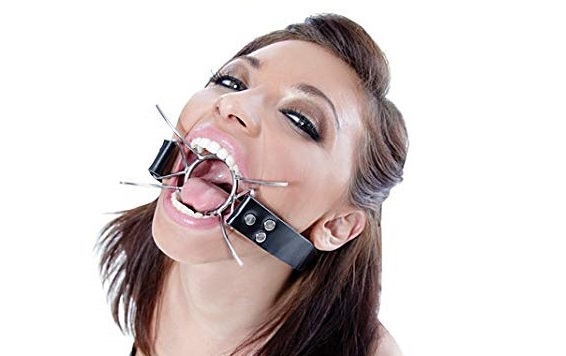 This Spider Gag is some really extreme stuff. Your sub won't even dream of closing his/her mouth with this amazing thing in them. It features a metal ring with four metal legs attached to it. The legs with the ring prevent the sub from even the slightest movement making it perfect for sliding in whatever you want in their mouth.
Tape-Gagged (Using Bondage Tape)
This one is more of a vanilla approach to the whole gagging thing. You can use this bondage tape without any accessories to restrict the speech and moaning of your sub. The pitch-black color makes it ideal for blindfolds but it comes in all sorts of different colors. Tie your sub up from head to toe and do with them whatever you desire with this 20m reusable tape per roll. It is comfortable to wear and remove, simple to use with no complicated knots or ties.
The Best Ball Gag On Amazon (If Amazon Is Your Thing)
This stylish ball gag with a silicone ball and leather straps with metal details is perfect for beginners. The ball is 1.67-inches in diameter and the strap fits all sizes.
Dog Bone Gag
Enhance your "dog-whisperer" roleplay with this bondage boutique silicone dog bone gag and you will have no regrets. It features a comfortable odorless, tasteless and flexible silicone dog-shaped gag, which makes it ideal for biting in your puppy roleplay. Metal D-rings are compatible with all sorts of bondage accessories and are designed for prolonged use. The leather buckle is adjustable between 16.5 inches and 23 inches for a perfect fit for all sizes.
How To Use/Wear A Ball Gag (Keeping Things Safe)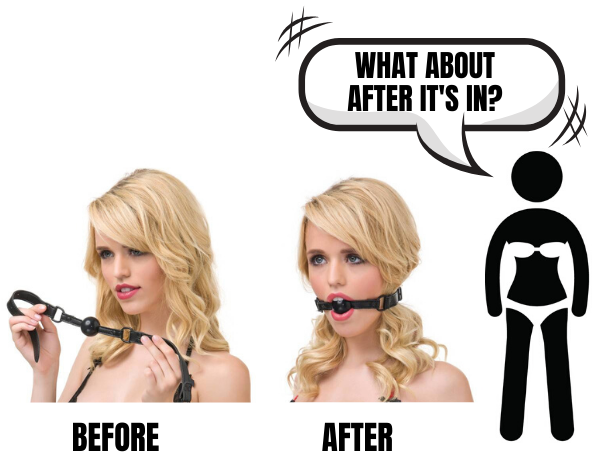 Using a ball gag, lip gag or even a ring gag is pretty safe all things considered. There is not much harm they can do, but for beginners, there are still some things I would like to point out.
Safewords – in any type of BDSM play, safewords are a must, but when you have a gag in your mouth there is not much you can say, is there? You have to find other ways of telling your partner that you are uncomfortable with the current action. Simple three or four taps on your partner or the bed can be a good signal for him to stop whatever he is doing. Also, a bell of some sorts is an option.
Blocked nostrils (colds) – colds make it a lot harder to breathe even without anything in your mouth. For beginners, I would recommend waiting until the cold is over and then proceed with gagging yourself or using breathable ball gags. Lip gags and ring gags have a hole for breathing, but be careful with how and what you put inside.
Jewelry and hair – piercings can make all the difference in what sort of gags and straps you want to put on yourself or your partner. Keep that in mind when buying stuff. Also, longer hair can lead to pulling and pain, so be sure to tie it up and adjust your accessories accordingly.
Safety scissors – always keep scissors at hand in case something goes wrong. Sub may have a panic reaction to what you are doing and can't show the safe signal you set before. In that case, use the scissors to break them free of the gag.
Note that I have purposely left out dildo gags, as they are for more experienced users, which you will become if you follow this guide and you will know how to use them properly.
How To Clean Your Ball Gag
Cleaning a ball gag after every use is very important. Most of the ball gags you will come across are made out of silicone or rubber, which makes them easy to clean. Just put them in warm water with soap (antibacterial if possible) and use a piece of cloth to gently clean every bit of saliva left on them. Dry them out and store in a silk bag, plastic box, or a proper container. Disinfect from time to time.
How To Choose The Right Ball Gag
I know there can be some issues with choosing the right ballgag, so let me quickly go through some of the options.
For beginners, I would recommend the more basic stuff with smaller diameter balls and silicone or rubber ones.
For intermediate users, there are a bit more options. When you are comfortable wearing a ball gag you can start using something like a lip gag or ring gag, like these for example:
For advanced users, there is a sea of options. From beginner to expert ones, you will have options for any play you want. Some of the examples of advanced ball gags are:
What Ball Gag Creates The Most Drool?
Every ball gag will cause drooling, no question about it, but what typically causes the most drool? Well, it all depends on the position of the sub. Typically the most drool will cause the ring-shaped ones like this one. If you have any other ball gag and it doesn't give you as much drool as you expected, try putting some honey on it. Honey naturally makes the mouth salivate a lot more.

I'm Willow, I'm Brandon's girlfriend and we run this blog together (with the help of some friends). We both have an open relationship and both love being kinky (I mean who doesn't?). I love writing, music and my Womanizer. If you have any questions leave them in the comments.